Legal Assistant Cover Letter Examples (Entry-Level Friendly)
Need to win over a jury of HR managers with a biting legal assistant cover letter? Follow our tips and you'll get a unanimous verdict from all hiring managers.
As a legal assistant, you know what happens when you sloppily throw together an important document to a case file. It not only looks unprofessional—it's bad legal work that can cost you a case.
So imagine a sloppy cover letter for a legal assistant who comes to the HR of a prestigious law firm. Off to the rejected pile. Don't let that happen! Write a legal assistant cover letter no one will object to!
This guide will show you a great legal assistant cover letter sample plus the best tips on how to write a formal legal assistant cover letter step-by-step.
Want to write your cover letter fast? Use our cover letter builder. Choose from 20+ professional cover letter templates that match your resume. See actionable examples and get expert tips along the way.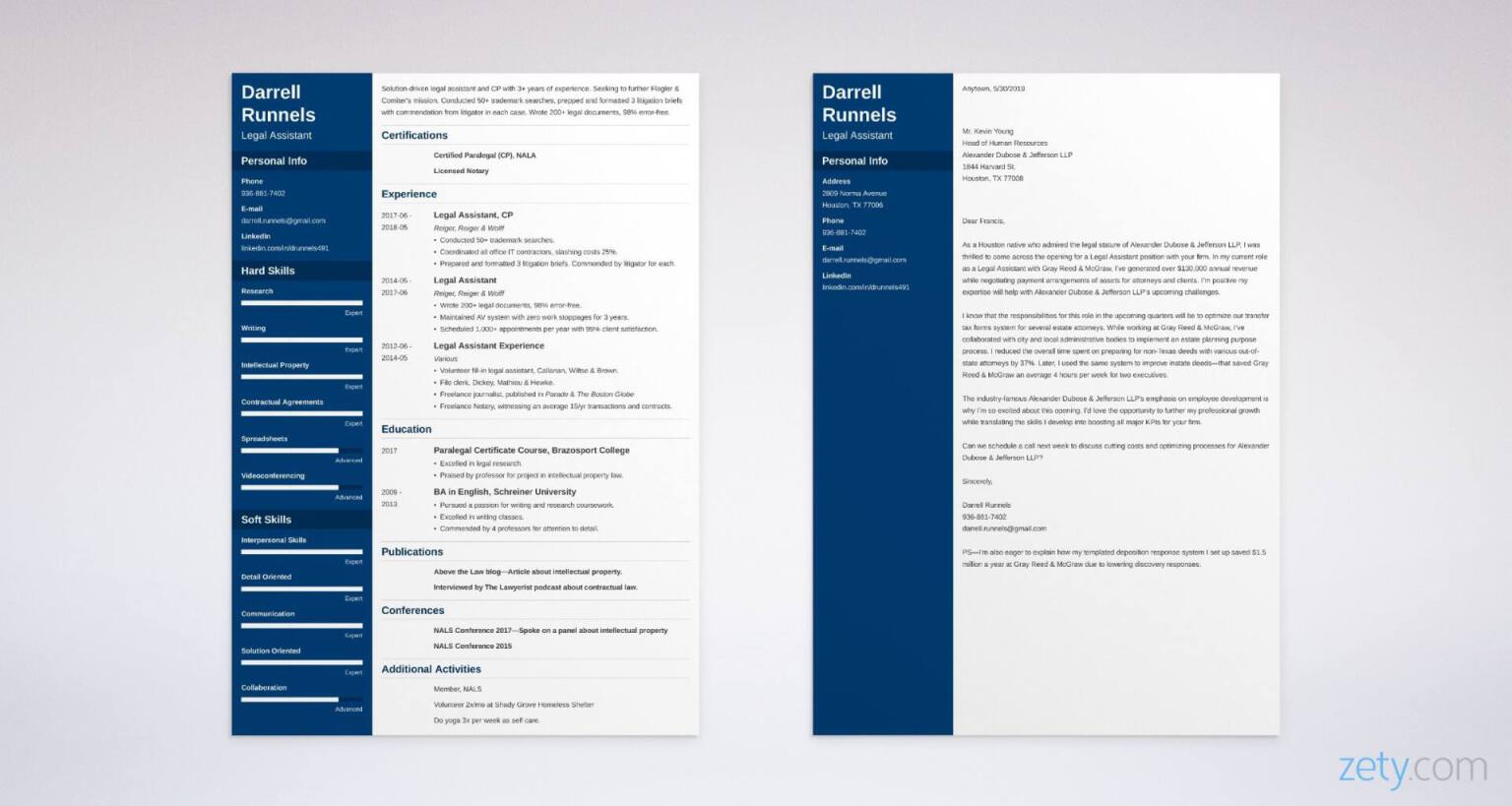 Sample cover letter for a resume—See more cover letter examples and create your cover letter here.
No matter how great your cover letter is, without a pitch-perfect resume it will get you nowhere. See our legal assistant resume writing guide here: Legal Assistant Resume: Samples and Writing Guide.
Considering similar positions too? See other cover letter examples for jobs in your industry:
Want to explore your options further? See our full selection of cover letter examples for every career: Best Cover Letter Examples for All Professions
Now, let's get started with a great legal assistant cover letter sample.
Legal Assistant Cover Letter Sample
Darrell Runnels
Legal Assistant
2809 Norma Avenue
Houston, TX 77006
936-881-7402
darrell.runnels@gmail.com
linkedin.com/in/drunnels491

Anytown, 5/30/2019

Mr. Kevin Young
Head of Human Resources
Alexander Dubose & Jefferson LLP
1844 Harvard St.
Houston, TX 77008
Dear Francis,

As a Houston native who admired the legal stature of Alexander Dubose & Jefferson LLP, I was thrilled to come across the opening for a Legal Assistant position with your firm. In my current role as a Legal Assistant with Gray Reed & McGraw, I've generated over $130,000 annual revenue while negotiating payment arrangements of assets for attorneys and clients. I'm positive my expertise will help with Alexander Dubose & Jefferson LLP's upcoming challenges.
I know that the responsibilities for this role in the upcoming quarters will be to optimize our transfer tax forms system for several estate attorneys. While working at Gray Reed & McGraw, I've collaborated with city and local administrative bodies to implement an estate planning purpose process. I reduced the overall time spent on preparing for non-Texas deeds with various out-of-state attorneys by 37%. Later, I used the same system to improve instate deeds—that saved Gray Reed & McGraw an average 4 hours per week for two executives.
The industry-famous Alexander Dubose & Jefferson LLP's emphasis on employee development is why I'm so excited about this opening. I'd love the opportunity to further my professional growth while translating the skills I develop into boosting all major KPIs for your firm.
Can we schedule a call next week to discuss cutting costs and optimizing processes for Alexander Dubose & Jefferson LLP?
Sincerely,
Darrell Runnels
936-881-7402
darrell.runnels@gmail.com
PS—I'm also eager to explain how my templated deposition response system I set up saved $1.5 million a year at Gray Reed & McGraw due to lowering discovery responses.
Legal Assistant Cover Letter Template
Here's how to write a legal assistant cover letter for a job application:
1. Use the proper business legal assistant cover letter format
Use one-inch margins on all sides.
Go with single or 1.15 line spacing.
Choose an elegant font in 11pt to 12pt size.
Read more: The Right Cover Letter Format
2. Create a professional legal assistant cover letter header
List your name and contact information in the top-left corner of your entry level legal assistant cover letter.
Include your phone number, email, LinkedIn (optionally, add other social media handles such as Twitter).
Note your city and date right below.
Finish with the addressee's details.
A legal assistant should be well-versed in research. What does it mean for your legal administrative assistant cover letter? Make sure to include the name of the hiring manager.
Can't find it? Check the company's website or go on LinkedIn to find the person. Take the extra step by calling the reception to ask if nothing comes up.
Read more: Addressing a Cover Letter
3. Open with a personal greeting and a compelling first paragraph
Address the potential employer with "Dear" + name.
Give the name of the position you're applying for off the bat.
Shine by listing your most relevant professional achievement.
Read more: Starting a Cover Letter the Right Way (Examples)
4. Express why you're the perfect candidate
Go to the job description and link your relevant experience to the duties and responsibilities listed.
Boast a few of the wins you're most proud of.
Lawyers love numbers so quantify your achievements whenever possible!
Don't make your cover letter a disposition. Make it the correct length: The Perfect Cover Letter Length.
5. Explain why you want in
Give them a compliment or two.
Make them understand why this is such a coveted position for you more than any other law firm.
Show you'll stick around for longer with such information.
6. Make an offer and include a call to action
Ask for a call or a meeting and suggest a time.
Reiterate your value—make an offer to help with their KPIs.
Read more: The Best Cover Letter Ending Examples
7. Close with a professional sign-off
Conclude with your full name at the bottom.
Go digital and have a copy of your handwritten signature below your sign-off.
List your basic contact details in the footer.
And that's all! Short and sweet, right? But remember, no one sits still in the legal field. Don't sit and wait around for a call. Be proactive and follow up on your job application. Here's the best way: Job Application Follow-Up: Examples, Dos, & Don'ts
As you've learned, a great cover letter can truly be a game-changer, but to have a shot at that dream job, you still need to write a perfect resume.
When making a resume in our builder, drag & drop bullet points, skills, and auto-fill the boring stuff. Spell check? Check. Start building a professional resume template here for free.
When you're done, our professional resume builder will score your resume and our resume checker will tell you exactly how to make it better.
Thanks for reading! Do our legal assistant cover letter examples work? Have any tips and tricks for writing an outstanding legal assistant cover letter? Drop me a line in the comments. I'd love to hear from you!
About Zety's Editorial Process
This article has been reviewed by our editorial team to make sure it follows Zety's editorial guidelines. We're committed to sharing our expertise and giving you trustworthy career advice tailored to your needs. High-quality content is what brings over 40 million readers to our site every year. But we don't stop there. Our team conducts original research to understand the job market better, and we pride ourselves on being quoted by top universities and prime media outlets from around the world.