Our customers have been hired by:
Have you heard that well-worn joke? "A paralegal is like a lawyer, only poor." Well, it's anything but true. The demand for skilled paralegals and legal assistants is constantly growing. Those employed in top law firms can make a good chunk of change.

But to get a job in one of the top firms, you need the best paralegal resume out there. Don't worry: scroll down for a perfect paralegal resume example and a full guide to writing yours.
This guide will show you:
A paralegal resume example better than 9 out of 10 other resumes.
How to write a paralegal resume that will land you more interviews.
Tips and examples of how to put skills and achievements on a paralegal resume.
How to describe your experience on a resume for a paralegal to get any job you want.
Here's a sample resume for a paralegal made using our resume builder.
Want to save time and have your resume ready in 5 minutes? Try our resume builder. It's fast and easy to use. Plus, you'll get ready-made content to add with one click. See 20+ resume templates and create your resume here.
Sample resume made with our builder—See more resume samples here.
Considering other in law firms too? Need a legal secretary resume sample? See our other guides:
If you're making a law student resume, consider switching to our dedicated guides:
Still need more examples? Check Sample Resumes to Land Any Job.
Remember that writing a Paralegal Cover Letter will significantly boost your chances of getting an interview invite!
Paralegal Resume Example
Carl Penske
Paralegal
123-456-7890
carlpenske@email.com
linkedin.com/in/carl.penske
Summary
Highly motivated and detail-oriented paralegal with over 8 years of experience supporting lawyers in trial preparation and legal proceedings. Eager to help ProJustice Solutions in representing clients with professionalism and efficacy, thanks to solid research and drafting skills. Awarded for increasing overall efficiency by 30% at LawPro Assistants Group.
Experience
Senior Paralegal
LawPro Assistants Group, Overland Park, KS
August 2012–Present
Key Qualifications & Responsibilities
Assisted in drafting legal documents, including briefs, pleadings, appeals, and contracts.
Facilitated communication between clients, witnesses, and the legal team.
Conducted research for trial preparation, ensuring thorough and accurate information.
Oversaw administrative tasks such as filing, scheduling, and answering calls.
Key Achievement:
Increased overall efficiency of the legal team by 30% by implementing streamlined administrative processes.
Paralegal
LegalAid Services, Overland Park, KS
June 2010–July 2012
Key Qualifications & Responsibilities
Assisted attorneys in trial preparation by conducting legal research and fact-checking.
Drafted legal documents and correspondence.
Maintained client files and case documents.
Key Achievement:
Successfully aided attorneys in over 50 case preparations within the agreed timeline.
Education
Bachelor's Degree in Legal Studies
University of Kansas, Lawrence, KS
September 2006–May 2010
Relevant extracurricular activities
Elected Member, Pre-Law Society
Peer Tutor, Legal Research and Writing
Skills
Legal research and drafting
Trial preparation
Client relations
Administrative support
Proficient in legal research software (Westlaw, LexisNexis)
Organizational skills
Detail-oriented
Time management
Certifications
Certified Paralegal, National Association of Legal Assistants, 2010
Awards
2019, Paralegal of the Year, LawPro Assistants Group
Memberships
Member of the National Association of Legal Assistants since 2010
Delivered a lecture on "Efficiency in Legal Research" during the 2018 Paralegal Conference, New York
Languages
Interests
Volunteering at local legal clinics to provide paralegal support
Hosting bi-weekly study groups for aspiring paralegals at local community centers
1
What's the Best Format for a Paralegal Resume?
Did you know that corporate jobs usually attract around 250 resumes?
Yes, you read that right.
So how many of those applicants will get invited to an interview?
About 5. That's 1 in 50.
You want to be that 1, don't you?
Then you need a professional paralegal resume that stands out.
And it's essential that you choose the right resume format.
Why?
In the worst case, if the formatting is off and the hiring manager can't find what they're looking for, you can kiss your resume goodbye.
On the other hand, the right resume format and layout will let you highlight the most important information. How do you choose it?
In general, the reverse-chronological resume format is the gold standard of the recruitment process.
Why?
First of all, because the recruiters are familiar with it. They will process your resume in a flash.
Secondly, paralegal jobs attract oodles of candidates — too many for a human to handle.
That's where Applicant Tracking System (ATS) software comes in.
If you choose the reverse-chronological resume format, the ATS bots will easily identify all the sections of your resume and extract all the information they need.
Are you an experienced senior paralegal? The reverse-chronological format will show the peak of your career first, and let you work back through your job history to the early years.
But what if you're targeting a career change? Then, you might want to consider using the combination resume format.
The combination resume format allows you to place more focus on your skills. It helps you link specific skills to your job history rather than just list your responsibilities.
Pro Tip: Do your best to keep your paralegal resume one-page. Paralegal employers value these resumes that are brief and targeted.
Want to make sure your resume will hook every recruiter and get you that interview? Get our free checklist and learn what makes a job-winning resume: 46 Things You Need To Do Before You Send Your Resume.
Still not quite sure which paralegal resume format to go for? Check out our guide: 3 Resume Formats: How to Choose the Best One [Examples]
2
How to Write a Paralegal Resume Summary or Resume Objective?
"How much wood could a woodchuck chuck if a woodchuck could chuck wood? As much wood as a woodchuck could chuck, if a woodchuck could chuck wood."
Any idea how long it took you to read this iconic tongue twister?
Roughly 6 seconds.
Exactly as long as the average recruiter spends scanning your resume for a paralegal position.
Most recruiters expect very specific information and they're going to look for it in the top third of your resume.
If it's not there, you can be sure that your resume will end up being chucked through the window (alright, maybe in the bin).
You can use those 6 seconds to your advantage.
How?
Start your paralegal resume with a resume summary or a resume objective. A brief, sharp paragraph that will explain why you're just the paralegal or legal assistant the hiring manager is looking for.
A resume summary is the best choice for those candidates who:
Have multiple years of paralegal or legal assistant experience.
Are not making a career change.
A resume objective, in turn, is well suited for:
Entry-level paralegal candidates.
Those who are looking for a change in their professional career.
Paralegals targeting specific positions.
Let's have a look at some paralegal resume summary and objective samples.
Here's a sample paralegal resume summary:
right
Flexible, motivated, organized certified paralegal with 8+ years of litigation paralegal experience and a background in health administration and personal injury law. Seeking to provide professional assistance in legal research, drafting legal documents, customer service, and trial preparation. Assisted GlaxoSmithKline's Compliance and Legal Affairs teams in implementing a new complaint handling system. Fluent Spanish, intermediate German.
wrong
Experienced paralegal, broad legal knowledge, have worked on contracts, civil lawsuits, and other legal needs. Great in teamwork, communication, and multitasking.
See the difference? The first candidate mentioned his specific assets and boasted a verifiable achievement.
The second candidate just threw in a bunch of general law-related phrases.
"Have worked on contracts, civil lawsuits, and other legal needs" means pretty much the same as "I am a paralegal."
Yeah, so are 300+ other applicants. Neeext pleeaase!
Pro Tip: Employers want to know that you're a perfect fit for their team. You need to tailor your resume to the job opening: identify the keywords in the job description and make sure to refer to them in your resume.
When making a resume in our builder, drag & drop bullet points, skills, and auto-fill the boring stuff. Spell check? Check. Start building a professional resume template here for free.
When you're done, our free resume builder will score your resume and our resume checker will tell you exactly how to make it better.
And now have a look at a sample paralegal resume objective:
right
Engaged, organized graduate with Duke Continuing Studies Paralegal Certificate, specialized in financial and bankruptcy law. Seeking to leverage my skills in legal research, assisting foreclosure trials, and customer service as a junior paralegal with the ACLU.
Wow, right? This candidate might not have broad paralegal experience, but he shows his motivation and focuses on what he can offer his employer.
wrong
I am a recent paralegal program graduate. I would like to work for ACLU to further develop my paralegal knowledge and gain new skills in order to become a notary in the future.
Why is it so bad?
Well, because it basically says: "I want to learn new things from you so I can switch jobs soon."
When writing a paralegal resume objective, focus on the employer's gain, not potential benefits for you.
Want to make sure that your paralegal resume objective or summary will make a splash? Read our guides: 20+ Resume Objective Examples - Use Them on Your Resume (Tips) and How to Write a Resume Summary: 21 Best Examples You Will See
3
How to Describe Your Paralegal Experience?
What if recruiters could only see one section of your resume?
Which one would it be?
Your work experience.
This section is the meat and potatoes of any professional paralegal resume.
And you want yours to be sweet potato fries and Black Angus beef.
You're wondering how to get it right?
Start with your most recent job. Then work your way back in time and list all your previous positions. Underneath each job, add up to six bullet points summarizing your duties and achievements.
Sounds pretty easy so far?
But that's not enough.
Remember when we mentioned tailoring? This is where it comes in!
Read the job description carefully. And if you see tasks that you've done previously in your career - let the recruiters know!
Here's how.
Instead of just listing all your responsibilities, you need to tailor the paralegal resume duties to each job description. Read the example below to see how it's done.
Have a look at a sample of a job description for a litigation paralegal with some keywords marked and numbered: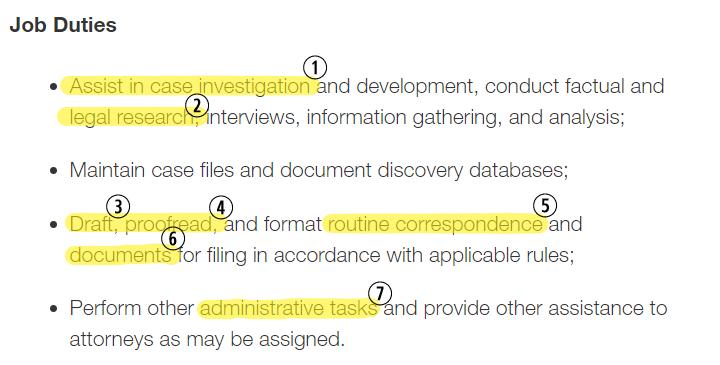 And here's a litigation paralegal resume work experience description that would be a perfect match for the job offer.
Take a look at how the candidate matched his responsibilities with the keywords:
right
Litigation Paralegal
Hire Counsel 2011 – 2017
New York, NY
Investigated facts related to cases

(1),

researched

(2) and analyzed relevant laws, regulations, and legal articles
Wrote and

proofread

(4)

reports and other documents

(6) to help attorneys prepare for trial

Drafted

(3)

routine correspondence

(5) and legal documents
Key achievement: Reduced administrative(7) expenses by 12% by implementing a telecommunication program.
The job description says the candidate will have to assist in case investigation and conduct legal research. Our job seeker carried out these tasks in his previous job so that's what he highlighted in his resume.
The same goes with drafting, proofreading, and formatting legal documents.
wrong
Paralegal
Union County College,
Cranford, NJ 2008 – 2015
Responsibilities
Assisting the attorneys
Conducting legal research
Client service
Preparing legal documents
"Client service"?! What does that even mean?
Not only all paralegals do it. Virtually every other professional does it! Don't go for generic phrases. It's never a good idea.
Remember to use action words whenever possible:
"Arranged meetings with the clients," "Researched and gathered legal data."
What about "Responsible for office administration"? This one makes you come across as a "doer," not an "achiever."
It's also best to mention your measurable achievements in your resume. See how it was done in the right example.
"Reduced administrative expenses by 12% by implementing a telecommunication program."
The candidate used the PAR (Problem Action Result) formula.
Problem: The administrative costs were too high.
Action: Implemented a telecommunication program.
Result: The administrative expenses were cut down by 12%.
But what if you have to produce your paralegal resume with no experience to list?
You've just graduated from a paralegal course. You have the Westlaw ProDoc certificate. You've put in a great deal of hard work to learn the profession.
The universe owes you a job.
...But you haven't worked in the industry yet.
Never mind. You should still add the experience section on your entry-level paralegal resume. You might not have paralegal experience - no matter. But you do have other work experience relevant to the job.
Here's an example of a real-estate paralegal job description: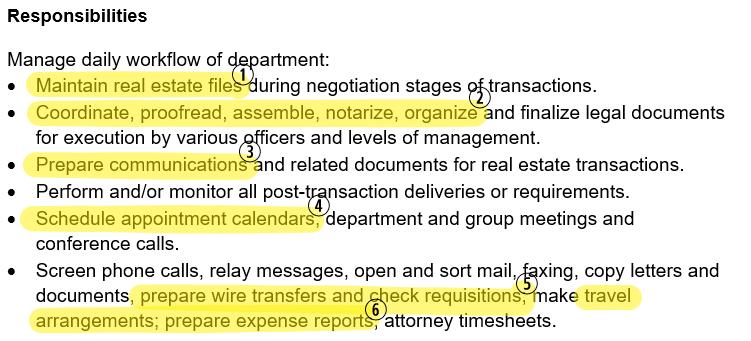 And now take a look at a sample real-estate paralegal resume experience section for an entry-level candidate:
right
Personal Assistant
Tiffany Group Real Estate Advisors 2014 – 2016
New York City, New York
Maintained real estate files

(1) and data

Prepared, coordinated, proofread, and organized

(2)

communications

(3) and other documents for transaction.

Scheduled internal meetings

(4) and meetings with the clients.
Supervised

wire transfers and requisitions

(5), managed

travel arrangements and expense reports

(6).
Professional achievements: implemented a new legal database which reduced the time of drafting contract templates by 50%
Here, the job seeker listed these responsibilities from her former job that are relevant to the real-estate paralegal duties from the job description.
Even if they were not her primary duties, by listing them, she shows that she has the appropriate skills to be a successful real-estate paralegal.
Remember that using keywords is not about stuffing the resume with whatever is expected of you. You have to highlight those skills that you do possess.
Want to know exactly how to list your past jobs? Read our guide: Resume Job Descriptions to Help You Land Any Job You Want
4
Is Your Education Section Underperforming? It Might Be
Is the education section of a professional paralegal or legal assistant resume the easiest one to write?
Perhaps.
Does this mean that it's the least important one?
Hell no! It's critical. And you probably know why:
Most paralegal jobs accept candidates with different levels of education.
Do you have a BA in paralegal studies? Another major and an additional online paralegal certificate? Associate's degree?
There are multiple paths to becoming a successful paralegal. What you need to do is describe the one you chose to follow.
And this guide is here to show you how.
Let's start with the basics.
The education section of a perfect paralegal resume has to include:
The type of your degree.
Your major.
The name and location of your school.
Your honors, awards, and other relevant achievements.
Start with your highest degree. Then add all your other degrees in reverse-chronological order.
If you're an experienced paralegal professional, it's best if you put your education section after your work experience.
Here's an example of a professional paralegal resume education section:
right
2007 BA in Paralegal Science
Eastern Kentucky University, Richmond, KY
3.7 GPA
Pro Tip: Mentioning your GPA is optional. The usual rule is: add it only if you graduated within the last three years and if it's higher than 3.0. In fact, if you have any experience in the paralegal field, don't add your GPA unless it's exceptionally high.
Simple as that. But not always.
Keep in mind that a lot of paralegal jobs require specific knowledge. In your education section, you have to refer to the job description.
You can do it, for instance, by listing your most relevant coursework.
Feel like going a step further?
Add your favorite classes, your main field of interest, describe your extracurricular activities or student projects in which you participated.
Convince the recruiters that you want to land the job at their company – not just any paralegal job.
But remember: it's going to work only if you use the keywords from the job description.
For example, if you're writing a patent paralegal resume, you'll want to emphasize your expertise in intellectual property: trademarks, patents, copyrights, and trade secrets.
Elaborating on your education a bit more is also a good idea if:
You're a recent graduate writing a paralegal intern resume.
You're a professional and you've recently supplemented your legal education with a paralegal specialist program.
In these cases, you can also consider putting your education before your work experience.
Have a look at an example of an entry-level family law paralegal resume education section:
right
2016 Bachelor of Legal Studies
Washburn University, Topeka, KS
3.85 GPA
Relevant coursework: Legal research, interviewing & investigation, persuasive writing capstone
Favorite fields of study: Family law, elder law
The job seeker might not have extensive paralegal experience. Nonetheless, the detailed education section serves to illustrate her sense of purpose in starting out on a family law paralegal career.
She shows that she'll handle the job well even if she hasn't done it before.
This is crucial if she's writing a paralegal internship resume, too!
Want to see some more tips and examples to help you write the best paralegal resume education section possible? See our guide: How to Put Your Education on a Resume [Tips & Examples]
5
How to Put Skills on a Paralegal Resume
Here's a tricky question:
What do Abraham Lincoln and Ellen Degeneres have in common?
Charisma? Superior interpersonal skills? Compassion?
Yeah, fair enough. But there's another one: they both worked as paralegals.
Being president is a piece of cake once you've worked as a paralegal.
Who knows better than you that "a paralegal" is basically a synonym of "an individual with superhuman powers, a guardian, a savior, a protector of giant babies in suits (a.k.a. attorneys)."
The recruiters too are well aware that if you're a great paralegal, you must possess a remarkable set of skills.
And you do have those skills! You just have to know how to list them in your paralegal or legal assistant resume.
Don't fret, read on and you'll learn how to do it in a jiff.
Start with creating a spreadsheet in which you list all your relevant paralegal skills. Write down everything you're good at. (Oh, come on! I didn't mean "eyebrow dancing" or "walking like a crab").
But, seriously. Everything that makes you a great professional.
And don't forget about your "soft" skills. According to the National Association of Legal Assistants (NALA), paralegal employers see soft and hard skills on resumes as equally important.
Take a look at the table below. It contains the perfect keywords for a paralegal resume skills section:
Sample paralegal resume skills
Paralegal Resume Skills

| | | |
| --- | --- | --- |
| Specific paralegal skills | Soft skills | IT skills |
| Legal research | Communication | Proficiency in Excel, Word, Powerpoint |
| Investigation | Organization | Adobe Acrobat |
| Drafting lawsuits | Writing | Billing software (Elite, Tabs3, Clio) |
| Settlement techniques | Multi-Tasking | Online research (LexisNexis, Westlaw) |
| Client counseling | Self-starter | MyCase |
| Writing Briefs | Attention to detail | CosmoLex |
| Litigation | Negotiation | CasetrackerLaw |
| Proofreading and editing | Flexibility | BigTime software |
| Office administration | Resourceful | CaseSync |
| Preparing reports | Timeliness | ProDoc eFiling |
Now, obviously, you cannot list them all in the skills section of your paralegal resume. It would be too long, unspecific, and, let's face it, hardly believable.
So what should you do?
First, make sure that you have linked your key paralegal skills with your professional achievements in the experience section.
Then, carefully read the job description. Look for skills-related keywords. Once you've highlighted them, put your matching skills on your resume.
Let's have a look a sample corporate paralegal job description:

Noticed how many of these requirements are "soft" skills?
And here's a tailored skills section from a corporate paralegal resume:
right
Resourceful, organized, with great attention to detail.
Accuracy and timeliness.
Strong teamwork and interpersonal skills (assisting senior attorneys, negotiating with the clients).
Proficient in Excel, Word, and Powerpoint.
Proficient with entity management software (hCue, Blueprint OneWorld).
Experience with managing board portals (Azeus Convene, FlexxBoard).
Nailed it.
The candidate showed that she meets all the skills-related requirements and provided examples to prove her proficiency.
ProTip: It's a great idea to research various paralegal job descriptions not only the one you're applying for. You'll get the picture of what's usually valued by law firms.
Need some more ideas on how to make a good paralegal resume skills section? See our guide: 30+ Best Examples of What Skills to Put on a Resume (Proven Tips)
6
How to Add Other Sections on an Effective Paralegal Resume
Meet Mike and Cathy. They don't know each other, but there is a particular connection between them. Mike and Cathy have applied for the same corporate paralegal job.
And they're both dead good.
They're experienced, well-educated, they have excellent references.
So what's the difference between them?
Their resumes. This is what sets Mike and Cathy apart.
Mike listed his previous jobs, described his education in full detail, boasted his skills.
Cathy did all that too. Then she decided to show off her Paralegal Certificates in a separate section.
And you know what? Cathy just got an invitation for her job interview.
To become a paralegal, you need to complete the necessary level of education.
Certification for paralegals is voluntary, so a lot of candidates assume they don't have to include their certificates on a paralegal resume.
And it's a huge mistake.
National surveys consistently show that corporate law firm recruiters use certifications such as Certified Paralegals (CP) and Certified Legal Assistants (CLA) to determine candidate's actual skills.
If you have taken and passed any certification exams, you have to add a credentials section to your resume. This way you'll show the recruiters that they're not buying a pig in a poke.
Have a look at some of the certifications you can list in that extra section of your senior paralegal resume:
LDP (Legal Document Preparer) or LDA (Legal Document Assistant)
CP (Certified Paralegal) or CLA (Certified Legal Assistant)
ACP (Advanced Certified Paralegal)
PP (Professional Paralegal)
AACP (American Alliance Certified Paralegal)
RP (Registered Paralegal)
CRP (CORE Registered Paralegal)
You might also choose to list your certifications in the education section. If so, you should still consider adding another section to your resume. The recruiters want to know that you have kept self-improving after you got your paralegal degree.
ProTip: It's okay to repeat some of the information from the work experience section. It shows that there are some achievements you want to highlight.
Other ideas for an extra section include:
Industry awards
Publications
Industry blog
Volunteer experience
Participation in conferences
Hobbies and interests
If you're a recent graduate seeking an entry-level paralegal job, you might add an "Additional student experience" section where you can describe your extracurricular activities and link them to your academic interests.
Here's an entry-level immigration paralegal resume example:
right
2013 - 2015 Student Paralegal Association
Columbus State Community College, Columbus, OH Topeka, KS
Member of the student board
Chief editor of the blog: wrote articles about relative- and employment-based immigrants, inadmissibility and removal, refugees and asylum
Started and run an immigration law discussion club
Not quite sure what to include in the extra section of your resume and what to leave off? Read our guide: 20 Best Examples of Hobbies & Interests To Put on a Resume (5 Tips)
7
Here's the Most Common Myth About Cover Letters
"Quit your job and gamble online for your income."
Sound like the worst career advice one can get? Yeah, it probably is.
But you know what?
"You don't need a cover letter" comes in a close second.
You might have the best paralegal resume. Still - 45 out of 100 recruiters won't even bother to look at it if you don't write a paralegal cover letter.
And if you wouldn't play online poker to make a living then don't play job-seeking roulette either.
If you are in the paralegal business, you surely have great written communication skills. You must also be extremely attentive to detail. What better way to showcase those qualities than by writing a neat, compelling, professional paralegal cover letter?
Cover letters can do what even the best resumes can't.
Feel like there is some role or achievement from your resume that needs some explaining?
That's where the cover letter comes in.
Just remember that cover letters for paralegals serve to supplement your resume not to paraphrase it.
Plus, a great cover letter that matches your resume will give you an advantage over other candidates. You can write it in our cover letter builder here. Here's what it may look like: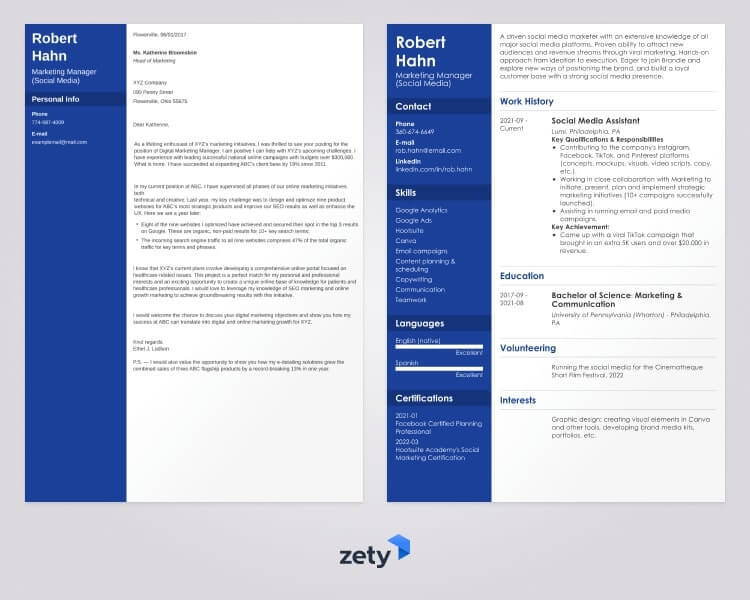 See more cover letter templates and start writing.
ProTip: As a paralegal, you have to demonstrate superb research skills. Make sure to address your cover letter to the person who will read it. It requires some basic research, and you really don't want to mess it up!
Want to know how to begin your cover letter? How to divide it into sections? Read our comprehensive guide: How to Write a Great Cover Letter and Legal Assistant Cover Letter
Key Takeaway
"I'd have to be a lunatic not to hire this one."
You want your paralegal resume to bring this response from the hiring manager. And it will. Just remember about the key strategies we covered.
Make a list of all your abilities, achievements, and previous responsibilities and match the skills with the keywords from the job description.
Put a paralegal resume objective or summary just below your contact information.
Don't undersell your abilities and knowledge. Highlight your strong suit and put the focus on your wins.
Show off your certifications and boast your software skills.
Do you want to learn more about writing the perfect resume for a paralegal job? Not sure how to list your extra achievements? Give us a shout in the comments, and we'll answer your questions!
About Zety's Editorial Process
This article has been reviewed by our editorial team to make sure it follows Zety's editorial guidelines. We're committed to sharing our expertise and giving you trustworthy career advice tailored to your needs. High-quality content is what brings over 40 million readers to our site every year. But we don't stop there. Our team conducts original research to understand the job market better, and we pride ourselves on being quoted by top universities and prime media outlets from around the world.
Sources