Law School Application Resume Template (20+ Examples)
How to write a law school resume? What sections to include? Should it be one-page or longer? Find out here and see the best law school application resume examples!
Listen:
T14 law schools admit only one type of candidate—
The best.
This means you have no choice but to become one of the best to consider a career in law.
And your law school resume has to testify to this.
This guide will show you:
A law school resume better than 9 out of 10 other resumes.
How to write a law school application resume to get admitted to the best schools.
Tips and examples of how to put skills and achievements on law school resumes so they shine.
Want to save time and have your resume ready in 5 minutes? Try our resume builder. It's fast and easy to use. Plus, you'll get ready-made content to add with one click. See 20+ resume templates and create your resume here.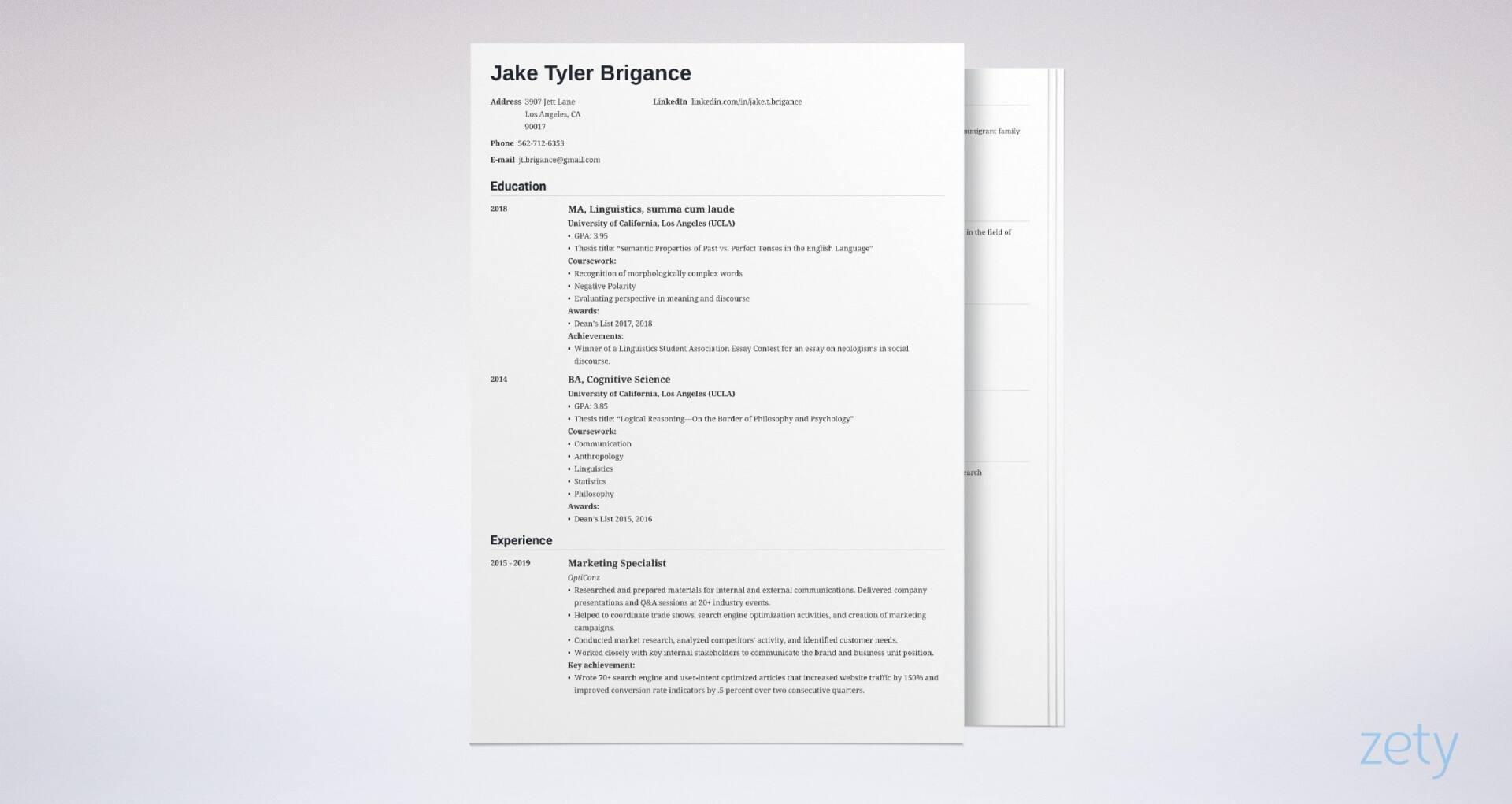 Sample Law School Resume—See more resume templates here.
Interested in resume writing guides for other legal professions? We've got you covered:
Or maybe you're looking for a different kind of a resume writing guide?
Need more resume writing advice? Check out our guides:
1
What's the Best Law School Resume Template?
Remember—
Your resume for a law school is not the same as a resume for a job.
You're not applying for a job at a law school, after all. What you want is to become a law student.
That's why your law school admission resume is an academic document by nature, and will resemble an academic CV.
Now—
Depending on your experience and education you may want to consider the following sections for your law school resume template:
Law School Resume Template—Resume Sections
Volunteer Work / Community Involvement
Affiliations
Extracurricular Activities
Leadership Positions
Additional Activities
If you think this looks more like an outline of a new John Grisham novel than a law school resume—
Don't panic.
It's a list of every possible section you might want to include in your law school resume.
But nobody said you gotta use 'em all.
Here's the ultimate rule of law school resume writing (or any resume writing for that matter):
Relevance.
So—
Pick the sections that apply to you specifically.
That being said, the first three sections (contact information, education, and professional experience) are obligatory. The rest depends on what you have to offer.
Pro tip: Regardless of what sections you decide to include in your law school resume, make sure all entries with dates follow the reverse-chronological order.
Not sure which resume format would work best for you? Here's a guide that will dispel all your doubts: Resume Format: Samples for All Types of Resumes
Now, let's break this down, see what information you can include in each section, and illustrate it with law school resume samples:
1. Contact Information
This one is a no-brainer. What you put here is your contact information, such as:
Full name
Email
Telephone number
Your home address (optional)
LinkedIn profile (optional).
Pro Tip: While including a LinkedIn profile is optional, it will give admissions officers another opportunity to learn something more about you.
Make sure your online presence will not disqualify you from getting a place at the law school of your dreams. Read our guide on How to Check Your Online Presence Before Recruiters Look You Up
2. Education
This section of your law school resume is essential.
You're applying to an academic program, so make sure you put your best academic suit forward.
Don't just list the university, dates, and degree. Add some more details:
Type of degree you received
Your major/minor
Name of your school
School's location
Year you graduated
Thesis title
Awards and honors
Achievements (e.g., Dean's List)
And—
Present your education in the reverse-chronological order.
Pro Tip: Don't start with a law school resume objective or summary. In fact, leave this out completely—the admissions committee members know exactly why you're applying. Your academic resume for law school should start with the education section.
Here's an example of what your education section on a law school resume could look like:
Law School Application Resume—Sample Education Section
2018
MA, Linguistics, summa cum laude
University of California, Los Angeles (UCLA)
GPA: 3.95
Thesis title: "Semantic Properties of Past vs. Perfect Tenses in the English Language"
Coursework:
Recognition of morphologically complex words
Negative Polarity
Evaluating perspective in meaning and discourse
Awards:
Achievements:
Winner of a Linguistics Student Association Essay Contest for an essay on neologisms in social discourse.
2014
BA, Cognitive Science
University of California, Los Angeles (UCLA)
GPA: 3.85
Thesis title: "Logical Reasoning—On the Border of Philosophy and Psychology"
Coursework:
Communication
Anthropology
Linguistics
Statistics
Philosophy
Awards:
Pro Tip: You don't need to include information on your high school education. Unless it's so impressive you feel the admissions committee will miss out a ton if you skip it.
Learn more about how to show your education background on any kind of resume: Education Resume Section: How to Do It Right (20+ Examples for Any Situation)
3. Professional Experience
This section of your law school resume is necessary. It gives the admissions committee an overview of your professional interests, skills you've developed, and key achievements.
If you don't have any professional experience yet, use it to list your:
internship experience
volunteer work
community involvement.
The rule of thumb is to focus on what's relevant.
One of the biggest mistakes people make is treat their professional experience as a laundry list of everything they've ever done. This is not how you do it.
Try this instead:
List your relevant experience in bullet points.
Follow the reverse-chronological order.
List the job title, company name, and dates.
Put up to 6–7 bullet points for each position.
Try to go beyond your responsibilities, and put your achievements in the limelight.
Use resume action verbs. They highlight your skills and show what you actually did.
Quantify your experience bullets with percentages and numbers.
Here's an example of what a professional experience section on your law school resume could look like:
Example Law School Resume—Professional Experience
2015–2019
Marketing Specialist
OptiConz
Researched and prepared materials for internal and external communications. Delivered company presentations and Q&A sessions at 20+ industry events.
Helped to coordinate trade shows, search engine optimization activities, and creation of marketing campaigns.
Conducted market research, analyzed competitors' activity, and identified customer needs.
Worked closely with key internal stakeholders to communicate the brand and business unit position.
Key achievement:
Wrote 70+ search engine and user-intent optimized articles that increased website traffic by 150% and improved conversion rate indicators by .5 percent over two consecutive quarters.
Pro Tip: Spell out your experience in a language understandable to an average person. Avoid industry-specific abbreviations and buzzwords that may not resonate with people who don't have specialized knowledge.
How is this kind of experience relevant to your future career as a lawyer?
To cut a long story short—
It's centered around your transferable skills, such as critical thinking, or written and oral communication.
You honed them elsewhere, but you'll need need them as a lawyer on a daily basis.
Remember:
Be selective, and focus on the relevant stuff.
Want to learn more about the best skills for your law school resume? Here's an article to help you out: The Best Skill Set for a Resume (99+ Skills Examples for All Types of Jobs)
4. Skills
Let's spell it out once more—
If the experience section of your resume is done right, you've already described your key skills.
That's why making a separate section for skills on your law school application resume isn't obligatory.
But if you do decide to include it, make sure it's done right!
Remember:
Relevance is key.
Showcase the skills that can really help you as a student and in your future career.
Writing, communication, analytical, organizational, and critical thinking skills—all these are characteristic of great lawyers.
If your experience section has examples of these, you can make them even more prominent by putting them on a list.
Here are some more ideas for soft skills you might want to include:
Negotiating
Conflict resolution
Adaptability
Adding some hard or technical skills won't do harm but make sure they are relevant:
Wordpress
Google Analytics
Python for language research
SEO
Research databases
It's best if your skills aren't taken out of thin air, but are reflected in your education and professional experience section bullets.
Pro Tip: If you can't think of more than one or two skills for your law school admission resume, consider merging skills and interests sections into one.
If you're not sure how to identify the skills you could showcase on your resume, here's an article you might want to read: 99 Key Skills for a Resume (Best List of Examples for All Types of Jobs)
When making a resume in our builder, drag & drop bullet points, skills, and auto-fill the boring stuff. Spell check? Check. Start building a professional resume template here for free.
When you're done, Zety's resume builder will score your resume and tell you exactly how to make it better.
5. Volunteer Work and Community Involvement
Showing you care about others will earn you extra points.
Admissions committees members are on the lookout for active and engaged students.
Here's an example of what this section could look like on your law school resume:
Law School Resume Example—Volunteer Work
Big Brothers Big Sisters of America
English language tutor and mentor to a 6th-grade student from an underprivileged immigrant family
Casa Pietro Soup Kitchen
Voluntarily worked as a part of kitchen staff to prepare meals twice a month
St. Peters' Dog Shelter
Organized three fundraiser events and collected $5000+ for building restoration
Want to learn more about listing your volunteer work on a resume? We have a dedicated guide to dispel all your doubts: How to List Volunteer Work on Your Resume [+Sample]
6. Awards and Honors
As a matter of fact, this could just as well be part of your education section.
However—
If you received awards and honors that don't have much to do with your education, you can create a dedicated section on your law school resume format.
In fact, we have a dedicated guide that shows you exactly how to put all kinds of achievements on your resume. Check this out: Achievements to Put on a Resume - Complete Guide (30+ Examples)
7. Affiliations
There are two ways in which you can present your professional and academic affiliations on a law school resume:
Option 1: List affiliations In your education section.
The danger is that adding too much detail might make the section look too long.
And if there's too much information—
Your affiliations might get drowned out.
Instead, you can:
Option 2: List affiliations In a separate resume section.
This way everything will remain clearly visible.
And—
You can put all sorts of organizations and associations under this one heading.
The problem is this section might end up on the second page of your law school resume.
Sample Law School Resume—Affiliations
Phi Beta Kappa—Member
UCLA Golden Key—Member
Society for Technical Communication—Member
8. Publications
If you published articles, papers, or books, go ahead and list them in a separate section.
You have three different bibliography formats to choose: MLA, APA or Chicago.
If you're not sure which one to stick to, check the school website to see if it offers any specific guidelines.
If there are none—
Choose the format you prefer and use it consistently throughout.
9. Extracurricular Activities
List any extracurricular activities that add value to your law school application.
As mentioned before, admissions committees want to build a community of engaged students.
All the more so as law schools have large numbers of student organizations and groups.
Here are some ideas for your law school resume:
Pre-Law Society UCLA
UCLA Club Volleyball—Team Captain
Student Government
Environmental Student Organization
10. Leadership Positions
Consider adding a separate section listing your leadership experience.
Students who show they like to take initiative and have strong leadership skills are always more than welcome.
Here's a couple of ideas to get you inspired:
Managing Editor at LingZoo—an online magazine covering research and development in the field of cognitive sciences
UCLA Club Softball—Team Captain
Organizer and moderator—American literature student discussion club
Feel like you still need more information on what sections to put on your law school resume? Head straight to our guide: Resume Sections & Item Order [Extra: Additional Categories that Matter]
2
How to Format Your Law School Resume
Here's the thing:
Before we say anything about how to format resumes for law school admissions—
Check the school website to see if there are any specific guidelines for you to follow.
You may be asked (not) to include particular sections or exceed a certain number of pages etc.
And it doesn't really matter if you're writing a Harvard law school resume, Yale law school resume, or any other.
Always check the requirements.
Always.
Now—
Of all law school resume formats, the reverse-chronological pattern is the safest one to follow.
Why?
First off, it brings your latest education and experience to the fore.
Second of all—
It's the resume format the vast majority of admissions officers feel at home reading. It's well organized, easily navigable, and speaks volumes.
Just remember to:
Avoid clutter and embrace white space.
Pick out a resume-friendly font.
Write simple and reader-friendly headings.
Use bullet points.
And:
Save your law school resume as a PDF file. The PDF file type keeps the formatting intact on all systems and devices.
And finally—
There's a bit of controversy as to the ideal law school application resume length.
Some claim it must not exceed a single page.
Spivey law school resume consultancy even published a piece to help you make the right decision.
In short—
You should always check the school's requirements. If you're asked to provide a one-page law school resume, you've got your answer.
If not, think about all the added value your law school resume would gain if you included the information that doesn't fit on a single page.
If not much.
Just drop it. And keep your resume short and sweet.
Simple as that.
Pro Tip: At the end of the day, it's the content of your resume that matters most. So don't neglect it. That said, our law school resume builder allows you to experiment with the format and easily choose the one you like best.
Mixed feelings about the length of your resume? It so happens we have a guide that clears everything up: How Long Should a Resume Be? Ideal Resume Length [+Tips]
With our builder you can create any kind of professional resume. More than that, you can use our cover letter builder to make a matching cover letter. Here's what it may look like: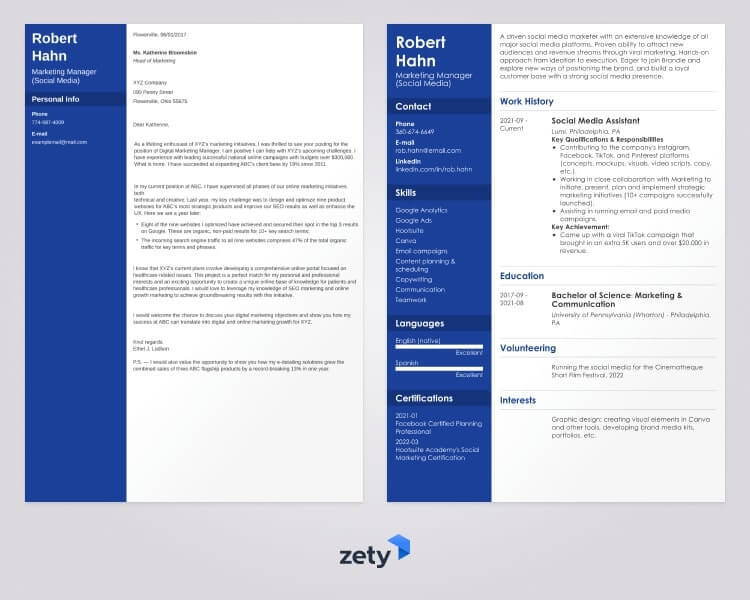 See more cover letter templates and start writing.
Key Takeaway
Your law school resume must be something more than a laundry list of everything you've done so far. Here's how to make your law school resume stand out:
Don't hasten it. Be selective about what to include on your law school resume.
Focus on your relevant academic and professional achievements.
Don't write a law school resume objective. There's no room for this.
Your law school resume is academic by nature, so start it with the education section.
List your relevant experience. Focus on the responsibilities and achievements which demonstrate you've got the skills necessary to succeed.
Lay out your law school resume in the reverse-chronological order.
Exceed one page only if the extra information you want to include adds a lot of value.
Are you writing a law school resume for the first time? Or perhaps you're an L1 student who'd like to share their experience? We'd love to hear from you, leave your comment below!