You probably do realize that to get that dream job, you can't just say "I'm good at writing", or copy a basic list of writing skills from Google.
How do you get hired then? You list the exact skills the employer wants on your resume, then demonstrate them through achievements.

Not sure mind-reading is your forte? Then here's the most useful writing skills guide this side of Malcolm Forbes.
This guide will show you:
A great list of writing skills for various jobs.
Writing tips for how to improve writing skills.
The importance of writing skills on a resume.
How to prove your writing skills so employers want to call you.
Want to save time and have your resume ready in 5 minutes? Try our resume builder. It's fast and easy to use. Plus, you'll get ready-made content to add with one click. See 20+ resume templates and create your resume here.
Sample resume made with our builder—See more resume examples here.
Want to learn more about other job-winning skills? We've got you covered—check out our dedicated guides:
And here are some in-depth guides with resume samples for jobs that require strong writing & editing skills:
1. Review the Best Writing Skills for Your Resume
In a nutshell:
There isn't just one skill for writing on the planet.
Which ones do you need?
Start with the list of 24 types of writing skills below.
Each is packed with skills for jobs for writers and non-writers alike.
To prove them—
Scroll below the writing skills list.
List of Writing Skills for Resumes
Basic Writing Skills. Grammar, punctuation, spelling, vocabulary, clarity, brevity, engagement, proofreading, revising.
Professional Writing Skills. Note taking, letter writing, email writing, MS Office, business writing, written communication skills.
Business Writing Skills. Report writing, business case writing, press release writing, newsletter writing, analysis, research, content management.
Technical Writing Skills. Analysis, planning, data visualization, feedback gathering, preparing documents, product knowledge, research, collaboration.
Creative Writing. Writing novels, writing short stories, plotting, worldbuilding, creating characters, writing dialogue, humor, drama, action.
College Writing Skills, aka academic writing skills. Exposition, persuasion, description, narration, essay writing, thesis writing, creative writing.
Foreign Language Writing Skills. Spanish, French, German, Chinese, Japanese, foreign business writing, fluency.
Copywriter Skills. Content writing, blog writing, SEO, sales writing, research, marketing, empathy, product knowledge.
Content Writing. Research, SEO, focus, meeting deadlines, editing, proofreading, engagement, adaptability, organization, communication.
Editing. Copy editing, online editing, final manuscript production, typesetting,
Grant Writing Skills. Organization, persuasion, research, persistence, empathy, subject knowledge, creativity, attention to detail, storytelling.
Emails Writing Skills. Business emails, mail-merges, sales emails, folders, rules, filters, brevity, precision, proofreading, manners, consistency.
Blog Writing. Focus, brevity, simplicity, engagement, research, strong work ethic.
Report Writing. Sourcing, research, analysis, data visualization, interviewing, data management, MS Office, summarizing.
Media Writing. SEO, AP Style, grammar, punctuation, accuracy, clarity, objectivity, sourcing, interviewing, research, digital media writing, news writing.
Magazine Writing. Pitching, writing ledes, research, interviewing, outreach, structure, storytelling, writing heads and subheads, networking, feature writing.
Journalism. Interviewing, research, special knowledge, meeting deadlines, social media, sourcing, outreach, revising, analyzing, fact-checking.
Collaborative Writing Skills. Collaboration, Google Docs, Trello, Jira, MS Word, teamwork, editing.
Business Storytelling. Branding, sales, positivity, brevity, detail-oriented, empathy, engagement, research, networking.
Proposal Writing. Development, empathy, organization, communication, basic writing, business writing.
Social Media Writing. Facebook, Twitter, LinkedIn, accuracy, engagement, adaptability, humor, detail-oriented, writing calls-to-action.
Presentation Writing. PowerPoint, creativity, brevity, public speaking, sales.
Writing Computer Skills. MS Office, MS Word, Excel, PowerPoint, Google Docs, Content Management Systems, WordPress.
Writing Code. Java, Python, Swift, C, C++, PHP, MySQL, JavaScript, HTML, CSS, Ruby, Rust, Elixir.
The skills above are hard skills, a.k.a. writing technical skills.
But professional writers need other qualities too.
Here's a list of writing soft skills for your resume:
Writing Soft Skills
Persistence
Strong Work Ethic
Collaboration
Patience
Interpersonal Skills
Empathy
Work Ethic
Organization
Perceptiveness
How do you show writing skills on a resume to grab the interview?
That's next.
Pro Tip: Don't list all the writer skills in this guide on your resume. Unless you're specifically after jobs for writers, just pick the one or two in the job ad.
Should you list soft or hard skills for writing? What about technical skills? See our guide: Soft Skills vs Hard Skills for a Job: What Employers Look For
When making a resume in our builder, drag & drop bullet points, skills, and auto-fill the boring stuff. Spell check? Check. Start building a professional resume template here for free.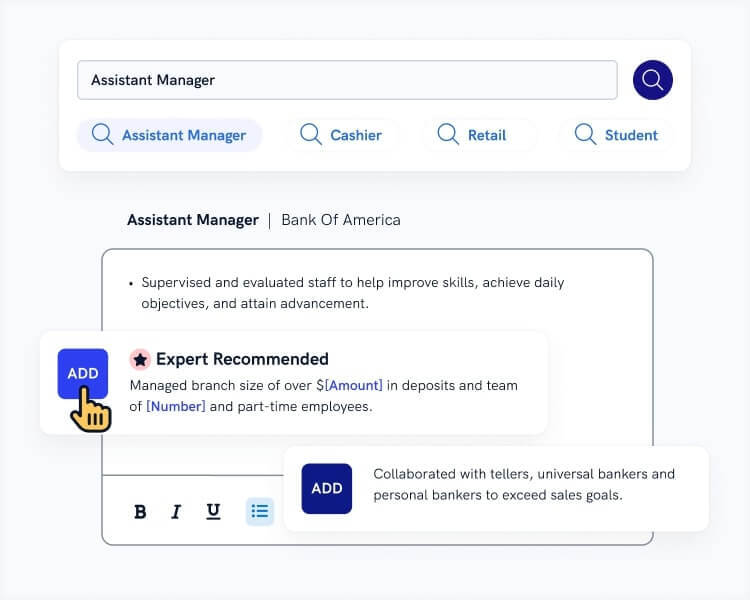 When you're done, our free resume builder will score your resume and our resume checker will tell you exactly how to make it better.
2. Show Writing Skills on a Resume With Achievements
Wow. This applicant has what we need.
Your resume should get that response.
But there's a trick to it.
How to Put Writing Skills on a Resume
First, tailor your resume by picking the writer skills shown in the job ad. Those are the ones the employer cares about.
Second, list your skills like this:
Skills: Business writing, emails writing, communication, etc...
Most important—
Prove them with achievements and numbers.
These writing skills examples show how:
Writing Skills Examples for Resumes
Which skills for writing did the job posting ask for? Those are the ones you need to prove.
Put them in your resume bullet points like this:
Job ad says: Google Docs, SEO, WordPress
Your resume says:
Used

Google Docs

to create

300+ long-form blog posts

. Collaborated with editors on 3 drafts of each.
Used high-level

SEO skills

to do keyword research for 700+ articles. Grew traffic from

0 to 600,000 readers a month in 18 months

.
Built

500+ articles

in

WordPress

, including all metadata, charts, tables, and 5–10 images per article.
Hire-worthy.
You've listed the perfect skills in a way employers can believe.
Technical Writing Skills Examples
You're so good you could write documentation for the Falcon 9. But you won't land technical writing jobs if you don't strut your stuff.
So—
Sift through the technical writer job description for the right skills. Then show them like this:
Job ad says: technical writing, product knowledge.
Your resume says:
Used

technical writin

g skills to produce

50+ executive-level briefings per year

. Commended 5x by management for brevity and accuracy.
Created documentation for 153 software solutions. Used in-depth

product knowledge

to save

5 hours per week

for engineers.
Basic Writing Skills Examples for Resumes
Just need to prove you can put pen to paper well enough to muddle through? You could take an English proficiency test and list the results on your resume.
But check the job ad for the basic writing skills this job wants. Then prove you till the bill:
Job ad says: Revising, proofreading.
Your resume says:
Revised

150+ business documents

, including company reports and newsletters.

Proofread

200+ MS Word documents

for accuracy with 99.9% error-free results.
Business Writing Skills Examples for Resumes
Does that fat job want business writing skills? You'll need to prove them, but first make sure you're proving the right skills.
Read the job description, then plug achievements into your resume like this:
Job ad says: Report writing, newsletter writing.
Your resume says:
Wrote 50+ business reports, including monthly and annual reports, business intelligence reports, and project reports.

Wrote weekly

newsletter

for 2 years with 5,000+ readers.

Gained 2,000+ subscribers

for company website.
Professional Writing Skills Examples for Resumes
What's the difference between business and professional writing skills? Not much.
Prove the skills that fit the job posting best, like this:
Job ad says: MS Word, email writing.
Your resume says:
Used

MS Word's

commenting and tracking features to collaborate with

20 team members

on company reports.
Leveraged Outlook's

email

folders, tasks, and rules to

save 2+ hours

per week.

Five co-workers

adopted the system to save time in their schedules.
College Writing Skills Examples for Resumes
Do you need to prove essential writing skills for college and beyond? Try to find the specific skills they want.
Then, list accomplishments that prove you're up to speed.
College wants: Essay writing skills, creative writing.
Your resume says:
Won

the high school

essay writing

contest with my essay, "Grasshoppers, Ants, and the Kennebec River."
Wrote four

creative

science fiction stories and

sold them to national markets

.
Looking for creative writing jobs? Just Google "creative writing jobs" + [location] or [remote]. Need more tips? See our Google job search guide.
Grant Writing Skills Examples for Resumes
Grant writing skills are vital to nonprofits and private companies. Have you got more proposal writer skills than the United Way?
Scan the job description for specific skills for grant writing. Then show when you used them to help in a big way.
Job ad says: Grant writing, storytelling.
Your resume says:
Wrote 17 grants

with a

70% success rate

. Secured a total of

$145,000

for the organization.
Used

storytelling

skills to show the organization's need.

95% of the officials

who approved our grants said they were moved by our story.
Emails Writing Skills Examples for Resumes
Everyone can write emails. But does your dream job need something extraordinary?
Check the job ad for the precise email writing skills the manager wants. Then show how you used them in past roles.
Job ad says: Mail merges, business emails.
Your resume says:
Created monthly newsletter

mail merges

with MS Outlook and MS Access that reached

30,000 customers per month

.
Answered and wrote 30+

business emails

per day to clients. Used sales email skills to build

35 new customer relationships

.
Need a synonym for writing skills?
Try written communication skills.
Up next, a list of writing tips to improve writing skills fast.
Pro Tip: Spelling and punctuation in a resume must be flawless. Nothing says, "I'm not a good writer" like sloppy resume writing—this is one of the worst resume mistakes.
Need more skills to write on a resume? See our guide: The Ultimate Professional Skill Set: 99 Key Skills for a Resume
3. How to Get Better at Writing
Here's a bad dream:
What if the employer wants strong writing skills but—
You have a hard time writing See Jane run?
Don't sweat it.
Here's how to improve your writing:
How to Improve Writing Skills
Writing Tips:
Refresh your basic writing skills like spelling and grammar. (Classes below)
Write and read often. Writing with skill takes practice.
Find someone to give feedback on your writing.
Reread writing you like and imitate it.
Outline before you write.
Revise your writing when you're done—even if you're tired of it.
Write your first draft fast. Then go back and fix it.
Cut everything that isn't 100% necessary from your writing.
Do your research. The biggest source of block is not knowing what to say.
Don't procrastinate.
If those writing tips don't go far enough, consider taking classes.
These 12 writing classes can unleash your inner Stephen King:
Writing Skills Courses
Pro Tip: Don't want to shell out for writing skills classes? Pay a visit to the University of YouTube. They've got tons of free writing lessons to improve your skill set quickly.
Plus, a great cover letter that matches your resume will give you an advantage over other candidates. You can write it in our cover letter builder here. Here's what it may look like: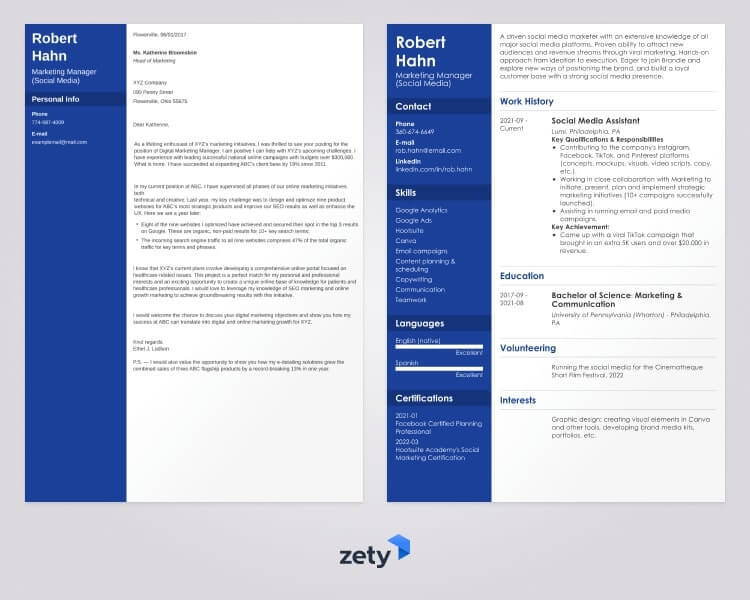 See more cover letter templates and start writing.
Key Takeaway
Summary: Writing skills on resumes:
Review the many types of writing skills.
Read the job ad like it's a real page-turner. Highlight the skills you see.
List skills for writing in your resume, then prove them with achievements.
To improve writing skills, read and write more, outline, revise, and cut, cut, cut.
Have more questions about how to improve writing skills? Still not sure how to put skills for writing on a resume? Give us a shout in the comments! We'd be happy to reply.
About Zety's Editorial Process
This article has been reviewed by our editorial team to make sure it follows Zety's editorial guidelines. We're committed to sharing our expertise and giving you trustworthy career advice tailored to your needs. High-quality content is what brings over 40 million readers to our site every year. But we don't stop there. Our team conducts original research to understand the job market better, and we pride ourselves on being quoted by top universities and prime media outlets from around the world.
Sources