Libraries are places where new ideas are born, places where history comes to life. And you're a librarian who knows that every book has a story to tell.
But is your resume narrating your career tale effectively? Together, let's create a librarian resume that highlights your expertise like a bestseller on display, making hiring managers eager to turn the page and invite you for an interview. Get ready to write your next career chapter!
This guide will show you:
A librarian resume sample better than 9 out of 10 other resumes.
How to write a librarian resume even if you have no experience.
Tips and examples of how to put skills and achievements on a librarian resume.
How to describe your experience on a resume for library positions to get any job you want.
Here's a sample resume for a librarian made using our resume builder.
Want to save time and have your resume ready in 5 minutes? Try our resume builder. It's fast and easy to use. Plus, you'll get ready-made content to add with one click. See 20+ resume templates and create your resume here.
Sample resume made with our builder—See more resume examples here.
Not only a librarian but a teacher, too? See one of our dedicated guides:
1
Librarian Resume Example
Kyle Hamilton
Librarian
(555) 555-5555
kyle.hamilton@email.com
linkedin.com/in/kyle.hamilton
Summary
Enthusiastic Librarian with 7 years of experience enhancing community access to literature and resources. Eager to support the MountainView Public Library in developing engaging outreach programs and improving literacy levels. Oversaw a 25% increase in community participation in Canyonside Community Library's summer reading program.
Experience
Librarian
Canyonside Community Library, Colorado Springs, CO
March 2013–Present
Key Qualifications & Responsibilities
Managed the efficient use of library resources and made purchase recommendations.
Developed and implemented successful community outreach programs.
Created and delivered literacy instruction and information literacy training to community members and schools.
Assisted in the organization of Library events for children and teenagers.
Key Achievement:
Oversaw a 25% increase in community participation in the library's summer reading program.
Library Assistant
Skyline County Library, Colorado Springs, CO
January 2010–February 2013
Key Qualifications & Responsibilities
Assisted librarians with the development of reading and literacy programs.
Organized library materials and resources.
Provided exceptional customer service to library patrons.
Key Achievement:
Awarded "Employee of the Year" in 2012 for outstanding commitment and dedication to promoting literacy in the community.
Education
Master of Library and Information Science
University of Denver, Denver, CO
August 2008–May 2010
Relevant extracurricular activities
Member, Library Association of the University of Denver.
Volunteer, Denver Public Library.
Academic achievements
Skills
Collection development
Outreach programs development
Literacy instruction
Cataloging and classification
Digital libraries
Research and reference services
Curriculum development
Interpersonal communication
Certifications
Library Support Staff Certification, American Library Association, 2010
Awards
2011, Rising Star Librarian, Colorado Library Association
2012, Employee of the Year, Skyline County Library
Memberships
Member of the American Library Association since 2010
Participated in the development of the ALA's digital literacy guidelines.
Presented a paper on the "Role of Librarians in Promoting Digital Literacy" during the 2015 ALA Annual Conference.
Languages
English—Native
Spanish—Intermediate
Interests
Engaging in reading clubs and literacy programs.
Writing book reviews for a personal blog.
What's the Best Format for a Librarian Resume?
Why do we need librarians? We've got Google.
Not so fast.
Librarians are superior to a search engine. Google brings back millions of answers.
You bring back the right one.
How do you do that?
Organization.
The resources are properly entered into your catalog.
Think about it when you're applying for a librarian job:
A poorly formatted resume is just as useless as a poorly cataloged library. It's impossible to find relevant information in it.
Choosing the right format for your professional librarian resume will let you emphasize the highlights of your career.
So how do you choose your resume format?
Long story short: go for the respected reverse-chronological format.
It's the gold standard in recruitment. It's like a perfectly-cataloged library that contains all the important information about your career. And it's all easy to find.
It's got one more asset: it puts your most recent job at the top of your librarian resume. So you can be sure that the peak of your career gets the most attention.
But what if you're writing an entry-level librarian resume with no experience to list?
No difference. The trusted reverse-chronological resume format is still your best bet.
Showcase your paraprofessional activities and volunteer experience. List your internships and academic positions. Don't forget about your part-time jobs.
The perfect template for a librarian's resume puts relevant information first.
Choose clear, legible fonts.
Remember that white space is your friend.
Next, save your professional librarian resume as a PDF. The PDF format makes sure your perfect resume template stays intact.
Pro Tip: Read the job posting carefully to make sure PDFs are accepted. Some Applicant Tracking Systems (ATS) cannot scan PDF files.
You can also try out other formats for your librarian resume! See our guide: 3 Resume Formats: How to Choose the Best One [Examples]
Want to make sure your resume will hook every recruiter and get you that interview? Get our free checklist and learn what makes a job-winning resume: 46 Things You Need To Do Before You Send Your Resume
2
How to Write a Librarian Resume Objective or Resume Summary?
"It was a wrong number that started it, the telephone ringing three times in the dead of night, and the voice on the other end asking for someone he was not."
Wow, that's one hell of an opening line, right?
You're DYING to find out more about what happened.
All great writers know that the first passage will make or break their story.
It has to grab the readers by their throats. Make them hungry for more.
Your librarian resume isn't too different from a novel. Just like novels, it vies for readers' attention.
The recruiters: that's who your readers are. You need to seduce them to land an interview.
Wondering how to do that?
Start your librarian resume with either a resume objective or resume summary - a short and sweet paragraph that explains why you're the best librarian candidate.
A resume summary highlights your career progress and skill set.
A resume objective, in turn, reflects what you've already achieved and what you can offer your employer.
(Not sure who wrote that killer opener? That's right, Paul Auster in City of Glass.)
Should you choose a resume objective or resume summary for your librarian resume?
A resume objective is the best choice for:
Entry-level librarian resumes
Library volunteer resumes
Library page resumes
Resumes for library clerks and assistants with little experience
A resume summary, on the other hand, should be used in:
Experienced librarian resumes
Resumes for executive positions such as library manager or library director resumes
Resumes for specialized positions, for example, cataloging librarian resumes, school librarian resumes, children's librarian resumes, library media specialist resumes, or academic librarian resumes
Let's have a look at some sample librarian resume objectives and summaries.
Here are two sample career objectives for school librarian job applications:
wrong
Recent MLS program graduate looking for any school librarian job where I could apply my skills and knowledge.
right
Detailed-oriented University of North Carolina MLS graduate seeking to leverage three years of internship and volunteer experience as a Junior Librarian with Springfield Public Schools. Designed and implemented a barcode-scanning system to make the catalog of 8000+ books intuitive and easy-to-use for pupils. Bringing working knowledge of cataloging, library assistance, and fundraising.
See the difference? The candidate from the right example focused on what she can offer the employer.
In the wrong example, the bottom line is basically "I want a job because I studied to get a job."
Make your entry-level librarian resume about the employer's profit, not your personal gain.
Now, let's compare two examples of a public librarian resume summary:
right
Creative, engaged public librarian with 15+ years experience in reference services, cataloging, and library management. Substantial knowledge of preservation, interlibrary loans, and acquisitions. Additional experience in fundraising. Established relationships with top US fiction publishers. Awardee of 2015 Allie Beth Martin Award for "extraordinary range and depth of knowledge about books and a distinguished ability to share that knowledge." 2010 Ph. D. in Library and Information Science at the University of Illinois. Fluent Spanish, advanced Russian.
Wow, right? For library employers, this one is as precious as a signed first edition of The Great Gatsby.
wrong
Hard-working, organized librarian. Experienced in bookkeeping, cataloging, and teaching. High level of IT proficiency. Good written and verbal communication and teamwork skills.
What makes the second sample public librarian resume summary so bad?
It's not specific. It's full of generic buzzwords and does not mention any verifiable skills or achievements.
Pro Tip: Always remember two golden rules. One: match your librarian resume objective or summary to the job description from the ad. Two: NEVER use the phrase "looking for any librarian job."
When making a resume in our builder, drag & drop bullet points, skills, and auto-fill the boring stuff. Spell check? Check. Start building a professional resume template here for free.
When you're done, our professional resume builder will score your resume and our resume checker will tell you exactly how to make it better.
Hungry for more advice and tips on how to write a librarian resume objective statement or a resume summary? Check out our guides: How To Write A Resume Summary: 21 Best Examples You Will See and 20+ Resume Objective Examples - Use Them On Your Resume (Tips)
3
How to Describe Your Librarian Experience
"You are the best librarian,
Today is your big day.
The job of your dreams is waiting,
High time you got on your way!"
That's right! But wait a moment, here's a tricky question:
How long do you think it took you to read this little limerick?
Roughly 6 seconds.
Exactly as long as the average recruiter spends scanning your librarian resume.
Now, do you know which section of your resume is the most important for employers?
Your work experience.
This is the meat and potatoes of every good librarian resume. But you don't want a good resume - you want the best one!
So make your work experience section not just "meat and potatoes" but Kobe beef and dauphinoise!
Here's how to do it:
Start with your most recent job.
Then, list all your previous positions in reverse-chronological order.
Underneath each job, add up to six bullet points. List your responsibilities and show off as many measurable achievements as you can.
Sounds fairly easy?
It is easy, true. That's why it's not enough.
To really stand out, you need to tailor the work experience section of your librarian resume to the job description.
Here's what we mean by tailoring:
Your relevant experience is the heart of the matter.
If you're applying for a cataloging librarian position, the employers won't really care about how great you did teaching free high school classes in creative writing or organizing a spectacular fundraising event.
They'll want you to know the Anglo-American Cataloging Rules by heart and be fully proficient in library software.
Always make sure to read the librarian job description carefully. Then, jot down all the librarian duties you'll be expected to perform. The recruiters will be looking for the same keywords in your library resume.
If you notice responsibilities that you've already had, mention them in your work experience section.
Presto! That's how tailoring works.
Let's see some examples.
Here's a sample reference librarian job description: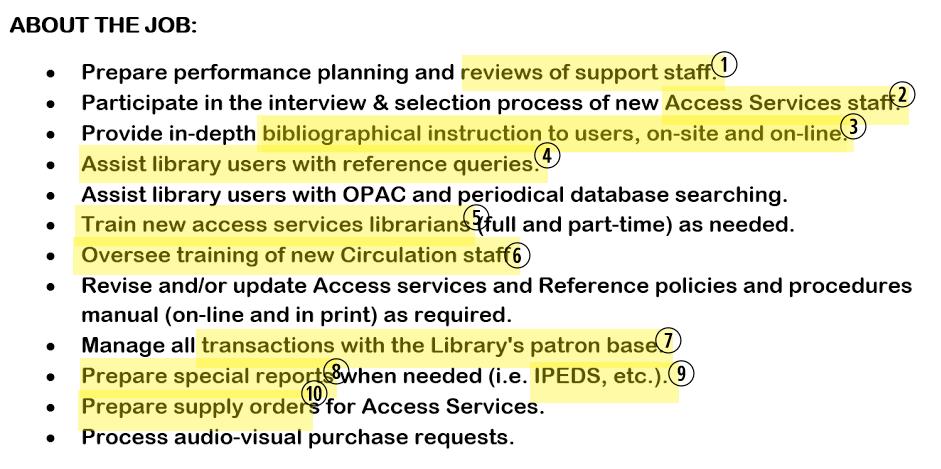 Now, have a look at an example of a work experience section from a reference librarian resume. Notice how the candidate matched his responsibilities with the highlighted keywords:
right
Reference librarian
Delgado Community College, 2012 - 2017
New Orleans, LA
Supervised and

reviewed support staff

(1)

Assisted library users with bibliographical information

(3) and reference queries(4) both on-site and on-line(3).
Supervised

transactions with the patrons

(7) as well as other libraries
Prepared

supply orders

(10) and

special reports

(8), in the IPEDS(9) system
Key achievement: Implemented new training(5, 6) programs for circulation(6) and access services(2, 5) librarians which resulted in cutting the full training time by over 40%.
wrong
Circulation Librarian
Louisiana State University
Baton Rouge, LA, 2014-2017
Responsibilities:
Assisting patrons and visitors
Managing library finances
Organizing interlibrary loans
Preparing annual reports
Office administration
Client service
If you're thinking "well, but this one seems pretty much fine," you're right.
But pretty much fine won't get this candidate a job. The wrong example is wrong because it's too general.
"Assisting patrons," "organizing interlibrary loans"? You're a librarian, what else could you possibly do?!
In contrast, the librarian from the right example listed her measurable achievements. It's the best strategy to impress the recruiters with your library resume.
"Implemented new training programs for circulation and access services librarians which resulted in cutting the full training time by over 40%."
The candidate used the PAR (Problem-Action-Result) formula.
Problem: training new staff was too time-consuming
Action: implement new training programs
Result: full training time was reduced by 40%
The right example of a librarian resume illustrates one more clever resume trick:
The candidate uses action words throughout the whole work experience section.
"Supervised," "prepared," "assisted" - these indicate that you're a self-starter and an achiever.
"Responsible for assisting patrons" makes you come across as someone who just mindlessly does whatever they're told.
ProTip: The common advice is to keep your librarian resume one-page. It's the wrong advice. Two-page resumes are perfectly fine. Omitting important information about your career is anything but.
Need some more ideas on the right achievements to put on a librarian resume? Check out this guide: "How to Put Achievements on a Resume - Complete Guide (+30 Examples)"
4
Is Your Education Section Underperforming? It Might Be.
Is your education section the easiest one to list on your librarian resume?
Yes, it usually is.
Usually. That doesn't mean always.
If you've got oodles of librarian experience, the only thing you have to do is enter your highest degree of education.
Here's how to do it:
right
2007 MSc Library Science
North Carolina University, Chapel Hill, NC
ProTip: The typical advice is to add your GPA if you graduated within the last three years and if it's higher than 3.0. In fact, if you have more than three months of librarian experience, you don't need to list it at all. Do it only if it's exceptionally high and you've graduated from a top university.
Things get more complicated if you're a newbie with no experience.
Say, you're writing an entry-level teacher librarian resume. You've just graduated from an MLS program. You did a BA in literature. You'd be the best teacher librarian one can imagine.
The universe owes you a job.
But you haven't yet worked full-time in your field.
If such is the case, you might consider putting your education section above your work experience.
And if your Bachelor's degree is relevant to the librarian job opening, put in on your librarian resume and relate it to the job description.
How?
For example, by listing the most relevant coursework, your favorite fields of study, the topic of your thesis, extracurricular activities, or student projects in which you participated.
Have a look at how to make a librarian resume education section that stands out:
Here's a sample entry-level teacher librarian resume education section
right
2017 Master of Science in Library and Information Science
Drexel University, Philadelphia, PA
3.87 GPA
2016 Bachelor of Arts in Comparative Literature
University of Pennsylvania, Philadelphia, PA
3.81 GPA
Relevant coursework: Introduction to Literary Study: Comparison, Cosmopolitanism, and the Global Novel, Literature Gone Viral, Digital Humanities, Radical Arts
Key achievements:
President of the undergraduate student board from 2014 until 2016
Now, that's what we call a perfectly-curated education section.
This job seeker might not have extensive library experience. But the detailed education section shows that she'll handle the job well. It demonstrates her sense of purpose in starting out on a teacher librarian career.
Sometimes that's all you need to land an interview.
For more librarian resume education section tips, check out: "How to Put Your Education on a Resume [Tips & Examples]"
5
How to Put Skills on a Librarian Resume
Benjamin Franklin, Lewis Carroll, David Hume, and Marcel Proust.
Wow, that's an impressive squad.
Now, take a guess: what do these guys have in common?
Superior intelligence and creativity? Remarkable logical thinking skills?
Yeah, that too. But there's something else:
They all worked as librarians.
And once you start thinking about it, it's not that surprising, right?
The best librarians need to possess an incredibly varied set of skills. They're true renaissance people. And the library employers know it well. They need your skills.
So it doesn't matter if you're writing a school library resume, a reference library technician resume, or even if you're applying to be a library volunteer.
Your skills section has to impress.
Please, don't fret. We'll show you exactly how to make it happen.
Create a spreadsheet. Think about your librarian skills. List all of them in your spreadsheet.
For librarians, three types of skills are most relevant:
Job-specific librarian skills
"Soft" skills
Library software skills
Have a look at a sample librarian resume skills list:
Examples of librarian skills to put on a resume
Librarian Resume Skills

| | | |
| --- | --- | --- |
| Specific librarian skills | Soft skills | Software skills |
| Cataloging | Communication | Adobe Photoshop |
| Preservation | Writing skills | MP3 Conversion |
| Research | Enthusiasm | jQuery |
| Teaching | Attention to detail | WebCast |
| Classification criteria | Time management | Lucidea Integrated Library Systems |
| Acquisitions | Teamwork | OPALS |
| Collection Management | Working independently | Handy Library Manager |
| Interlibrary Loans | Interpersonal skills | Koha ILS |
| Dewey Decimal Classification | Analytical thinking | Access-It Library |
What's next?
Well, you obviously can't mention all your skills. It would make your librarian resume read like the Codex Seraphinianus – interesting but futile.
Read the job description carefully. Look for skills-related keywords and highlight all of them.
Go back to work experience and education sections of your librarian resume. Check if you can match some of those skills with previous jobs or your coursework.
Now for the the finish touch – add them to the skills section too. Plus, relevant extra ones.
See how it works.
Have a look at a sample academic librarian job description: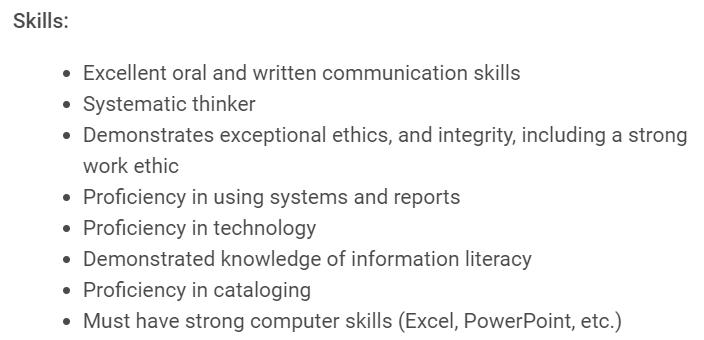 And here's an academic librarian resume skills list example tailored to the job offer:
right
Computer skills (Excel, PowerPoint, Adobe PhotoShop)
Library technology and software systems and (jQuery, WebCast)
Excellent cataloging skills (knowledge of the Anglo-American Cataloging Rules, Library of Congress subject heading policies, Dewey Decimal Classification, Arabic subject headings, MARC21, and catalog materials in categories of advanced specialized backgrounds)
Logical and systematic thinking
Just perfect.
The candidate didn't enter all of her skills.
Neither did she refer to each and every skill required in the job description. She linked the skills that she has to those the employer expects of her.
And she made sure to provide examples that prove her proficiency.
That's exactly what a tailored skills section on a professional resume for librarian candidates should look like!
ProTip: It's a great idea to read through various library job offers, not only the one you're applying for. You'll get the picture of what's usually valued by library employers.
Need some more library resume tips on listing your skills? Read our guide: +30 Best Examples of What Skills to Put on a Resume (Proven Tips)
6
How to Add Other Sections for an Effective Librarian Resume
"People lie."
- T. S. Eliot
Fine, it's not T. S. Eliot. I lied.
But so do candidates on their resumes.
They embellish their achievements, exaggerate the importance of their responsibilities, overestimate their language skills.
The recruiters expect it and read everything with a pinch of salt.
What recruiters are looking for in a librarian's resume is proof they're telling the truth about their assets.
Luckily, there are some unquestionable triumphs that you can show off in an additional section of your librarian resume.
Such as?
The following:
Industry awards
Librarian certifications
Publications in peer-reviewed journals
Professional affiliations
Additional training
ProTip: It's fine if you repeat some information from previous sections. It makes your resume more consistent and believable.
Don't worry if you're just at the beginning of your librarian career and can showcase none of the above.
A good entry-level librarian resume can still benefit from an additional section.
Here are some ideas:
Volunteer experience
Hobbies and interests
Academic achievements
Personal blog
Not quite sure what to include in the extra section of your librarian resume and what to leave off? Read our guide: "20 Best Examples of Hobbies & Interests To Put on a Resume (5 Tips)"
7
Here's the Most Common Myth About Cover Letters
You think you don't need a librarian cover letter?
Sorry, but you need to categorize that as FICTION.
Think about this:
There probably is this one thing that you really wish the recruiters paid close attention to. Something you're really proud of.
Can your librarian resume make that happen?
Well, the truth is, sometimes it can't.
That's where a cover letter for a library job comes in.
The perfect resume for a librarian reads like Encyclopædia Britannica. Facts and figures.
A good librarian cover letter tells a great story.
It highlights the protagonist's special achievements.
It can explain that three-month gap in employment.
Finally, it can show that you're a cultural fit for the library you're applying to.
ProTip: As a librarian, you're expected to have great research skills. Demonstrate them! Look up the recruiter's name and address your librarian cover letter directly to them. Personalized cover letters are a perfect way to prove that you're not just flooding random libraries with your applications.
Still not convinced?
Well, check this out:
Out of 10 recruiters, 4 won't even open your resume if there's no cover letter attached.
Yes, you read that right.
Sound like a gamble you want to take?
No? We thought so.
Plus, a great cover letter that matches your resume will give you an advantage over other candidates. You can write it in our cover letter builder here. Here's what it may look like: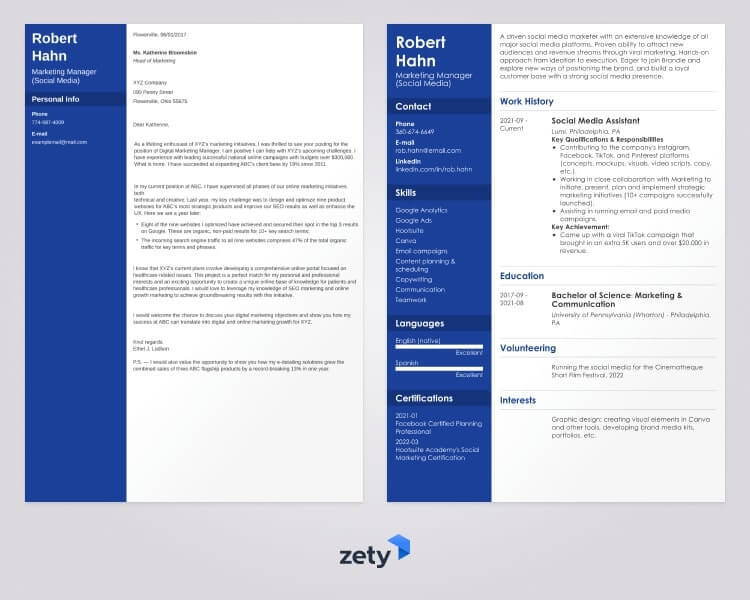 See more cover letter templates and start writing.
And if you want to get some extra tips on how to make the most of your librarian cover letter, read our guides:
Key Takeaway
Landing a job with a library is tough nowadays. Employment grows at a rate 4% below the national average.
And it gets worse: most of the categorizing and cataloging tasks can be performed by library software.
Your resume needs to show the recruiters that you're capable of performing tasks impossible for robots to handle. Remember about the key strategies we covered:
Show off your additional skills: teaching, people management, or fundraising.
Remember to mention your IT skills. If you're a librarian nowadays, you're either tech-savvy or out-of-work.
Tailor your resume to the job description. Make sure to use the right keywords. Just don't stuff the resume with whatever is expected of you. Highlight those skills that you do have.
Use action words whenever possible.
Add numbers to highlight your measurable achievements.
All check?
Good luck at the interview!
Do you have any questions on how to write a librarian resume? Not sure how to describe your skills or achievements? Give us a shout in the comments, and we'll answer your question.
About Zety's Editorial Process
This article has been reviewed by our editorial team to make sure it follows Zety's editorial guidelines. We're committed to sharing our expertise and giving you trustworthy career advice tailored to your needs. High-quality content is what brings over 40 million readers to our site every year. But we don't stop there. Our team conducts original research to understand the job market better, and we pride ourselves on being quoted by top universities and prime media outlets from around the world.