Our customers have been hired by:
Having a perfect assistant principal resume is as important as making sure that no classes overlap in one classroom. It's as vital as the right curriculum planning. It's as significant as having a wide vocabulary after leaving school!
You get the idea. To get a job in a school, you're going to improve, you need a great resume for assistant principal. And here's a guide that will teach you how to write one!
This guide will show you:
An assistant principal resume example better than 9 out of 10 other resumes.
How to write an assistant principal resume that will land you more interviews.
Tips and examples of how to put skills and achievements on an assistant principal resume.
How to describe your experience on a resume for an assistant principal to get any job you want.
Want to save time and have your resume ready in 5 minutes? Try our resume builder. It's fast and easy to use. Plus, you'll get ready-made content to add with one click. See 20+ resume templates and create your resume here.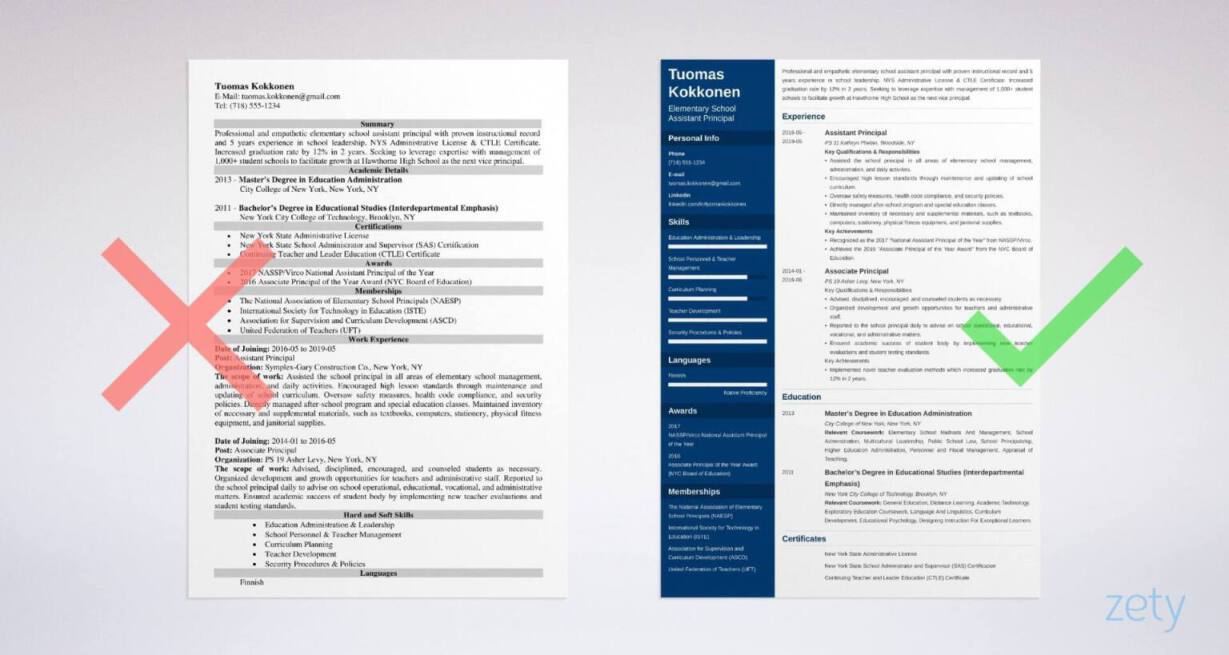 Sample resume made with our builder—See more resume samples here.
Check out other school jobs-related resume guides:
Assistant Principal Resume Template
Tuomas Kokkonen
Elementary School Assistant Principal
tuomas.kokkonen@gmail.com
(718) 555-1234
linkedin.com/in/tuomaskokkonen
Summary of Qualifications
Professional and empathetic elementary school assistant principal with proven instructional record and 5 years experience in school leadership. NYS Administrative License & CTLE Certificate. Increased graduation rate by 12% in 2 years. Seeking to leverage expertise with management of 1,000+ student schools to facilitate growth at Hawthorne High School as the next vice principal.
Work Experience
Assistant Principal
May 2016–May 2019
PS 11 Kathryn Phelan, Woodside, NY
Key Qualifications & Responsibilities
Assisted the school principal in all areas of elementary school management, administration, and daily activities.
Encouraged high lesson standards through maintenance and updating of school curriculum.
Oversaw safety measures, health code compliance, and security policies.
Directly managed after-school program and special education classes.
Maintained inventory of necessary and supplemental materials, such as textbooks, computers, stationery, physical fitness equipment, and janitorial supplies.
Key Achievements
Recognized as the 2017 "National Assistant Principal of the Year" from NASSP/Virco.
Achieved the 2016 "Associate Principal of the Year Award" from the NYC Board of Education.
Associate Principal
January 2014–May 2016
PS 19 Asher Levy, New York, NY
Key Qualifications & Responsibilities
Advised, disciplined, encouraged, and counseled students as necessary.
Organized development and growth opportunities for teachers and administrative staff.
Reported to the school principal daily to advise on school operational, educational, vocational, and administrative matters.
Ensured academic success of student body by implementing new teacher evaluations and student testing standards.
Key Achievements
Implemented novel teacher evaluation methods which increased graduation rate by 12% in 2 years.
Education
Master's Degree in Education Administration
City College of New York, New York, NY
Graduation: 2013
Relevant Coursework: Elementary School Methods And Management, School Administration, Multicultural Leadership, Public School Law, School Principalship, Higher Education Administration, Personnel and Fiscal Management, Appraisal of Teaching.
Bachelor's Degree in Educational Studies (Interdepartmental Emphasis)
New York City College of Technology, Brooklyn, NY
Graduation: 2011
Relevant Coursework: General Education, Distance Learning, Academic Technology, Exploratory Education Coursework, Language And Linguistics, Curriculum Development, Educational Psychology, Designing Instruction For Exceptional Learners.
Key Skills
Education Administration & Leadership
School Personnel & Teacher Management
Curriculum Planning
Teacher Development
Security Procedures & Policies
Certifications
New York State Administrative License
New York State School Administrator and Supervisor (SAS) Certification
Continuing Teacher and Leader Education (CTLE) Certificate
Awards
2017 NASSP/Virco National Assistant Principal of the Year
2016 Associate Principal of the Year Award (NYC Board of Education)
Memberships
The National Association of Elementary School Principals (NAESP)
International Society for Technology in Education (ISTE)
Association for Supervision and Curriculum Development (ASCD)
United Federation of Teachers (UFT)
Languages
Finnish: Native Proficiency
Now let's talk about how to write an assistant principal resume:
1. Choose the Best Format for Your Assistant Principal Resume
From adjusting the curriculum to helping teachers develop to keeping textbooks up to date, running a school is no easy feat.
Luckily, you'll keep things neatly arranged for some semblance of organization.
But resumes need it too—
To be sure the principal can understand and read your resume, format the resume right.
Here's how to do it:
Pro Tip: Send a resume in PDF or Word? Unless they explicitly request it as a Microsoft Word document, send them a PDF. The PDF format renders correctly on any device.
2. Write an Assistant Principal Resume Summary or Objective
Also known as the resume profile, the resume objective or summary is a brief, 3–4 line introduction paragraph.
This heading statement is like an elevator pitch.
It gives school principals a quick look at your teaching background, school skills, academic experience, and vocational goals.
Choose the resume summary if you have school leadership experience. This summary statement introduces your experience and skills regarding school management. On top of that, it gives them some numbers (winning achievements) to verify your eligibility.
Choose the resume objective when writing an assistant principal resume with no experience. This career objective talks about your future school professional goals, and it still gives an accomplishment with numbers to prove your worthiness.
Pro Tip: The heading statement goes on top, but save it for the end. It's difficult to "sum up" your experienced or entry-level assistant principal resume if it hasn't been written yet!
3. Create the Perfect Assistant Principal Job Description for a Resume

Like seeing a perfect 1600 SAT score, school principals want to see experience on a resume done right.
So—
Here's how to ace assistant principal job descriptions:
Start with your recent work, and then follow that with the one before it.
Put business position titles at the top, then dates you worked, the school's name, and 5 or 6 bullet points documenting assistant principal duties.
Use strong resume words (e.g., facilitated, administered, etc.) to start each entry.
Give achievements with verifiable numbers, not only regular job tasks.
Learn how to tailor resume for a specific job. Elementary principals and high school principals alike hate generic resumes.
Pro Tip: If you're writing a first-time assistant principal resume, you still have experience. Just choose bullet point entries which show them you have school experience and leadership aptitude. For more, check out our guide on writing a resume with no experience.
When making a resume in our builder, drag & drop bullet points, skills, and auto-fill the boring stuff. Spell check? Check. Start building a professional resume template here for free.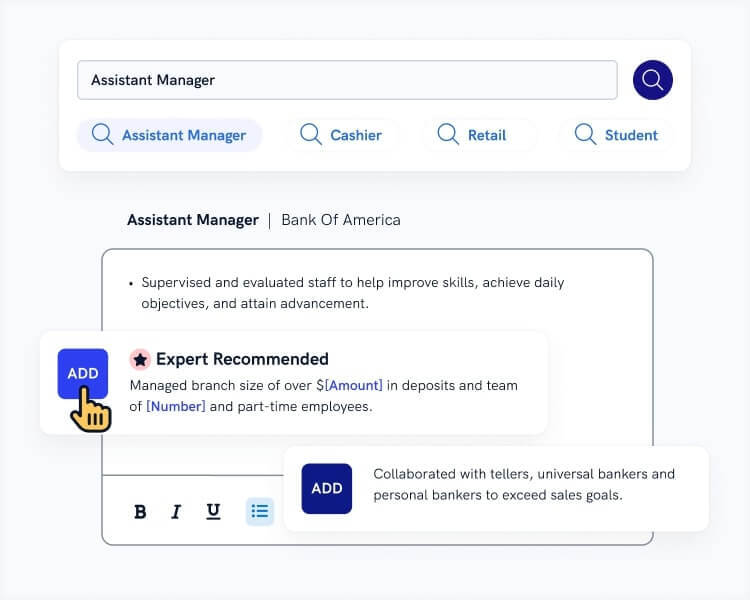 When you're done, Zety's resume builder will score your resume and our resume checker will tell you exactly how to make it better.
4. Make Your Assistant Principal Resume Education Section Shine
The educational background on a resume for any position is not an area to slack on.
For assistant principal jobs, it has to be the most shining example of an education section they've ever seen.
So—
Here's how to make one that's the valedictorian of its class:
Start with the highest degree earned, and go back from there.
Add your degree major, college name, graduation year, and school location.
Include extra details, such as minors, academic achievements, extracurricular acitivites, Latin honors, relevant coursework, and publications.
Normally, we would say to leave off your high school on a resume since you need to have a degree for principal jobs.
However, if your high school the same school to which you're applying, or in the same school district, adding it shows some hometown pride and might help your chances.
Pro Tip: Have teaching experience from academia? If you taught as an assistant professor during a master's degree or in your PhD program, it's awesome experience. However, instead of the work history section, add a "Teaching Experience" subsection in your education area.
5. Highlight Your Assistant Principal Skills for a Resume
Elementary, middle, and high school principals and assistant principals are set to grow by 8% between 2016 and 2026.
That's almost 20,000 people vying for your job.
To beat them—
Show them you're the best vice principal for the position with a high-quality skills section:
Sample Assistant Principal Resume Skills
Education Administration & Leadership
School Personnel & Teacher Management
Curriculum Planning
Teacher Development
Security Procedures & Policies
Administrative Skills
Organizational Skills
School Spirit
School Meetings
Public Speaking & Presentation Skills
However—
You can't just list all these skills on your resume and move on.
That's as bad as failing the midterm.
Do this instead:
Jot down the job skills you have related to school leadership, including soft skills and hard skills.
Looking at the job advertisement, document skills they're looking for from their job requirements. These are the best resume keywords to use.
If a skill you noted from the job ad matches something on your initial skills list, add it to your school principal resume!
Pro Tip: Remember to tailor your resume. In the case of the skills section, this means sticking as close to the wording of the school associate principal job ad as possible.
6. Add Other Sections to Your Assistant Principal Resume
Like language arts, math, science, and social studies, you've got the core out of the way.
However, core classes don't make a complete education, and core resume sections don't deliver a compelling resume.
So—
Like choosing electives, add some additional resume sections to round out your resume.
Here are great additions to resumes for assistant principals:
Assistant Principal Resume Samples—Extra Sections
7. Attach an Assistant Principal Cover Letter to Your Resume
Well, more than half of employers say a resume without a cover letter is worth a suspension (but here it's from the candidate pool).
So—
Always turn in an assistant principal cover letter.
Here's how to write a cover letter for assistant principal jobs:
To finish it off, head over to our top cover letter tips, as well as our posts on how long should a cover letter be and what to include in cover letters.
Give those a look!
Pro Tip: Don't forget to follow up on a job application. After that, prepare for the interview!
Plus, a great cover letter that matches your resume will give you an advantage over other candidates. You can write it in our cover letter builder here. Here's what it may look like: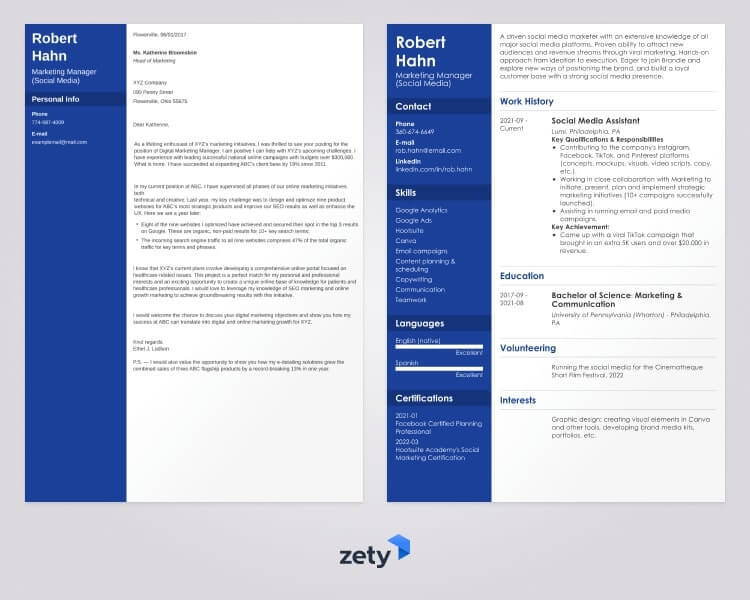 See more cover letter templates and start writing.
Got any questions on how to write an assistant principal resume? Not sure how to talk about school leadership skills, assistant principal duties, or administrative achievements? Get at us in the comments below, and thanks for reading!
About Zety's Editorial Process
This article has been reviewed by our editorial team to make sure it follows Zety's editorial guidelines. We're committed to sharing our expertise and giving you trustworthy career advice tailored to your needs. High-quality content is what brings over 40 million readers to our site every year. But we don't stop there. Our team conducts original research to understand the job market better, and we pride ourselves on being quoted by top universities and prime media outlets from around the world.
Sources