20 Core Competencies Examples for Your Resume [2023]
Core competencies refer to a set of skills and abilities that make companies and job seekers stand out from the crowd. But how does this work in practice? Read on to find out.
Every serious company knows that gaining a sustainable competitive advantage is crucial to its long-term success.
The first step to achieving this is identifying the company's core competencies. But what are they exactly? And is the concept of core competencies only applicable to companies, or can job-seekers make use of core competencies on their resumes, too?
You're about to find out!
This article will show you:
How to define core competencies in the most comprehensible way.
Core competencies examples at various companies and organizations.
What the best core competencies for a resume are.
A ready-to-use list of core competencies for any resume.
The best examples of core competencies for resumes.
Want to save time and have your resume ready in 5 minutes? Try our resume builder. It's fast and easy to use. Plus, you'll get ready-made content to add with one click. See 20+ resume templates and create your resume here.
Sample resume made with our builder—See more resume examples here.
Want to write a job-winning resume that highlights all your core competencies? Take a look at our guides:
1
Core Competencies Meaning Explained
Let's start with answering the question—
What are core competencies?
Core competencies are a business concept first established by C.K. Prahalad and Gary Hamel in their 1990 article for Harvard Business Review. The authors define core competencies as a unique set of skills and resources that a company is able to utilize more effectively and efficiently than its market competitors.
In a nutshell, core competencies are what makes a company stand out from the crowd.
But—
It's not enough to know the definition of core competencies.
To be successful, a company must be able to pinpoint what its core competencies are.
In their article, Prahalad and Hamel name three tests that can help companies identify their core competencies:
A core competence should give the company access to many markets, not just one.
A core competence should add value to the company's end product or service.
A core competence must not be easy for competition to replicate.
The question is—
Can a company have more than one core competence?
Absolutely.
In fact, "the core" should consist of several different competencies whose unique combination results in a truly synergistic effect that's very hard for copycats to imitate.
Now—
The concept of core competencies may have started as a management theory that only applied to businesses and organizations but—
It made its way into other dimensions as well:
The phrase core competencies is often used by job seekers. In the context of a resume, these refer to a candidate's key abilities and are used synonymously with professional skills.
In the next section, you'll see examples of company core competencies. If you want to find out how to put core competencies on a resume, go to section three.
Don't know how to organize your resume, or where to put the information on your core competencies? Read our guide: What Should a Resume Look Like?
2
How Companies Build Core Competencies (With Examples)
Here's the thing:
The world has changed a lot since core competencies were introduced. And, truth be told, "a lot" feels like an understatement.
In fact—
We're living in a completely different reality.
Business models we now consider part and parcel of our everyday lives were the stuff of science-fiction back in the 1990s.
Does this mean the concept of core competencies is out of date? That it no longer applies to today's volatile business reality?
Nope.
Here's a look at the examples of core competencies in three modern-day companies recognizable worldwide.
Amazon Core Competencies
Jeff Bezos founded Amazon with a vision to create "the earth's most customer-centric company," and he succeeded.
How?
By offering the customers extra value through the company's impressive distribution infrastructure, organization of logistics, and commitment to the highest standards of service.
But that's not everything—
Amazon's business model is much more complex. The brand has established high global equity and market capitalization, as well as created an international network of affiliates to expand its market reach.
Plus—
The company's most crucial core competence is its flexibility in reconfiguring and reapplying resources, as well as a strong culture of innovation that led to developing its artificial intelligence capabilities.
This unique mixture of core competencies gives Amazon a huge competitive advantage.
Tesla Core Competencies
Tesla's mission is to "accelerate the world's transition to sustainable energy."
Such an ambitious mission proposes huge value to the entire humanity.
In fact, the company aspires to contribute to eliminating some of the biggest challenges of the modern world, such as climate change or reliance on fossil fuels.
Tesla wants to achieve this by being a highly innovative technology company and a visionary car maker.
Tesla's core competencies consist of cutting-edge manufacturing processes, state-of-the-art electric powertrains, battery packs, and self-driving technology, all of which are extremely difficult to imitate by competitors.
Plus—
The company's organization and leadership encourage innovation, so Tesla has been taking advantage of other opportunities in the energy sector.
Thanks to an inimitable set of core competencies, Tesla left the other automakers far behind in terms of the quality and user experience offered by its vehicles.
Apple Core Competencies
Apple has built its strong position by constant questioning and effectively changing the status quo of technology over the past several decades.
Let's just mention that it's largely thanks to Apple that computers aren't just business machines, that we have smartphones, and that music is distributed in a digital form.
But how does Apple set itself apart from the competition?
Here are Apple's core competencies:
For one thing, it managed to establish itself as a widely recognizable premium brand. In addition, it built an ecosystem of complementary products and services, as well as designed and set up its systems with rapid innovation in mind.
Not to mention it has access to a constant flow of information about its users that helps the company plan and carry out its business strategy.
All these core competencies give Apple a huge advantage and are hard (if not impossible) to imitate.
Now—
The question you might want to ask is:
How are core competencies reflected in day-to-day operations of a company?
Core competencies affect companies and organizations on multiple levels, but they're most visible in human resource management.
In essence, a company or an organization that wants to take full advantage of its core competencies looks for people who are aligned with its vision and mode of work. Simple as that.
Organizations that heavily rely on public trust make no secret of what kind of core competencies they nurture and expect of its employees.
For example, the FBI defines its core competencies as "the categories of skills, abilities, and knowledge that all employees are expected to cultivate and use in their work."
Here's a list of FBI core competencies:
Collaboration
Communication
Flexibility and adaptability
Initiative
Interpersonal skills
Organizational skills
Problem-solving skills
With a clearly defined set of core competencies, the FBI recruiters know exactly what to look for in candidates as these exact traits make it possible for the organization to function in the most efficient and effective way.
Pro Tip: Looking for a job with a federal agency? Learn how to make a job-winning federal resume.
Just like the FBI identifies what core competencies it expects of its employees, the Accreditation Council for Graduate Medical Education (ACGME) outlines the core competencies it wants to instill in the physicians so they're great at what they do.
Here's a list of ACGME core competencies:
Interpersonal and communication skills
Medical knowledge
Patient care
Practice-based learning and improvement
Professionalism
Systems-based practice
Similarly, the Association of American Medical Colleges (AAMC) has published a comprehensive list of core competencies for medical students.
Here's a list of AAMC core competencies:
Capacity for improvement
Critical thinking
Cultural competence
Ethical responsibility to self and others
Human behavior
Living systems
Oral communication
Quantitative reasoning
Reliability and dependability
Resilience and adaptability
Scientific inquiry
Service orientation
Social skills
Teamwork
Written communication
Likewise, the Council on Social Work Education has also defined the social work core competencies.
Here's a list of CSWE social worker competencies:
Advancing human rights and social, economic, and environmental justice
Engagement, assessment, and intervening with individuals, families, groups, organizations, and communities
Engagement in diversity and difference
Engagement in practice-informed research and research-informed practice
Ethical and professional behavior
As a matter of fact—
The list with examples of core competencies could go on indefinitely, as every company and organization has its own unique set, and looks for people who fit its culture and values.
This is exactly why it's so crucial to identify with the values of the company you'd like to work for.
And—
That's also why you need to know how to make the most of your core competencies on a resume, so that the recruiter sees you're a perfect fit.
One way to display your core competencies to your prospective employer is by putting them in the limelight on a resume. Don't know how to write yours? Here's our guide: How to Make a Resume for a Job [from Application to Interview in 24h]
When making a resume in our builder, drag & drop bullet points, skills, and auto-fill the boring stuff. Spell check? Check. Start building a professional resume template here for free.
When you're done, Zety's resume builder will score your resume and our resume checker will tell you exactly how to make it better.
3
20 Core Competencies Examples
Before we go any further, let's answer the question—
What are core competencies on a resume?
It's pretty simple:
In the context of a resume, core competencies refer to your key skills to list on your resume.
So obviously—
All rules about putting skills on a resume are also applicable to listing core competencies.
Since we have a detailed guide on resume skills, here's a quick rundown on how you can find the best core competencies for your resume.
How to choose the best core competencies for a resume:
Start with making your own master list of core competencies for a resume.
Make sure the list includes all your hard skills and soft skills. If you find it difficult to create such a list, use our resume core competencies list to get inspired:
20 Core Competencies Examples
Take a good look at the job offer you've targeted, and identify what core competencies the employer expects of the candidates. Note down these core competencies.
Go back to your original core competencies list, and see which ones your list and the job ad have in common.
Found them? Great! These are the core competencies your resume should highlight.
The next step is to strategically pepper your resume with core competencies.
Where exactly to include them?
Put some of your core competencies in your resume profile, resume job description, and… core competencies sections.
Pro Tip: On your resume, the core competencies section could also be labeled as the key skills section.
How to do this?
Take a look at these project manager core competencies resume examples:

Project Manager Core Competencies—Resume Summary Example
Analytically-minded and collaborative IT Project Manager with a background in finance and over 10 years of professional experience. Seeks to leverage leadership expertise in the role of Senior IT Project Manager with XYZ Inc. In a previous role grew revenue for a fintech startup by 200% in the first 10 months of employment.
The highlights point at the core competencies identified in the original job posting for this position.
Pro Tip: Make sure your resume goes past the ATS scan, and include the relevant resume keywords.
Project Manager Core Competencies—Resume Bullet Points
Led

design efforts for new and revised products, processes, systems, and technologies.

Managed

5+ large-scope projects including defining the scope, design criteria, budgets, resource needs, as well as project schedules.

Coached

and mentored 10+ junior engineering managers.

Provided

guidance on technical issues to other technical departments and cross-functional teams.
Key achievement:
Boosted

team NPS by 48% by

devising and implementing

an incentive-based gamification system.
Again—
The highlighted bits are the resume core competencies identified by the employer in the job offer.
Pro Tip: If you want to make sure your resume has the most impact, always tailor your resume to the job offer.
Project Manager Core Competencies—Resume Key Skills Section
Agile Software
Budgeting
Communication
Critical Thinking
Financial Modelling
Forecasting
Leadership
Lean Thinking
Meeting Facilitation
Negotiation
Performance Tracking
Problem-Solving
Project Scheduling
Risk Assessment
Scrum Management
Strategic Planning
Subject Matter Expertise
Time Management
Remember—
Your resume core competencies section should consist of up to 10 of your best skills, each of which you should be able to explain and justify by referencing the relevant experience bullet points.
If you're not replying to a job offer but sending a general resume, let the core competencies on your resume reflect those of the employer.
In the world of job hunting, relevance is key.
Pro Tip: Want to double your chances of getting a job? Learn how to write a cover letter that highlights all your core competencies.
Plus, a great cover letter that matches your resume will give you an advantage over other candidates. You can write it in our cover letter builder here. Here's what it may look like: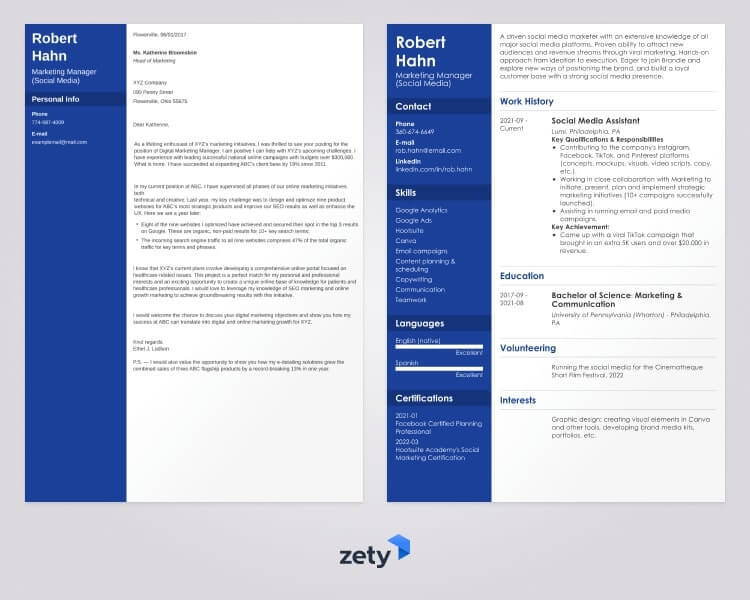 See more cover letter templates and start writing.
Key Takeaways
Here's all you need to remember about core competencies:
Core competencies refer to a unique set of resources and skills that make a company exceptional.
A core competence should allow a company to access many markets, add value to its end products or services, and be hard for competitors to imitate.
A company can (or even should) have several core competencies. Not just one.
Thanks to the concept of core competencies, companies can more easily identify the kind of candidates they're looking for.
When job-hunting, look out for the core competencies (or key skills) a given employer finds desirable.
Make sure your resume is targeted and highlights the core competencies outlined in the job offer or the company's website.
Do you have any more questions about business core competencies? Are you still not sure how to put your core competencies on a resume? Give us a shout out in the comments below. Always happy to help!
About Zety's Editorial Process
This article has been reviewed by our editorial team to make sure it follows Zety's editorial guidelines. We're committed to sharing our expertise and giving you trustworthy career advice tailored to your needs. High-quality content is what brings over 40 million readers to our site every year. But we don't stop there. Our team conducts original research to understand the job market better, and we pride ourselves on being quoted by top universities and prime media outlets from around the world.
Sources