You just found the best federal resume example this side of the DoD.
Here's the problem.
A federal resume is no day at the beach.
It's 4–6 pages, and trickier than an SEC filing.
Worse, yours needs to stand out like Ben Franklin at the IRS.
It shows GS ratings, clearance, and more details than a Homeland Security bill.
It's not just proof of work, it is work.
It tells employers, "I'm not afraid to dig in and do things right."
This guide will show you:
A federal resume example better than 9 out of 10 others.
How to write a federal resume that gets more interviews.
Tips and examples of how to put skills and achievements on a resume for federal jobs.
How to describe your experience on a resume for federal positions to get any job you want.
Here's a federal resume template made with our online resume builder.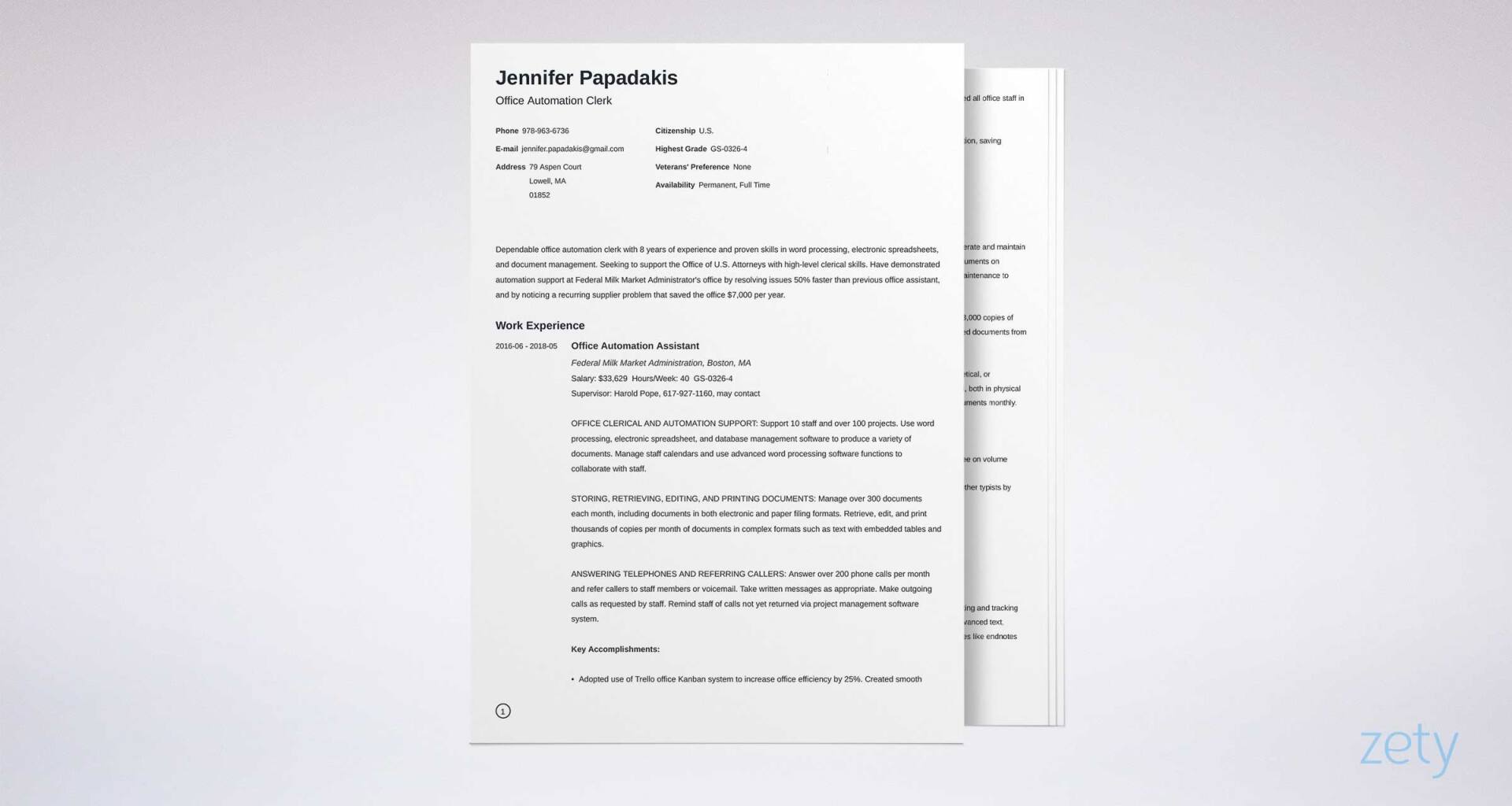 If you're a military to civilian transitioner follow up with Veteran Resume: How to Translate Your Military Experience for a Civilian Job
1
What's the Best Format for a Federal Resume?
Why do you care about federal resume format?
Because you want the job.
The U.S. Office of Personnel Management (OPM) dictates how a resume for federal jobs looks.
If you diverge, hiring managers will think you're sloppy.
Want to get hired instead?
Start with a trusted layout like the reverse-chronological resume format. It puts your most recent victories topside.
Use the best resume fonts, big headings, and plenty of white space.
How Long Should a Federal Resume Be?
A federal job resume should be 4–6 pages. Sound excessive? It is.
But here's the thing—
A 1-page government resume looks lazy.
I have only ever applied to one federal job and I've landed one federal job. For many of my clients I've found that 4-6 pages is effective. A 1-pager is a no-go in the federal realm.
Aerielle Ludwig
Professional Federal Resume Writer
Save your work as a PDF. Federal resume PDFs stay organized from one machine to the next. Plus, modern PDFs are machine readable.
MS Word resumes work too, but they can fall to anarchy in transit.
Worried PDFs are in violation? Check the job announcement. If it says, "no PDFs," use MS Word.
Pro Tip: Are you a career-changer? Consider the combination resume format for your federal job resume. It unifies your best transferable experience.
Having second thoughts before you ratify your federal resume format? See our guide: Resume Format: Pick the Best One in 3 Steps
2
How Do You Start a Federal Resume?
It's a nightmare.
You're out of work, and you've got to write this massive document.
Where do you start?
At the top. But—
A federal resume isn't normal.
It's got details most resumes don't.
Start with:
Name
Job Title
Phone Number
Email Address
That's standard. But here's where a federal resume header veers off.
Add:
Mailing Address
Citizenship
Highest GS Grade (Look yours up in the OPM.gov Handbook.)
Veterans' Preference (None, 0-Point, 5-Point, 10-Point, or derived family member preference. Not sure? See the rules at FedsHireVets.gov.)
Availability (Permanent or Temporary and Full-Time or Part-Time)
Disability (if any)
Desired Locations (optional)
Clearance (if any)
The federal resume example below will brief you:
Jennifer Papadakis
Office Automation Clerk
Phone: 978-963-6736
E-mail: jennifer.papadakis@gmail.com
Address:
79 Aspen Court
Lowell, MA
01852
Citizenship: U.S.
Highest Grade: GS-0326-4
Veterans' Preference: None
Availability: Permanent, Full Time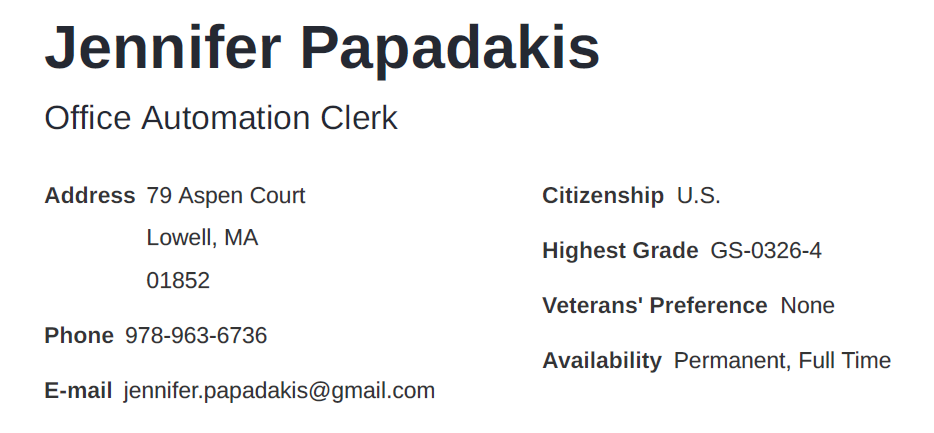 Do that, and your resume for federal jobs will win in a landslide.
Pro Tip: Don't forget to number the pages on your federal resume. A 5-page resume without page numbers can cost you the interview.
Not sure how to start a federal government resume? Need more pointers? See our guide: How to Start a Resume: A Complete Guide
3
Why You Need a Perfect Federal Resume Objective
Imagine you're the hiring manager.
Nice framed picture of the president.
You've got 150 federal job resumes to read. That's about 1,000 pages.
Not to mention meetings, trainings, and your regular workload.
How do you do it?
You skim.
So—applicants with the best federal resume objectives get more eye-time.
In your objective, list:
One adjective that describes your value
Title
# years of experience
Areas of expertise
A few key skills
2–3 eye-popping, measurable achievements
The next two sample federal resume objectives show the detail.
Federal Resume Examples [Resume Objectives]
Where's the violation in the first of our senior federal resume samples?
wrong
Dependable office automation clerk with 8 years of experience and skills in word processing, electronic spreadsheets, and document management. Seeking a new office automation clerk position.
That's not a capital offense, but it won't get the interview.
Follow the next of our federal resume examples instead:
right
Dependable office automation clerk with 8 years of experience and proven skills in word processing, electronic spreadsheets, and document management. Seeking to support the Office of U.S. Attorneys with high-level clerical skills. Have demonstrated automation support at Federal Milk Market Administrator's office by resolving issues 50% faster than previous office assistant, and by noticing a recurring supplier problem that saved the office $7,000 per year.
Grade A. The hiring manager just dropped her Book of Answers.
See how the first example goes generic? The second uses the agency name and measurable achievements.
Pro Tip: You can use bullet points in a federal resume objective. Doing that can make employers want to call you in the middle of the night.
Need more tips on how to write the best federal job resume objective you can? See our guides:
4
How to Describe Experience on a Federal Resume
How do you show work history on a resume for federal jobs?
It's complicated.
But there's a clear path to the interview.
The experience section on a federal style resume does more jobs than an air traffic controller.
It has to:
Tell crucial information about past employers, pay, and supervisors.
Use keywords from the federal job announcement.
Describe your past job.
Show you fit the new job like Orrin Hatch's tie.
Share key accomplishments that make employers' hearts speed up.
The federal resume examples below provide the basic service.
List Work History Details
For each job, show:
Year and Month of Employment
Job Title
Employer Name, City, and State
Salary
GS Rating (if applicable)
Hours Worked Per Week
Supervisor's Name
Supervisor's Phone Number
Whether It's Okay to Contact Him/Her
Federal Resume Example—Work History Details
Work Experience
Office Automation Assistant
2016-06—2018-05
Federal Milk Market Administration, Boston, MA
Salary: $33,629 Hours/Week: 40 GS-0326-4
Supervisor: Harold Pope, 617-927-1160, may contact
Write Federal Job Descriptions
Describe each of your past federal jobs with keywords. Make them fit the job announcement like a ballot in a box.
Pretend you're going for an (1) office and automation support job.
It wants skills (2) storing, retrieving, editing, and printing documents, and (3) answering telephones and referring callers.
Let the next of our federal resume examples be your safety net.
Federal Resume Example—Job Description
(1) OFFICE CLERICAL AND AUTOMATION SUPPORT: Support 10 staff and over 100 projects. Use word processing, electronic spreadsheet, and database management software to produce a variety of documents. Manage staff calendars and use advanced word processing software functions to collaborate with staff.
(2) STORING, RETRIEVING, EDITING, AND PRINTING DOCUMENTS: Manage over 300 documents each month, including documents in both electronic and paper filing formats. Retrieve, edit, and print thousands of copies per month of documents in complex formats such as text with embedded tables and graphics.
(3) ANSWERING TELEPHONES AND REFERRING CALLERS: Answer over 200 phone calls per month and refer callers to staff members or voicemail. Take written messages as appropriate. Make outgoing calls as requested by staff. Remind staff of calls not yet returned via project management software system.
See how you used resume keywords from the job announcement?
Show Key Accomplishments
For each of the federal job descriptions in your work history, list 2–3 key accomplishments.
Fit them to the job announcement, and the hiring manager will love you for it.
The next of our federal job resume examples shows how.
Federal Resume Example—Key Accomplishments
Pretend the job announcement wants three skills: efficiency, time management, and perceptiveness.
Write your key accomplishments like this:
Adopted use of office Kanban system to increase efficiency by 25%.
Resolved issues 50% faster than previous office automation assistant.
Noticed a recurring problem with a supplier's ordering process and called it to manager's attention, saving $7,000/year.
That federal resume sample will score high in the polls.
Each accomplishment has numbers that measure it.
Pro Tip: Need some advice straight from the horse's mouth? Check out the FedsHireVets.gov federal resume writing guide.
Don't filibuster the hiring manager with boring verbiage in a federal government resume. Energize her with action words. See our guide: 240 Resume Action Words & Power Words to Make Your Resume Shine
5
How to Use the USAJobs.gov Job Announcements
Imagine this—
You sit down to write your federal resume.
What do you put in? What do you leave out?
You're sweating bullets.
You don't have to imagine, do you?
Here's where the USAJobs.gov website can help.
What Is USAJobs?
USAJobs.gov is the government's website for searching federal jobs.
Here's why it's so cool.
Search a job on the site like project manager. You'll get every project manager job description in the federal government.
The USAJobs listing will tell you:
The GS rating and salary
Location
Keywords, duties, and responsibilities
Additional documents to attach to your federal job resume
How to apply for the job
How to Use USAJobs to Make Your Federal Resume Turn Heads
First, pull your skills and keywords from the federal job announcement.
Then, tailor your experience to fit those skills and keywords.
The federal resume example below shows the best practices.
Federal Resume Example: How to Use USAJobs
Imagine you're writing an information receptionist federal resume.
In the USAJobs announcement, it says you'll need to (1) answer phones and (2) respond to questions and inquiries.
So, you write your job description like this:
Information Receptionist
2009-05—2011-05
HHS Administration for Children and Families, Boston, MA
Salary: $18,785 Hours/Week: 40 GS-0304-1
Supervisor: Jennifer Soto, 857-728-5474, may contact
ANSWER PHONES: Answer 100+ phone calls per day. Maintain polite and professional manner. Give advice to callers regarding the best staff member to talk to. Refer calls to appropriate staff members and take phone messages. Forward calls to voicemail when appropriate. Refer misdirected calls to proper resource or agency.
RESPOND TO QUESTIONS AND INQUIRIES: Answer low-level questions and inquiries without consulting superiors. Greet in-person visitors with questions and answer simple requests to save time for senior staff. Respond to voicemail messages by phone when possible. Answer simple email requests in written form.
Key Accomplishments:
Assisted with rewriting automated phone menu, resulting in a 35% reduction in office calls, since more calls were now referred to our website.
Saved 20% more staff time than previous information receptionist by learning answers to frequently asked questions and having a binder of resources ready.
Do that with your federal government resume, and the hiring manager will save your contact info to her phone.
Pro Tip: Want free expert help to write your federal resume? The Office of Personnel Management (OPM) holds free briefings every few days. See the schedule here.
Want to build consensus for your experience section? See our guide: Work Experience on a Resume: Job Description Bullets that *Kill*
6
Is Your Education Section Revolting? It Might Be
Does education matter on a federal job resume?
That depends on the job.
But—
You need an education section. You can either:
Go through the motions, or—
Use it to get hired.
So, add a couple achievements that tie you to the job description.
Use the federal resume examples below.
Education
Lowell Catholic High School
2005–2009
Graduated—6/2009
Excelled in typing classes
Gained leadership experience as Captain of Varsity Football Team
GPA: 3.7 out of 4.0
Pro Tip: Are you writing an entry-level federal resume? Put your education section higher, and make it longer. Stuff it with school achievements and projects.
Where do you show trainings and online classes in a federal government resume? See our guide: How to Put Your Education on a Resume [Tips & Examples]
7
Add These Things and Give Your Resume a Promotion
Your resume isn't long enough.
It's not four pages.
And it's not impressive.
What can you add to your federal resume to make it stand out like a secret service detail?
Add Sections For:
Certifications
Professional Awards
Volunteer Work
Professional Associations
Languages
Publications
Job Related Training
Special Skills (i.e. computer skills)
Leadership Activities
Special Projects
Let these professional resume examples lead the way:
Licences and Certifications
Microsoft Office Specialist (MOS)
Awards
2017-12, Received a 5 out of 5 (Exemplary) in End-of-Year Performance Review, Federal Milk Market Administration.
2015-06, Outstanding Employee Award, US Dept of Commerce Regional Office, Boston, MA.
Volunteer Work
Volunteer 2x per month as clerical support at Scituate, MA Homeless Shelter.
Volunteer office administration help at Summersville, MA Learning Co-op.
Professional Associations
ASAP—American Society of Administrative Professionals.
AAPD—American Association of People with Disabilities
ABWA—American Business Women's Association
Languages
Spanish (Fluent)
French (Conversational)
Computer Skills
Microsoft Office, particularly Excel, Word, and Access
Quickbooks
That federal resume would pass a congressional review.
Pro Tip: Add only relevant extras to a resume for federal jobs. It's a good idea to make a master list of your achievements, then pick the ones that fit this job announcement.
Can you put hobbies on a government resume? If they match the job. See our guide: +20 Best Examples of Hobbies & Interests To Put on a Resume (5 Tips)
8
What About a Federal Resume Cover Letter?
Do you need to send a cover letter with a federal resume?
Only if you want the interview.
More than half the hiring managers don't read cover letters.
Almost half require them.
But don't be boring or generic.
Use the hiring manager's name. It's in the USAJobs announcement.
Show you understand the job by citing the requirements.
Prove you'll get it done like a SEAL team with a couple fitting achievements.
This short example federal cover letter shows the finished product:
When a process improvement I developed realized a $1.5 million savings for my office, I was gratified. I believe I can find similar efficiencies at the General Services Administration. You're looking for someone who can handle all levels of design, development, and delivery of large-scale applications. When I led my team to the successful development of a full-stack Microservices solution, on time and 35% under budget...
Always end a cover letter with an offer. Try, "I'd value the opportunity to discuss how I slashed development costs 30% without sacrificing quality."
Pro Tip: Need material for a cover letter for federal jobs? Talk about why you were promoted or how you improved quality, cost, or efficiency.
Gridlocked on how to start a federal cover letter? See our guide: How To Write A Cover Letter in 8 Simple Steps (+12 Examples)
9
Additional Documents for Your Government Resume
Here's a nightmare:
You wrote the best federal resume on record.
You crammed it with measurable achievements the hiring manager will love. Checked your spelling 3x.
But you didn't include an SF-50. That cushy job went to someone half as qualified.
Don't let that happen.
The good news? You'll find the list of documents right in the USAJobs job announcement.
Just click the required documents tab.

On a federal job resume, you may need to include:
Or other government resume attachments.
Pro Tip: Got random volunteer work on your resume for federal jobs? Make it relevant. Find a skill you learned while volunteering that's mentioned in the job announcement.
Need help showing your certifications on a federal resume? See our guide: How to List Certifications on a Resume
You nailed it.
You read all the way to the bottom, so you've got some great advice to make a standout federal resume.
Here's some Fort-Knox style info that'll put your resume up there with NASA's latest work.
Check Your Agency for Differences
Is our federal resume template the one and only?
No.
The OPM standardized the federal government resume format. But each agency adds a couple quirks.
If you're targeting a job with the SEC, Secret Service, Peace Corps, or other federal agency, do this:
Google [AGENCY NAME] + resume. You'll find federal resume samples created by the specific agency.
They'll be like our template resume for federal jobs. But—you'll find a few gold nuggets to tweak things to your advantage.
Kathryn Troutman
What does Kathryn Troutman have to do with federal government resumes?
Everything.
Troutman is the authority on writing resumes for federal government jobs. You could say she wrote the book on it.
Troutman's Federal Resume Guidebook gets 3.5 stars on Amazon. That's because readers don't like the Kindle version.
Buy the paperback. You'll see why even professional resume writers call it the federal government resume bible.
Federal Resume Writing Services
Should you hire a federal resume service?
That depends how much you want to pay and how fast you want the job.
There are champions and charlatans out there.
Here's a good article on how much you'll pay for a resume service—and what you'll get.
Need a recommendation? Aerielle Ludwig is a trusted federal resume writer and helped shape the direction of this guide.
The USAJobs Resume Builder
Why not use the USAJobs federal resume builder?
The USAJobs builder asks a series of questions about your work history. Based on your answers, it creates your resume.
The US Government developed it to make federal job resumes.
The downside?
Some resume experts say it doesn't make the best federal resumes.
I'm not a fan of the USAJobs resume builder. It doesn't provide any direction and easily leads the writer into the 'Big Block' format which is not the most effective way to present your skills and abilities.
Aerielle Ludwig
Professional Federal Resume Writer
Writing a Master Federal Resume
When you're applying for a specific job, a tailored government resume works best.
The federal resume template in this guide will help you do that.
But—
What if you're enrolled in the Priority Placement Program?
That program hunts for matching federal jobs while you sleep.
In that case, you'll need a master federal resume.
That's a mega-resume that lists all your work experience, education, training, awards, and other doo-dads. It's not tailored to any job. It might be 20 pages long.
The reason?
The PPP needs all that info to conduct its never-ending computer hunt.
Pro Tip: Are you a military spouse writing a resume for federal jobs? Use the USAJobs Military Spouse filter in your job search. It's in the Hiring Path section of the site.
Committed to write a great federal government resume? You'll need help with the interview. Our guide can help: Best Job Interview Tips, Advice and Techniques
Key Takeaway
Here's a recap of how to write a federal resume:
Write a 4–6 page resume. A 1-page federal resume sends the signal that you're lazy (even if you're just efficient)!
A resume for federal jobs needs special info. Show GS codes, citizenship, hours, and salary. The federal resume template up top shows how.
Tailor your experience section to the job. Look at the job announcement on USAJobs.gov. Describe your job with keywords, then add measurable accomplishments.
Add other sections to your federal government resume to show you're the best candidate. Showcase certifications, professional awards, and volunteer work.
Do you have questions on how to write a great resume for a federal job? Not sure how to describe your skills or achievements? Give us a shout in the comments! We'd be happy to reply.