Our customers have been hired by:
Yesterday you were throwing your cap into the air, today you're tossing yourself into the job-hunting pool.
Yeah, the competition is fierce. According to the Bureau of Labor Statistics, around 60% of young people are participating in the workforce each summer. You need a killer resume.
But that cursor is just flashing at you as you imagine a long, stuffy document full of fancy words and sharp bullet points.
That's scary. How in the world are you going to write a great resume and get a good job when you have no experience?
Whether a bookworm or a total dudebro, a great high school graduate resume will change your job hunt to achievement unlocked.
This guide will show you:
A high school graduate resume example better than 9 out of 10 other resumes.
How to write a high school graduate resume that will land you more interviews.
Tips and examples of how to put skills and achievements on a high school graduate resume.
How to describe your experience on a resume for a high school graduate to get any job you want.
Want to save time and have your resume ready in 5 minutes? Try our resume builder. It's fast and easy to use. Plus, you'll get ready-made content to add with one click. See 20+ resume templates and create your resume here.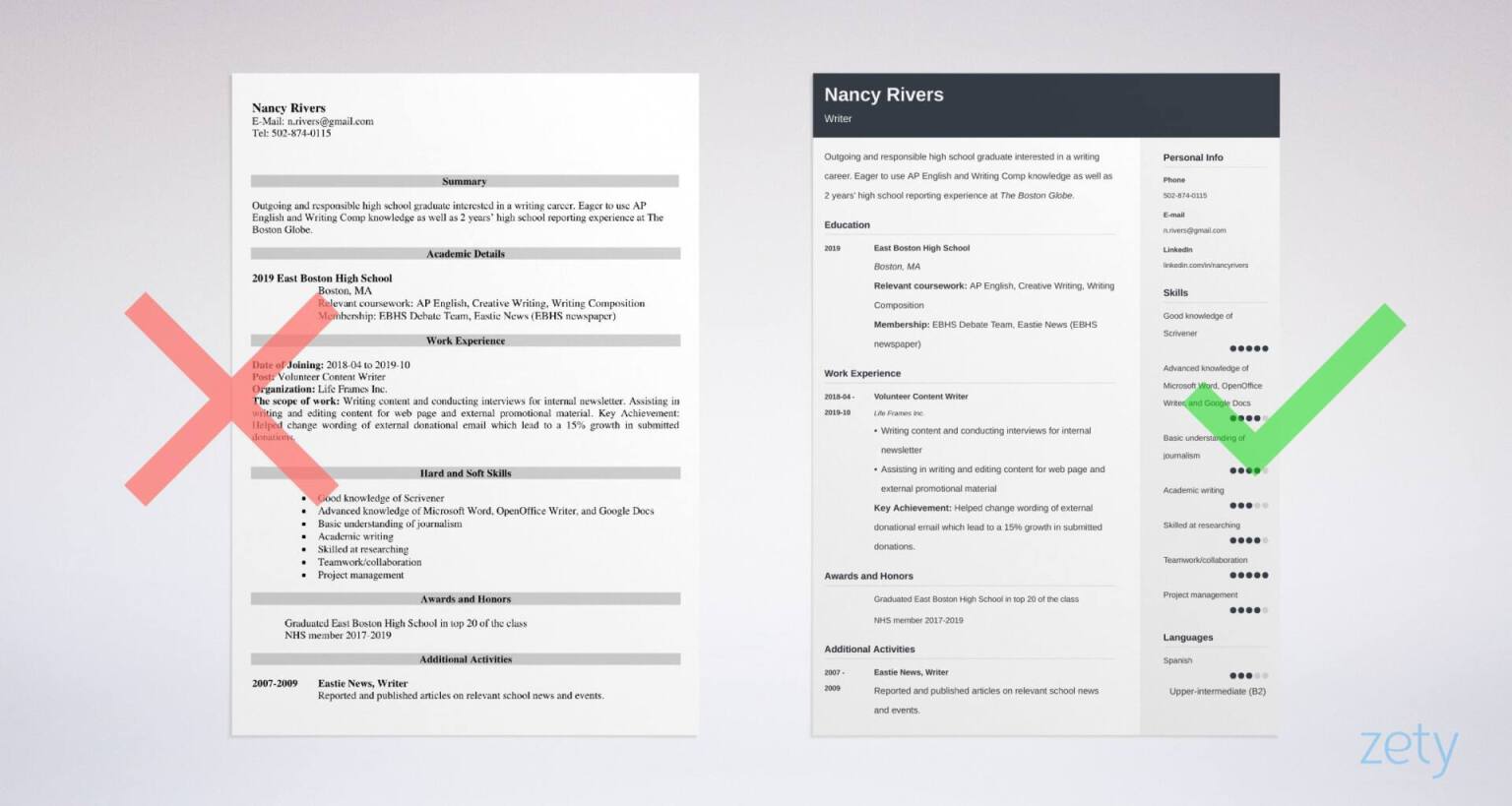 Sample resume made with our builder—See more resume examples here.
Here are some other guides for high school students:
1
What's the Best Format for a High School Graduate Resume?
Writing a resume isn't that different from any other writing assignment—format is key.
The best resume templates will urge the recruiter to give it a read in the first place.
So how do you keep your high school graduate resume from looking like the dog chewed it up and having it thrown in the trash?
Use 1.15 line spacing and a spiffy, modern, 12 point resume font. Add in headings to help navigate between resume sections.
Also, go for the reverse-chronological format.
This format gets its long-lettered name from putting things that happened most recently at the top and things that happened later below.
It brings your skills to the forefront, so it's super helpful when you don't have any work experience yet. It keeps things neat and tidy and recruiters are used to seeing it.
Here's what sections should be included in your high school graduate resume from start to finish:
High School Graduate Resume Template
Contact Information
Resume objective
Education
Work experience (if you have any)
Skills
"Extra" sections: awards, certifications, volunteering experience, or hobbies & interests.
Not convinced using the reverse-chronological format is right for your high school graduate resume? You've got options! See our guide on the best resume formats: Resume Formats: 10+ Samples & Templates for All Types of Resumes
2
Put Contact Information on a High School Graduate Resume
Now you're probably thinking this is going to be a cinch. No such luck, my friend!
Put a typo in your name or number or accidentally link to a drunk pic and your chances of getting your first job are that of a snowball in hell.
Here's a clear list of what you need to include:
Resume for a High School Graduate: Contact Information Section
First and Last Name
Use your actual name, for real. Add your middle name only if you use it on a daily basis.
Phone Number
Mention the number recruiters can actually reach you at during most of the day (most likely your mobile number).
Professional Email
Now craycrayhotbaby09@yahoo.com might seem cool to your friends, but recruiters are going to beg to differ.
Create a polished email address using your name along with a professional email provider. For example: tiffany.jones@gmail.com. Much better.
Social Media Sites
Yes and no.
Should you put a LinkedIn profile on your resume? Yes, and if you don't have one, create it. Have any blogs or online portfolios that are relevant to the position you're applying for? Add those too.
What about other social media like Facebook or Instagram? Well, let's put this way—if you wouldn't show it to your mother, then you don't want to show it to a recruiter.
Here's a good example of contact information in a high school graduate resume:
High School Graduate Resume—Header
Keith Mathers
456 E. Bellow Drive
Denver, CO 80203
(720) 447-3749
k.mathers@gmail.com
linkedin.com/in/keithmathers
keithsphotography.com
Pro Tip: Whether you link to your social media in your resume or not, make sure your online presence is clean at least set to super private. It's a digital age and recruiters are going to Google you.
3
Add a High School Graduate Resume Objective
You know that infamous clickbait title on every other YouTube video? That's sort of what you're trying to do here.
You want the hiring manager to take a quick look at the top of your resume and think "hey, this looks interesting, what's next?"
How do you do that, especially with no job experience? Write a resume objective.
The objective is a short, snappy blurb that mentions your career goals and the relevant skills you have to become their next employee of the year.
Put it right below the contact information section so it's one of the first things the recruiter sees.
But what does a high school graduate resume objective contain?
Start with your strongest character trait.
Mention how your education will help you perform well in your job.
Name the company and position you're applying for.
Express the value you want to add to the company.
Here are two high school graduate resume objectives in practice:
High School Graduate Resume Objective
Right
Outgoing and responsible high school graduate interested in a writing career. Eager to use AP English and Writing Comp knowledge as well as 2 years' high school reporting experience at TheArizona Republic.
Wrong
Fun loving high school grad with no experience, but eager to get started and work with people. I learn quickly and want to make an impact!
See the difference? The right example has mentioned relevant knowledge and traits with numbers to back it up. That candidate looks pretty dope.
The wrong example? Well, they're going nowhere in a big hurry.
Pro Tip: Don't turn your resume objective into a copy of Moby Dick. Keep it short, sweet, and to the point like an awesome Tweet.
Not much to write up? Go for a resume headline. Jot down your job title, years of experience, and a huge achievement.
Need some more advice on writing career objectives on resumes for a recent high school graduate? Check out our guide: How to Write a Resume Objective: 50+ Examples for All Professions.
When making a resume in our builder, drag & drop bullet points, skills, and auto-fill the boring stuff. Spell check? Check. Start building a professional resume template here for free.
When you're done, our online resume builder will score your resume and our resume checker will tell you exactly how to make it better.
4
Is Your Education Section Making You Look Like a Fool?
You're never going to be happier that you went to school than you are now. Why?
Your education is going to be the section that is going to make your resume sick.
Especially if you're writing a high school grad resume with no experience to boast about.
In a case like this, put your educational background above your work history.
So what exactly do you list in the education section?
Sample Education Section for High School Graduates Resume
Peoria High School
Peoria, AZ
Relevant coursework: Food & Nutrition, Home Economics
Graduated: 2019
Membership: PHS Cooking Club
It may not look like much at first, but take a closer look.
You have all the necessary information such as school name and your graduation date.
But there are also some cool mods added on for that extra boost. If you're applying for a job in food service, like in this example, the relevant food, cooking classes, and club show that food is definitely a passion of yours.
Pro Tip: Thinking about adding a GPA to your resume? If it doesn't impress the letters off someone's varsity jacket, then leave it out.
Got another educational scenario? Check this guide out: Education Resume Section: How to List High School & College Education
5
Describe Experience on a High School Graduate Resume
And now you're probably stumped. You're a recent high school grad with no work experience.
You might feel like you have nothing to include here, but look at it more like a clown car—you can fit more in here than you think.
It doesn't matter whether you're applying for an internship, part-time gig, or looking for a full-time job, the examples below work for every situation.
First, let's take a look at what to do if you have any work experience at all.
Resume for High School Graduate With Work Experience—Example
Right
Team Member
June 2017–August 2017
KFC, Phoenix, AZ
Key Qualifications & Responsibilities
Assembled food orders quickly and efficiently while maintaining correct portion sizes
Professionally handled cash and credit transactions
Consistently offered high level and friendly service to all customers
Key Achievement
Named Employee of the Month twice in three months
Wrong
Team Member
June 2017–August 2017
KFC, Phoenix, AZ
Key Responsibilities
Took customer orders
Worked register
Cleaned restaurant
You have everything you need to convince a recruiter you're gold in the right example: detailed job duties and a specific achievement.
The wrong example just looks like someone wrote it for the lulz.
Have you done some online work or a couple of freelance gigs? Add those to your work experience section as well.
But what if you have no paid work experience like volunteering?
Check it—that actually counts as job experience!
High School Graduate Resume With No Paid Work Experience—Example
Right
Weekly Volunteer
March 2018–December 2019
YMCA, Glendale, AZ
Key Qualifications & Responsibilities
Coached youth basketball team on game play and strategy.
Helped teach youth the importance of teamwork on and off the court.
Assisted in fundraisers to help pay for youth travel for away games.
Key Achievement
Helped lead youth basketball team to improve their win count by 10 from the previous season.
Wrong
Weekly Volunteer
March 2018–December 2019
YMCA, Glendale, AZ
Volunteered with the basketball team at the Y once a week.
You can see the difference. The right example proves that you're responsible and take your job seriously and that's what recruiters want to see.
Don't have any work experience at all?
It's all good. Just move on directly to the skills section.
Want some more information on adding volunteer work or freelance work to your high school graduate resume? These guides will help you out: How to List Volunteer Work on Your Resume andHow to List Freelance Work on a Resume
6
Put Skills on a High School Graduate Resume
No, not skillz.
The Washington Post reported that knowing your way around an iPhone and picking the best emojis just doesn't cut it when looking for a job.
But that list of skills your dream job requires is seriously messed up. And there are tons of people much more qualified, right?
Easy.
The trick here is to realize what skills you do have and tying that in with what's mentioned in the job description.
Although finding experienced candidates gives recruiters a major migraine, more than 30% say that finding qualified entry-level hires also gives them a headache.
So this is your chance to really nail your skills section and shine like a Twix wrapper.
Now, there are two types of skills: hard skills and soft skills.
Hard skills are more technical and things you can easily learn (Microsoft Office, Photoshop).
Soft skills are more a part of your personality and how you approach things (communication skills, teamwork).
Here's a list of the most popular skills on high school graduate resumes:
Most Common Skills for High School Graduate Resumes
Hard Skills:
Soft Skills:
Now, lots of candidates bend over backwards to list technical skills, but soft skills are just as important. A recent federal study noticed that it's actually a lack of appropriate soft skills that leads to teens and high school grads being passed up for jobs.
But don't just copy the entire list and expect anyone to believe you have all those skills. Keep it 100.
Use the job ad as a cheat sheet for the skills that you should include and can prove.
Here's an example of a job description for a records administrator position for high school graduates:
Self-motivated, reliable, responsible, and accountable.
Ability to work well within a fast-paced, team-oriented environment.
Outstanding attention to detail.
Planning and organizational skills necessary to coordinate workload around multiple assignments and clients.
Identifies own learning needs and seeks appropriate assistance from Manager/Supervisor.
Excellent computer skills including: proficient typing skills, MS Office, and data entry.
Now here's how you can tailor your skills to match the recruiter's expectations:
High School Graduate Resume—Skills Section
Right
Responsible, reliable, and hardworking
Proficient in Microsoft Office and typing
Effective at managing priorities and multiple tasks
Wrong
Motivated
Likes to learn
Computer literate
The right example is specific and can easily be matched with the requirements for the job. That's a resume skills section tailored to the job description.
And hey, that's important not only to get the hiring manager on the phone with you, but also to breeze through the ATS.
This is a tracking system used by many companies to filter through the hundreds of resumes they get. The system uses resume keywords to spot potential hires and suggests these to the hiring manager. Keeping your resume skills in line with the job ad wording scores you major brownie points.
TL;DR- resume keywords. Use them. Straight up.
Want to beef up the skills section of your high school graduate resume even more? Take a look at this guide: 99 Key Skills for a Resume (All Types of Professional Skills with Examples Included!).
7
Add Other Sections for an Effective High School Graduate Resume
Take a long, hard look at all the things you did outside of just going to class. This is the spice you can add to your high school grad resume to give the recruiter the whole enchilada and not just a bland corn tortilla.
But hold up.
According to a government study, most youth engage in extracurricular activities even when employed. That makes for stiff competition.
Add things that are relevant. Don't mention that you like cats or Star Wars is the best movie ever. Ain't nobody got time to read that.
Here are some great extras to add to your high school graduate resume:
Resumes for a High School Graduate—Extra Sections
Here's where you can mention any honors or awards that you've been given, such as scholarships, making Honor Roll, or being in the NHS.
Have you taken part in any advanced classes, academic fairs, bees, or other competitions? Note those down too.
Knowledge of any foreign language, especially as a recent high school graduate, really stands out like bling bling. Make sure to use a standardized scale to rate your language knowledge.
Skip?
Nope.
This is the section where you can show off your hard and soft skills in action instead of just listing them.
It should also be easy peasy to write given all the interests and activities you have outside of class (just remember to match them to your future company's work culture).
Here's a good example of an additional interests section in a high school graduate resume:
Resume Sample for High School Graduate: Extra Sections
Achievements:
NHS Member 2007-2009
Languages:
Spanish (C1), French (B1)
Additional Activities:
Eastie News, Writer
2007-2009
Reported and published articles on relevant school news and events.
JROTC Cadet
2007-2008
Remember to include all necessary sections in your high school graduate resume. What are they? Here's a guide to answer that question: What Categories to Put on a Resume: Examples and Guide
8
How About a High School Graduate Cover Letter?
You're about to get some mad knowledge dropped on you.
Yes, you'll need to write a cover letter. You don't want to go out on the job hunt all skillz and no swag, do you?
Most experts say that the cover letter shows that you're really invested in getting the job and it's a chance to distinguish yourself from other applicants.
Here are the things to include in a high school graduate cover letter that will have them asking for an amen:
Start with an attention-grabbing cover letter introduction that addresses them by name. "Dear Sir or Madam" or "To Whom It May Concern"?—ditch 'em.
Tell them why they absolutely need you for the role.
Add achievements from past work or school to prove your skills. Don't just list them again. They already have it on your resume; add a little meat to those bones.
Mention something about the company that you relate to. This will show you took time and energy to get to know the company and its values.
Finish your cover letter with a powerful ending statement.
Remember, a great high school graduate cover letter + best high school graduate resume = most likely to succeed.
See theory put into practice in our dedicated guide: Entry-Level Cover Letter (Example and Guide).
Pro Tip: If there's no way to upload a cover letter through the application system, then just apply without. It doesn't make sense to try to cram it in and potentially ruin your resume.
Plus, a great cover letter that matches your resume will give you an advantage over other candidates. You can write it in our cover letter builder here. Here's what it may look like: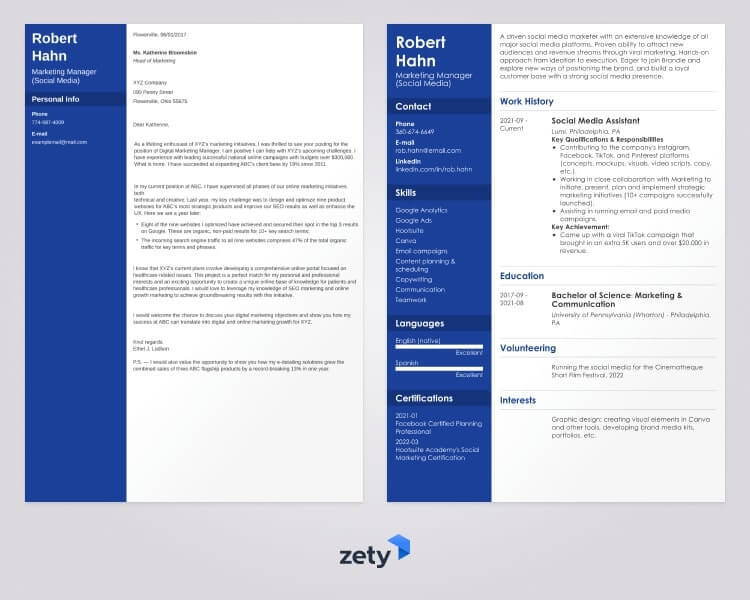 See more cover letter templates and start writing.
Want to know more high school graduate cover letter tricks that always do the trick? See these articles: 35+ Best Cover Letter Tips, Advice & Guidelines and How to Write a Job-Winning Cover Letter in 8 Simple Steps (12+ Examples)
Key Takeaway
Entering the workforce may be cray, but writing a resume doesn't have to be.
Let's recap what it takes to have your high school graduate resume blow minds:
Start with a killer objective. A professional career objective is tailored to the company, tells them your background, and summarizes your candidacy for the job.
Zero in on your education. You might not have work experience, but you do have a high school education. Mention your academic achievements and relevant coursework and use them to your advantage!
Add your work experience. Part-time, freelance, online, unpaid—put them all in there pointing out the relevant responsibilities and accomplishments.
Highlight relevant skills. Include both hard skills and soft skills and use resume keywords.
Include extra sections. Add volunteer work, languages, hobbies, interests, and extracurricular activities to show them you've got ambition.
Edit and proofread. Go through it at least twice. Use Grammarly if you're unsure about something or want to triple check.
Now you have a high school graduate resume that is FTW in a crowd of IDK *drop the mic*.
Got any questions on how to write resumes for a high school graduate? Not sure how to talk about your young adult job skills or high school achievements? Get at us in the comments below, and thanks for reading!
About Zety's Editorial Process
This article has been reviewed by our editorial team to make sure it follows Zety's editorial guidelines. We're committed to sharing our expertise and giving you trustworthy career advice tailored to your needs. High-quality content is what brings over 40 million readers to our site every year. But we don't stop there. Our team conducts original research to understand the job market better, and we pride ourselves on being quoted by top universities and prime media outlets from around the world.
Sources