How to Put LinkedIn on a Resume (Examples & Guide)
What should a link to your LinkedIn profile look like on a resume? And where do you put it anyway? Read on to learn how to customize your LinkedIn URL, and where to display it.
Will your chances of landing a job increase if you feature a LinkedIn profile on your resume? Possibly. Probably, even. But just adding a link is certainly not enough.
How do you display your LinkedIn URL properly? Are you sure your link looks professional? What happens when the employer clicks on that link? There are so many things you should keep in mind when you put LinkedIn on your resume—and we're here to share everything we know about it.
This article will show you:
Why including LinkedIn URL on your resume is a good idea.
How to personalize your public profile to make it stand out.
Where exactly to put the LinkedIn handle on your resume, and how to make it look good.
Want to save time and have your resume ready in 5 minutes? Try our resume builder. It's fast and easy to use. Plus, you'll get ready-made content to add with one click. See 20+ resume templates and create your resume here.
Sample resume made with our builder—See more resume examples here.
Want to make your resume truly stand out from the crowd? Here's a selection of our guides:
You can also go to our primary guide on writing a resume that will dispel any of your doubts.
1
Should You Put Your LinkedIn URL on a Resume?
Yes, in today's hiring, including a link to your LinkedIn profile is mandatory in the contact information section of your resume. Up to 40% of employers may not consider interviewing you at all if they can't find your LinkedIn profile.
So, don't give them a reason not to want to meet you.
Also—
Your LinkedIn profile is a good way to complement your resume and offer extra details.
Finally—
Being present on LinkedIn has become a standard for serious professionals who know the value of personal branding.

Your resume is a kind of business card you send out to the world. Make sure you choose the resume format that brings out all the best in you: Resume Format: Samples and Templates for all Types of Resumes (10+)
2
Customize Your Linkedin Profile Before Including It in Your Resume
Before you include your LinkedIn URL in your resume, make sure your entire profile looks professional.
Since we have a dedicated guide that shows you how to optimize your LinkedIn profile step by step, let's just go through the basics here:
And:
Personalize your LinkedIn URL
In fact—
The last point is essential if you want to display LinkedIn on a resume in a professional manner.
Make sure your online presence won't discourage any recruiter from hiring you. Read our guide: How to Check Your Online Presence Before Recruiters Look You Up
3
How to Customize Your LinkedIn URL for a Resume
Let's jump right in.
Your LinkedIn URL on a resume could look like this:
right
LinkedIn: www.linkedin.com/in/maciej-duszynski/
Or like this:
wrong
LinkedIn: www.linkedin.com/in/maciej-duszynski-bj42bj4o1/
Obviously, you want to display your LinkedIn URL on a resume just like the good example shows.
Here's how to customize your public profile URL using the desktop version of LinkedIn:
Log into your LinkedIn account.
Click on the Me icon in the top bar.
Click on View profile in the menu.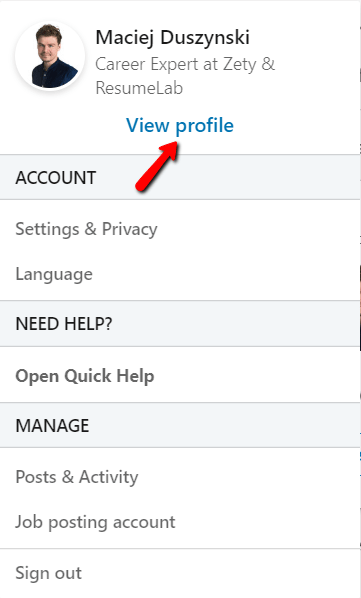 Click on Edit public profile & URL in the top right corner.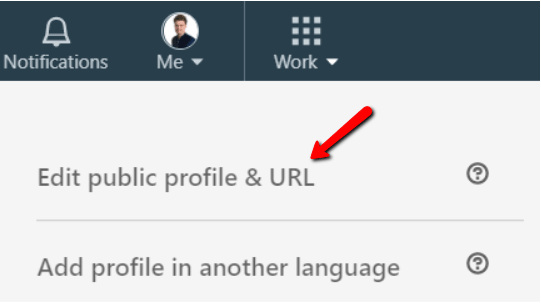 Click the pencil icon.

Customize your LinkedIn URL and click Save.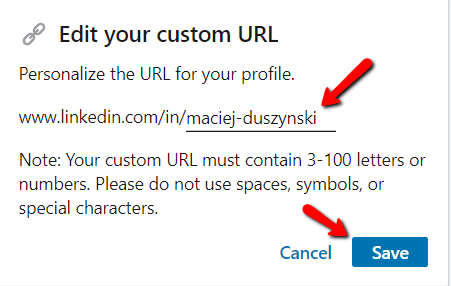 Go back to your LinkedIn profile main page.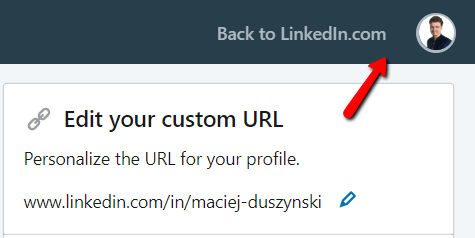 Copy your new URL from your browser's address bar.

Here you go.
Your personalized LinkedIn URL is ready for sharing.
Pro Tip: You don't have to include the https://www. part. The LinkedIn URL on your resume can start with linkedin.com/. But make sure your link is a link (i.e. it's clickable and redirects where it should), not just a character string.
And this is how to personalize your public URL using LinkedIn Mobile App:
Tap on the Me icon next to the search bar at the top.

On the slide menu, tap View Profile under your name.

Tap the gear icon in the top right corner.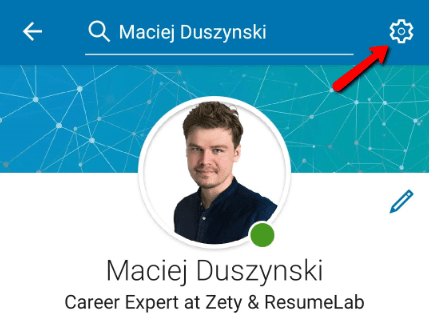 Select the privacy tab, and tap on Edit your public profile.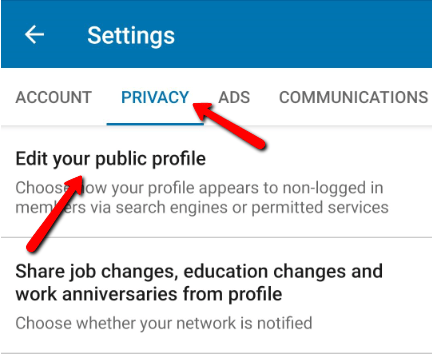 Edit your custom URL.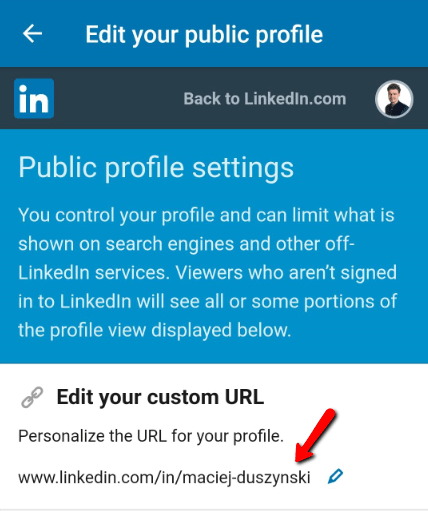 To share the link, tap on the URL and hold your finger for a moment.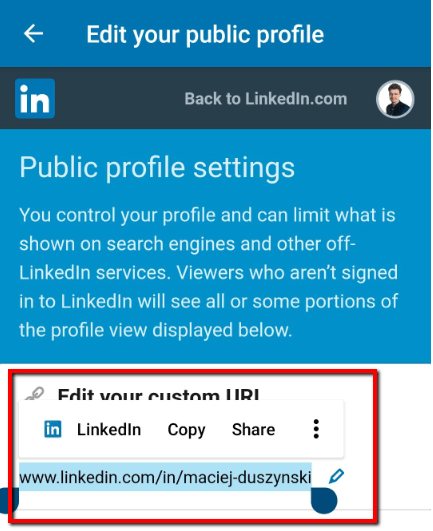 This is it.
Now you're ready to put your customized LinkedIn URL on your resume.
Don't have a LinkedIn profile yet? Start with uploading your resume to LinkedIn. Here's a guide that will show you how:LinkedIn Resume: How to Upload Your Resume to LinkedIn
When making a resume in our builder, drag & drop bullet points, skills, and auto-fill the boring stuff. Spell check? Check. Start building a professional resume template here for free.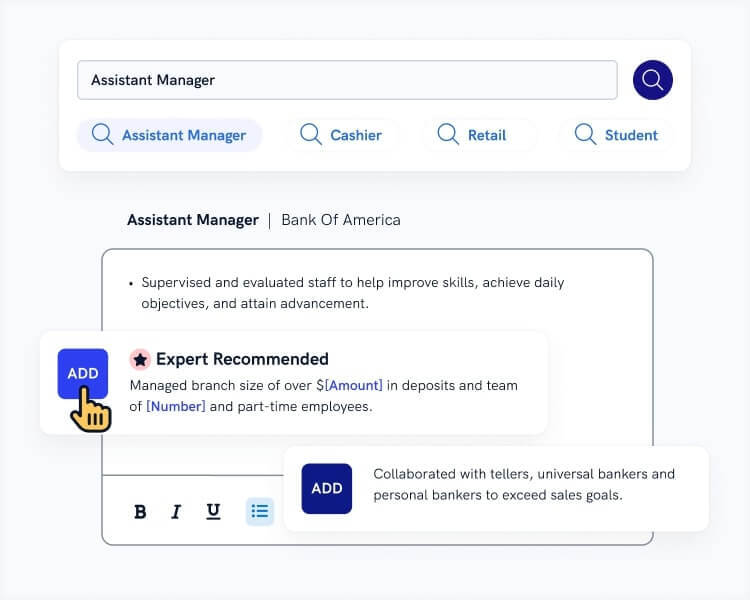 When you're done, our professional resume builder will score your resume and our resume checker will tell you exactly how to make it better.
4
Where to Put LinkedIn on a Resume
The best place to put LinkedIn on a resume is in the resume header, along with your resume contact information.
Here's an example of what your resume header could look like:
LinkedIn on a Resume—Example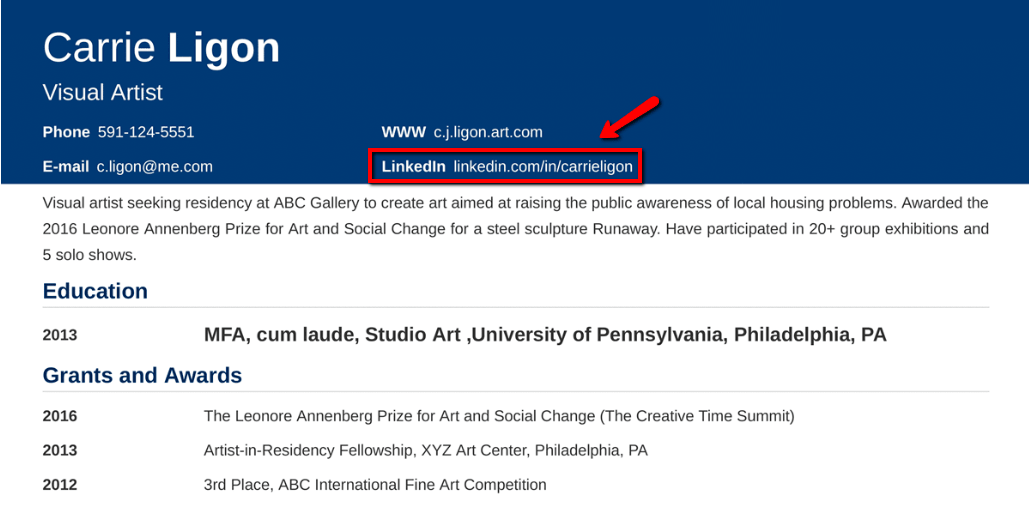 Your LinkedIn URL should be listed among other social media handles and contact details.
Here are some more examples:
Where to Put LinkedIn on a Resume—Example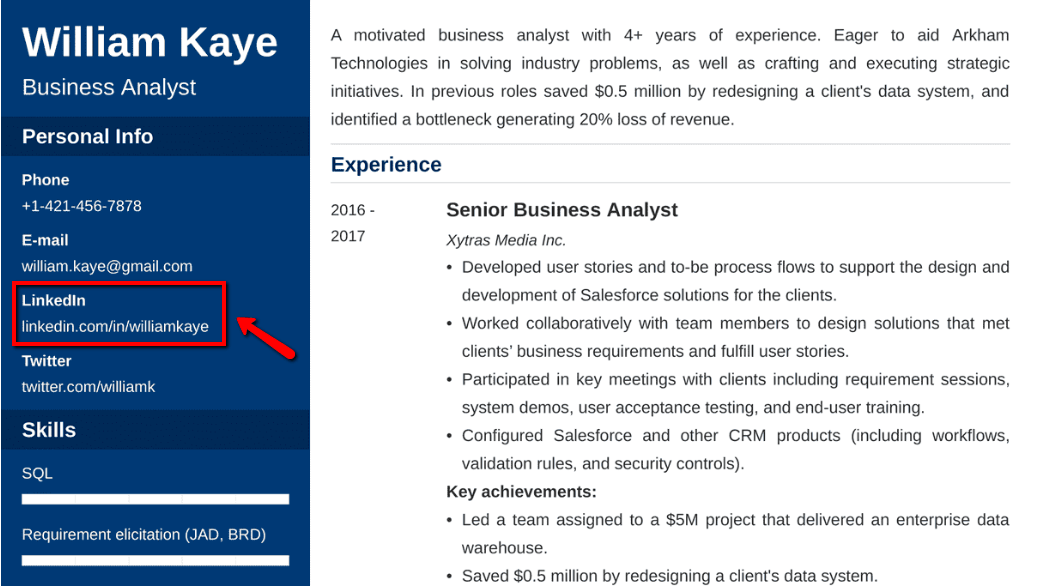 How to Reference LinkedIn on a Resume—Example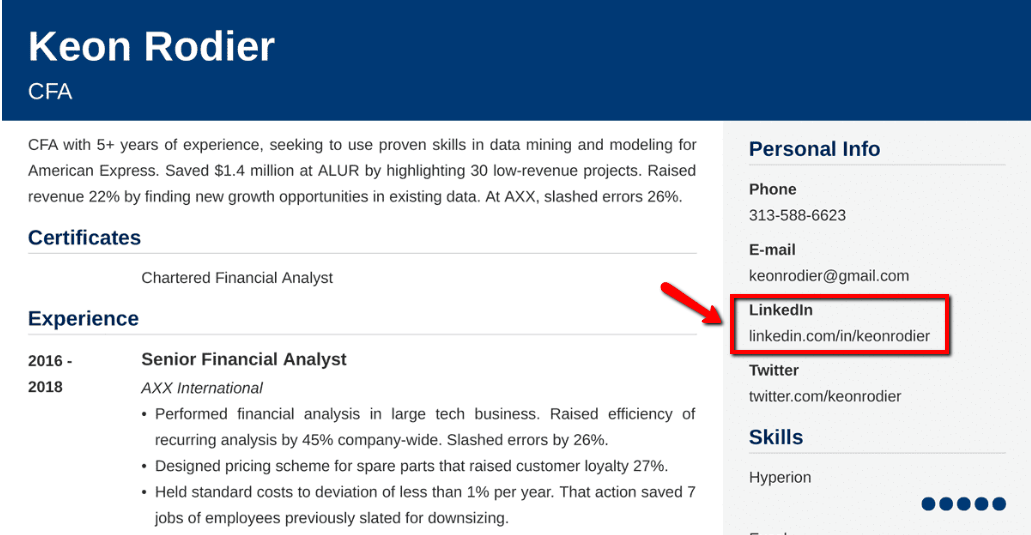 And remember:
You can also use your personalized LinkedIn URL in a cover letter, or email signature.
Not sure what sections your resume should consist of? Read our guide: Resume Sections & Item Order [Extra: Additional Categories that Matter]
Plus, a great cover letter that matches your resume will give you an advantage over other candidates. You can write it in our cover letter builder here. Here's what it may look like: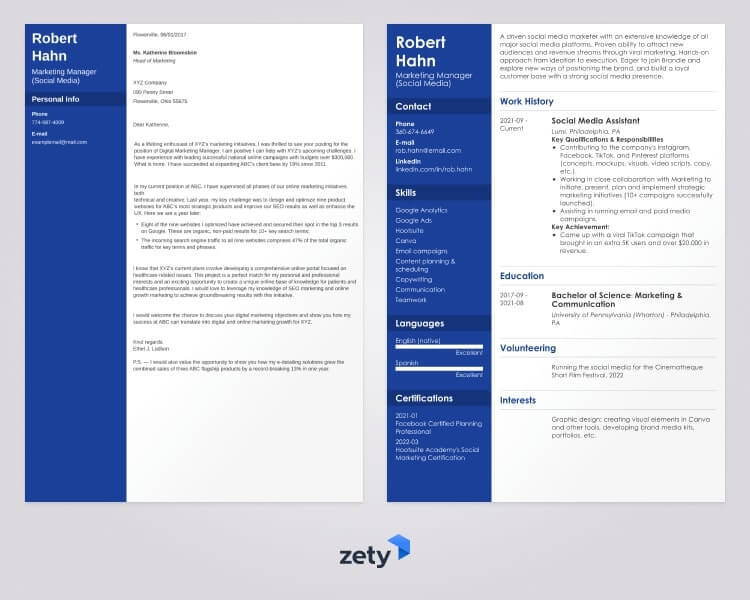 See more cover letter templates and start writing.
Key Takeaways
Including LinkedIn on your resume is a good way to attract recruiters' attention and give them more insight into the professional you. Make sure your LinkedIn profile is updated and offers something more than regurgitated information from your resume. And remember to customize your public profile URL.
Do you have any other questions about putting LinkedIn on a resume? Give us a shout out in the comments below. Always happy to help!
About Zety's Editorial Process
This article has been reviewed by our editorial team to make sure it follows Zety's editorial guidelines. We're committed to sharing our expertise and giving you trustworthy career advice tailored to your needs. High-quality content is what brings over 40 million readers to our site every year. But we don't stop there. Our team conducts original research to understand the job market better, and we pride ourselves on being quoted by top universities and prime media outlets from around the world.