Should You Put a Picture on a Resume? [+Templates]
Does having a resume with a picture make a difference? Read on for an exhaustive list of tips on all things related and learn everything there is to know.
There are different opinions on whether a resume with a picture is acceptable or not. Some sources say it works, while others warn candidates not to put a photo on their resume in a million years. Who's right?
Time for you to get a straightforward answer—and find a collection of great resume templates with picture if that's what you need.
This guide will show you:
Why a resume with picture can sometimes backfire.
What to do instead of putting a photo on your resume.
Best resume templates with picture you can customize right away.
Resume photo tips if you'd like to take a professional picture at home.
Want to save time and have your resume ready in 5 minutes? Try our resume builder. It's fast and easy to use. Plus, you'll get ready-made content to add with one click. See 20+ resume templates and create your resume here.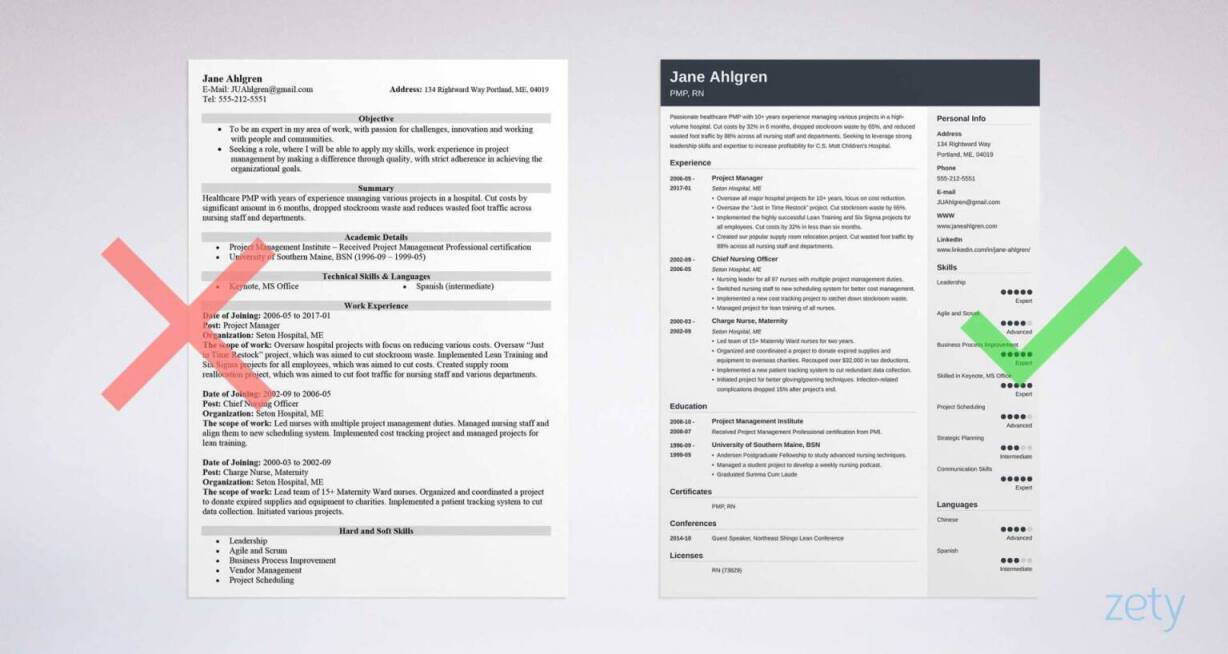 Sample resume made with our builder—See more resume examples here.
Jump right into the section you're interested in:
Should I Include a Picture on My Resume
Do not submit a resume with photos while applying for a job in the US, UK, or Canada. Most employers there have bias-conscious policies in place and would often discard a resume with pictures to avoid discrimination lawsuits. However, pictures on resumes are common in mainland Europe.
What about a modeling resume or one for jobs like acting, real estate, or high-end sales, where appearance is usually part of the job? In such cases, a resume with a picture is acceptable—but remember that most heavy emphasis should still be on your portfolio. If it's online (as it most likely should be these days), put a link to it in your resume header with the rest of the contact info.
Another scenario is making a resume to bring to networking events. Those resumes or one-sheets definitely can have pictures on them—so that people can match you to the file afterward.
In general, remember that photos on a resume take up quite a bit of "real estate" and can distract attention from important segments like your resume summary. Plus, many resume templates with picture are not ATS-friendly. Be aware of that when making a decision, and remember that a strong, well-written, tailored resume will always keep you ahead of the competition.
Learn how to create a resume that allows your qualifications to speak for themselves: How to Make an Efficient Resume for a Job
Best Resume Templates With a Picture
Deciding that you want to add a photo to your resume and searching for a perfect resume template with picture? Zety has plenty of options!
To make it easier for you to envision what your resume could potentially look like, we've created several resume examples with a picture using our popular templates. Choose the one that matches your preferences (and remember that we have more available in our builder):
Cascade by Zety
This sample resume with picture is made with Cascade, one of our most beloved two-column resume templates. A color-block segment creates the necessary contrast that separates resume sections and brings out the photo:
Cubic by Zety
Another efficient resume layout created with Cubic, a resume template with a picture that gets the job done. Fit all the information you need while keeping it neat visually and easily skimmable for the recruiters:
Crisp by Zety
Need we remind you that all resume templates with a picture from Zety are ATS-compatible? Crisp is minimalist perfection in the world of resume templates—it's light, sleek, and has resume icons that make it easy to navigate:
Concept by Zety
Another one of our professional resume examples with a picture that focuses on dates and works perfectly for creative jobs, bringing attention to the contact details on your resume (great for social media links and portfolios!):
Enfold by Zety
Do you know that all of Zety's templates are highly customizable and can be adjusted to various resume formats? The last of our resume examples with picture is made using Enfold—try it out and see how easily you can personalize it:
Whether or not you send a resume with a picture, a well-formatted application can move you to the top of the pile. See our guide for help: Resume Formats Explained, With Samples for Each Type
When making a resume in our builder, drag & drop bullet points, skills, and auto-fill the boring stuff. Spell check? Check. Start building a professional resume template here for free.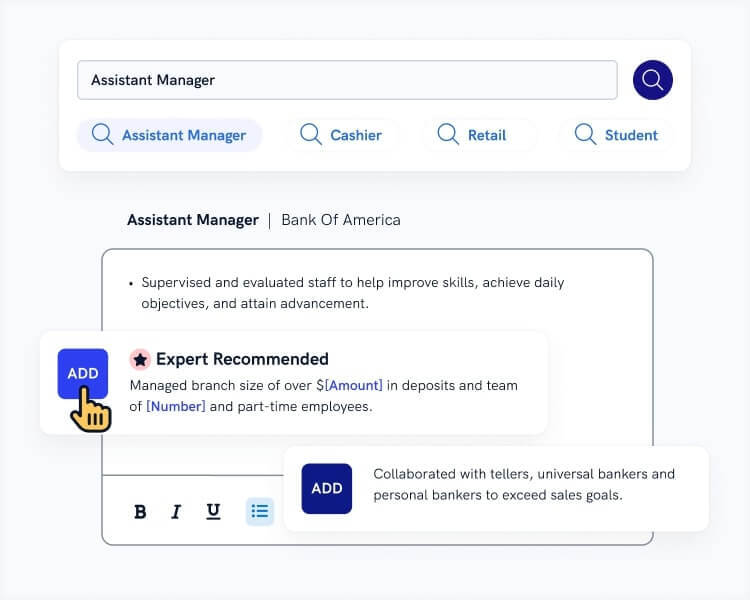 When you're done, our easy resume builder will score your resume and our resume checker will tell you exactly how to make it better.
Resume With Pictures Alternatives
Think that a photo on your resume could potentially help the hiring manager connect with you or remember you?
Keep in mind that around 50% of recruiters screen candidates on social media while they review their application (remember to clean up your online presence before you hit "send" on your job application email).
In addition to that, your LinkedIn profile is basically an extension of your resume, so:
Put your LinkedIn handle in your resume header.
Add a professional headshot photo to your LinkedIn profile.
Apply the top LinkedIn profile tips to make your profile stand out.
Voilà. Instant resume with a picture, but without a picture on your resume.
Want a clean, professional resume header, even without a resume picture? See our guide: Professional Resume Header Examples & Why They Work
How to Take a Picture for a Resume
While it's a great idea to have a headshot at your disposal that's taken by a photographer, you can still take a picture for your resume or LinkedIn profile at home.
Here are the tips on how to make a good photo for your resume:
Try to avoid selfies, they hardly ever look professional.
Dress in clothes you'd wear to a job interview—preferably semiformal attire, or at least business casual (depending on company culture).
Go with a plain background, or use an online tool to remove the background from your image.
Smile and look into the camera.
Crop your image to include your head and shoulders, not more—hiring managers will definitely not be too impressed with any resume with photos where a candidate is hard to decipher.
Place your resume picture at the top left or top right by your resume header.
Plus, a great cover letter that matches your resume will give you an advantage over other candidates. You can write it in our cover letter builder here. Here's what it may look like: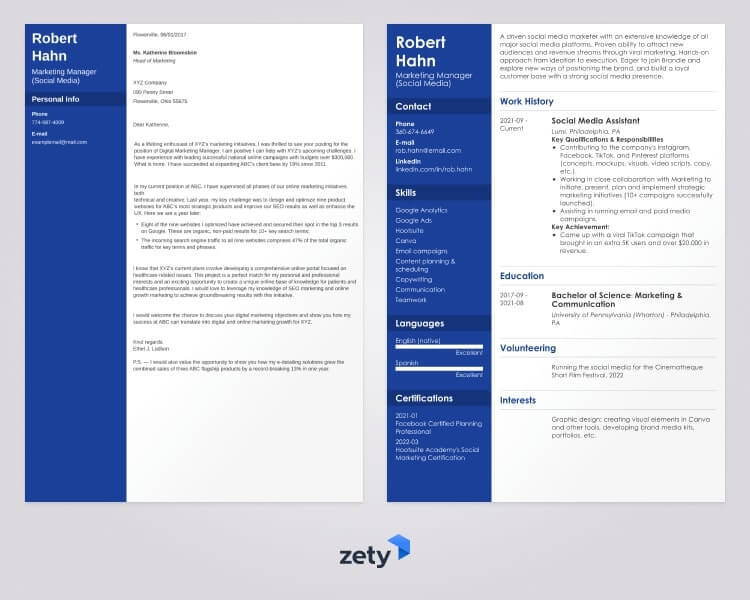 See more cover letter templates and start writing.
Key Takeaways
Here's what you need to know about a resume with pictures:
Don't put a picture on your resume in the US. Too many employers will toss it for fear of a discrimination lawsuit.
Focus on communicating your value and skills to the employer, whether your resume features a photo or not.
Choose a resume template with a picture that is ATS-friendly if you think a photo on your resume is the way to go.
Include your LinkedIn address in your resume if you want to personalize it.
Take a good picture for your resume or LinkedIn profile yourself, or book a professional session.
Why do you want to use a resume with pictures? What's your craziest picture-on-resume story? Give us a shout in the comments. We'd love to talk!
About Zety's Editorial Process
This article has been reviewed by our editorial team to make sure it follows Zety's editorial guidelines. We're committed to sharing our expertise and giving you trustworthy career advice tailored to your needs. High-quality content is what brings over 40 million readers to our site every year. But we don't stop there. Our team conducts original research to understand the job market better, and we pride ourselves on being quoted by top universities and prime media outlets from around the world.