A CV with photo—Good idea? Terrible idea?
Here's the issue:
You sit for an interview. They love you. But then, disaster strikes! They confuse your CV with someone else's. You're stuck asking friends for spare change.
Suddenly a CV picture sounds like a wonderful idea.
But is it?
This guide will show you:
Why a CV with a picture is a bad career move.
Why a photo on a CV makes a lot of sense (but you still shouldn't do it).
What to do instead of putting a photo on your CV to get the same effect.
Five CV photo tips if you want to ignore my great advice.
Want to save time and have your CV ready in 5 minutes? Try our CV builder. It's fast and easy to use. Plus, you'll get ready-made content to add with one click. See 20+ CV templates and create your CV here.
Sample CV made with our builder—See more CV examples here.
And if you need other useful CV tips, we've got you covered:
CV Photo Example
Josephine Maudsley
jmaudsley_zety@gmail.com
linkedin.com/in/jmaudsley
07777 777777
Experienced financial specialist with excellent analytical skills and results driven mindset. Expert in financial modelling and business valuation. Overhauled financial reporting system that led to 30% cost reductions and 10% rise in reporting effectiveness. Looking to leverage skills and experience at Ducal Wealth Management.
Work Experience
Financial Specialist
Richardson & Goldsmith Financial, London
May 2016–Present
Handled high volume portfolios for FTSE 100 companies and gave one on one financial advice to high net worth individuals.
Spearheaded the introduction of improved annual forecasting modelling algorithms and cash flow forecasting systems that were 20% more accurate than previous iterations.
Trained 10 graduate trainees in fund management and financial fundamentals.
Regularly negotiated optimal contract terms with vendors to secure best pricing. Created annual savings of £45,000+.
Tweaked risk calculation model which decreased unforecasted losses by 15%.
Financial Specialist
Cumberdale Savings Bank, London
August 2014–May 2016
Prepared user-friendly monthly billing reports from raw data 30+ premium portfolios.
Generated income of £200,000 through identifying low margin to high profit easy wins.
Introduced Procure to Pay enhancements that generated a saving of £50,000 per annum.
Won Best New Starter 2015 for optimising modelling and process flow for a key client that led to an annual improvement of 10% in their fund performance.
Education
BSc in Finance, 2010–2014
University College London
Skills
Ability to work under pressure
Account reconciliation
Advanced Excel
Advanced SAP knowledge
Customer service
Financial planning
Interpersonal skills
Problem solving
Risk assessment
Languages
Certifications
Certified Financial Analyst (CFA)
Certified Financial Planner (CFP)
1. Should I Include a Photo on My CV?
You should not put a picture on a CV in the UK, US, or Canada. Do not submit a CV with a photo as these countries are bias-conscious. Employers worried about breaking discrimination laws often discard CVs with photos out of policy.
A CV with a picture isn't a bad thought, though. It lets employers connect the sheet of paper with a living, breathing human being. It ensures they won't forget you or confuse you with another applicant.
Unless you know for sure that the company won't bin your application out of hand, don't add a CV photo (even though it's a great idea for other reasons).
Should You Send a CV with a Picture for a Modelling Job?
What about jobs like modelling, where appearance is a qualification?
Yes, you can include a photo.
For an acting CV or a modelling CV then it's acceptable to include a headshot. But these two professions are the only exceptions where you can include a photo on your CV and not risk rejection.
Don't forget to include your portfolio photos too. If it's online (and it should be) put a link to it in your CV header.
Pro Tip: Pictures on CVs are common in mainland Europe. CVs with photographs do have the potential to add valuable info when they don't risk breaching discrimination laws.
Want to see how to make a clean, professional start even without a CV photo? See our guide: How to Start a CV: 20+ Tips to Start Your CV in Style
2. Why a CV With Picture Is a Good Idea (But Still Don't Do It)
It's all too common.
The hiring team sits in the conference room with a stack of 190 CVs.
'Where's that candidate?' they say. 'The one we like. It's this one, isn't it?'
It's sooo much easier with a photo on a CV. They can just say, 'Yep, this guy here.'
A CV with a photo is a great idea because your face is like a logo for your job search. Employers can match CVs with faces and make it easier to keep their choices straight.
Plus, these days anyone can find you on social media anyway. It's not like leaving your photo off a CV makes you sight-unseen.
Yes, policies against CV pictures are silly, but for now, they're here to stay. Don't try to fight them, or you'll disqualify yourself from jobs you want.
Pro Tip: You're right that linking a picture to your job search is a good idea. But don't put a picture on your CV. Need some ways to get around it? That's up next.
Now you know not to send a CV-with-picture. Want some other great tips to make a CV that gets job offers? See our guide: How to Write a CV for a Job (Guide and Examples for the UK)
When making a CV in our builder, drag & drop bullet points, skills, and auto-fill the boring stuff. Spell check? Check. Start building your CV here.
When you're done, Zety's CV builder will score your CV and tell you exactly how to make it better.
3. How to Solve the Photo-on-CV Dilemma
Make them remember you.
Don't let the hiring team confuse you with another candidate.
Do include a photo in your job search.
Just don't send a CV with a picture.
Here's how:
Put a Logo on Your CV
If a photo on a CV is like your 'job search logo,' why not use an actual logo?
This works. Companies use logos for a reason. They want instant recognition.
In your job search, you do too.
You have two options:
Pick the Initials template in our CV builder and you'll get a ready logo with your initials on your CV: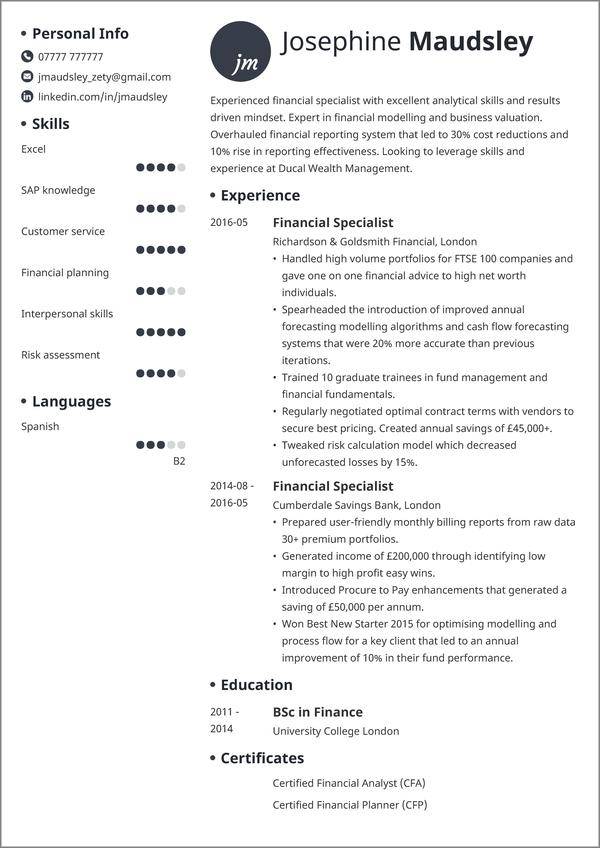 It's simple yet eye-catching. No wonder it's one of the best CV templates available.
Or, if you want something more sophisticated—
Find an artist on Etsy or Fiverr who can whip up a logo cheap for you. Even quicker, use a free logo design service like Free Logo Design.
Then use our CV builder or Canva's CV builder to add your logo picture to your CV.
Add a Headshot Photo to Your LinkedIn Profile

You can't put a photo on your CV.
But you can put a photo on your LinkedIn profile.
Then—
Put your LinkedIn handle in your CV header.
Voilà. Instant CV with a picture, but without a photo on your CV.
Half of all recruiters will click through to your LinkedIn profile.
The best LinkedIn pictures follow a few rules. Use this LinkedIn profile photo advice from a study of 60,000 user ratings by PhotoFeeler.com:
Smile
Squint a little
Have a shadow on your jawline
Dress well
Look at the camera
Do those things, and you'll stand out in a good way.
Add Photos to Business Cards and Stick Them to Your CVs
You already know you shouldn't use a CV picture.
So—
Put a photo on your business card, then attach it to your CV.
It's the best of both worlds.
Employers who like CV photos will get what they want.
Those who can't use photos on CVs will toss the business card and keep the CV.
Personally, I can't stand business cards without pictures.
When I get home from a conference with a stack of cards, I can't match any of them to the people I met.
The downside? Business cards with photos make you look a little like an estate agent. :)
4. How to Put a Picture on a CV
Want to ignore my great advice not to send a CV with a picture?
Do so at your peril.
You already know a picture on a CV can get your CV tossed out.
If you want to do it anyway, here's how. Follow the LinkedIn photo tips above:
Smile (with your teeth)
Squint a bit
Shade your jawline
Dress for success
Make eye contact
Show your head-and-shoulders only
Have an unobtrusive background
No selfies
Place your CV picture at the top left. (It's okay to use the top right too.)
Pro Tip: Don't be afraid to pay for a professional CV photo. Professional pictures for work will make you look more, well, professional. They're worth the extra £100.
Whether or not you send a CV with a picture, a well-formatted CV can move you to the top of the pile. See our guide for help: CV Format: Samples and Templates for all Types of CVs
Plus, a great cover letter that matches your CV will give you an advantage over other candidates. You can write it in our cover letter builder here. Here's what it may look like: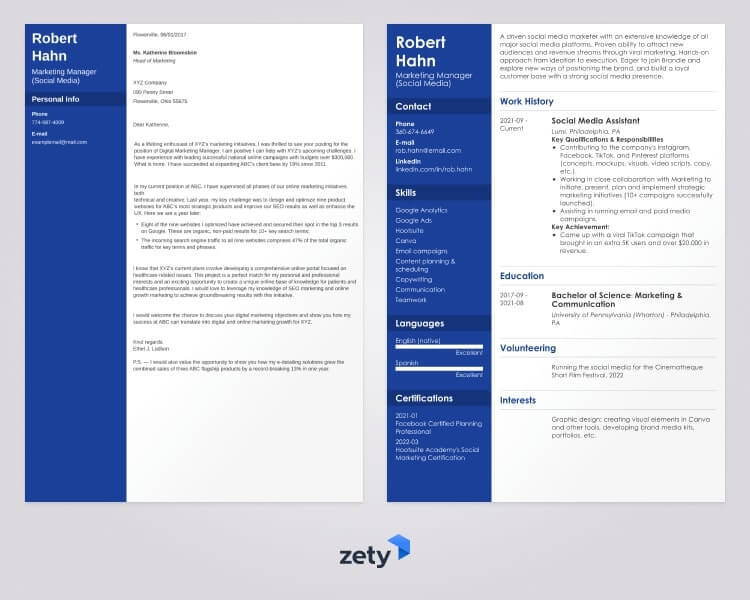 See more cover letter templates and start writing.
Key Takeaway
Here's what you need to know about CVs with a picture:
Don't put a picture on your CV. Too many employers will bin it from fear of being in breach of discrimination laws.
Do add a logo to your CV to personalise it (if you like).
Also include your LinkedIn address in your CV. Then hiring teams can see your smiling face.
Finally, attach a business card with a photo to your CV. If the employer has a no-picture-on-CV policy, they can toss the card and keep the CV.
Why do you want to use a CV with picture? What's your craziest picture-on-CV story? Give us a shout in the comments. We'd love to talk!
About Zety's Editorial Process
Our editorial team has thoroughly reviewed this article to ensure it follows Zety's editorial guidelines. Our dedication lies in sharing our expertise and providing you with actionable career advice that offers you real value. Every year, the quality of our content attracts 40 million readers to our site. But that's not all – we conduct original research to gain a detailed understanding of the labour market. We take pride in being cited by top universities and leading media outlets in the UK and worldwide.
Sources