How to start a CV?
It's probably the most important question you can ask yourself when applying for a job. Finding a vacancy isn't the hardest part. It's that sinking feeling you get when you sit down to write and don't even know where to begin.
What's the best strategy? How do you make your CV eye-catching? We've got the answers to those questions and more. By the time you're done reading you'll know how to make the perfect start to writing your CV.
Want to save time and have your CV ready in 5 minutes? Try our CV builder. It's fast and easy to use. Plus, you'll get ready-made content to add with one click. See 20+ CV templates and create your CV here.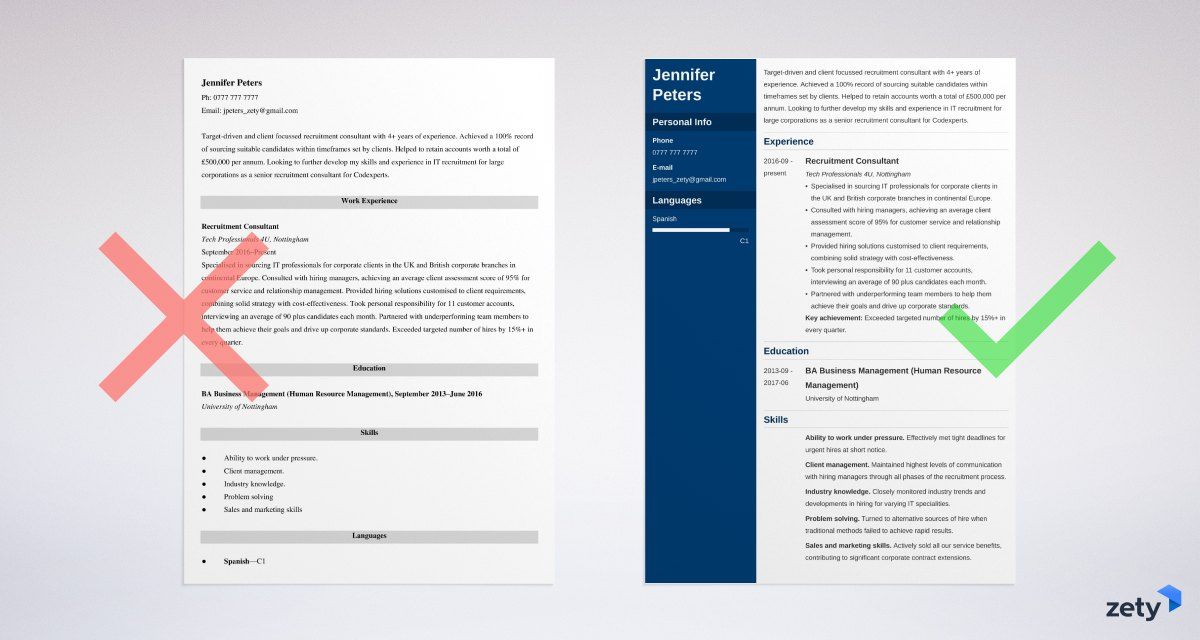 Sample CV made with our builder—See more CV samples here.
How to Start a CV Example
Jennifer Peters
Ph: 0777 777 7777
Email: jpeters_zety@gmail.com
Target-driven and client focussed recruitment consultant with 4+ years of experience. Achieved a 100% record of sourcing suitable candidates within timeframes set by clients. Helped to retain accounts worth a total of £500,000 per annum. Looking to further develop my skills and experience in IT recruitment for large corporations as a senior recruitment consultant for Codexperts.
Work Experience
Recruitment Consultant
Tech Professionals 4U, Nottingham
September 2016–Present
Specialised in sourcing IT professionals for corporate clients in the UK and British corporate branches in continental Europe.
Consulted with hiring managers, achieving an average client assessment score of 95% for customer service and relationship management.
Provided hiring solutions customised to client requirements, combining solid strategy with cost-effectiveness.
Took personal responsibility for 11 customer accounts, interviewing an average of 90 plus candidates each month.
Partnered with underperforming team members to help them achieve their goals and drive up corporate standards.
Key achievement: Exceeded targeted number of hires by 15%+ in every quarter.
Education
BA Business Management (Human Resource Management), September 2013–June 2016
University of Nottingham
Skills
Ability to work under pressure. Effectively met tight deadlines for urgent hires at short notice.
Client management. Maintained highest levels of communication with hiring managers through all phases of the recruitment process.
Industry knowledge. Closely monitored industry trends and developments in hiring for varying IT specialities.
Problem solving. Turned to alternative sources of hire when traditional methods failed to achieve rapid results.
Sales and marketing skills. Actively sold all our service benefits, contributing to significant corporate contract extensions.
Languages
How to Start a CV?
Begin your CV with a personal profile or CV summary. Write a short attention-grabbing paragraph that explains why you're the perfect candidate. And focus on your professional achievements to give your work experience and skills added impact.
You'll also see this section called a personal statement but call it what you will, it serves the same purpose. It's an introduction to you as a candidate and it has to be convincing. Get it wrong and the hiring manager will just move on to the next CV in the pile. So here's how to write a personal statement that'll make the perfect start to your CV.
Leave it until last. Yes, write the rest of your CV first and then write your CV summary last. The hint is in the name. It's a summary of your CV and it's easier to summarise something that's already complete and set out in front of you.
Make it short and snappy. 3–5 lines is best. You want to capture the hiring manager's attention at a glance, not bore them with excessive detail.
Read the job advert again. As with every section of your CV you need to tailor your personal statement to the job. So check the job requirements and pick out a couple of examples of your own skills and achievements that match up.
Next, it's time to start writing your personal statement. It boils down to answering these three questions.
Who are you?
What can you offer to the employer?
What are your career goals?
And depending on where you are in your career you should answer them slightly differently. Here's how to start a personal statement for a CV for more experienced candidates.
Make a master list of everything that makes you good at your job in your chosen field. Include skills, experience and achievements. And keep your list updated as your career progresses, you'll find it a useful reference guide moving forward.
Then refer to the job description for the role you're applying for, list the experience and skills required, and choose a couple of points from your list that match.
Use those points to write a personal statement tailored to the job. And always try to use numbered achievements, accomplishment statements. They're much more impactful than just stating job responsibilities.
If you're just starting out and writing a student CV or a graduate CV then change your strategy a little and do this.
Make a master list of achievements, skills and experience that you've gained through your education and any other work experience you've had.
Then refer to the job requirements and choose skills and experience that are transferable and relevant to the job to use in your CV profile. And be sure to include some knowledge of the employer and enthusiasm for the role.
So how does this look in practice? Here are some examples:
Personal Statement for a CV Example—Experienced Candidates
Creative digital marketing manager with 10+ years of experience boosting brand awareness and profitability for prestigious retailers. Achievements include spearheading a viral social media campaign that increased a client's sales by 100% in just one quarter. Looking to join Cerulean Media to lead its standout marketing team to new heights of success.
Profile for a CV Example—Experienced Candidates
Meticulous accounts receivable officer with 5+ years of experience recovering outstanding payments for a major building contractor. Devised a new system of automated payment reminders that reduced defaults by 50%. Supervised and mentored four junior accounts team members. Eager to join Nichols Construction as accounts receivable supervisor and help to ensure a rapid and unimpeded flow of incoming payments.
CV summary for a CV Example—Candidates with No Experience
University College London computer science graduate with a passion for Python, R and all things data science. Created an award-winning project for scraping data from competitor websites for e-commerce businesses to create easily understandable success metrics. Have written three python scripts for automated data cleaning for various business needs. Looking to launch my career with Phylum Solutions as a junior data scientist.
Personal Profile for a CV Example—Candidates with No Experience
Highly-motivated first year communications student seeks opportunity to gain experience in customer support. Hands-on experience in customer service through working as a volunteer shop assistant and charity line operator for the Cancer Trust. Looking to grow my professional experience and skills as a junior customer support officer at Woodbrick Services.
Read more: CV Introduction Examples
When making a CV in our builder, drag & drop bullet points, skills, and auto-fill the boring stuff. Spell check? Check. Start building your CV here.
When you're done, Zety's CV builder will score your CV and tell you exactly how to make it better.
Starting a CV off
Strictly speaking the first thing you write on your CV is the CV header. That's the part of the document that contains your name and contact details. It's an absolutely essential part of your CV structure because it introduces you as an individual and enables the employer to get in touch with you.
Here's how to start a CV header:
Include your first name and surname, ideally in a larger CV font to help make it standout. A font size that's 6–8 points larger than the body text is a good rule of thumb. And studies prove that a larger font significantly improves the readability of on-screen text, so bigger really is better.
Insert your personal details. Phone number, email address, LinkedIn profile.
Don't include unnecessary information. Your postal address isn't needed and personal information like your date of birth and marital status has no place on a CV.
How to Start a CV Header

Now that your header is ready we can move on to the exciting bit, writing your personal statement.
Read more: CV Ideas Recruiters Love
How to Start Writing a CV
There's actually a little more to it than just sitting down and firing off the perfect personal statement. So let's break down how to start writing a CV.
1. Read the Job Advert
If you want the best CV you have to make it perfectly tailored to each job you apply for. The way to do that is to pay close attention to the job advert. Think of it as the hiring manager's wishlist for the ideal candidate.
Read it carefully and take notes, listing all the CV skills, work experience and education that are mentioned as job requirements. Those are your key points of reference for deciding what things to include in your CV. And throughout the writing process you should make sure that you match your own skills and experience to the job requirements as closely as possible.
2. Choose the Right CV Format
In the UK, CVs come in two main formats. Chronological and skills-based or functional. The best CV format for most candidates is chronological. It's the style recruiters prefer and its main focus is exactly where it should be, on your work experience.
A skills-based CV really only has limited utility though. It's good for writing a career change CV and it can be useful for freelancers and people leaving the military. But it's really hard to write well, recruiters hate them because they assume you're hiding something and they aren't always ATS-friendly. You're much better off sticking with a standard chronological CV.
3. Setup a Solid CV Layout
Looks count if you want to craft the perfect CV. Before you write a single word, get your settings sorted and take the following advice into account:
Set your margins to one-inch on all sides and your line spacing to 1.15. This adds white space, which improves readability.
Double space between sections and between section headings and section content.
Left-align your content, don't use justification.
Use bold and italics for emphasis but be consistent in style throughout.
Choose an easily readable and tasteful CV font set to 11–12 points in size.
Keep it brief. The best CV length is 1–2 pages and if you're less experienced then aim for a one page CV.
4. Find an Easy-to-Use CV Builder
When you do start writing your CV you'll find it much easier if you use a good quality CV builder. Use Zety's CV maker and you'll get a great selection of modern CV templates, expert advice and a pain-free writing experience to make your job application a breeze. Plus you'll get a selection of matching CV cover letter templates too.
Plus, a great cover letter that matches your CV will give you an advantage over other candidates. You can write it in our cover letter builder here. Here's what it may look like: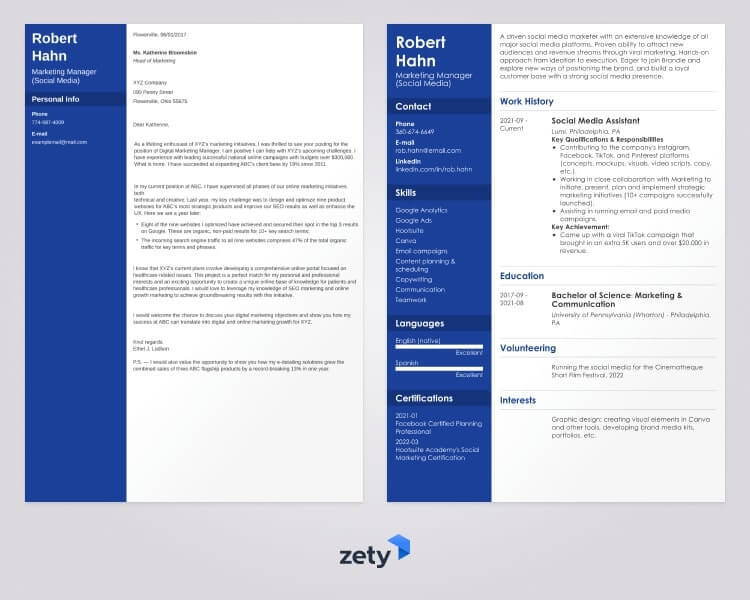 See more cover letter templates and start writing.
Key Takeaway
Starting a CV doesn't have to be hard. Just remember the following tips:
Research the job requirements thoroughly.
Choose the right CV format and use the correct settings for an easy-to-read layout.
Use a good quality CV builder.
Create a well formatted CV header that contains your full name and contact details.
Start writing your CV with an eye-catching personal profile or CV summary.
Thanks for reading. If there's anything else you'd like to know about how to start a good CV then let us know in the comments section. We're always happy to help.
About Zety's Editorial Process
Our editorial team has thoroughly reviewed this article to ensure it follows Zety's editorial guidelines. Our dedication lies in sharing our expertise and providing you with actionable career advice that offers you real value. Every year, the quality of our content attracts 40 million readers to our site. But that's not all – we conduct original research to gain a detailed understanding of the labour market. We take pride in being cited by top universities and leading media outlets in the UK and worldwide.
Sources