You've got it all. The experience, the education, glowing references. You could be a shoo-in for the job but there's just one problem. Your CV template.
Using a dated, badly-designed CV does you no favours. Recruiters are inundated with applications and if it doesn't look good they might not even bother reading it.
Thankfully, you can stop that happening by using an expert-designed modern CV template. And you're about to see 18 CV templates that combine modern good looks with all the elements you need to impress recruiters and win interviews.
So let's jump right in and explore the world of modern CV templates.
Want to save time and have your CV ready in 5 minutes? Try our CV builder. It's fast and easy to use. Plus, you'll get ready-made content to add with one click. See 20+ CV templates and create your CV here.
Sample CV made with our builder—See more CV examples here.
Modern CV templates not what you're looking for? Take a look at our other guides:
1. Cascade
Our first modern CV template is Cascade. The CV layout is perfectly optimised for readability, leveraging generous white space and a two-column format to create a template hiring managers will love.
What makes it modern? This template makes good use of colour for a modern feel. The left-hand column combines dark shades with white text and each section heading is subtly emphasised to draw the reader's attention. And if you don't like this shade of blue, our templates let you choose from 400 colour shades for full personalisation.
Profession suggestion: Project Management CV
2. Concept
Our next modern CV template is Concept. Its roomy single-column layout gives you ample space to include all of your experience, education and CV skills. Like all of our templates it's fully adaptable to the CV format of your choice.
What makes it modern? The timeline and the linked title icons and bullet points combine to help draw the eye all the way down the page. Recruiters spend less than 30 seconds reviewing each CV and this little trick ensures they'll take everything in. And whatever content you add, Zety's CV builder will keep the layout intact.
Profession suggestion: Graduate CV
3. Crisp
How about a Crisp and modern CV template? We've cut back on the colour here for a more simple look, but it's certainly not old-fashioned. The CV icons keep it looking fresh and contemporary. And the header gives you plenty of room to fit in a well-crafted CV profile.
What makes it modern? This template uses health bars to illustrate skill levels. It's a perfect example of gamification, which is proven to improve user engagement. The better the recruiter understands your talents and engages with you as a candidate, the better your chances of landing an interview.
Profession suggestion: Student CV
4. Cubic
Square by name, but modern by nature this CV template instantly grabs your attention with its professional presentation.
What makes it modern? The layout neatly divides the page into three. A dark header with your name brightly highlighted. A broad left-hand column with a handy timeline and a right-hand column with a shaded background for visual contrast. The three elements fit together to create a fantastic modern CV template.
Profession suggestion: Waiter / Waitress CV
5. Diamond
Now for an absolute gem of a modern CV template. Diamond is visually striking and perfectly designed for job-hunting success.
What makes it modern? The clue is in the name. Diamonds are used throughout as the CV icons, bullet points and health bars for skills. Then each section is linked together for that all-important top to bottom effect.
Profession suggestion: Customer Service CV
6. Enfold
This example will be sure to Enfold you in a completely modern CV template experience. It's a mirror image of our Cascade template, so a perfect choice if you want the main content to the left.
What makes it modern? Like all of our templates it's fully compatible with ATS. That stands for applicant tracking system, a type of software used to automate the recruitment process. ATS scans your CV to ensure that human recruiters only get to see the most relevant job applications. And it has its limitations. Search for 'modern CV template word free download' and you risk getting something that won't be ATS scannable. That means your CV will be rejected. Don't take the risk. Use a Zety CV template instead.
Profession suggestion: Receptionist CV
7. Iconic
Choose Iconic as your modern CV template and you'll make yourself an icon of recruitment success. The simple monochrome design looks great printed out onto high-quality CV paper.
What makes it modern? The hint is in the name. Icons have become an ever-present fixture in our modern lives. Think of how many times a day you tap an icon on your phone. Icons provide a quick to understand infographic element to your CV and focus the reader's attention on the information that matters.
Profession suggestion: Sales Assistant / Retail CV
8. Influx
Don't choose this modern CV template. No really, don't choose it. Unless you're prepared for a huge Influx of interview offers that is!
What makes it modern? Our templates aren't just modern, they're smart too. You can customise the CV font, date format, section names and section order. And whatever option you choose our CV builder keeps the layout looking perfect.
Read more: How to Write a CV: Professional UK Examples
9. Initials
So why is this CV template called initials? Look to the left of the name and job title. There you have it, a customised personal seal with your initials inside.
What makes it modern? Apart from the tidy little initials feature this CV template comes with a matching cover letter template. What better way to give to a modern touch to your job application than with a matching CV and cover letter set. That's something that your average free modern CV template doesn't do.
Read more: How to Write a Cover Letter: Complete Guide
When making a resume in our builder, drag & drop bullet points, skills, and auto-fill the boring stuff. Spell check? Check. Start building a professional resume template here for free.
When you're done, Zety's resume builder will score your resume and tell you exactly how to make it better.
10. Minimo
For modern CV template minimalism, choose Minimo. It's simple and uncluttered but that doesn't make it any less effective.
What makes it modern? As with every Zety CV template, Minimo lets you keep your contact details contemporary and up to date. It's not all about your phone number and email address anymore. You can add your LinkedIn profile, Twitter handle and personal website. All the modern touches that help make you stand out as a candidate.
Read more: Skills-Based CV Template and Writing Guide
11. Modern
And now for the one you've all been waiting for. What could be more modern than a modern CV template called Modern?
What makes it modern? Apart from the name it plays a unique visual trick with the dark bars that top and tail the two columns. It's a nifty little bit of asymmetry that pulls your gaze diagonally across the page. The reader can't help but take everything in. The ribbon-shaped icons add another stylishly modern element to this template, which has a genuinely unique look.
Read more: How Long Should a CV Be? Best Page Length
12. Muse
I promise you, if you haven't been aMUSEd by my modern CV template jokes so far, you will be now. See what I did there?
But seriously. What makes it modern? There's a full range of features, including CV icons and health bars. But the real trick here is that this template helps to write itself. Create your CV in our builder and you'll be given useful tips as you write. It's like having access to a career expert in the comfort of your own home. Now that's truly modern.
13. Nanica
With a suitably futuristic name, Nanica is another incredibly simple but effective modern CV template.
What makes it modern? The sheer simplicity of this template is its defining characteristic. Modern design is pure and functional without unnecessary adornment. Think of the clean lines of an iPhone or the simple web design of the page you're reading this on. Their power lies in their simple efficiency. Nanica has everything you need and nothing you don't. It's pure skimmable perfection.
14. Newcast
Newcast takes the classic single column CV template of old and gives it a modern twist. Its roots lie in the traditional plain text CVs of the past but it's no antique.
What makes it modern. Subtle design elements make this a genuinely modern CV template. Your name and the section headings are picked out in colour, there's effective use of bold font and a neatly separated date column in the experience and education sections. And as a final touch the CV icons add visual interest.
15. Primo
Prime yourself for modern CV template perfection with Primo. This template has opted for a circular theme for all the graphic elements, making for a well-rounded CV experience.
What makes it modern? As with all of our CV templates, versatility is key. You can download your completed CV in .txt, .doc and .pdf formats depending on what your requirements are. Quick tip, unless specified otherwise we always recommend you opt for .pdf format to keep your formatting intact.
16. Simple
We're getting close to the end, but if you still haven't decided on a modern CV template then the answer is Simple.
What makes it modern? You probably know the answer already, but this template's modernity lies in its simplicity. Except for the health bars for software and language skills, it's just simple text. Nothing to obscure the message, just perfectly arranged proof of your professional prowess.
17. Valera
The penultimate modern CV template on our list has one particular feature that makes it unique. I'll give you a second to spot what it is.
What makes it modern? You got it. The unique modern feature here is the cursive text for your name and the section headings. This is a design trick called font pairing and it's a great way to add a modern twist to your CV. It's a small change but it makes a world of difference to the overall look.
18. Vibes
To finish up, give yourself some good Vibes. It's a versatile crowd-pleaser suitable for job applications for every profession. By now you should be familiar with the features that make for a modern CV template but here's a summary to refresh your memory.
Plus, a great cover letter that matches your resume will give you an advantage over other candidates. You can write it in our cover letter builder here. Here's what it may look like: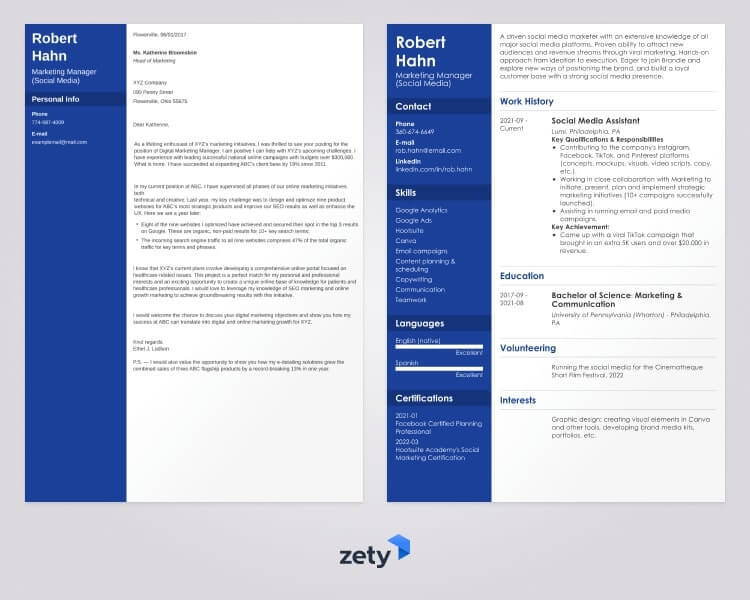 See more cover letter templates and start writing.
Key Takeaway
What makes a good modern CV template:
Easily readable CV layout with plenty of white space.
Good use of colour and fonts to create emphasis.
Infographic elements like CV icons and health bars.
ATS compatibility.
Versatility and full integration with a smart CV builder.
Zety's cv templates tick all of those boxes and more. Take a look and modernise your CV to take your job search to the next level.
Thanks for reading. Perhaps you've got a modern clean CV template of your own you'd like to share? What is it you look for in a modern CV template for the UK job market? Ask away and share your knowledge in the comments section. I look forward to responding.
About Zety's Editorial Process
Our editorial team has thoroughly reviewed this article to ensure it follows Zety's editorial guidelines. Our dedication lies in sharing our expertise and providing you with actionable career advice that offers you real value. Every year, the quality of our content attracts 40 million readers to our site. But that's not all – we conduct original research to gain a detailed understanding of the labour market. We take pride in being cited by top universities and leading media outlets in the UK and worldwide.
Sources