Whether you've just left school or you have decades of experience, writing a CV can be enough to make you break out in a cold sweat. You have to know exactly what to include in a CV, there are rules after all.
But you also need to put it in such a way that it'll knock the socks off the employer and guarantee you a job interview. It's nerve-wracking. If you miss out a crucial element your application is rubbish bin fodder.
Luckily, it's time to relax and wipe that sweat off your brow. You're about to learn what to put on a CV to do both.
This guide will show you:
What sections to include in your CV and what order you should put them in.
What information you need to put in each of the CV sections.
What not to include on a CV so you don't sabotage all your hard work.
An example of what should be on a CV so you can check you've included everything.
Want to save time and have your CV ready in 5 minutes? Try our CV builder. It's fast and easy to use. Plus, you'll get ready-made content to add with one click. See 20+ CV templates and create your CV here.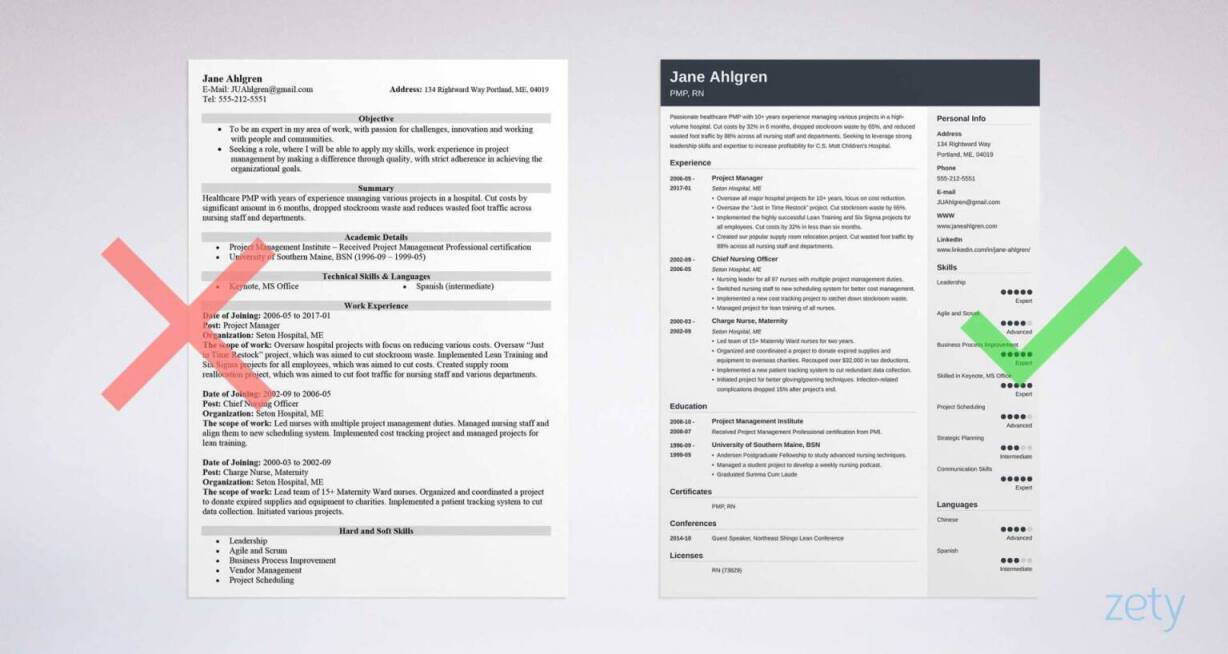 Sample CV made with our builder—See more CV examples here.
Want to discover even more about CV writing? Read more here:
What to Put on a CV—Sample
This example shows you what each CV section is called and where it should be included.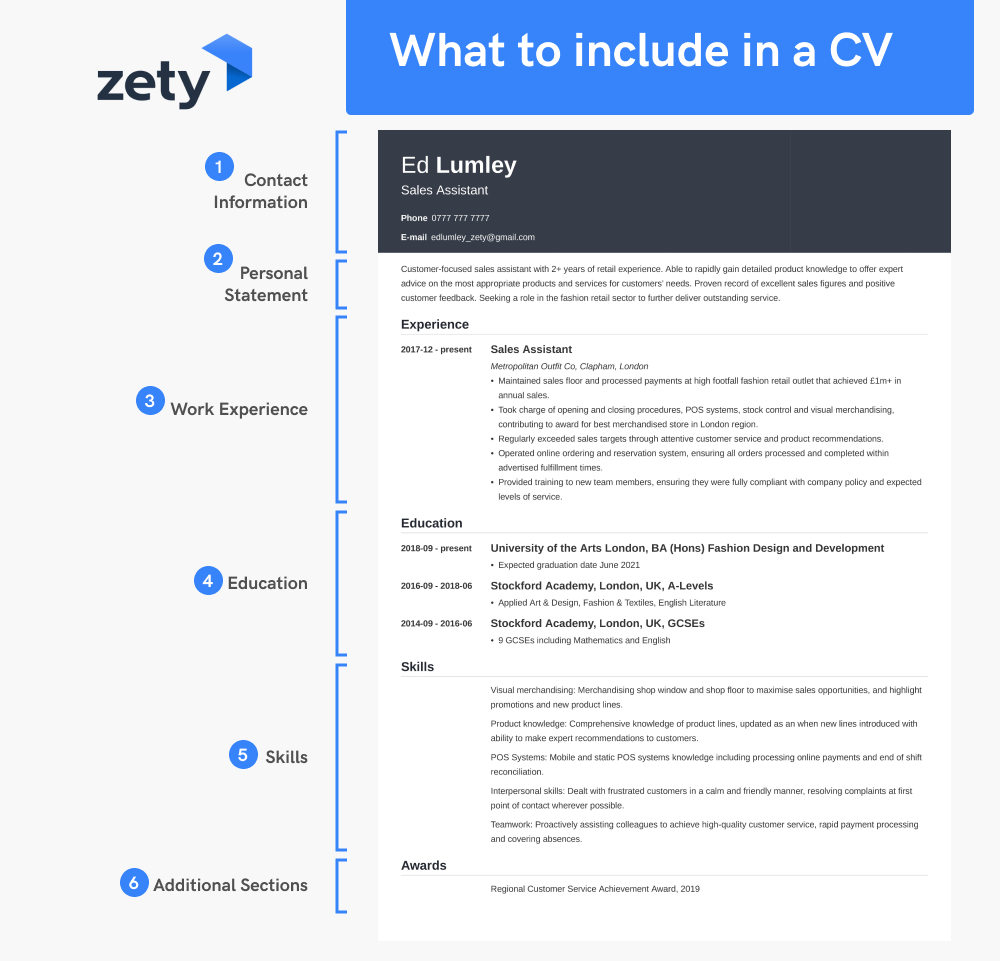 What Should a CV Include—CV Sections
No matter what job you're applying for, there's a set CV order of sections you have to follow if you want your application to be taken seriously. First the must-haves to create the best CV template.
Every CV Should Include These Sections
Contact information
Personal Statement (aka Personal Profile)
Work Experience
Education
Skills
That's the bare minimum. Fail to include those sections and your CV will be rejected without a second thought. But if you want the best chance of getting the job you should aim higher than the bare minimum. Additional sections are a great way of making your job application stand out.
The following sections are all good things to put on a CV:
Professional certifications
Hobbies and interests
Extra-curricular activities
Languages
Volunteering
Projects
Publications
Awards
Conferences
So what order should you put your CV sections in? That depends on what stage you're at in your career.
Order of CV Sections for Experienced Candidates
Contact information
Personal Statement (aka Personal Profile)
Work Experience
Education
Skills
Additional sections
Order of CV Sections for Candidates with Little or No Experience
Contact information
Personal Statement (aka Personal Profile)
Education
Work Experience
Skills
Additional sections
So the sections of a CV, education and work experience, can change places depending on your circumstances. And both situations above are applicable to a chronological CV format only. For a skills-based CV the rules are slightly different.
Now for a quick look at what to put in every CV section.
Read more here to find out all about the two main types of CV format: CV Format: Best Examples for Job Hunting Success
What Sections to Include in a CV
Every CV should include the following sections:
1. Contact Information
Include the following information in your CV contact section:
Your full name
Your job title
Phone number
Your personal email address
LinkedIn profile
Optional, links to other social media or your professional website
Details you should never include on your CV:
Your photograph
Personal info such as date of birth or marital status
Postal address
You're probably wondering why you shouldn't include your postal address. The answer's simple. It's unnecessary. Job applications aren't done via Royal Mail anymore. Leave off your postal address and give yourself more room for the important stuff.
2. CV Personal Statement or Profile
Your CV personal statement (also known as a CV personal profile) is a brief 2–4 sentence paragraph that follows your contact info. In a nutshell, the sole purpose of your personal statement is to get the hiring manager to read the rest of your CV.
In short, your CV profile is an answer to these three questions.
Who are you?
What can you offer to the employer?
What are your career goals?
Your approach will be different depending on your experience. If you're applying for a job where you do have relevant experience, then do this.
Make a master list of your strengths, including your professional experience, skills and abilities.
Then check the job advert for the role you're applying for, read the job description, highlight the skills and experience it requires and match the results with 3–4 points from your own list.
If you're applying for an entry-level role or you're a career changer then do this instead.
Again, make a master list of your strengths. Consider your education and any other jobs you've had. And list those that are transferable to the job you're applying for.
Then choose 3–4 relevant items and combine them with passion for the role, and knowledge about the employer to prove that you'll be a good fit.
Whatever your level of experience, ensure your personal statement is targeted to the job you're applying for. Don't just use the same old profile for every application. Here's a sample.
CV Personal Statement Example
Highly motivated receptionist with 5+ years experience in busy front desk roles. Immaculately presented with highly developed communication skills and pride in giving an outstanding first impression to clients and visitors. Looking to take on new challenges that enable my calm and focused approach to shine.
This section is much easier to write if you leave it until last. You'll find it really helps to have your experience, skills and education already in front of you and ready to refer to.
Read more: How to Write a CV Personal Statement: CV Personal Profile Examples
3. Work Experience
This is the most important section of your CV. It's no surprise that 92% of recruiters say previous job experience is the most important hiring factor to consider. But you can't just include work experience in your CV and hope for the best. You've got to do it right.
Each entry in your work experience section should:
List your work experience in reverse-chronological order.
Include the job title, employer and dates of employment for each role.
Include up to six bullet points outlining responsibilities and achievements. Don't just say what you did, say how well you did it.
Use the PAR (Problem Action Result) formula and accomplishment statements to structure your bullet points.
Add interest and impact with CV action words. Forget 'responsible for'. Try snappy alternatives like operated, undertook and performed.
Target your work experience to the job you're applying for. Focus on experience that's relevant to the requirements in the job advert.
CV Work Experience Section Example
Customer Service Advisor
Senco Systems, Greater Manchester
November 2018—Present
Provided telephone and online customer support for 100,000+ customer accounts across the UK.
Exceeded complaints resolution quality goal of 90% achieving score of 96%+.
Resolved 90% of complaints at first point of contact, exceeding corporate target of 80%.
Meticulously updated customer information on CRM as and when required and adhered to GDPR requirements.
Delivered onboarding to new starters and refresher training to established team members.
4. Education
The structure of this section depends on your level of professional experience.
If you've got more than two years of work experience and you're a university graduate, only list your degrees and include the following.
Degree start date and graduation date
Name of degree
Institution you attended
Experienced Candidate CV Education Section Example
BA (Hons), 2:1, History, September 2014–June 2017
University of Manchester, UK
If you're a uni graduate with less than two years of work experience or you're still studying, then you can include some extra info. Add a sub-section containing coursework, if it's relevant, and include an expected graduation date if you're still studying.
Recent Graduate CV Education Section Example
Economics BSC (Hons), September 2019–June 2021 (Expected graduation date)
University of Manchester, UK
Relevant Coursework: Econometrics, Mathematical Economics, International Trade & Finance
If you're a school leaver then simply list your A-levels and GCSEs. Include individual subjects for your A-levels, but for your GCSEs you only need to list Maths and English. Many employers look for passes in these subjects as a minimum requirement. No need to include grades for individual subjects unless you're specifically requested to do so.
School Leaver CV Education Section Example
A-levels: Business, Computer Science, English Literature. September 2016–June 2018
Stockford Academy, London, UK
9 GCSEs including Mathematics and English, September 2014–June 2016
Stockford Academy, London, UK
When making a CV in our builder, drag & drop bullet points, skills, and auto-fill the boring stuff. Spell check? Check. Start building a professional CV template here for free.
When you're done, Zety's CV builder will score your CV and tell you exactly how to make it better.
5. Skills
This rounds up the last of the must-have sections. Last it may be, but certainly not least. A massive 93% of hiring managers rate soft skills in particular as an 'essential' or 'very important' factor in hiring decisions.
The most important skills to include are? You guessed it, skills that are relevant and targeted to the job you're applying for. So—
Read the job advert and identify the desired skills for that position. Write those skills down in a list.
Now make a list of all of your skills, refer back to your work experience and education sections for inspiration.
Then compare the two lists, see what matches, and choose 5–10 of those to include in your CV.
Aim for a mix of soft skills, hard skills, and technical skills.
For each skill, add a single sentence showing how you demonstrate it. Don't just show, tell.
CV Skills Section Example
Written communication skills.

Prepared monthly company newsletter based on briefings from senior managers.
Adaptability. Maintained a high standard of service delivery during emergency office move and unexpected long term absence of team members.
Contract management. Kept supply and service costs within budget through effective negotiation with contractors.
Analytical skills. Shown in researching blockages in team processes to improve efficiency.
Performance management. Maintained regular schedule of 1-1 meetings and introduced new annual performance review process.
So that's the last essential section dealt with. But you need to stand out from the 118 other applicants who want the job too. So let's see what else you should include on your CV.
Read more: Key CV Skills: Best List of Top Skills and Examples
6. Additional Sections
The bare essentials aren't going to cut it if you want to be one of the few candidates who score an interview. If you've got something extra then make good use of it. You've already seen some examples of what to include as additional CV sections.Now let's look at a few potential choices in more detail.
Hobbies
An underappreciated CV section, it's a great way of setting yourself apart as an individual. Just don't choose hobbies that are too off the wall. Psychokinetic fork bending isn't relevant to many careers.
Volunteering
Including volunteering on your CV has a particularly powerful effect. 8 out of 10 hiring managers prefer to hire people with volunteering experience.
Languages
Foreign language skills are another brilliant thing to put in your CV. Language skills are required at all levels of the workforce and the most in-demand languages are German, French and Spanish.
So when you're considering what to put on a CV don't forget to consider including these extra sections. Some other suggestions are:
Professional certifications
Extra-curricular activities
Projects
Publications
Awards
Conferences
What Else Should a CV Include?
Remember, you're applying for a job, not putting together a puzzle. There's more to it than simply fitting the sections together. So what else do you need to put in a CV?
Keywords
The recruitment process is becoming more automated and data-driven. 90% of major companies use ATS software to scan job applications. Applicant Tracking Systems scan your CV for keywords and reject any that don't include what's required. All before a human even sees them.
CV keywords are words and phrases that describe desired experience, skills or traits. The job title is also a keyword. Thankfully, you'll find them laid out for you in the job advert.
CV Keywords Example
Suncom Systems seeks an accomplished office manager with 5+ years experience. Must be proficient in supplier contract management and have experience managing a team of office assistants.
Everything in bold is a CV keyword. So use them, but do it well. Don't just string keywords together. Make sure your CV remains grammatical and easy to read.
Layout
Your CV has to look great and be readable too. The best way to achieve that is with effective CV layout. Here's what to do.
Set page margins to one inch on each side, left align the text (don't use justification) and double space between each section. This creates plenty of white space, which improves readability and adds emphasis to each section.
Choose a good CV font. Arial, Helvetica and Cambria are three great options.
Be concise. The best CV length is no more than two pages.
Save your CV as a PDF. It's the best filetype for keeping your layout intact.
To learn more about how to write a CV read more here: How to Write a CV: Professional Examples for the UK
Plus, a great cover letter that matches your CV will give you an advantage over other candidates. You can write it in our cover letter builder here. Here's what it may look like: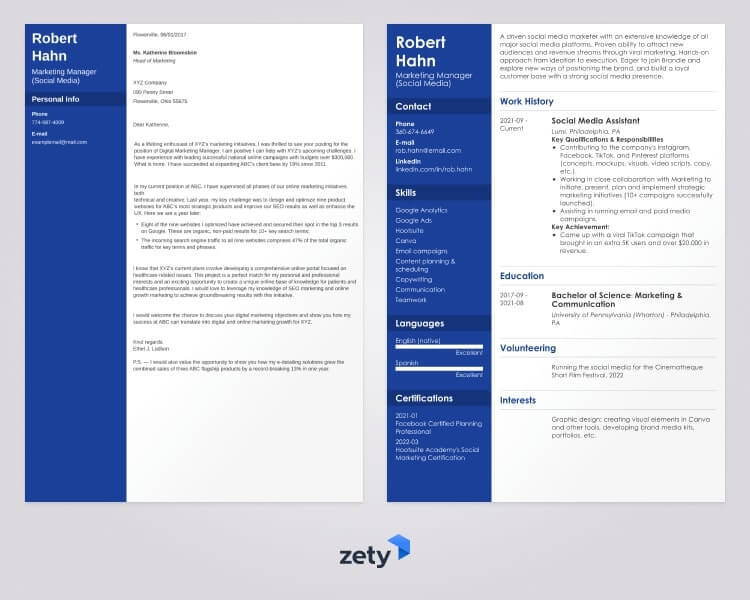 See more cover letter templates and start writing.
Key Takeaways
Here's what to include in a CV:
Every CV should include the following sections: Contact Information, Personal Statement, Work Experience, Education, Skills.
Additional sections you can put on a CV include: Professional certifications, Hobbies and Interests, Languages, Volunteering, Projects, Publications, Awards and Conferences.
Other good things to put in a CV are: keywords and an effective layout.
You shouldn't include your photo, personal information or your postal address.
Now you know exactly what to put in a CV. Thanks for reading. Are you still not sure what do you need to include in a CV? Want to know more about optional sections on a CV? There's a comments section just for you. Ask and I'll be happy to answer.
About Zety's Editorial Process
Our editorial team has thoroughly reviewed this article to ensure it follows Zety's editorial guidelines. Our dedication lies in sharing our expertise and providing you with actionable career advice that offers you real value. Every year, the quality of our content attracts 40 million readers to our site. But that's not all – we conduct original research to gain a detailed understanding of the labour market. We take pride in being cited by top universities and leading media outlets in the UK and worldwide.
Sources