You've found the perfect job. You've got the experience, you've got the skills, the education, the full monty. But there's a problem, you can't find the right blank CV template to put it all in.
An effective blank CV template frames and enhances your job-winning content. Even the best candidates look distinctly average if they present their CV in plain vanilla 12 point Arial.
You need a blank CV template that adds colour, class and structures your CV in such a way that recruiters will be desperate to interview you. We've got a collection of CV templates that does all that and more.
Let's jump right in and take a look.
Want to save time and have your CV ready in 5 minutes? Try our CV builder. It's fast and easy to use. Plus, you'll get ready-made content to add with one click. See 20+ CV templates and create your CV here.
Sample CV made with our builder—See more CV examples here.
And when you're done with this collection of blank CV templates for UK jobseekers, take a look at our carefully curated template lists.
Now, for the selection of the best blank CV templates:
1. Cascade
The first of our blank canvases is Cascade. There's a lot going on in this blank CV template with plenty of room to fit all of your experience and skills into a one page CV. But it does this without appearing crowded, the CV sections remain neatly defined and the two-column format allows for a neat presentation. And don't feel blue if you don't like blue. Our CV builder lets you choose from 400 colours.
Read more: CV Template for School Leavers
2. Concept
Here's a fantastic Concept for a blank CV template. Hiring managers are notoriously fast when they review CVs but this template helps ensure they read all the way from the top to the bottom of the page. Look how the connected CV icons and bullet points pull your eye all the way down to the bottom, ably assisted by the timeline in the left-hand column.
Read more: CV Template for a 16-Year-Old
3. Crisp
Don't just sit there with a blank expression on your face. Turn that frown upside down with our Crisp CV template. The stylish monochrome design makes it an ideal choice if you need a printable blank CV template. It looks fantastic on paper, Crisp by name and crisp by nature. The layout is simple but effective, incorporating two-column design and cleanly contrasting CV icons.
Read more: How to Write a CV for Work Experience Opportunities
4. Cubic
Our Cubic template takes the two-column design you've seen in previous examples but adds a twist by putting the narrower column with contact information and CV skills to the right. There's a good mix of colour shades too, the bold dark header and soft grey side-column contrast nicely. You can download all of our CV template examples in Microsoft Word format too.
Read more: How to Write a Pharmacist CV
5. Diamond
You could say our Diamond template is the jewel in the crown of our CV collection. It takes its name from the diamond-shaped elements that are a key feature of its CV layout. And you can keep that layout perfectly preserved by saving this blank CV template in PDF format, as you can with all of our CVs.
Read more: How to Write a Bartender CV
6. Enfold
Our Enfold template should look familiar. It is in fact a mirror image of our Cascade template, so whether you prefer it right or left-handed we've got you covered. And when you download a blank CV template from our CV builder you've got the option of getting yourself a matching cover letter template too. Guaranteed to give your job application a professional appearance.
Read more: What is a Cover Letter for a Job
7. Iconic
The clue is in the name. The distinguishing feature of this template is the use of effective CV icons. Adding graphic elements such as icons has been proven to increase reading comprehension. The more of your CV the recruiter understands and absorbs, the more likely you are to get an interview. As with all of our CV templates you'll get expert advice as you write, and that's not something your average free blank CV template can boast.
Read more: What are CV Soft Skills: List of Best Examples
8. Influx
This template is just the thing if you want an Influx of interview offers. The dark CV header boldly highlights your personal details and the single-column format gives you plenty of room for writing a job-winning work experience section. It's another good choice if you're looking for a blank CV template to print too.
Read more: What are Hard Skills and How to Include Them on Your CV
9. Initials
Initials is a particularly creative blank CV template that places your own initials in a bold circular icon. The fantastic thing is that it does it automatically. There's no need for photoshop skills, no need to mess around getting your CV format right in Word, the Zety CV builder does all the hard work for you. No matter what content you add, it'll keep your CV looking perfect.
Read more: Resume vs CV: What's the Difference & Does it Matter
10. Minimo
It's Minimo. And appropriately, it's minimal. Nothing fancy here, just a few pops of coloured text and some health bars to highlight software skills. An excellent choice of blank CV template if you're targeting more conservative, corporate positions. As with our other templates, it's customisable too, change the font size and type, rearrange and rename the sections, change the date format and more. And whatever you do the builder makes sure it stays looking great.
Read more: How to Write an Engineering CV
11. Modern
This really is a Modern and eye-catching blank CV template. Its unique selling point is the coloured accents at the top and bottom of the left and right-hand columns. That asymmetry looks fantastic but it also serves a practical purpose. It's another way of dragging the hiring manager's eye across the page, so they read your whole CV.
Read more: How to Write a Sales CV
12. Muse
A great choice of blank CV template to aMuse yourself with. This example features blue ribbon icons highlighting each CV section. It's actually a clever psychological trick. Blue ribbon means high-quality and this CV template will subtly suggest that you're a high-quality candidate.
Read more: How to Write a Recruitment Consultant CV
When making a CV in our builder, drag & drop bullet points, skills, and auto-fill the boring stuff. Spell check? Check. Start building your CV here.
When you're done, Zety's CV builder will score your CV and tell you exactly how to make it better.
13. Nanica
Nanica is another stripped-back blank CV template with true minimalist elegance. But it isn't plain and boring. Note how each section is separated with a fine line, and the section headings and dates are set in their own separate column. It's an excellent example of the principles of good layout and composition, giving your job application the power of expert design.
Read more: How to Write a Support Worker CV
14. Newcast
Next comes our nifty Newcast template. Yet another great choice of CV blank template, it's not overly complex yet still has enough colour and graphical features to make it stand out. And that simplicity is a good thing. Templates that are too complicated confuse ATS, the software that automatically scans job applications. And that could mean your application is rejected before anyone actually sees it. But every Zety CV template is fully optimised for ATS meaning you'll pass muster with those pesky programs.
Read more: How to Write a Chef CV
15. Primo
Moving on, we come to our Primo template. Appropriately, primo means first in Italian and it could very well be your first choice. It follows a theme of round icons and bullet points and it'd be another great blank CV template to print because it looks particularly good on paper.
Read more: How to Write a Career Change CV
16. Simple
If you haven't found a blank CV template you like yet the choice is Simple. Lots of detail but simply communicated and easy to read. Exactly what you need for a successful CV. And another good choice for jobs in more conservative career sectors.
Read more: What is a CV and What Does CV Stand For?
17. Valera
We're almost done. This is the second last of our blank CV templates but certainly not the least. Valera is unique amongst our templates in the way it makes use of font pairing. It uses an expressive cursive CV font for the name and section headings combined with a classic sans serif font for the remainder of the text. It certainly gives this template a fresh and energetic look.
Read more: What Should a CV Look Like? Write a Professional Looking CV
18. Vibes
Here's the last of our CV templates and what better way to finish than with some good Vibes. It has a bit of everything, two-column format, good use of colour, CV icons and health bars. All wrapped up in an attractively job-winning package. If you've got to the end our list and still haven't chosen a blank CV template then why not go for this one? It'll look great regardless of what job you're applying for.
Plus, a great cover letter that matches your CV will give you an advantage over other candidates. You can write it in our cover letter builder here. Here's what it may look like: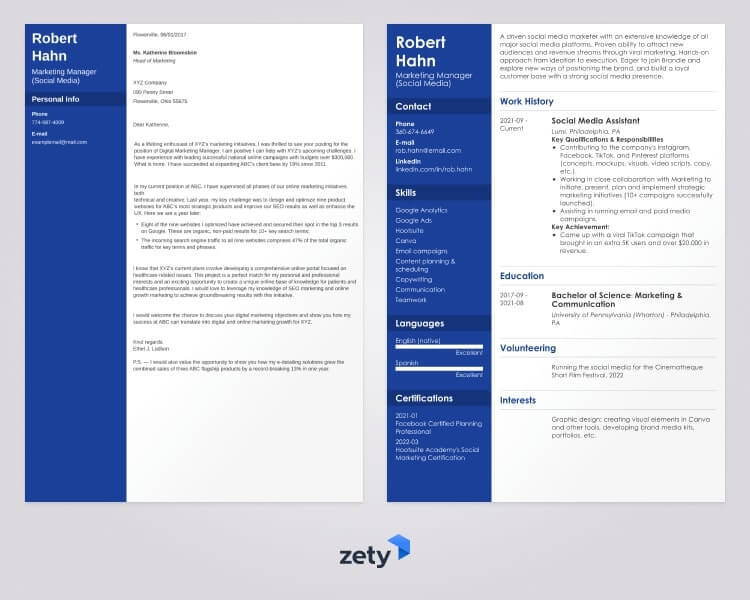 See more cover letter templates and start writing.
And that's all. For any questions about using our blank CV templates and CV builder, please use the comments section and I'll be happy to help.
About Zety's Editorial Process
Our editorial team has thoroughly reviewed this article to ensure it follows Zety's editorial guidelines. Our dedication lies in sharing our expertise and providing you with actionable career advice that offers you real value. Every year, the quality of our content attracts 40 million readers to our site. But that's not all – we conduct original research to gain a detailed understanding of the labour market. We take pride in being cited by top universities and leading media outlets in the UK and worldwide.
Sources