Getting hands-on experience is one of the smartest things you can do when you're just starting out your working life. It boosts your confidence and employability and helps you to decide what sort of career you might want to pursue.
It's not a paid job, so do you need a CV? The answer is a definite yes. You need to know how to write a CV for work experience that'll convince the employer you've got something to offer them too.
The good news is that there's an easy formula for writing a CV for work experience that'll have you learning the ropes at the company of your choice. Keep reading and you'll see work placement CV examples that will help you get your foot in the door.
Want to save time and have your CV ready in 5 minutes? Try our CV builder. It's fast and easy to use. Plus, you'll get ready-made content to add with one click. See 20+ CV templates and create your CV here.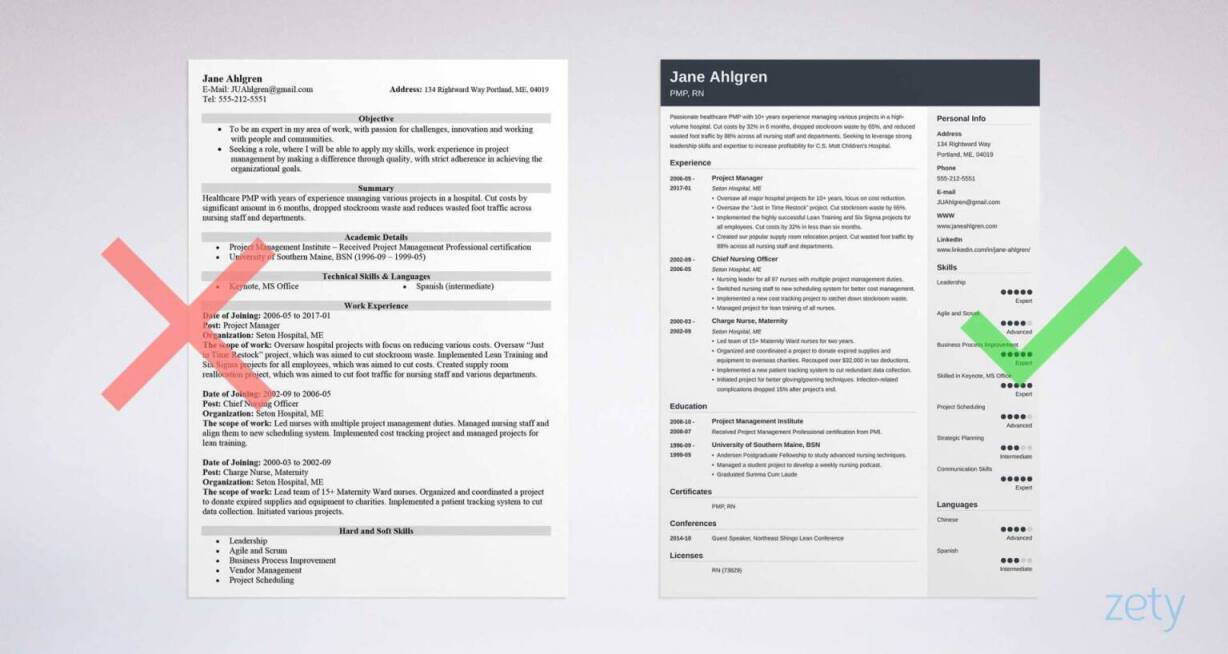 Sample CV made with our builder—See more CV samples here.
Looking for different CV writing advice? Read more here:
Sample CV for Work Experience Template
Jay Ahmed
Ph: 0777 777 7777
Email: jayahmed_zety@gmail.com
Second year computer science student at University College London seeks summer work experience opportunity with Androdyne Systems. As a volunteer redesigned bird charity's website landing page resulting in a 200% increase in traffic. Keen to learn more about your implementation of AI supply chain management as a first step in a career in logistics information systems.
Education
BSc Computer Science, September 2019–June 2021 (expected graduation date)
University College London
Key modules—Logic and Database Theory, Mathematics and Statistics
Work Experience
Volunteer Website Developer & IT Consultant
The Feather Trust, Battersea, London
January 2020–Present
Redesigned landing page and conducted SEO optimisation for bird charity website, resulting in a 200% increase in traffic.
Conducted A/B testing of CTAs for donations pages, finding an optimal solution that increased donations by 75%.
Suggested and implemented improvements to inventory management systems, resulting in a 20% reduction in wastage of spoilable food donations.
Consolidated customer contact details into a single database, reducing workload for outgoing marketing and soliciting through ease of use.
Skills
Teamwork
Written and oral communication
Critical thinking
Problem-solving
Flexibility
Hobbies & Interests
Raspberry Pi enthusiast. Have experimented with media centre, CCTV and IoT.
There's a good chance this is the first time you've written a CV, so let's briefly discuss what a CV actually is. Here are a few quick facts for you.
CV stands for curriculum vitae, that's Latin for "course of life".
A CV presents information about your skills, education and work history in a brief and easy to read format. It helps employers decide whether you'll be a good fit for them.
You write your CV to send to employers, so they can decide whether or not to call you in for an interview.
So bearing that in mind, let's get started on our step-by-step guide to creating your CV for work experience.
1. Use the Best Format for Your CV for Work Experience
The format of a CV means the way the sections are set out, what information is included and how that information is presented. In the UK there are two main types of format, skills-based CV and chronological. The best CV format for work experience is chronological because it's the format that hiring managers prefer.
In the past few decades youth unemployment has kept rising. There's consistently a lot of competition out there for work experience placements and it keeps getting tougher. Having a perfect CV structure is the first step to making your application stand out from the rest. Here's how to do it.
Before you start writing, make sure you've set up a good CV layout. Use left-alignment only with no justification. Set the page margins to one inch on all four sides. Leave a double space between each CV section.
Then choose an easy-to-read font. If in doubt, stick with the basics like Arial and Calibri. They're two of the best CV fonts.
Start with a CV header that contains your name and contact details. Put your name in a larger font than the body text, 16–18 is ideal. Include your phone number, and your email address, making sure it's a sensible one based on your name. But don't include your address, a photo of yourself or your date of birth.
Don't write too much, your end result should be a one or two page CV.
And finish off by saving it as a PDF file unless the employer specifies otherwise.
Read more: How to Create a Professional CV Layout
2. Write a Personal Statement for Your CV for Work Experience
The first section of your CV is called your personal statement or personal profile. It's a short paragraph, 3–4 lines long, and it introduces you as a candidate. The trick here is to make it interesting and convince the hiring manager to read the rest of your CV. Here's how to do just that.
Writing a CV personal statement is much simpler than you think. All you're doing is answering these questions.
Who are you?
What can you offer to the employer?
What are your career goals?
If you were an experienced worker, you'd answer the first two questions by mentioning your job title, how much experience you have and some of your professional skills. But for a CV for work experience you'll have to take a different approach.
First, try to avoid overused phrases like 'hard-working'. Lots of CV templates for work experience look exactly the same because everyone is 'hard working' or 'committed'.
Start by mentioning what stage of your education you're in. E.g. 'Final year A-level student'.
Then mention that you're seeking work experience and why you want to complete it at this particular company. Do a bit of research to find out something about them, it'll impress the hiring manager with your research skills.
And finish by saying what your career goals are. Just don't be too outlandish and say you're aiming to be CEO within two years.
Take a look at the sample CV above for inspiration, and there's another example below for further guidance. This part of a CV tends to be hard work even for experienced candidates, but for a work placement CV you should just keep it short and simple.
CV for Work Experience Example—Personal Statement
Final year A-level student seeks work experience opportunity with ABC Property Group. Eager to gain practical knowledge with West London's fastest-growing estate agency. Hoping to take my first steps in a career in property sales and lettings.
It's simple and effective, no buzzwords, just a clear and honest introduction to your CV.
Read more: How to Write a CV Summary: 10 Professional Examples
3. Include an Education Section
As your career progresses you'll make this the third section of your CV below your work history section. But right now it should go second under your CV profile. The fact you're writing a CV for work experience means that you don't have much work history to include. So here's a quick lesson on including your education.
If you're a school-leaver or still at school, then do this.
Include the name of the school you went to, or are going to and the dates you attended. If you're still studying then include an 'expected graduation date' as the end date.
Specifically mention the A-level subjects you studied or are studying. List them all by name.
For your GCSEs, definitely mention passes in maths and English, those are considered a bare minimum requirement by many employers. But you don't need to mention other subjects unless they're directly related to the work experience you're seeking. E.g. include computing if you're looking for work experience in an IT firm.
If you're a uni graduate or still studying then this is what you need to do.
Include the name of your university and your dates of attendance. Use an expected graduation date as the end date if you're still studying.
Write the name of your degree, but only mention honours if you've achieved or are on track to achieve a first or a 2:1.
Include details of specific modules you've studied if they're directly related to the work experience you're targeting.
Read more: What to Include in a CV: All the Essential Sections
4. Create a Work History Section (If You Have Any)
If you've got no experience at all then you can leave this section out. But don't skip to the next chapter of this guide just yet. Remember that any sort of experience at all is worthy of being included in a CV for work experience. That includes part-time work, Saturday jobs and volunteer work.
If you've got it, flaunt it. Most other applicants won't have anything to include, so it'll give you an advantage. Here's how to write it.
If you have more than one job to list then write them in reverse-chronological order. The most recent first and then go back from there.
Every entry should include your job title, the name of the company/organisation, the dates you worked there (use 'present' as the end date if you still do), 3–4 bullet points describing the job
Don't start every bullet point with 'responsible for', use some high-energy action verbs instead. Try aided, contributed or demonstrated for starters.
Try to include measurable achievements, not just a list of your duties. You're aiming to prove how well you did the job, not just a description of what you did.
Here's an example. It uses the PAR (Problem-Action-Result) technique to structure the bullet point.
Created a new sales pitch to convince customers who wanted to cancel to change their minds, leading to a 10% reduction in contract cancellations.
There's a problem, customers who want to cancel, an action, the new sales pitch, and the result, a reduction in cancellations. And it puts a number to the result too, which makes it look even better.
Read more: What to Include in the Work Experience Section of Your CV
5. Highlight Your Skills
A skills section is an essential addition to your work placement CV. But you've got to target it to the work experience opportunity you're applying for. Here's how to do it.
Formal work placement opportunities will have a job description where the employer describes exactly what's required of the successful applicant. Read this, and carefully note any skills or abilities it mentions.
Also consider any general skills that apply to all work experience opportunities. Communication and teamwork will go down well anywhere.
Now make a list of your own skills, refer to your education and any work experience to give you ideas.
Then list 5–10 of your skills on your CV that match what the employer requires.
Here are some great skills for a CV for work experience.
Sample Skills For a CV for Work Experience
Teamwork
Communication
Problem-solving
Critical thinking
Professionalism
Positive attitude
Customer experience
Flexibility
Integrity
Conceptual skills
Interpersonal abilities
Read more: Best Skills to Include On Your CV: Top List of Examples
When making a CV in our builder, drag & drop bullet points, skills, and auto-fill the boring stuff. Spell check? Check. Start building your CV here.
When you're done, Zety's CV builder will score your CV and tell you exactly how to make it better.
6. Add Extra Sections to Your CV for Work Experience
Work placement CV examples have a tendency to all look the same. You need to stand out if you want to get the best work experience opportunities. And an easy way to add some weight to your CV is to include some additional sections.
If you can speak another language then include a languages section. Being bilingual boosts your employability so it's an excellent addition to your CV.
Write a hobbies and interests section. Team sports tends to be a favourite because it shows teamwork and leadership. But other hobbies work too. As long as they help you stand out as a candidate.
Other suggestions include achievements, awards and projects.
Read more: Best Hobbies and Interests for a CV
7. Write a Cover Letter for Work Experience
What's even better than a perfect CV for work experience? A matching cover letter for work experience to go with it. It'll add a real professional touch to your work experience application.
Here's what to include in a cover letter for work experience.
A well-written cover letter structure and a correctly formatted cover letter address.
Include a 'hook' in your cover letter opening. Make it sound enthusiastic and include an impressive accomplishment.
Then in the body of your cover letter, add extra information about yourself. Demonstrate how your skills and personal qualities will make you a great work experience candidate.
End your cover letter with a call to action. Ask the hiring manager to contact you to discuss the role further. Good things come to those who ask.
And the length of your cover letter shouldn't be more than one page.
Pro Tip: If you can't find a formal offer of a work experience placement then try out a speculative cover letter. It can help you discover all sorts of hidden opportunities.
Plus, a great cover letter that matches your CV will give you an advantage over other candidates. You can write it in our cover letter builder here. Here's what it may look like: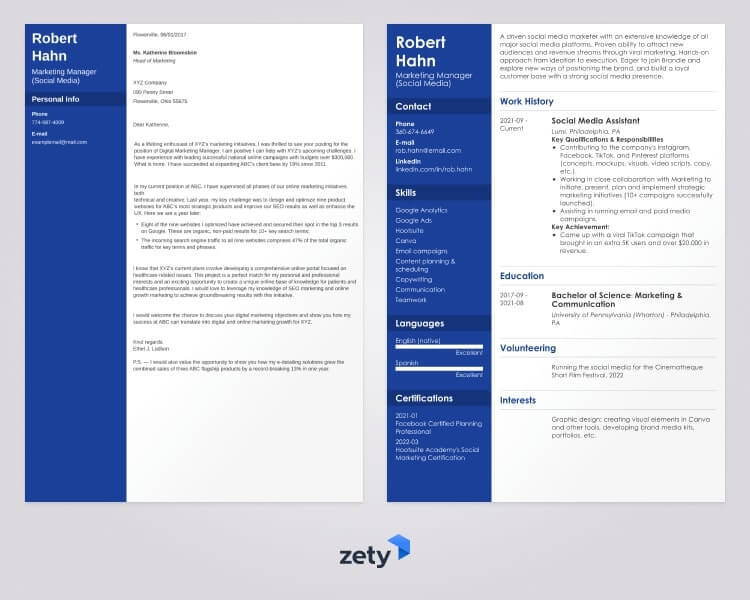 See more cover letter templates and start writing.
And my last bit of advice. Follow up your work experience application. If you haven't had any news within a week of applying then contact the employer to check. It's a final professional touch that'll give your chances of success a boost.
Thanks for reading our CV template for work experience. If there's anything else you'd like to know about what to write in a CV for work experience then ask me in the comments section and I'll be glad to help.
About Zety's Editorial Process
Our editorial team has thoroughly reviewed this article to ensure it follows Zety's editorial guidelines. Our dedication lies in sharing our expertise and providing you with actionable career advice that offers you real value. Every year, the quality of our content attracts 40 million readers to our site. But that's not all – we conduct original research to gain a detailed understanding of the labour market. We take pride in being cited by top universities and leading media outlets in the UK and worldwide.
Sources