Should a CV be one page or two? It's one of the most common questions related to CV writing. And I'll be completely honest with you the answer isn't clear.
If you haven't got much experience it's much better to have an impactful one page CV than two pages filled with fluff. As the former American president Thomas Jefferson said 'The most valuable of all talents is that of never using two words when one will do'.
But for more experienced professionals, especially in management and executive roles, then a two page CV could be a better choice. It's a tough one, but read on and you'll discover:
Which candidates should use a one page CV and who should stretch to two.
How to make your CV one page.
A one page CV example to inspire you.
Here's a one page CV example made with our builder.
Want to save time and have your CV ready in 5 minutes? Try our CV builder. It's fast and easy to use. Plus, you'll get ready-made content to add with one click. See 20+ CV templates and create your CV here.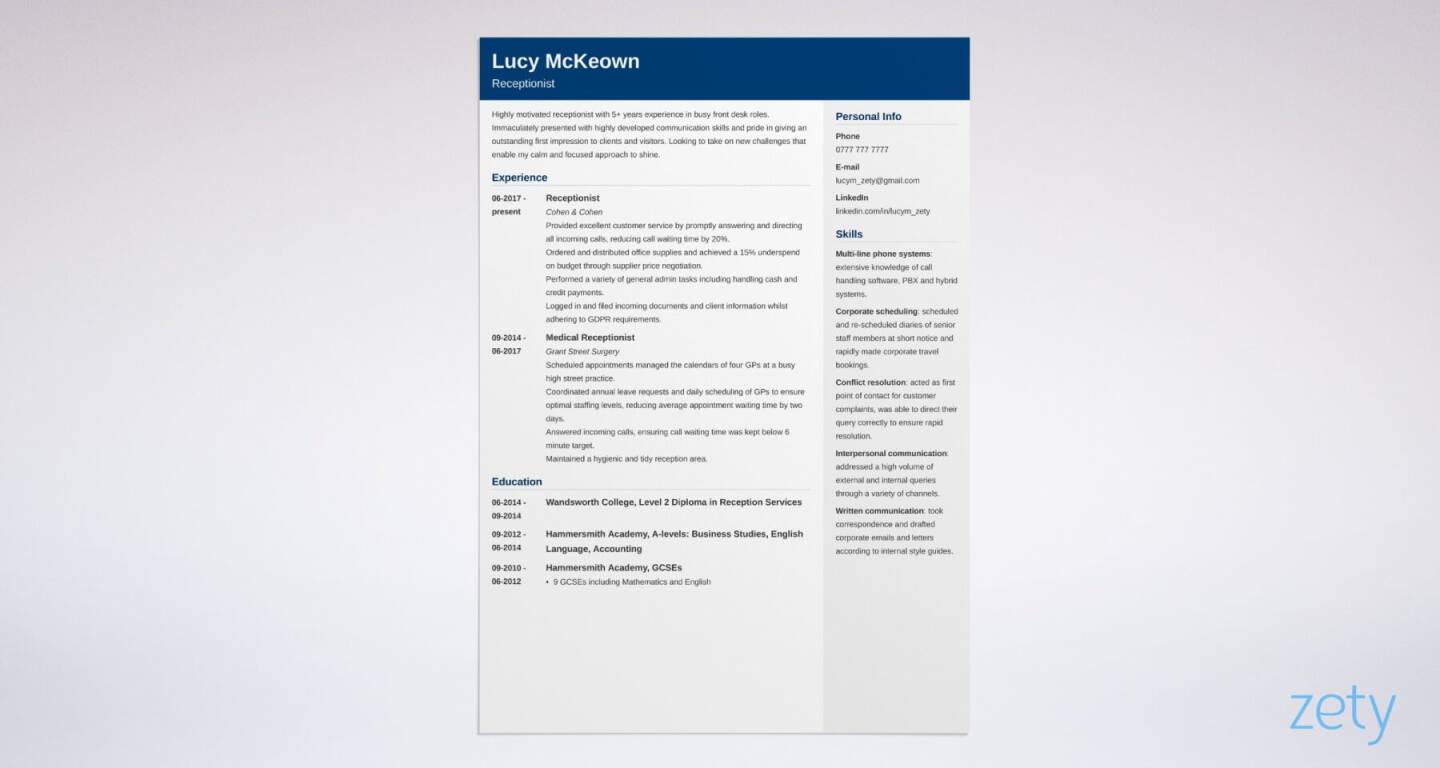 Sample CV made with our builder—See more CV examples here.
1. One Page CV—The Expert Opinion
The CV one page or two question isn't just common, it's age-old too. And the advice that was given in the past still holds true now. Here's what was written in Changing Times (now known as Kiplinger's Personal Finance) way back in 1955.
Should a CV Be One Page?
Keep it short. One page is best. Two are okay; anything longer is likely too much for a prospective employer to plow through. But get everything important in. A skimpy outline that gives little information about you is worse than none at all. Let your first draft run as many pages as you need to get all the facts down. Then rewrite– and cut ruthlessly.
All these years later that advice still holds true. Don't go past two pages unless it's a specialist academic CV but take your own circumstances into account before you make a decision.
How Long Should a CV Be in 2023?
A one or two page CV is still the best choice but who should choose what length?
Choose a one page CV if you're a school-leaver, still studying, a new graduate and applying for entry-level roles. It can also work for candidates with less than 5 years of experience.
Opt for a two page CV if you've got more than five years of experience, particularly in more senior and technical roles.
Whichever length you choose make sure you include everything that's needed. Read more: What to Include in a CV: Essential CV Sections
2. Should a CV Be One Page?
As we've established, it depends on your circumstances. Look at it this way, the average length of a pop song is around 3 minutes, which probably comes from the constraints of old-fashioned records. That doesn't mean that you can't create a six-minute hit though.
In short, don't listen to any advice that says a CV on one page is a must-have. Go to a second page if you need to, but whatever you do craft your CV so it presents your skills and experience in a way that's tailored to the job.
There've actually been studies done on the topic but even they're inconclusive. When it comes to experts, there's an even split in preferences for one or two page CVs. Hardly a definitive answer.
Google the topic and you'll get thousands of opinions, all with different advice. The fact is, it's all subjective. There's no one answer to the one page CV question but let's take a look at the pros and cons.
ONE PAGE CV PROS
Clarity and brevity. A one page CV presents everything to the hiring manager in a single glance. No going back and forth between pages.
ONE PAGE CV CONS
Can make more experienced candidates look lightweight. High-end jobs requiring years of experience need ample proof of your abilities and one page might not be sufficient to do so.
When making a CV in our builder, drag & drop bullet points, skills, and auto-fill the boring stuff. Spell check? Check. Start building your CV here.
When you're done, Zety's CV builder will score your CV and tell you exactly how to make it better.
3. How to Make Your CV One Page
There are plenty of ways of making CV on one page. But whatever you do, don't resort to ruining the look of your CV. Make sure you stick to the basic rules of CV layout and use a correctly set out CV format.
One page CV 'hacks' to avoid:
Using an unreadably small font
Shrinking your page margins
Deleting spacing between sections and paragraphs
Using a non-standard CV format
Omitting essential CV sections
Now you know what you shouldn't do, here's what you should.
Tailor/Target Your CV
This is the single most important piece of advice you'll learn about CV writing. Always tailor your CV to the job you're applying for. It's simple, read the job advert and look at what skills and experience are required. Then focus on those in your CV. Here's how to do it.
When you write your CV only include your achievements that are relevant to the job. 3–5 is a good number.
To make it easier, write up a comprehensive master file of your CV skills, experience and achievements. Include everything, and update it as your career progresses.
Then refer to your list to pick and choose content that's the most targeted to the job you're applying for.
Be Smart With Your Bullet Points
I'm sure you've seen the advice before. Use bullet points when describing your work experience. But you've got to be smart about it. Here's how.
Be brief. Keep your bullet points to 1–2 lines in length. Use the CAR (Challenge-Action- Result) formula to keep your sentences short and impactful.
Cut back on the number of bullet points. Go for 3–5 bullet points for each job, using more bullet points for your most recent jobs and less for older ones.
Check Your Education Section
If you're an experienced candidate and a university graduate then you can cut back your education section to the bare minimum. You only need to include the university name, the years you attended, and the name of your degree. And if you're a graduate, then there's no need to mention your A-levels or GCSEs.
School-leavers can save space here, too. There's no need to mention individual GCSE subjects except for Maths and English.
Shorten Your CV Profile
I recently came across a template with a CV personal profile that took up a third of a page. That's far too long, even for a 2 page CV. Your CV personal statement should only be 3–4 lines in length.
Read more: How to Write a CV Personal Statement
Avoid MS Word CV Templates
The problem with MS Word CV templates is that they're a bit of a faff. To craft a truly effective one page CV you need to bring in some clever design elements. These include a two-column format and subtle graphic elements such as health bars. Problem is, they're really difficult to implement unless you've got some design knowledge.
So instead of struggling with a free CV template try using a reputable CV builder instead. Zety's CV templates are all expertly designed to maximise space and keep your layout looking perfect. They're easy to use too. Just enter your content and the builder does all the hard work for you.
That covers what you can cut back and modify, but what can you leave out altogether? You'll find out in the next section.
Read more: Basic CV Templates to Download: 18+ Examples
Don't include your address
You don't need to include your home address on your CV. It's a holdover from days of yore when job applications were sent in the post. Let's face it, your address is irrelevant to your ability to do the job and a waste of valuable page space. Leave it off.
Limit Your Work History Section
If you're a more experienced candidate aiming for a one page CV it's perfectly fine to limit how far back you go in your work history. 10–15 years is a good rule of thumb. It could make all the difference between your CV being one page or two.
Don't mention references
If you want a one page CV don't include your references. Don't write 'references available upon request' either. Recruiters usually want references later in the recruitment process, and at that stage they'll just ask for them. It's not worth wasting the space.
Read more: References on a CV: Should You Include Them?
Avoid Irrelevant Additional Sections
In some circumstances, additional sections such as hobbies and interests, projects, volunteering are a great idea. They're an excellent way to make your CV stand out and highlight additional skills and abilities. Unless it's directly relevant to the job in question, leave it out.
Read more: Best Hobbies and Interests to Put on a CV
Plus, a great cover letter that matches your CV will give you an advantage over other candidates. You can write it in our cover letter builder here. Here's what it may look like: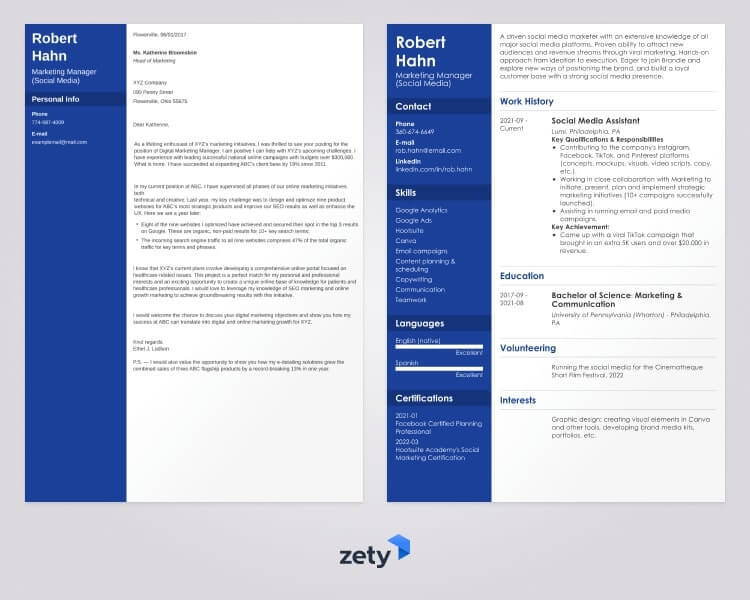 See more cover letter templates and start writing.
Key Takeaway
Does a CV have to be one page? The answer is no. Choose the right length for your own circumstances and follow our tips for making your CV one page if you do go for the shorter option. Here's a refresher.
One page CVs are best if you've got less than 5 year's experience. If you've got more then you can stretch for two. But don't take this as a hard and fast rule. The jury's out on whether a one or two-page CV is best.
Stick to the rules when it comes to CV format and layout. Don't take shortcuts that will ruin the look of your CV.
Cut out the fat. Tailor your CV and pare back your personal statement, bullet points and education section.
Leave out unnecessary information such as your address, references and irrelevant additional sections.
Thanks for reading. Do you need more tips on creating a 1-page CV template? Do you need help with something more specific like a one-page academic CV? Ask away in the comments section. I'll be happy to help.
About Zety's Editorial Process
Our editorial team has thoroughly reviewed this article to ensure it follows Zety's editorial guidelines. Our dedication lies in sharing our expertise and providing you with actionable career advice that offers you real value. Every year, the quality of our content attracts 40 million readers to our site. But that's not all – we conduct original research to gain a detailed understanding of the labour market. We take pride in being cited by top universities and leading media outlets in the UK and worldwide.
Sources