Writing a CV. Not exactly anyone's idea of a good time.
All that formatting to remember, power words, maximising your leverage and all of that guff.
What you need is a way to write a good CV that's quick and easy. One that'll make sure your job search a success, whatever your experience.
Our CV builder has a selection of great CV templates for you to use. You'll be certain to find the best simple and basic CV template for your needs whatever your job.
This guide will show you 18 templates that are sure to make a great first impression on employers plus tips on what works best for different jobs.
But don't just take our word for it. There are a few basic rules that CVs need to follow to be effective.
Each and every one of our curriculum vitae templates is:
Easy to read.
Optimised for ATS software.
Clearly organised into standard sections.
Designed with good layout in mind—leveraging white space and prioritising important information.
Able to fit all relevant information in a compact package.
Accompanied by a matching cover letter template.
Want to save time and have your CV ready in 5 minutes? Try our CV builder. It's fast and easy to use. Plus, you'll get ready-made content to add with one click. See 20+ CV templates and create your CV here.
Sample CV made with our builder—See more CV examples here.
1
Cubic

Presented in a classic two-column format with a tri-tone background this simple CV template one of our most popular and rightly so. It's easy to read and most candidates could easily fit their qualifications into a single page.
The skills column to the right of the page makes a nice little infographic touch and considering we have 400+ colour variations to choose from this would be fab CV choice for creative jobs.
Pro Tip: There's no such thing as a free lunch. To make a simple CV template free some sources cut corners. Download a file from a disreputable source and you leave yourself open to viruses and spyware. Worse, a free basic CV template may not be scannable by ATS software—that means your CV has about as much chance of success as Ann Widdecombe becoming manager for Chelsea.
Looking for a simple student CV template? Read More: Student CV Template Example and Guide
2
Cascade
Just as the name evokes a clean, invigorating waterfall this simple CV template has a dynamic and fresh feel with it's side column and progress bars. It's ideal for young candidates or those who are just young at heart. A perfect choice for applying for a role in a startup.
No need to sit there tinkering with Microsoft Office for half the day with this one. Make your CV template simple, just input your details and your work history and skills will be beautifully presented and ready to get you hired.
Writing a cover letter to accompany your CV? Make sure it's the right length: How Long Should a Cover Letter Be [Ideal Cover Letter Length]
3
Minimo
No, it's not referring to a very small moustache! This basic CV template follows a minimalist theme with all the understated elegance of Marie Kondo's bedroom.
A classic layout with a little twist of modernity in the tail with the skills bars. This would be a great CV template for management candidates progressing their career in more conservative companies.
See how all of our templates make use of professional CV formatting: Best CV Format for Job Application Success
4
Nanica
No, it's not the latest electric car model from Tesla, it's another wonderfully minimalist CV template. At first glance, you may think it identical to Minimo. Then it hits you like a Chris Eubank uppercut. The header has a nifty two-column format to fit in more information in less space, leaving more room free to fit your whole CV on a single page.
There's subtle differences to the infographics, too. This very simple CV template would be a great choice for candidates with more experience who need that bit more room on their CV for the job of their choice.
All of our templates are versatile enough to use any major CV format, such as functional format. Read about it here: Skills Based CV Format [Complete Guide]
5
Primo
We don't call it Primo for nothing. This'll be your first choice too. It's one of our more creative simple CV templates with a premium feel that'll give any employer pause for thought.
The round icons set out in a timeline format neatly guide the eye through the relevant sections. This one looks great in print so if you need to put your CV onto paper for your job then this is the one for you.
Take a look at some other template ideas here: 20+ Free CV Templates to Download Now
6
Valera
Back to minimalism again with this deceptively basic CV template. A standard layout yes, but the graceful cursive heading script makes all the difference, giving it a touch of class that'll leave the hiring manager hungry for more.
Highly recommended for any jobs requiring a subtle and elegant aesthetic. In fact, it's a good simple cv template for any career with its blend of traditional and creative elements.
7
Diamond
Channel your inner Rihanna and shine bright like a diamond with one of our best CV templates. It's not just a girl's best friend, but a great choice for anyone who wants to use clean visuals with distinctive diamond-shaped icons that neatly encapsulates your best career qualities.
The header bar adds an eye-catching pop of contrasting colour to enhance the already outstanding visual appeal of this template. When you consider there are 250 applications for every corporate job you need to make yourself stand out. This basic CV template will certainly do that.
8
Influx
And that's why spicy food doesn't agree with some people. No wait, that's reflux! This template is Influx, a far more pleasant proposition. Think of it as Diamond's more conservative cousin. Same header bar and the same detail friendly one-column format, but shorn of the bejewelled accents.
Another great choice for experienced candidates applying for traditional corporate jobs. Plenty of space to fit in all of your skills and experience, leaving you free to sit back and let the interviews roll in.
9
Initials
The hiring manager will remember your initials when you use this stunning CV template. Those initials are the answer to their hiring prayers. A deceptively simple template, but there's so much going on.
The round icon with your initials on the header is like a seal of quality. The two-column format fits so much information into just one page, a surefire win for recruiters who scan everything in around nine seconds.
The layout on this one is so smart that the sidebar itself has a mini two-column format. An excellent choice for senior roles with ample experience where a standard CV format simply won't cut it in terms of space.
When making a resume in our builder, drag & drop bullet points, skills, and auto-fill the boring stuff. Spell check? Check. Start building a professional resume template here for free.
When you're done, Zety's resume builder will score your resume and tell you exactly how to make it better.
10
Modern
Our Modern CV template couldn't be better named. It's so modern it could be an exhibition in the Tate Modern Turbine Hall. Sure, it's contemporary, but it won't put off recruiters. In fact, it has all the popular appeal of a Banksy mural in a basic model CV template.
Super stylish yes, but all of the information required is neatly presented and easily readable. Note how the top and bottom side bars help to pull your gaze through the content. This template is so slick, yet so practical that we recommend it as a good choice for everyone. So if you're not sure what template to use, we recommend this, whatever your job.
11
Simple
What better way to keep your CV template simple than our very own Simple CV template? But a basic CV template doesn't have to be boring. It has the classic lines of a Jaguar E-Type and shares its timeless combination of beauty and performance. Another template that has universal appeal due to the sheer pared down brilliance it'll bring to your job search.
12
Vibes
Take the Simple CV template, flip it and reverse it, throw in some stylish and subtle icons and you've got Vibes. And good vibes they are too! As you can see, it is innovative, aesthetic, unobtrusive and clarifies the structure of the CV.
It could have come from the hand of Dieter Rams himself, the design is so efficiently functionalist. It'd work equally well for jobs in publishing, UI or graphic design, any career where an eye for efficient design is key.
13
Enfold
Wait. Before you start putting on your best Scouser accent this is Enfold, not Enfield. Though we're sure the great Harry himself would love this CV Template.
It uses a clever trick to make it a distinctive choice. Rather than putting the coloured sidebar to the left, it subversively mirrors it to the right. A small change, definitely, but enough of a tweak to help give your CV the little boost of uniqueness that's needed to beat the competition. Fab for jobs where organisation and attention to detail is key. Another great choice for your simple CV template download.
14
Muse
A muse can be defined as a person who is a source of inspiration for a creative artist. The average hiring manager may not be a creative artist, but they'll still be inspired by this CV template. Inspired to get you hired that is! And why wouldn't they be?
Information-rich, compact yet easily readable, and enhanced by tasteful graphic touches. This is another Swiss Army Knife of a CV that'll work for a wide variety of jobs.
15
Newcast
Newcast takes its stylistic cues from our Vibes CV template whilst removing the sidebar. This gives it a look that is simultaneously more traditional and more detailed, giving you more space to highlight your professional experience or skills as the case may be. The beauty of this single column format? The flexibility.
Whether you want to leverage your skills or your experience, there's ample room to nip and tuck as required. Great for graduates and experienced professionals.
16
Concept
The concept CV template is a rather good hybrid. It includes the bold colour column to the left, but narrowing it down to allow plenty of room for bullet-pointed details in the main body.
The icons are on point without being visually dominating. Highly recommended for those looking to move up in their career to a more senior position.
17
alt="cv template"
Crisp
So crisp you can almost hear it crackle. And what other word do you associate with crisp? Clean. This CV template has the timeless elegance of a freshly pressed white shirt. No unnecessary detail, just pure and simple job winning class. Very much a choice for a traditional corporate job search where discreet dependability is a must.
18
Iconic
This one is as iconic as roast beef and yorkshire pud. Similar to our Crisp CV template with its conservative layout, but removing the two-column format for an even more traditional look.
Traditional yes, but dull, no. The unobtrusive icons add a welcome touch of modernity and prevent it from looking like a carbon copy of all the other tired-looking free Word templates you'll come across. Another excellent choice for the corporate career world.
Now you've got the basic CV templates, here's some great advice on how to write it: 20+ Job Winning CV Tips and Advice
Plus, a great cover letter that matches your CV will give you an advantage over other candidates. You can write it in our cover letter builder here. Here's what it may look like: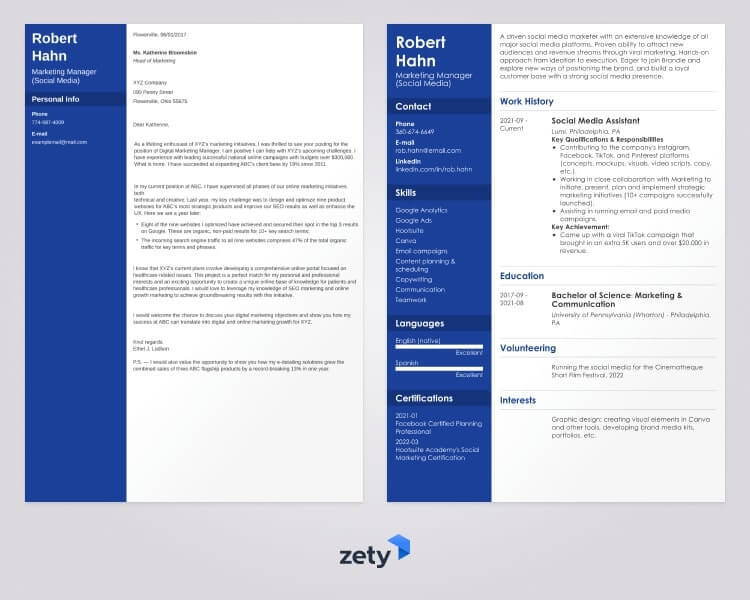 See more cover letter templates and start writing.
Key Takeaway
There are plenty of cowboy simple CV templates running wild in the internet jungle. Avoid them because they're not just ugly, they can jeopardise your job search.
Here's what you need to do to choose a professional basic CV template, and remember, all of our templates fulfil these requirements.
Choose a layout that's easy for the hiring manager to read.
Use good CV templates that are ATS compatible. Graphics should be used sparingly.
Arrange your information into clearly separated sections with clear headings.
Keep your contact info easy to find at the top of the page.
Use a matching template for your cover letter.
Do you have more questions about which free simple CV template is best for the job you're applying for? Looking for a simple CV template for Word? Not sure how to settle on the ideal simple CV template UK for you? We've got a comments section below for you to ask anything you want to know.
About Zety's Editorial Process
Our editorial team has thoroughly reviewed this article to ensure it follows Zety's editorial guidelines. Our dedication lies in sharing our expertise and providing you with actionable career advice that offers you real value. Every year, the quality of our content attracts 40 million readers to our site. But that's not all – we conduct original research to gain a detailed understanding of the labour market. We take pride in being cited by top universities and leading media outlets in the UK and worldwide.
Sources