You're about to discover a treasure trove of useful CV tips and advice. But first, consider this. CV stands for "curriculum vitae," which is Latin for "course of life." And few documents can change the course of your life as much as your CV.
It can be the key to career success or doom you to rejection after rejection. And recruiters spend just seconds looking at it before they decide if you're a yes, or a no. So your CV can't just be good, it has to be great.
Read on and you'll see 20+ easy to implement tips to make a CV that recruiters will love and land you more interviews than ever before. This is a listicle you can actually use! Let's begin.
Want to save time and have your CV ready in 5 minutes? Try our CV builder. It's fast and easy to use. Plus, you'll get ready-made content to add with one click. See 20+ CV templates and create your CV here.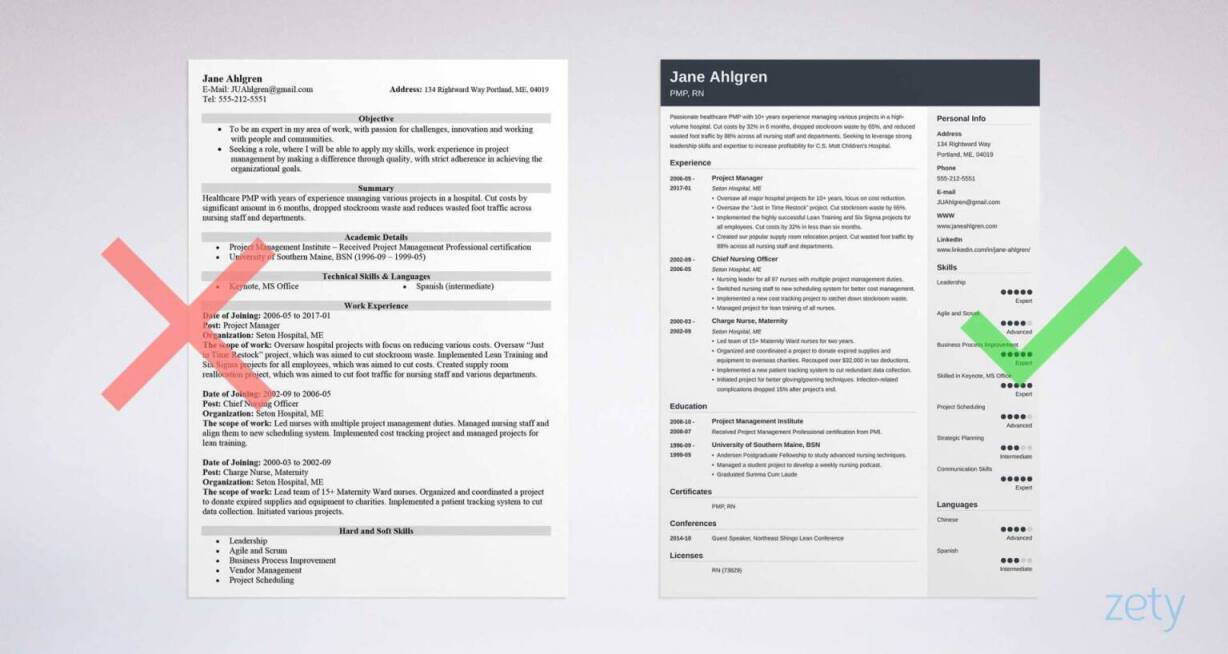 Sample CV made with our builder—See more CV examples here.
Recruiters are busy people. They get around 250 applications for every corporate job and spend only 8 seconds looking at each CV. They want to see proof that you're the best candidate for the job in the form of experience, achievements and skills. What's more they want to see perfect structure and layout so they can find what they're looking for fast. Get it wrong and it's a one-way ticket to rejection. But you're about to get the ticket to a town called hired.
Here are our top tips on how to make a powerful first impression with your CV.
1. Read the Job Description Before You Write
If you only remember one tip from this list it should be this one.
Before you write your CV read the job description then read it again.
Find keywords like the job title, required qualifications, skills and experience then include them in your CV.
Use the job description as a cheat sheet to target your CV with laser focus.
Read more CV writing advice here: How to Write a CV: Professional Examples
2. Use the Right CV Format
CV format is the structure or framework you build your CV on. Different formats communicate your employment history, qualifications and education in different ways. In the UK there are two main types of CV format. Reverse chronological and skills-based. Choose the right one for your employment history and life experience.
Reverse Chronological CV
Preferred by recruiters.
The most compatible with ATS scanning software.
Focuses on your employment history, lists your most recent job and moves backwards from there.
The best choice for experienced candidates with a traditional career path.
Focuses on your core set of transferable skills and abilities rather than your employment history.
A good choice for career changers, people with gaps in their work history and if you've got limited work experience such as in a student CV.
Caution. Recruiters can be suspicious of this format and it might not be compatible with older ATS systems.
Once you've chosen your format, see how it looks in different templates: 20+ Free CV Templates to Download Now
3. Make a Standout CV Header
Your header sits right at the top of the page and that's the first place that people read. So make it visually distinct and information-rich.
Put your name in a larger font size, it's the one thing that marks you out from all the other CVs in the pile.
Include your job title and key certifications. E.g. Jennifer McLeish, Chartered Certified Accountant.
Add your contact details, including your LinkedIn profile.
4. Create a Powerful Personal Statement
Your personal statement is the short paragraph that follows your CV header. Its purpose is to give the recruiter or hiring manager an overview of what you have to offer as a professional. As the first section of your CV to be read it should instantly convey that you're the best candidate for the job. Follow this advice to get it right.
Target your personal statement. Read the job description and craft a new personal statement for every application you send.
Mention your motivation: Why do you want to work in this job for this company.
Skills and work history: Mention the skills and experience you have that make you the best candidate for this role.
Goals: Describe where you plan to go in your career with this company.
Read more: How to Write a CV Personal Statement
5. Use Bullet Points
Use bullet points in your CV experience section and for your skills list and education details. Bullet points make it easier to skim the text and pick out the most important information. Keep them short to maximise white space and have no more than six bullet points for each job you list.
6. Include Numbered Achievements
Don't just say what you did, explain how well you did it. The best way to do that is to use quantified achievements. Here's how to include them on your CV.
Numbered Achievement Examples
Saved £5,000 per annum by renegotiating office supply contracts.
Reduced call waiting time by 20% by optimising call queue configuration.
Used innovative teaching methods to improve average SAT scores by 15%.
7. Be Up to PAR
Use PAR statements to give your CV some added wow factor. It stands for Problem-Action(s)-Result. Here's how it looks.
Sample PAR Statement
Empowered an underperforming sales team (Problem) by introducing novel and desirable incentives, improving motivation (Actions) and achieving a 40 percent increase in gross sales in one quarter. (Result)
8. Use Power Words
Take a look at your CV and axe any tired, overused words and phrases like "responsible for." Use impactful action verbs like these instead:
Accomplished
Achieved
Negotiated
Executed
When making a CV in our builder, drag & drop bullet points, skills, and auto-fill the boring stuff. Spell check? Check. Start building your CV here.
When you're done, Zety's CV builder will score your CV and tell you exactly how to make it better.
9. Include Additional CV Sections
Including extra sections on your CV is a great way to make you stand out from the competition. Here are some suggestions to help you go beyond the basics.
Languages
Professional certifications
Conference participation
Publications
Awards
Volunteering
Projects
11. Don't Include Personal Information
Some things have no place in a CV. Never include the following:
Your photo. This is common in Europe, but an absolute no-no for a UK CV.
Marital status, date of birth, religion, sexual orientation. Never include such personal information. It's irrelevant to how well you can do the job and has serious implications in terms of discrimination.
11. Avoid Jargon
Write your CV in plain English as much as possible. The recruiter isn't necessarily familiar with all the technical jargon in your industry. Needlessly complex business-speak just comes across as nonsense. You might know what it means to "uniquely cloudify cooperative strategic theme areas" but nobody else does.
12. Use the Right File Format & Filename
Don't ruin all your hard work. Unless the job advert says otherwise, save your CV as a PDF to keep all of your formatting and content intact. Choose the right filename, too. Use CV.pdf and you're just asking for the file to get lost. Make it instantly identifiable by using the formula name_position_document e.g. Jay_Hunt_Accountant_CV. Or if that'd be too long then go for name_document e.g. Jay_Hunt_CV.
13. Write a Cover Letter to Complement Your CV
Yes, cover letters are still important so make sure you write one. More than half of employers have said they prefer to receive cover letters and find them valuable.
Top Three Cover Letter Tips
Tailor your cover letter to the job you're applying for.
Show how your skills and knowledge make you the best candidate for the job.
Choose the right cover letter length. One page long is the limit.
Read more: Complete Guide to Writing a Cover Letter
14. Use the Best CV Layout
Using the right CV layout is like a paint by numbers kit. With the right outline and framework all you need to do is fill in the gaps to create a masterpiece. These tips will show you how to get your layout right.
Set a one-inch margin on all four sides of the page. Set spacing to 1.15. Double-space between sections.
Set your CV font size to 11 or 12 for your section content and avoid custom fonts. For headings and subtitles, increase the font size by 4-6 points. Stick to clear, readable fonts like Calibri, Times New Roman and Garamond.
Be bold and italicise. Use bold to help CV subtitles stand out and italics to emphasize supporting text, like the name and location of your uni in your education section. Just remember to be consistent in your use of bold and italics and avoid underlining.
How long should a CV be? No more than two pages. Aim for one page but if you have enough experience to need two pages then that's fine. It's better than leaving out vital info just to force everything into a single page format.
You'll find even more great CV layout tips here: How to Layout a Professional CV
15. Consider Using a Professionally Designed Template
Why not leave all the hard work to someone else? Use a professional CV builder: choose a template, enter your content and let the builder do the rest. No messing around with settings in Word and perfection every time.
16. Check, Check and Check Again
Last tip. Always proofread your CV. Around 80% of CVs have grammar or spelling errors. When you're finished writing check your CV for mistakes, ask a friend for feedback, too.
By all means, use a proofreading tool like Grammarly, but watch out for any auto-correct fails. Don't make the mistake of announcing that you're a "Pubic Relations Officer."
You've got the tips for a perfect CV. Get your cover letter format right too: How to Format a Cover Letter [Examples & Step-by-Step Guide]
Plus, a great cover letter that matches your CV will give you an advantage over other candidates. You can write it in our cover letter builder here. Here's what it may look like: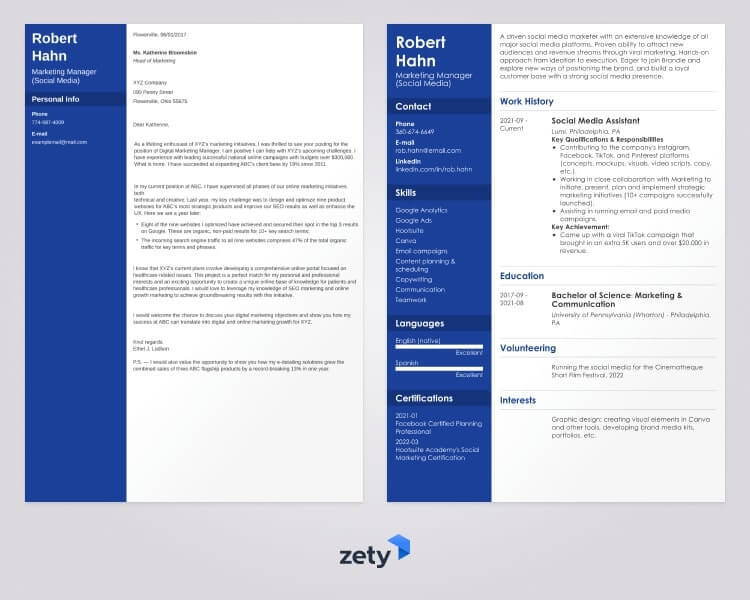 See more cover letter templates and start writing.
Key Takeaway
Writing a great CV doesn't have to be a nightmare. Just follow these CV tips and tricks and you're well on your way to job-hunting success. Above all else, remember to target your CV to the job description and customise it for every application you make. And when you're done, check, check and check again.
Thanks for reading. Have you got any CV tips or advice you'd like to share? Need help with a problem that I haven't covered in this guide? Don't be shy, use the comments section. I'd love to hear from you.
About Zety's Editorial Process
Our editorial team has thoroughly reviewed this article to ensure it follows Zety's editorial guidelines. Our dedication lies in sharing our expertise and providing you with actionable career advice that offers you real value. Every year, the quality of our content attracts 40 million readers to our site. But that's not all – we conduct original research to gain a detailed understanding of the labour market. We take pride in being cited by top universities and leading media outlets in the UK and worldwide.
Sources