Chef CV Example & Writing Guide: Template & 20+ Tips
Learn how to write a chef CV that's seasoned to perfection. With a chef CV example that's a recipe for success worthy of Larousse Gastronomique.
You know your galantine from your ballotine. Every ingredient you cook with is impeccably sourced. Every dish you create is a symphony of flavour and your food presentation is like an impressionist masterpiece.
But if you want to get the best chef jobs you've got to prove it. And the best way to do that is with a chef CV that reads like a Michelin Guide to your career.
Read on and you'll see professional Chef CV examples you can adjust and make yours. Plus, you'll learn an easy formula for writing a CV for chef jobs that will land you 10x more interviews than any other CV you've written in the past.
Here's a chef CV sample made with our builder.
Want to save time and have your CV ready in 5 minutes? Try our CV builder. It's fast and easy to use. Plus, you'll get ready-made content to add with one click. See 20+ CV templates and create your CV here.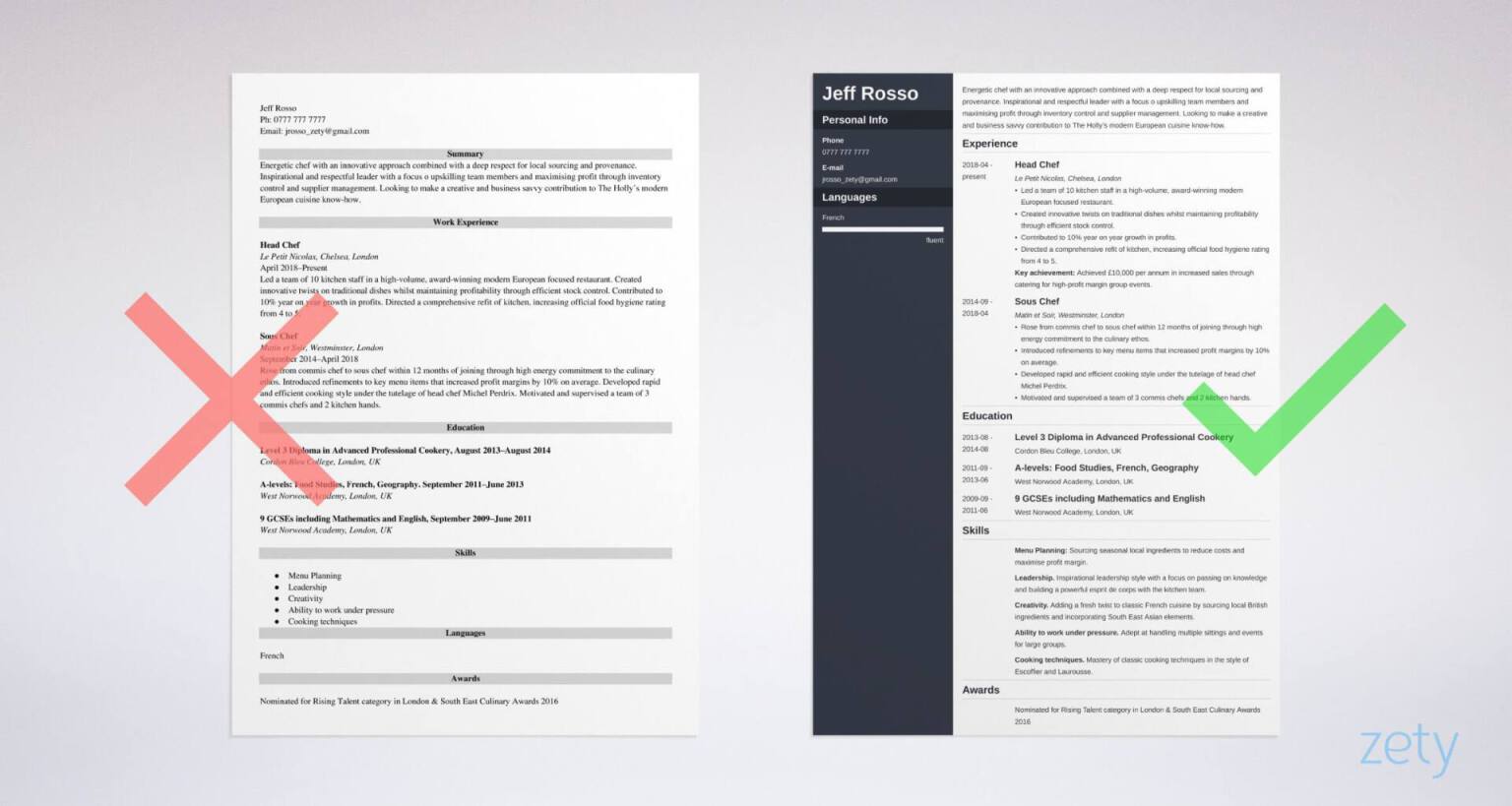 Chef CV made with our builder—See more CV examples here.
Looking for CV guides for other careers? Read more here:
Sample Chef CV Template
Jeff Rosso
Ph: 0777 777 7777
Email: jrosso_zety@gmail.com
Energetic chef with an innovative approach combined with a deep respect for local sourcing and provenance. Inspirational and respectful leader with a focus o upskilling team members and maximising profit through inventory control and supplier management. Looking to make a creative and business savvy contribution to The Holly's modern European cuisine know-how.
Work Experience
Head Chef
Le Petit Nicolas, Chelsea, London
April 2018–Present
Led a team of 10 kitchen staff in a high-volume, award-winning modern European focused restaurant.
Created innovative twists on traditional dishes whilst maintaining profitability through efficient stock control.
Contributed to 10% year on year growth in profits.
Directed a comprehensive refit of kitchen, increasing official food hygiene rating from 4 to 5.
Key achievement: Achieved £10,000 per annum in increased sales through catering for high-profit margin group events.
Sous Chef
Matin et Soir, Westminster, London
September 2014–April 2018
Rose from commis chef to sous chef within 12 months of joining through high energy commitment to the culinary ethos.
Introduced refinements to key menu items that increased profit margins by 10% on average.
Developed rapid and efficient cooking style under the tutelage of head chef Michel Perdrix.
Motivated and supervised a team of 3 commis chefs and 2 kitchen hands.
Education
Level 3 Diploma in Advanced Professional Cookery, August 2013–August 2014
Cordon Bleu College, London, UK
A-levels: Food Studies, French, Geography. September 2011–June 2013
West Norwood Academy, London, UK
9 GCSEs including Mathematics and English, September 2009–June 2011
West Norwood Academy, London, UK
Skills
Menu Planning: Sourcing seasonal local ingredients to reduce costs and maximise profit margin.
Leadership. Inspirational leadership style with a focus on passing on knowledge and building a powerful esprit de corps with the kitchen team.
Creativity. Adding a fresh twist to classic French cuisine by sourcing local British ingredients and incorporating South East Asian elements.
Ability to work under pressure. Adept at handling multiple sittings and events for large groups.
Cooking techniques. Mastery of classic cooking techniques in the style of Escoffier and Laurousse.
Languages
Awards
Nominated for Rising Talent category in London & South East Culinary Awards 2016
Now here's the job-winning chef CV formula.
1. Use the Best Format for Your Chef CV
A chef is a trained professional cook skilled in every aspect of food preparation, often specialising in a particular style of cuisine. Your chef CV needs to show your proficiency in cooking and food presentation along with strong management skills, budgeting and cost control.
In short, the purpose of your chef CV is to present your culinary skills in a way that impresses hiring managers. And just like the best classic dishes use tried and true ingredients, your CV has to contain certain things too. Here's the recipe:
Use the best CV format. And for a chef CV the best choice is chronological format. It's the traditional format that hiring managers know best and it puts the spotlight on your experience, exactly where it should be.
Create the right CV layout. Page margins should be set to one inch on each side, only use left alignment without justification and put a double space between sections. Doing this creates white space, which is a design trick that makes your CV easier and faster to read.
Just as you would for a menu, choose a clear and readable font. Garamond, Arial and Calibri all make great choices for your CV font.
Don't overcook it. Your CV length should be no more than two pages.
Finish off by saving your CV as a PDF to keep your now perfect layout intact.
Read more: How to Layout a Professional CV [5+ Examples]
2. Write a Chef CV Personal Statement
A CV personal statement or personal profile acts as an introduction to your CV. It needs to convince the hiring manager that the rest of your CV is worth reading. And it has to do it in just 3–4 lines.
It sounds like it'll be as difficult to master as a béarnaise sauce, but all you need to do is answer these three questions.
Who are you?
What can you offer to the employer?
What are your career goals?
The way you answer those questions is different depending on how much experience you have. If you're a culinary master writing a head chef CV then do this:
Make a list of all your chef skills experience and abilities. Everything that helps you excel at your job.
Then check the description of the role in the job advert and match 3–4 points from your list to the experience and skills it requires.
Use those matched points to write a personal statement targeted to the chef job you're applying for.
And if you're just starting out and writing a chef CV then do this:
List any skills and experience you have already. Think of your formal training and any prior work experience you've had. Then make a list of everything that's relevant to your new job.
Combine those skills with passion for the role and the industry, and knowledge about the employer to prove that you're a great fit.
Then write it all up in a personal profile targeted to the job.
And whether it's a chef de partie CV, a sous chef CV or everything in between, leave this section until last. You'll find it much easier to write with your experience, skills and education set out in front of you like a well-arranged mise en place.
Now it's time for the pièce de résistance, your work experience section.
Read more: How to Write a CV Summary
3. Plate up a Three Michelin Star Work Experience Section
Your work experience section is the most important part of your CV. Nothing beats proof of getting your hands dirty in the kitchen and creating culinary magic. Here's how to get it right.
Put your most recent chef job first and work back from there.
For every position, include the job title, the name of your employer, your dates of employment (with "present" as the end date if you still work there), and then write up to six bullet points that describe the job and what you achieved.
Begin every bullet point with a CV action word like planned, mastered or designed, to give them more impact.
Highlight measurable achievements, don't just list your duties. It's not about saying what you did, it's about proving how well you did it.
Make use of the PAR (Problem Action Result) formula and accomplishment statements as a structure for your bullet points.
Always target your CV work experience section to the particular job description. Note the skills and experience the hiring manager needs and present your experience to match what's required.
Read more: What to Include in Your CV Work Experience Section
When making a resume in our builder, drag & drop bullet points, skills, and auto-fill the boring stuff. Spell check? Check. Start building a professional resume template here for free.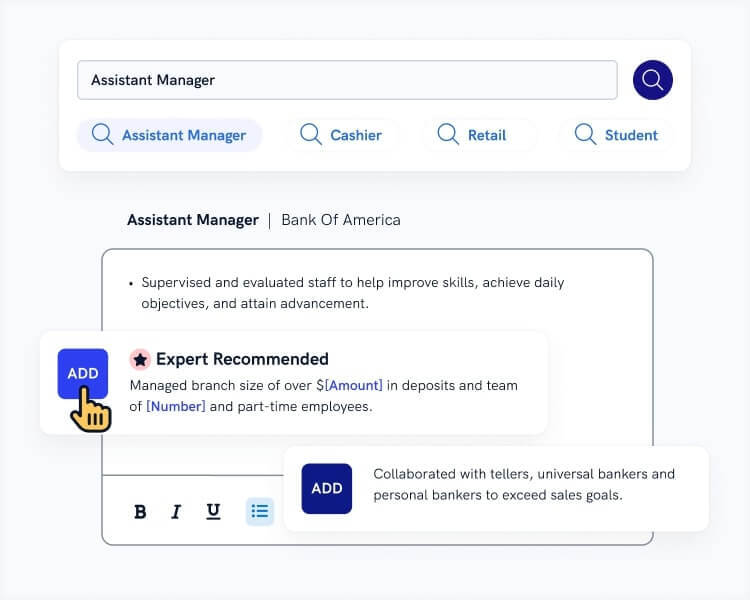 When you're done, Zety's resume builder will score your resume and tell you exactly how to make it better.
4. Include an Education Section
There's much more to being a good chef than just formal education. But it's an essential part of your CV, so it needs to be included and presented in the right way. Here's what's needed.
If you were a school-leaver, include the name of your school, its location, and the dates you attended it. List the individual subjects for your A-levels and for GCSEs you only need to mention Maths and English. They're often used as a bare minimum to screen candidates.
If you went to uni, list the university name, years attended, and the name of your degree. If you're still studying, include your expected graduation date.
Got a professional cookery or chef qualification? Then include the name of the institution, the name of the certificate (including its NVQ level), and the dates you undertook it.
If you've just left school or finished your NVQ and don't have much experience then change the order of your CV and put your education before your work experience section.
5. Show Off Your Chef Skills
For a chef, skill is everything. Whether it's creating a crêpe that's lighter than air or creating a technical masterpiece à la Heston Blumenthal, your skill defines your success. But how do you pin down exactly which skills to include on a CV? It's easy, tailor your skills section to the job like this.
Read the job advert to discover which skills the establishment is looking for. The job description will tell you everything the hiring manager wants. Write those skills down in a list.
Next, write a list of your own skills. Look over your work experience and education sections to help give you ideas.
Then compare your two lists, highlight what matches, and choose 5–10 of those to include in your CV.
Aim for a mix of soft skills, hard skills and technical skills.
For each skill, add a sentence that explains how you demonstrate it. Don't just show, tell. E.g. Menu Planning: Sourced seasonal local ingredients to reduce costs and maximise profit margin.
These skills would look great on a CV for a chef.
Chef CV Examples—Skills
Menu planning
Leadership
Attention to detail
Creativity
Health & safety
Business acumen
Culinary knowledge
Ability to work under pressure
Cooking techniques (specific to the job you're targeting)
Inventory management
Negotiation skills
Read More: Best Skills for a CV [Top Skills & Examples]
6. Add Additional Sections to Your Chef CV
To be a truly great chef you need flare, the ability to add that little extra to a dish that elevates it to the next level. It's the same with a CV, additional sections work like that extra little bit of seasoning and make you stand out as a candidate. Here's what to include.
Languages. Kitchens are international environments and being bilingual will improve your job prospects.
Ever done some volunteer cooking for charities? Include it on your CV. 82% of managers prefer hiring candidates with volunteering experience.
Other ideas include achievements, awards and hobbies. Just make sure it's relevant to the job and helps you be seen as a good potential employee.
Read more: Best Hobbies and Interests for a CV
7. Consider a Chef Cover Letter
A chef CV and cover letter go together like melon and parma ham. They're a perfect combination. Cover letters are still important and more than half of hiring managers consider them a 'must-have'. Here's how to write a cover letter:
Start with the correct form of cover letter address and cover letter format.
Include a 'hook' in your cover letter opening. Grab the hiring manager's attention with passion for the role and an impressive professional accomplishment.
Show your experience and skills will translate to great results in the kitchen.
Finish with a cover letter ending featuring a call to action asking to discuss the role further in an interview.
And like your CV, don't overdo it. The best cover letter length is a maximum of one page.
Then here's the last of our chef CV tips. Always follow up every job application. If you haven't heard back within a week, contact the employer by phone or email and check up on your application. It's a proven boost to your chances of success.
And that's it, the definitive recipe for a chef CV.
Plus, a great cover letter that matches your resume will give you an advantage over other candidates. You can write it in our cover letter builder here. Here's what it may look like: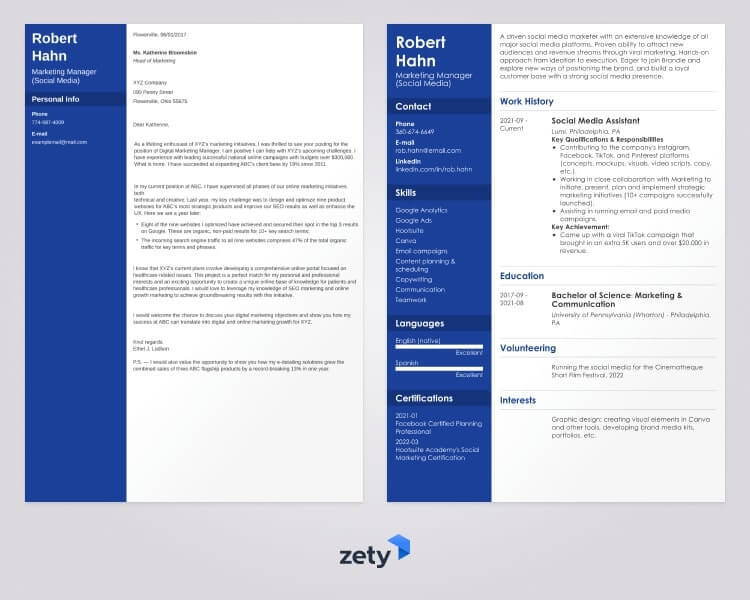 See more cover letter templates and start writing.
Thanks for reading. Did you find our chef CV sample useful? Would you like to know more about writing for specific chef roles, like a pastry chef CV template? Ask me in the comments section and I'll be happy to help.
About Zety's Editorial Process
Our editorial team has thoroughly reviewed this article to ensure it follows Zety's editorial guidelines. Our dedication lies in sharing our expertise and providing you with actionable career advice that offers you real value. Every year, the quality of our content attracts 40 million readers to our site. But that's not all – we conduct original research to gain a detailed understanding of the labour market. We take pride in being cited by top universities and leading media outlets in the UK and worldwide.
Sources