How to Write a Medical CV [Template & 20+ Tips]
Prescribe our guide on how to write a medical CV and give your job search an excellent prognosis. See every section needed for a medical CV template.
Being a medical professional in the UK is quite different to many other career sectors. There's less moving from job to job and many people in the sector may find themselves working for the NHS for life.
But that said, maintaining an up-to-date and well-written medical CV is a must. You'll still have the opportunity to apply for new positions, or you may consider a move to the private sector. Learning how to write a medical CV is essential to effectively communicate your experience and achievements to date.
Read on and you'll see medical CV examples that will show you exactly what to do, so you can write your own with confidence.
First, take a look at this medical CV sample made with our builder.
Want to save time and have your CV ready in 5 minutes? Try our CV builder. It's fast and easy to use. Plus, you'll get ready-made content to add with one click. See 20+ CV templates and create your CV here.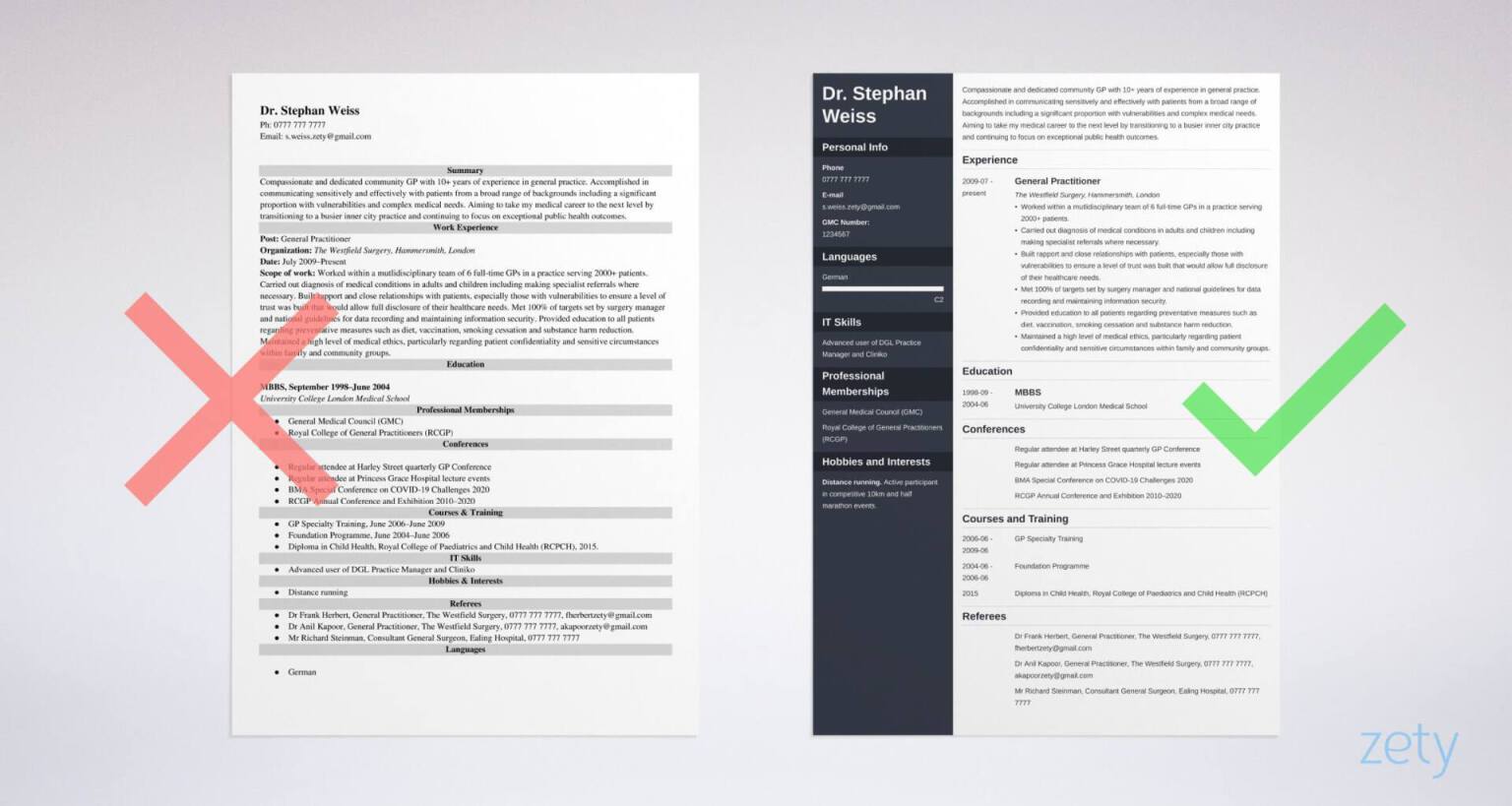 Medical CV made with our builder—See more CV examples here.
And we've got CV writing advice for other careers too.
Sample Medical CV Template
Dr. Stephan Weiss
Ph: 0777 777 7777
Email: s.weiss.zety@gmail.com
GMC Number: 1234567
Compassionate and dedicated community GP with 10+ years of experience in general practice. Accomplished in communicating sensitively and effectively with patients from a broad range of backgrounds including a significant proportion with vulnerabilities and complex medical needs. Aiming to take my medical career to the next level by transitioning to a busier inner city practice and continuing to focus on exceptional public health outcomes.
Work Experience
General Practitioner
The Westfield Surgery, Hammersmith, London
July 2009–Present
Worked within a mutlidisciplinary team of 6 full-time GPs in a practice serving 2000+ patients.
Carried out diagnosis of medical conditions in adults and children including making specialist referrals where necessary.
Built rapport and close relationships with patients, especially those with vulnerabilities to ensure a level of trust was built that would allow full disclosure of their healthcare needs.
Met 100% of targets set by surgery manager and national guidelines for data recording and maintaining information security.
Provided education to all patients regarding preventative measures such as diet, vaccination, smoking cessation and substance harm reduction.
Maintained a high level of medical ethics, particularly regarding patient confidentiality and sensitive circumstances within family and community groups.
Education
MBBS, September 1998–June 2004
University College London Medical School
Professional Memberships
General Medical Council (GMC)
Royal College of General Practitioners (RCGP)
Conferences
Regular attendee at Harley Street quarterly GP Conference
Regular attendee at Princess Grace Hospital lecture events
BMA Special Conference on COVID-19 Challenges 2020
RCGP Annual Conference and Exhibition 2010–2020
Courses & Training
GP Specialty Training, June 2006–June 2009
Foundation Programme, June 2004–June 2006
Diploma in Child Health, Royal College of Paediatrics and Child Health (RCPCH), 2015.
IT Skills
Advanced user of DGL Practice Manager and Cliniko
Hobbies & Interests
Distance running. Active participant in competitive 10km and half marathon events.
Referees
Dr Frank Herbert, General Practitioner, The Westfield Surgery, 0777 777 7777, fherbertzety@gmail.com
Dr Anil Kapoor, General Practitioner, The Westfield Surgery, 0777 777 7777, akapoorzety@gmail.com
Mr Richard Steinman, Consultant General Surgeon, Ealing Hospital, 0777 777 7777
Languages
Here's a step-by-step guide on writing your medical CV
1. Get Your Medical CV Format Right
Some elements of formatting are common to every profession. So first, let's take a look at the basic rules of CV layout.
Use the right CV format. For a medical CV, chronological is the best choice. It places the emphasis on your work history and it's the format that hiring managers will be most familiar with.
Create a tidy CV structure. Have your page margins set to one inch on all sides, double space between each of your CV sections and only use left-alignment. That creates white space, which is proven to make your CV easier to read, particularly when viewed on a screen, as most CVs are these days.
Choose a good font for your CV. It's best to stick with easily readable and dependable classics such as Times New Roman, Arial or Calibri.
Save your finished medical CV in PDF format to keep your layout intact.
And never include unnecessary personal details, such as your marital status, date of birth or photograph.
Now for some important points to remember about writing a medical CV. It does follow the basic structure of a standard chronological CV but there are also additional sections that you need to include. We'll cover all of them later.
Your CV header should also include additional information. Alongside your personal details, be sure to include your registration status with the GMC. Simply enter your seven-digit GMC number e.g. GMC No.—1234567
Another thing to remember is how long should a CV be. For most professions, it's recommended you write a one or two page CV. But a medical CV is more like an academic CV. A length of 3–8 pages is a good rule of thumb.
Let's continue.
Read more: How to Layout a Professional CV
2. Diagnose a Medical CV Personal Statement
Your CV personal statement, aka CV personal profile or CV summary is a 3–5 line paragraph that functions as the introduction to your medical CV. Use it to grab the hiring manager's attention and prove you're a suitable candidate. Here's how.
Begin by asking yourself these three questions.
Who am I?
What can I offer in this new role?
What are my career goals?
Then you'll answer those questions differently depending on what stage of your medical career you're at. If you're writing an experienced medical professional CV, then do this.
Write down all of your experience and skills as a medical practitioner. Think of it as a master list of all your developed experience that helps you excel in your career.
Now carefully read the job description for the role you're applying for. It'll clearly set out the skills, experience and competencies required. Note these down.
Then compare your list with what you saw in the job description and choose 3–4 points from your own list that match to write your personal profile.
Alternatively, if you've not got any experience such as when you're writing a medical student CV, then use this method instead.
Write a list of the knowledge you've gained from your education and practical experience from medically-related placements. Then refer to the job description and note down anything that's transferable to that role.
Finish by writing your CV profile by combining your passion and dedication to a medical career with transferable skills and knowledge that show you'll be a competent and enthusiastic candidate.
This is the first section of your CV, but we advise that you leave it until last. That way you've got all of your education, experience and other achievements set out and ready to summarise.
Read more: How to Write a Job-Winning CV Summary
3. Write Your Medical CV Work Experience Section
It's your experience of working with patients that's crucial to being an effective medical professional. So your work experience section is a pivotal section of your CV. Get it wrong and the prognosis isn't good for advancing your career. Here's how to get it right.
Use reverse-chronological order to list your work history. Your current role comes first and you work back from there.
For every position, include the same essential info. Your professional title, your employer (name the specific NHS trust, practice or private provider), and your dates of employment.
Then you need to write up to six bullet points for each role describing the job. But don't just list your responsibilities. Add more impact by starting off each point with a CV action word, e.g. attained, coordinated and instructed.
Include achievements backed up by numbers to quantify them and use accomplishment statements to add structure and an even more impactful demonstration of your abilities.
Read more: How to Write a Powerful CV Work Experience Section
4. Prescribe an Education Section
Education is key to a medical career, perhaps more than any other profession. In other jobs, hiring managers may skim over this section, but for a medical CV it gets carefully examined. Here's how to make sure you stand up to that scrutiny.
List the name of the university you studied and the name of your degree. Include honours only if they're a first or a 2:1.
Use reverse-chronological order. If you have post-grad qualifications, your most recent attainment goes first.
And put your education section before your work experience section if you're in the first 1–2 years of your medical career.
Read more: How to Write Your CV Education Section
When making a CV in our builder, drag & drop bullet points, skills, and auto-fill the boring stuff. Spell check? Check. Start building your CV here.
When you're done, Zety's CV builder will score your CV and tell you exactly how to make it better.
5. Additional Medical CV Sections
So far we've followed the standard CV structure you'd use for any career. But for a medical CV you need additional specialist sections. We'll go through them in turn. We'd recommend always including professional memberships first but you can be flexible in the order of the other sections. The best approach is to tailor the order to the job. So for a post focussed on research, put your research section immediately after your memberships section, and so on.
And not all medical professionals will need to include every section. So, for example, if you've never conducted research in your career, you can just omit the section.
Professional Memberships
List your membership of professional associations, such as the Royal College of Surgeons.
Training
Mention where and when you completed your foundation programmeand other formal practitioner training.
Also include any diplomas or other formal training completed throughout the course of your career.
Courses, Conferences
Mention any additional professional development you've undertaken, along with attendance and speaking engagements at conferences.
Prizes, Scholarships and Other Relevant Achievements
Objective recognition of your abilities is a guaranteed winner on your medical CV. Be sure to mention any scholarships you've been granted in your academic studies along with awards and other achievements.
Research Experience
The importance of this section is dependent on the particular details of your medical speciality. To write this section mention the following:
Your area of research, the dates you undertook it, the institution and its location.
The name of your supervisor and the title of your role.
The source of funding for the project, the aims of the project and the final results of your work.
Clinical Audit
Include the following information about any clinical audits you've completed:
Your role, the institution and its location.
The month and year you completed the audit.
The topic of the audit and the guidelines that were audited against.
Presentations and Publications
List all presentations and publications from your teaching experience, clinical audit or research. The BMJ recommends you use the Vancouver style for citations, but whichever citation style you choose, make sure you follow it consistently.
Teaching Experience
Specify what sort of learners you've taught, e.g. undergrad or postgrad, and your teaching methods. Also mention where and when you have taught. This section can be structured similarly to your work history.
IT Skills
You're probably painfully aware that you spend as much time on a computer as you do at the coalface. IT skills are now part and parcel of the medical profession so mention your proficiency with administrative software, databases, statistical software and research software.
Hobbies & Interests
Often recommended for candidates targeting entry-level positions in other careers, a hobbies and interests section is a valuable addition to your medical CV. In a career as intense as medicine hiring managers want to see candidates who are well-balanced.
Read our guide on CV hobbies and interests to see some great advice on how to write this section.
Referees
Should you include references on a CV? For a medical CV template it's a definite yes. Include the details of three referees from current and previous roles. Write their full name, job title, address, phone number and email address. And always check with your referees before you put them on your CV and ensure their contact details are up to date.
Languages
A powerful addition to any job search, be sure to mention language skills. If you speak any foreign languages include a skills section. It's a great help for communicating with international colleagues and with patients in a society as multicultural as the UK.
6. Include a Medical Cover Letter
Think of a medical cover letter as a complementary treatment that boosts the effect of your CV. Far from being a relic of the past, cover letters are still an essential part of the job application process.
Here's how to write a cover letter for medical jobs.
Choose the correct cover letter format and follow standard business letter rules for writing the cover letter address.
Ensure your first paragraph makes the hiring manager sit up and take notice. Include a 'hook' in your cover letter opening by mentioning an impressive professional accomplishment.
Use the middle paragraphs to add even more proof of your expertise. Mention more examples of your experience and achievements.
Use your cover letter closing to seal the deal on an interview. Use a call to action and ask the hiring manager to get in touch with you so you can discuss the role further.
And whilst a medical CV tends to be rather long compared to other careers, the best cover letter length is one page at most.
And my final piece of advice for you. Follow up your job application. If you haven't heard back anything within a week of applying then get in touch with the hiring manager and check up on the progress of your application. It's an excellent way of increasing your chances of an interview.
Plus, a great cover letter that matches your CV will give you an advantage over other candidates. You can write it in our cover letter builder here. Here's what it may look like: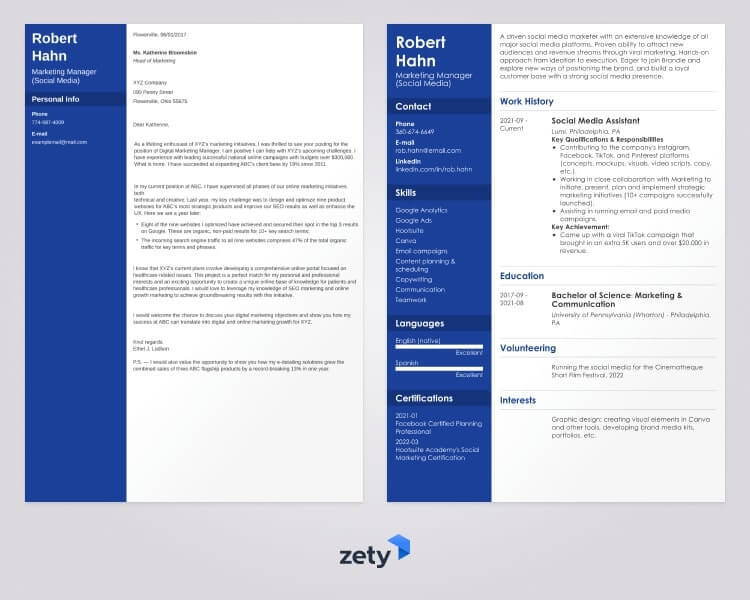 See more cover letter templates and start writing.
And we're finished. I hope you've found our guide to writing a medical CV useful. If you've got any questions at all then please use the comments section and I'll be happy to get back to you with an answer.
About Zety's Editorial Process
Our editorial team has thoroughly reviewed this article to ensure it follows Zety's editorial guidelines. Our dedication lies in sharing our expertise and providing you with actionable career advice that offers you real value. Every year, the quality of our content attracts 40 million readers to our site. But that's not all – we conduct original research to gain a detailed understanding of the labour market. We take pride in being cited by top universities and leading media outlets in the UK and worldwide.
Sources