Medical Resume Examples & Templates for Medical Field
You help save people's lives. You're a hero! The problem? To land that dream medical job, you need a perfect medical resume. This guide will show you how to do it.
After years of study, all medical professionals should have great jobs. Ones that pay well, offer a comfortable work environment and respect from administration as well as patients. But, let's face it—not all jobs are like that. And those working in the medical field must fight hard to avoid shady clinics that might ruin their reputation forever.

Luckily, we've compiled a collection of medical resume examples and templates for a variety of jobs in the medical field. Just jump to the medical resume template you need!
Want to save time and have your resume ready in 5 minutes? Try our resume builder. It's fast and easy to use. Plus, you'll get ready-made content to add with one click. See 20+ resume templates and create your resume here.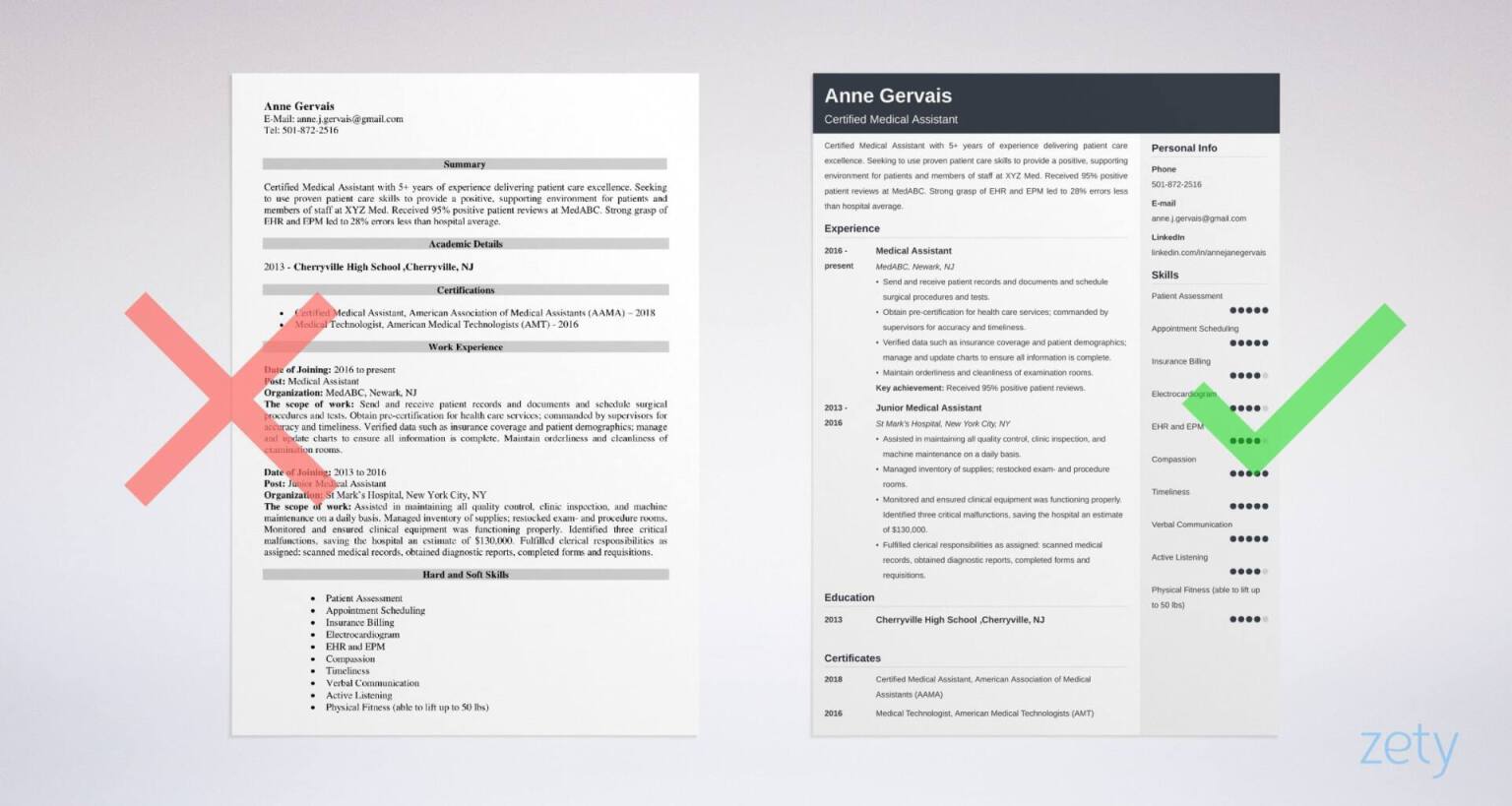 Sample resume made with our builder—See more resume examples here.
If you want to check out a general, multi-purpose medical resume, scroll down one fold to see a pitch-perfect example we've written.
For more specific samples with resume writing hacks from industry insiders, see one of our dedicated guides:
Medical Resume Sample
Anne Gervais
Certified Medical Assistant
anne.j.gervais@gmail.com
501-872-2516
linkedin.com/in/annejanegervais
Summary of Qualifications
Certified Medical Assistant with 5+ years of experience delivering patient care excellence. Seeking to use proven patient care skills to provide a positive, supporting environment for patients and members of staff at XYZ Med. Received 95% positive patient reviews at MedABC. Strong grasp of EHR and EPM led to 28% errors less than hospital average.
Work Experience
Medical Assistant
MedABC, Newark, NJ
2016–
Send and receive patient records and documents and schedule surgical procedures and tests.
Obtain pre-certification for health care services; commanded by supervisors for accuracy and timeliness.
Verified data such as insurance coverage and patient demographics; manage and update charts to ensure all information is complete.
Maintain orderliness and cleanliness of examination rooms.
Key achievement: Received 95% positive patient reviews.
Junior Medical Assistant
St Mark's Hospital, New York City, NY
2013–2016
Assisted in maintaining all quality control, clinic inspection, and machine maintenance on a daily basis.
Managed inventory of supplies; restocked exam- and procedure rooms.
Monitored and ensured clinical equipment was functioning properly. Identified three critical malfunctions, saving the hospital an estimate of $130,000.
Fulfilled clerical responsibilities as assigned: scanned medical records, obtained diagnostic reports, completed forms and requisitions.
Education
Cherryville High School
Cherryville, NJ
2013
Key Skills
Hard Skills
Patient Assessment
Appointment Scheduling
Insurance Billing
Electrocardiogram
EHR and EPM
Soft Skills
Compassion
Timeliness
Verbal Communication
Active Listening
Physical Fitness (able to lift up to 50 lbs)
Certifications
2018, Certified Medical Assistant, American Association of Medical Assistants (AAMA)
2016, Medical Technologist, American Medical Technologists (AMT)
So you've seen a clinically perfect medical resume sample. Time to learn the best strategies for making your medical resume equally impressive.
Here's how to write a medical resume step by step:
1. Choose the Best Medical Resume Template
Think about medical charts, neatly catalogued into folders. It's easy to find what you're looking for in them, isn't it?
The reason for that is good organization.
Think about this when writing your medical office resume. Recruiters need to find what they're looking for in a flash. Help them do it easily.

Format your resume for medical field this way:
Pro Tip: How long a resume is too long? If you're writing an entry-level resume for medical jobs, keep it one-page. For more experienced candidates, it's better to have multiple pages than to omit important career details.
2. Write a Resume Objective or Resume Summary
It's that short blurb at the top of your medical professional resume. It's also known as a professional resume profile.
Craft it the way you'd write an elevator speech. Make it a "trailer" for the rest of your job application. Give a sneak peek of your top accomplishments.
Got relevant experience under your belt? Write an introductory summary statement. Briefly summarize your career and mention 2–3 of the most important professional achievements.
Writing a medical resume with little experience? Open with a job objective. List a few of the skills you've mastered so far and say how you're going to translate them into your employer's success.
Whichever one is right for you, don't focus it on why you want the job. Explain why they should want to give the job to you.
For bonus points, name-drop the medical institution you're applying to. Statistics show that 63% of recruiters value resumes that are customized and personalized.
Pro Tip: While this part comes at the top of a professional medical resume, write it last. Create the rest of your resume first. Then, skim the cream.
3. Create the Perfect Medical Resume Job Description
Here's what will truly make or break your chances of landing that dream position: medical job description on your resume's work history section.
A good one will leave a lasting impression.
Make it sloppy, though, and it will mean to the hiring manager as much as the 100th branded pen she got from another medical sales rep.
Here's how to nail a medical resume work experience section:
Start with your most recent work. Follow it with previous positions in reverse-chronological order.
Include: job title, company name, dates of employment and no more than 6 bullets outlining your medical duties and achievements.
Pack your job descriptions full of action words and "power verbs."
Use numbers whenever you can. Quantified metrics validate your worth.
Customize each resume you sent to match the requirements from the job ad. Don't list every single medical responsibility. Highlight what's relevant to the position.
Pro Tip: Wondering what your next big career break might be? Consider this: reports have shown that employment in the home health care sector is going to grow the fastest (60% in the next 8 years). Employment in hospitals, in turn, is likely not to expand at all.
4. Make Your Medical Resume Education Section Shine
If you're wondering how to list your degrees on a resume, here's some good news—

It's usually the easiest part:
Include just the highest degree of education.
List your degree, minor, the educational institution, and graduation year.
If you don't have higher education, don't worry. An equivalent of a high school diploma will do.

Writing a medical resume with no experience? Add extra details to your education section: additional activities, favorite fields of study, student organizations, and so on.
5. Highlight Your Medical Skills
This is how to make the most of your medical resume skills section:
Need inspiration? Check out this medical resume sample skills list.
Medical Skills for a Resume: Examples
Patient Assessment
Office Skills
Customer Service
Taking Vital Signs
Medical Administrative Skills
Patient Care
Recording Patient Medical History
Phlebotomy Certificate
Administering Injections
TB Test Clearance
Documentation
Details Oriented
Phone Skills
Pro Tip: Don't just file all your skills in the skills section. Mention some in your resume profile. Pepper the most important ones onto your job descriptions: this way, your medical resume conveys a consistent message.
All this information is becoming hard to process? Don't worry. Our resume tool is here to help you out.
When making a resume in our builder, drag & drop bullet points, skills, and auto-fill the boring stuff. Spell check? Check. Start building a professional resume template here for free.
When you're done, our professional resume builder will score your resume and our resume checker will tell you exactly how to make it better.
6. Add Other Sections to Your Medical Resume
The sample medical resume sections above? Every good resume has to have them.
But you're not writing "just" a good medical resume. You're writing a great one. So punch it up a notch by including one (or some) of these extra resume items:
Conference Participation
Awards and Accolades
Pro Tip: If you have a medical license, put in next to your full name in the resume header, for instance: "Jane Smith, RN" or "Mark Stephens, CMA."
7. Attach a Cover Letter to Your Medical Resume
Who cares about a cover letter nowadays?

Well—
Over half of recruiters. So you should too.
You can double your chances of getting hired by writing a good application letter for a resume.
Here's how:
Pro Tip: Once you submit your medical resume with a covering letter, don't just sit and wait. After two weeks without response, write a job application follow-up email.
Plus, a great cover letter that matches your resume will give you an advantage over other candidates. You can write it in our cover letter builder here. Here's what it may look like: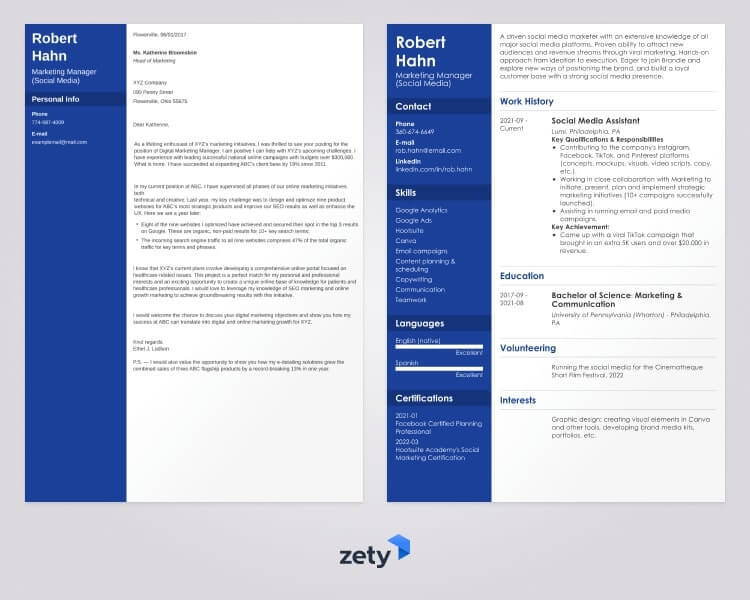 See more cover letter templates and start writing.
Visit our guide to learn even more about writing resumes for thos specific positions:
If you have any questions about writing a medical resume that gets jobs, drop me a line in the comments. I'll respond to all your queries in a flash!
About Zety's Editorial Process
This article has been reviewed by our editorial team to make sure it follows Zety's editorial guidelines. We're committed to sharing our expertise and giving you trustworthy career advice tailored to your needs. High-quality content is what brings over 40 million readers to our site every year. But we don't stop there. Our team conducts original research to understand the job market better, and we pride ourselves on being quoted by top universities and prime media outlets from around the world.
Sources