Charge Nurse Resume Examples & 20+ Job Description Tips
This guide will show you a charge nurse resume template you can copy, adjust, and use. Plus, pro tips on how to create a resume to land the best charge nurse jobs.
Charge Nurse Resume Sample
Sylvia Jean Taylor, BSN, RN
s.j.taylor@gmail.com
929-271-4150
Objective
Accomplished and professional charge nurse with 10+ years of experience in high patient turnover hospital units. Eager to support St. Peter's Hospital with top-class organizational skills and provide the patients with compassionate nursing care. In previous roles successfully optimized staff efficiency and patient care by redesigning the charting system and developing education programs.
Work Experience
Charge Nurse
St. Jonn's Hospital, New York City, NY
2013–
Planned and coordinated day-to-day administrative and operational functioning of a 25-bed MICU unit.
Supported the nurse manager in operating the unit by controlling the quality of service, cost-effectiveness, and patient safety.
Maintained documentation of medication administered and care as rendered.
Reviewed care plans on a daily basis to ensure appropriate care was provided to each patient's needs.
Determined patient care assignments in accordance with patient's requirements.
Key achievement:
Redesigned the charting system that increased staff efficiency by 50%.
Charge Nurse
Martin Hopkins Medical Center, New York, NY
2008–2013
Assessed, planned, implemented, and evaluated patient care plans.
Monitored, recorded, and communicated the patients' condition as necessary using computerized documentation systems.
Supervised staff of 10 CNAs and LPNs, served as a role model and hired new staff members and interns.
Scheduled staff meetings, assigned duties, managed staff resources.
Key achievement:
Optimized patient care thanks to new nurse precepting and developing patient education programs.
Promoted to charge nurse after six months of employment.
Education
Bachelor of Science, Nursing
Binghamton University, New York, NY
2008
Licenses and Certifications
Registered Nurse—License #67508997
CPR
ACLS
PALS
PICC
PICU
MICU
Key Skills
Pain assessment using pain scales
Epidural Analgesia
IV Conscious Sedation
Patient controlled Analgesia (PCA)
Patient rights
Mentoring
Communication
Collaboration
Problem-solving
Analytical skills
Medical software packages
MS Office
Languages
Want to save time and have your resume ready in 5 minutes? Try our resume builder. It's fast and easy to use. Plus, you'll get ready-made content to add with one click. See 20+ resume templates and create your resume here.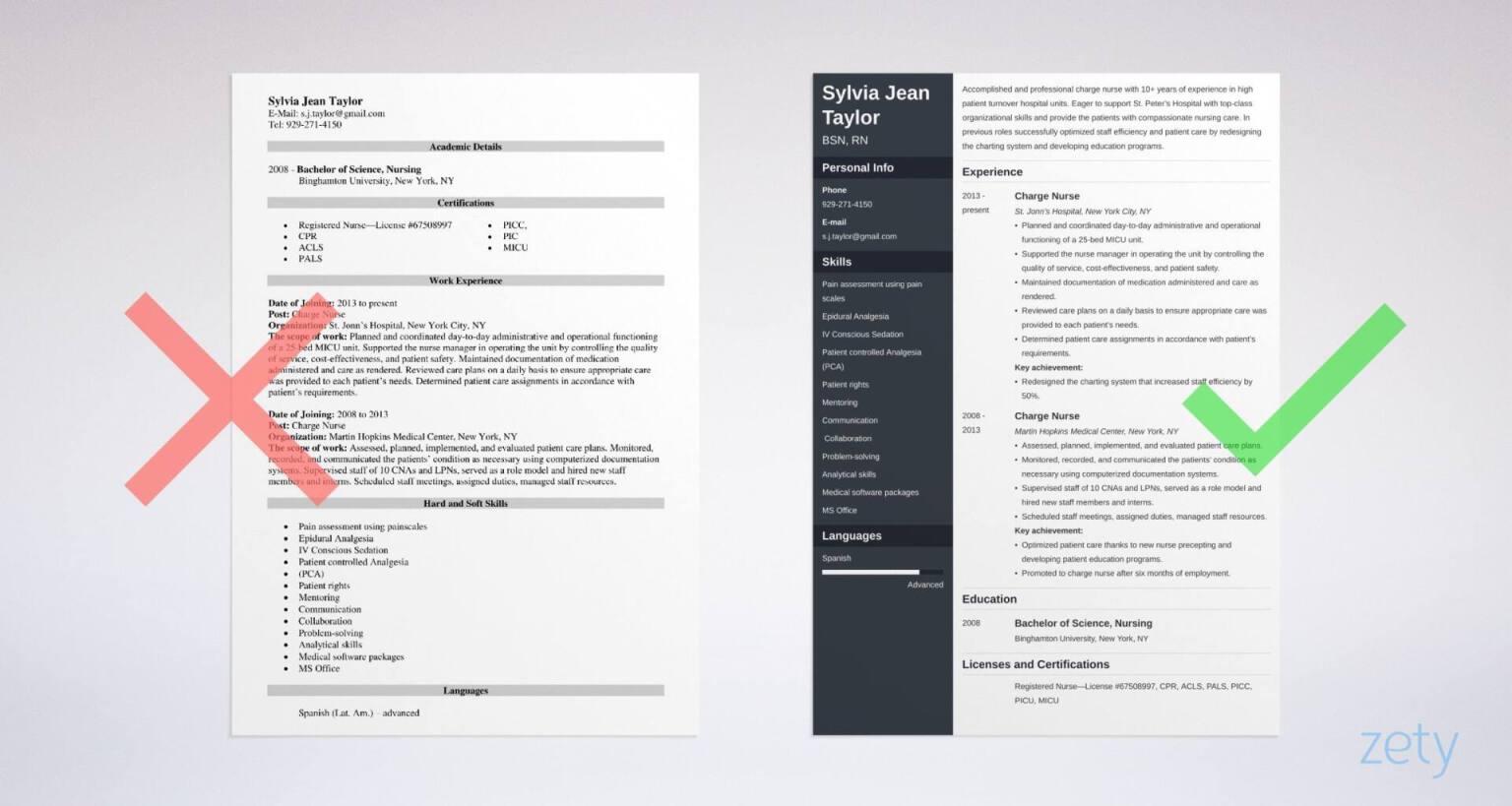 Sample Charge Nurse Resume—See more templates and create your resume here.