Charge Nurse Resume Examples & 20+ Job Description Tips
This guide will show you a charge nurse resume template you can copy, adjust, and use. Plus, pro tips on how to create a resume to land the best charge nurse jobs.
Charge Nurse Resume Sample
Sylvia Jean Taylor, BSN, RN
s.j.taylor@gmail.com
929-271-4150
Objective
Accomplished and professional charge nurse with 10+ years of experience in high patient turnover hospital units. Eager to support St. Peter's Hospital with top-class organizational skills and provide the patients with compassionate nursing care. In previous roles successfully optimized staff efficiency and patient care by redesigning the charting system and developing education programs.
Work Experience
Charge Nurse
St. Jonn's Hospital, New York City, NY
2013–
Planned and coordinated day-to-day administrative and operational functioning of a 25-bed MICU unit.
Supported the nurse manager in operating the unit by controlling the quality of service, cost-effectiveness, and patient safety.
Maintained documentation of medication administered and care as rendered.
Reviewed care plans on a daily basis to ensure appropriate care was provided to each patient's needs.
Determined patient care assignments in accordance with patient's requirements.
Key achievement:
Redesigned the charting system that increased staff efficiency by 50%.
Charge Nurse
Martin Hopkins Medical Center, New York, NY
2008–2013
Assessed, planned, implemented, and evaluated patient care plans.
Monitored, recorded, and communicated the patients' condition as necessary using computerized documentation systems.
Supervised staff of 10 CNAs and LPNs, served as a role model and hired new staff members and interns.
Scheduled staff meetings, assigned duties, managed staff resources.
Key achievement:
Optimized patient care thanks to new nurse precepting and developing patient education programs.
Promoted to charge nurse after six months of employment.
Education
Bachelor of Science, Nursing
Binghamton University, New York, NY
2008
Licenses and Certifications
Registered Nurse—License #67508997
CPR
ACLS
PALS
PICC
PICU
MICU
Key Skills
Pain assessment using pain scales
Epidural Analgesia
IV Conscious Sedation
Patient controlled Analgesia (PCA)
Patient rights
Mentoring
Communication
Collaboration
Problem-solving
Analytical skills
Medical software packages
MS Office
Languages
Want to save time and have your resume ready in 5 minutes? Try our resume builder. It's fast and easy to use. Plus, you'll get ready-made content to add with one click. See 20+ resume templates and create your resume here.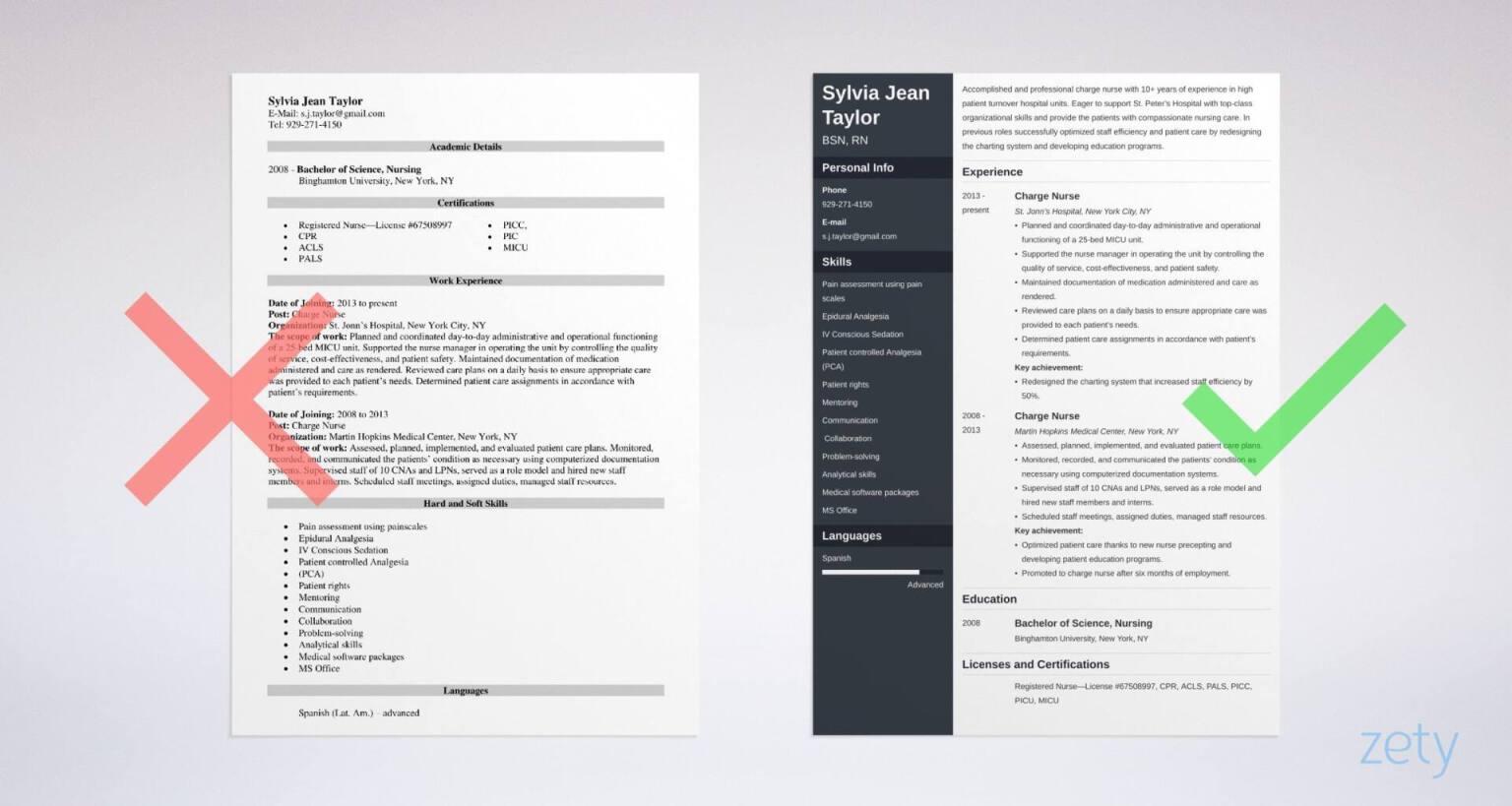 Sample Charge Nurse Resume—See more templates and create your resume here.
Targeting other medicine, or healthcare jobs? See one of our dedicated guides:
Here's how to write your charge nurse resume that demonstrates you're a natural-born leader:
1. Choose the Best Format for Your Charge Nurse Resume
As a charge nurse, you know exactly how important it is to keep things in order.
Show the recruiter how organized you are by following these simple formatting rules:
Make sure your resume header has all the necessary contact information.
Label your resume sections with large, reader-friendly headings.
Use the best resume format. In the vast majority of cases, the chronological resume format should be your first choice.
Select a professional looking, legible resume font.
Treat white space as a friend, not a foe. Focus on the relevant things, leave out the rest.
If you're in two minds whether a PDF of Word resume is better, go for the PDF version. Unless you've been clearly asked to submit an MS Word version.
2. Write a Charge Nurse Resume Objective or Summary
The opening paragraph of a resume is also called a resume profile.
It's a quick rundown of the main points on your charge nurse resume, and one of the first things the recruiter will look at.
Make good use of it and show you're in charge of your career.
Go for a resume summary if you have 2+ years of experience under your belt. A resume summary consists of 2–3 sentences presenting your experience and key achievements.
Write a resume objective if you're an entry-level candidate. A resume objective is focused on your skills, and aims to show your potential employer you're the best fit for the role.
Pro Tip: Write your resume profile once your entire charge nurse resume is complete. This section is a summary. As such, it needs to be based upon a full-length version.
3. Create the Perfect Charge Nurse Job Description for a Resume

The work experience section is the brain stem of your charge nurse resume.
Everything depends on it.
So—
Go beyond that worn-out responsible for formula!
Here's how to make your charge nurse job description stand out:
Start with your latest position and let the previous ones follow.
Make sure you put a job title, company name, location, and dates worked in each entry.
List your responsibilities and achievements as bullet points. 6-7 bullets for each position is enough.
Always tailor your resume to the job offer, and focus on the relevant stuff.
Describe your charge nurse responsibilities and duties using action verbs: planned, coordinated, scheduled, redesigned, etc.
Wherever you can—put numbers.
Pro Tip: Your experience bullets should communicate your technical competence and soft skills. It is especially important in the context of a large skills gap in the healthcare sector.
4. Make Your Charge Nurse Resume Education Section Deliver
You wouldn't be a charge nurse without proper education.
So don't neglect the education section on your charge nurse resume.
Here's how to show your educational background:
If you have more than 5 years of experience, just list your degree, major, minors (if applicable), school name, and graduation year. That's it.
Under 5 years of experience? Consider adding information on your GPA (if above 3.5), relevant coursework, academic achievements, or extracurricular activities,
Always add a separate section or subsection for your professional certifications and licenses.
5. Highlight Your Charge Nurse Skills
Use the list of soft skills and hard skills below to come up with the best skill set for your charge nurse resume:
Charge Nurse Resume—Skills
Technical Skills:
Pain assessment using pain scales
Epidural analgesia
IV Conscious Sedation
Automatic Internal Cardioverter Defib (AICD)
Cardiogenic/Hypovolemic shock patient care
Nebulizer treatments
Hickman/Broviac/Groshong catheter
Patient rights
Seizure precautions
Pain management
Specimen collection
Care of drains/tubes
Use of hypothermia blanket
IV Therapy
Transferable and Soft Skills:
It's vital you focus on relevant skills. Don't just plonk any skill you feel like including.
Here's what you can do:
Pro Tip: The exact skills you put on a resume depend on the position you're applying for. An ER charge nurse resume will have a different skill set than a dialysis charge nurse resume.
When making a resume in our builder, drag & drop bullet points, skills, and auto-fill the boring stuff. Spell check? Check. Start building your resume here.
When you're done, Zety's resume builder will score your resume and tell you exactly how to make it better.
6. Add Other Sections to Your Charge Nurse Resume
Make your charge nurse exceptional and consider including sections on:
7. Attach Cover Letter to Your Charge Nurse Resume
Even though some claim otherwise—
Half of the recruiters would happily read your cover letter. Follow our quick and dirty tips to write a cover letter in a flash:
Pro Tip: You can boost your chances of getting a job by following up on your job application. A short email or quick phone call shows you care.
That's all!
That's how you make a job-winning charge nurse resume.


Are you writing a charge nurse resume for the first time? Or perhaps you're a seasoned pro eager to help the rookies out? We'd love to hear from you, leave your comment below!