Emergency Room (ER) Nurse Resume Sample & Job Description
This is a guide that shows you how to write the best ER nurse resume. Copy our ER nurse resume sample, tweak it, and get the job. Check out our pro tips and outshine the others.
ER Nurse Resume Sample
Beatrice Aldrich, BSN, RN, CEN
beatrice.aldrich@gmail.com
914-282-3232


Objective
Qualified and dynamic Registered ER Nurse with 7+ years of experience in high turnover emergency rooms. Specialized in triage and providing immediate emergency care to Trauma Center patients. Eager to join Mount Sinai West Hospital to support its patients and staff. Awarded twice for exceptional quality of service. BCLS and CCRN certified.
Work Experience
ER Registered Nurse
Coler-Goldwater Hospital, New York City, NY
2015–
Provided nursing care within Level 1 Trauma Center.
Collaborated with various ER professionals to ensure effective patient care.
Applied expertise in prompt patient condition assessment on patient arrival at the ER during initial phases of acute illness or trauma.
Monitored ER patients, including alerting physicians or charge nurses to changes in patient status, communicating with patients and their family members in a variety of traumatic situations.
Performed medical procedures, such as EKG, venipuncture, cardiac monitoring, taking vital signs, urinalysis, UCG testing, or administering medications.
Key achievements:
Unfailingly provided emergency medical care to 20+ patients in critical condition per shift in a 25-bed Hospital Trauma Center.
Selected to represent Trauma Center on hospital committees, incl. Nurse Recruitment Committee.
Registered Nurse
Beth Israel Medical Center, New York, NY
2011–2014
Maintained a safe medical environment.
Assisted with examinations, procedures, and other patient care activities.
Monitored, documented and communicated patients' conditions using computerized documentation systems.
Maintained medical documentation in a thorough manner.
Performed laboratory duties, including urinalysis, throat cultures, nasal swabs, etc.
Education
Bachelor of Science, Nursing
Adelphi University, New York, NY
2011
Associate of Science, Biochemistry
New Jersey City University, New Jersey, NJ
2008
Licenses and Certifications
Registered Nurse—Licence #9264920
ACLS
BCLS
CCRN
TNCC
CPR
Key Skills
CCU
Triage
Stepdown
ICU
ER Level 1 (Trauma)
Care of drains/tubes
Transport and set-up
Pain management
IV therapy
Collaboration
Languages
Want to save time and have your resume ready in 5 minutes? Try our resume builder. It's fast and easy to use. Plus, you'll get ready-made content to add with one click. See 20+ resume templates and create your resume here.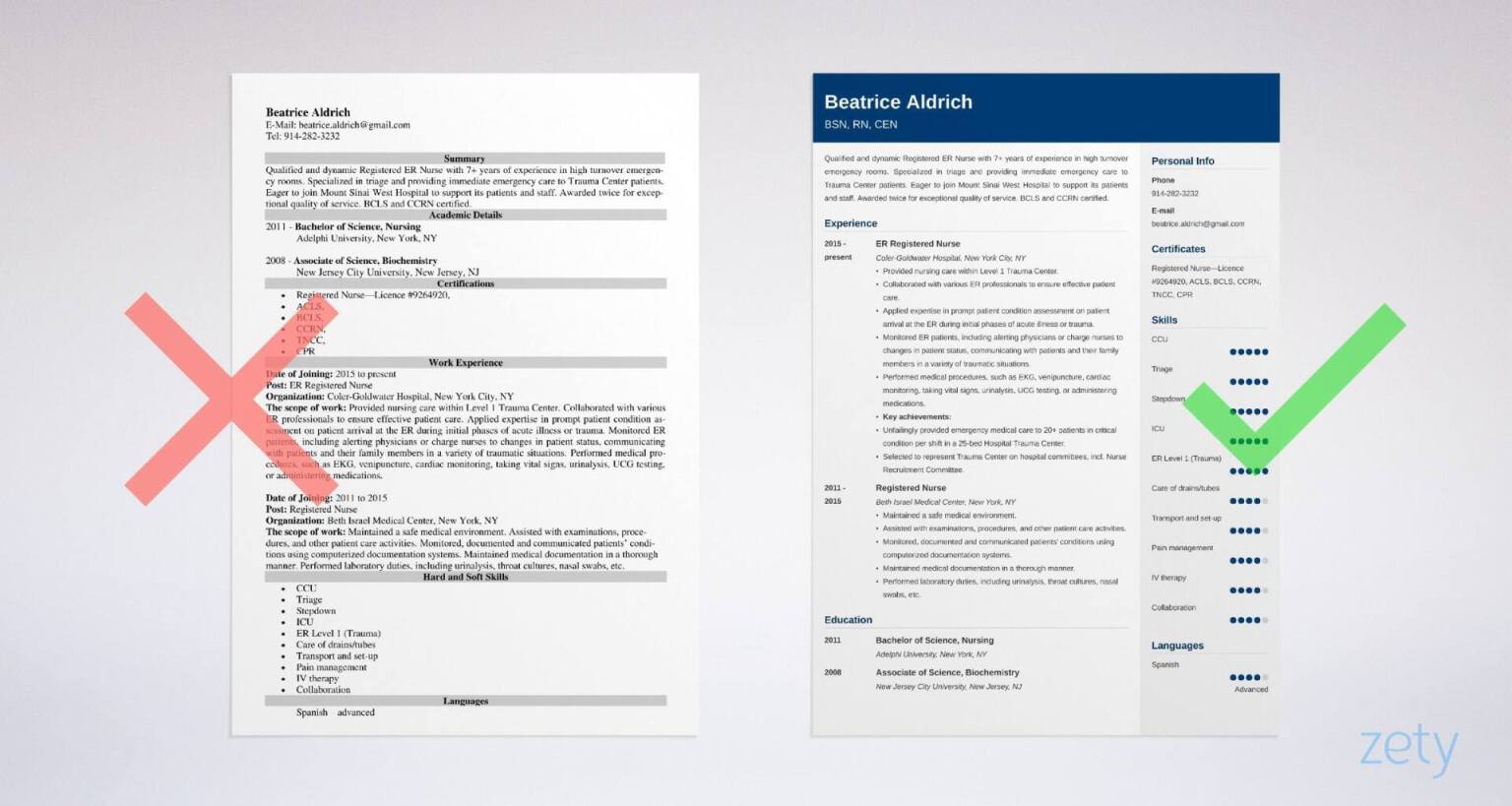 Sample ER Nurse Resume—See more templates and create your resume here.
Targeting other medicine, or healthcare jobs? See one of our dedicated guides:
Here's how to write an ER nurse resume that proves you're a vital asset:
1. Choose the Best Format for Your ER Nurse Resume
Formatting your ER emergency room nurse resume is simple.
Follow the guidelines below, and err no more:
2. Write an Emergency Room Nurse Resume Objective or Summary
Your professional profile is a short introductory paragraph that tops your resume for an ER nurse.
It can either be your resume summary, or an ER nurse resume objective. Here's how the two differ:
A resume summary works best for candidates with 2+ years of professional experience. It concentrates on your professional experience and key achievements.
A resume objective is more suitable for entry-level positions. It focuses on the skills you've learned and shows the hiring manager what you can do to help them achieve their goals.
Either way, to make your resume profile stand out, always try to quantify your professional or academic accomplishments by mentioning how many years of experience you have.
If you're an entry-level ER nurse, you can also add your GPA (if upwards of 3.5).
In both cases, you're free to mention your biggest professional wins or academic awards.
Just do everything to show you're the best. Right from the start.
Pro Tip: Write this section once you finish writing all the other sections of your ER resume. This way, it will be much easier for you to skim the cream.
3. Create the Perfect ER Nurse Job Description for a Resume

Listen:
It's how you describe your work experience on a resume that matters.
Your description of ER nurse responsibilities must prove that—
You're the one who'll get the job done.
How?
By tailoring your resume to highlight your relevant skills and experience:
Start with your latest or current job and move back in time.
List your job titles, company names, locations, and dates worked.
Put your responsibilities and achievements on a bullet point list. Each position should be 6-7 bullets long.
Start each bullet start with resume action verbs, such as managed, coordinated, monitored, performed, etc.
Make sure to only present experience relevant to the job, and put numbers wherever you can.
Pro Tip: Make sure your experience bullets bring out both your technical skills and soft skills.
4. Make Your ER Nurse Resume Education Section Great
Your ER resume education section is just as important as all the others. After all, you yourself know best how much time you had to invest to become an ER nurse. Don't let this go unnoticed.
Candidates with more than 5 years of professional experience can stick to listing their degree, school name and location, and graduation year. That's it.
Less experienced candidates may consider listing their GPA (if upwards of 3.5), extracurricular activities, academic achievements, and relevant coursework.
Your professional certifications and licenses should be listed in a separate section to increase their visibility.
5. Highlight Your ER Nurse Skills
Give the recruiter no chance to have an "Er…" moment.
Use the list below to pick out and highlight your key ER nurse skills.
ER Nurse Resume—Examples of Skills
CCU
Telemetry/Stepdown
ICU
ER Level 1 (Trauma)
Specimen Collections
Care of drains/tubes
Transport and set-up
Pain management
Burn patients
Use of hypothermia blanket
IV therapy
Medical Screening Exams
Triage
Obtaining 12 Lead EKG
Interpreting 12 Lead EKG
Neuro Assessment/Neuro Vitals
Glasgow Coma Scale
Assessment of breath sounds
Assistance with set-up and maintenance of chest tubes
Note: focus on your key skills. Don't clutter the list with every single skill you happen to have.
This is how to do this right:
First, prepare a master list of all your job skills (soft skills, hard skills, and technical skills).
Go back to the job ad to see what skills are mentioned there.
Now look at your list and pick out the skills mentioned in the job ad. Got them? Great!
Now choose the ones you're great at and put them on your resume in a key skills section.
Make sure to pepper your entire ER nurse resume with your skills. Put some in your resume profile and job description sections.
Pro Tip: Match the skills you put on the list with the type of position you're after. An ER charge nurse resume may also highlight your leadership skills.
When making a resume in our builder, drag & drop bullet points, skills, and auto-fill the boring stuff. Spell check? Check. Start building your resume here.
When you're done, Zety's resume builder will score your resume and tell you exactly how to make it better.
6. Add Other Sections to Your ER Nurse Resume
Want the recruiter to see more than just your professional side?
Consider adding the following sections to your ER nurse resume.
7. Attach an ER Nurse Resume Cover Letter
You do. That's it.
About 50% of recruiters expect your application to include a cover letter. But only half of the candidates actually do.
Join the better half of the candidates, and use the tips below to write your cover letter in no time:
Pro Tip: Boost your chances and follow up on your job application. This will show the recruiter you're a serious candidate.
Plus, a great cover letter that matches your resume will give you an advantage over other candidates. You can write it in our cover letter builder here. Here's what it may look like: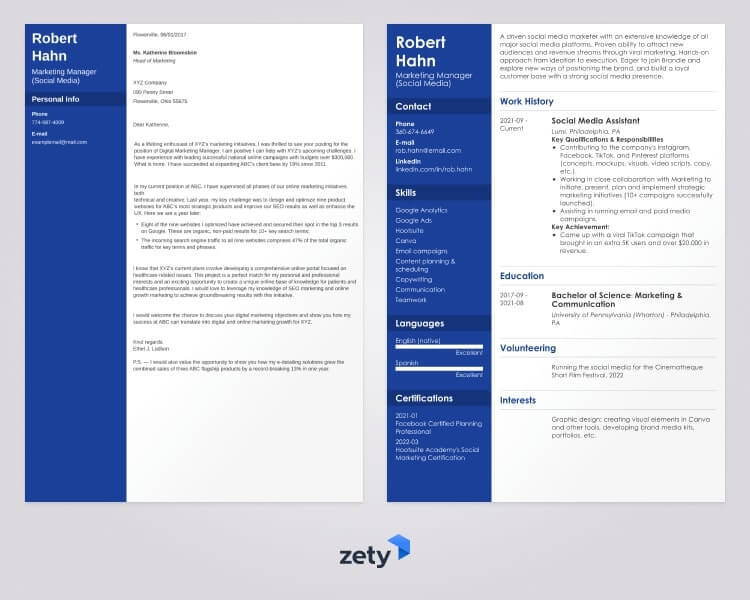 See more cover letter templates and start writing.
Here it is!
This is how you make a job-winning resume for ER nurse positions.


Are you writing an ER nurse resume for the first time? Or perhaps you're a seasoned pro eager to help the rookies out? We'd love to hear from you, leave your comment below!