Hey there, care heroes! Are you ready to make a difference in people's lives while advancing your career as a Certified Nursing Assistant (CNA)? Then our CNA Resume Guide is just what the doctor ordered!
From showcasing your patient care skills to highlighting your experience with medical equipment, you'll learn how to create a resume that stands out in the competitive healthcare industry. So, put on your stethoscope and let's do a check-up on your resume!
This guide will show you:
A CNA resume sample better than 9 out of 10 other resumes.
How to write a CNA resume that will land you more interviews.
Tips and examples on how to show off your CNA resume skills.
How to prepare a CNA job description for a resume to get any job you want.
Want to save time and have your resume ready in 5 minutes? Try our resume builder. It's fast and easy to use. Plus, you'll get ready-made content to add with one click. See 20+ resume templates and create your resume here.
Sample resume made with our builder—See more resume examples here.
Looking for more resume writing advice? Explore our guides for all sorts of nursing-related positions:
Don't forget that a perfect cover letter will give you a higher chance to find your dream job, see: Nursing Cover Letter Examples.
1
Cna Resume Example
John Q. Heartman
Certified Nursing Assistant
123-456-7890
johnqheartman@email.com
linkedin.com/in/john.q.heartman
Summary
Compassionate, patient-oriented Certified Nursing Assistant (CNA) with over 4 years of experience in providing personalized patient care. Seeking to enhance patient care at Health Care Inc. while bringing a deep understanding of patient hygiene and bedside care. At Compass Services, successfully helped reduce fall rates by 40%.
Experience
Certified Nursing Assistant
Compass Services, Stamford, CT
August 2016–Present
Key Qualifications & Responsibilities
Provided daily living services to 40+ patients, including bathing, dressing, and grooming.
Tracked the daily intake of medicine of the patients.
Assisted nurses with procedures and treatments.
Implemented a new mobility assistance program.
Key Achievement:
Reduced patient falls by 40% thanks to my new mobility assistance program.
Certified Nursing Assistant
Caring Hands Health, Stamford, CT
June 2014–August 2016
Key Qualifications & Responsibilities
Assisted with daily living activities for 20+ elderly patients.
Administered bedside care, including vital sign monitoring and medication administration.
Implemented a new patient-care protocol that improved patient comfort levels.
Key Achievement:
Achieved 95% in patient satisfaction scores.
Education
Certified Nursing Assistant Program
Stamford Technical College, Stamford, CT
September 2013–May 2014
Skills
Patient care
Vital sign monitoring
Medication administration
Patient hygiene
Communication
Compassion
Attention to detail
Time management
Certifications
Certified Nursing Assistant (CNA), Connecticut State Board, 2014
Languages
English—Native
Spanish—Beginner
Interests
Volunteering at local health fairs
Participating in community fitness activities.
Choose the Best CNA Resume Template
Here's the thing—
The BLS stats show the overall employment of CNAs is projected to grow faster than the national average for all occupations.
It means two things:
More CNA job opportunities for you. And… more competition.
The good news?
Your CNA resume will knock out all the others.
First off, see to it that your resume for a CNA position follows the reverse-chronological resume format.
Why this format, rather than a functional resume or combination resume?
Most recruiters are familiar with the chronological resume layout, so it's very easy for them to scan.
And that's a huge plus because on average a recruiter spends only about 6 seconds scanning a resume.
More than that, a chronological resume draws the recruiter's attention to your achievements and experience. And that's exactly what you want to show off.
As you're formatting your resume remember to:
Not so sure about how to choose the best CNA resume template? Our guide on choosing the best resume format will help you make up your mind.
2
Write a Riveting CNA Resume Objective or Summary
Here's how it works:
A recruiter will scan your resume from top to bottom.
They'll glance over your resume contact information and spend a bit more time looking at your resume profile.
What's that?
A resume profile is a term referring to either your resume summary or CNA resume objective.
Here's how the two differ:
A resume summary is a quick rundown of your relevant professional experience. It's a good choice for candidates who have been at least two years in the workforce.
A resume objective is an introductory paragraph that focuses on your transferable skills to convince the recruiter you're a great fit. It's great for the candidates writing their first resume with no experience.
Take a look at the sample CNA resume objective and summary below.
CNA Resume Objective—Example
right
A dedicated newly-licensed CNA 2019 graduate (GPA 3.9) seeking to use nursing care and advocacy skills in an assisted living setting at Sunsetters Retirement Home. Previous internship experience in providing basic care for 5+ elderly patients. CPR certified.
wrong
A fresh grad looking for the first job as a certified nursing assistant.
Take another look at the good example of an entry-level CNA resume objective.
Even though it may come from a CNA resume with no experience, the candidate looks super-qualified for the nursing assistant job.
The candidate mentions their:
GPA
Skills
Internship
Certifications
Plus, they refer to the company by name and offer numbers that quantify the candidate's skills.
And all of this in just a couple of sentences.
In contrast—
The bad example of the certified nursing assistant resume objective is devoid of all these.
CNA Resume Summary—Example
right
A reliable bi-lingual CNA of 10 years in diverse healthcare settings for the elderly. Eager to leverage management experience and take patient advocacy and care to the next level at HG Home for Seniors. In previous roles, directed a team of 5+ CNAs and devised a system that reduced incorrect medication administration by 99.9%. CPR and BLS certified.
wrong
CNA with 10 years of professional experience looking for a nursing assistant job at your facility for seniors.
Just like a good certified nursing assistant resume objective, a good summary for a CNA resume should:
Describe your experience
Mention your skills
Refer to the company by name
Show your accomplishments
Include numbers that show your impact
Pro Tip: Write your resume profile at the very end, once your entire resume is ready. This way it will be much easier for you to pick out your career highlights.
The top part of your resume is one of the first places the recruiter will look at. So make sure your professional resume header encourages them to read on.
3
Write The Best CNA Job Description for a CNA Resume
Remember what we mentioned about job opportunities for CNAs?
They're growing.
But—
So is the competition.
And, do you know who'll end up getting the best jobs?
The best qualified CNAs.
There's a problem, though.
Sometimes the best-qualified candidates don't get jobs. Why?
Because they don't customize their CNA experience on a resume to the job offer.
Fret not—
Here's how to get your CNA resume job description right:
Always tailor your resume to a specific job offer. Don't send a generic resume.
Use the resume keywords you see in the job ad to pass the initial ATS scan and impress the recruiter.
Focus on giving the most prominence to achievements on your resume, not your CNA responsibilities.
Remember your achievements consist of your CNA duties backed up with numbers.
This is what your resume job description could look like:
CNA Job Description for a Resume
right
May 2010–June 2016
Mercy Hospital, Watertown, New York
Certified Nursing Assistant
Delegated CNA staff to understand infectious disorders and methodologies for infection control.
Educated patients and their families on the nature of their physiological disorders.
Ensured the observation of Privacy/HIPAA regulations by non-medical personnel.
Inspired empathetic care and compassion among staff and patients.
Directed a team of 5+ CNAs in the absence of the Nurse Manager without incident.
Introduced a scheduling system that improved patient comfort and medicine distribution.
Key achievement:
Implemented initiatives to reduce incorrect possible medication administration by 99.9%
wrong
WRONG
Mercy Hospital, Watertown, New York
Responsible for communication with staff and patients.
Keeping patient information private.
Responsible for managing resources.
Responsible for system supervision.
Now—
To make your resume experience section really stand out from the crowd, highlight your key accomplishments in a separate subsection.
If you don't know what achievements are good for your resume, here's a couple of ideas:
CNA Job Description—Resume Example
Collaborated with patients while using a transfer/gait belt.
Delegated perineal care duties to other CNAs in the care facility.
Advocated a high level of care and comfort for each patient.
Consulted patients while dressing weak arms and legs.
Fielded and recorded patient information with accuracy.
Maintained positive relations and compassion with patients.
Remember:
To make your resume for a hospital look impressive, put numbers next to your achievements to show the hiring manager your true impact.
And—
Take a look at our collection of job description bullet points samples to get inspired.
Need more help preparing your job description on a CNA resume? We've got a guide just for you: CNA Job Description for a Resume
When making a resume in our builder, drag & drop bullet points, skills, and auto-fill the boring stuff. Spell check? Check. Start building a professional resume template here for free.
When you're done, Zety's resume builder will score your resume and our resume checker will tell you exactly how to make it better.
4
Show Off Your CNA Resume Skills
Here's a question:
What skills to put on a resume for a CNA?
The answer is—
Relevant.
But how to identify the best skills for your resume?
Easy.
They're listed in the job offer.
What you just need to do is identify which CNA skills for a resume you have.
Here's how to do this:
Prepare a master list with all your CNA skills for a resume.
Note down your soft skills vs hard skills, as well as your technical skills.
Go back to the job offer and note down all the CNA skills required by the employer.
Now, see which skills your master list and the list based on the job ad have in common.
Got them? These are the best CNA skills for your resume.
Put up to 10 of your strongest skills in a separate Key Skills CNA resume section.
Place your top skills strategically in the other CNA resume sections as well. For example, in your resume profile or resume experience section.
If you find it challenging to come up with your master list, use our list of hard skills or soft skills for a CNA resume as a source of inspiration:
CNA Resume Skills
Proper handwashing
Ambulating residents using a transfer/gait belt
Assisting residents needing to use a bedpan/toileting
Changing bed linen while residents remain in bed
Changing residents position to a supported side-lying position
Dressing residents with weak limbs
Excellent patient care skills
Helping patients with activities of daily living
Measuring and recording a patient's blood pressure
Measuring and recording a resident's radial pulse
Measuring and recording a resident's respirations
Providing catheter care to the nursing home residents
Providing first aid to residents
Providing foot care to residents in a chair
Providing mouth care to residents
Providing perineal care to female residents
Providing residents hand and nail care
Providing residents a partial bed bath and back rub
Providing residents with passive range of motion (ROM) exercises
Greeting the patient
Considering the level of comfort for each patient
Observation skills for marking the patient's mental and physical health
Prioritizing work
Strong verbal and concise written communication skills
Empathetic and compassionate care
Abiding by predetermined protocols
Reassuring residents and families
Directing group activities
Instructing family members about care
Mentoring new staff
Orienting residents to the daily routine
Basic administrative record keeping
Direct care services
Electronic documentation
Following care plans
Keeping medical records
Knowledge of medical terminology
Knowledge of healthcare industry
Measuring and recording vital signs
Patient safety regulations
Utilizing adaptive equipment and safety devices properly
On a side note—
Even if you aren't a certified nursing assistant, many of the above skills will be relevant skills to other roles in Medicine and Healthcare.
Here are a few examples:
Orderly: A hospital attendant charged with non-medical patient care.
Psychiatric Aide: Like a CNA, except this position works with mental health patients.
Medical Assistant: A worker without certification who helps doctors and nurses with routine tasks.
Want to make sure your CNA resume is all spick and span? Learn a couple of resume tips and tricks. And don't forget about our comprehensive list of nursing skills.
5
Attend to Your CNA Resume Education Section
Here's the thing:
Without a proper educational background, you would be no nursing assistant. Let alone certified.
That's why your certified nursing assistant resume must give the education section the right treatment.
First things first—
Your resume for a CNA position should show where you became certified.
Every state has a Nurse Aide Registry. This registry establishes nurse aide training and competency.
So, indicate the state where you earned your certification. Recruiters will appreciate this.
Since every CNA program varies, consider including the number of hours in your training program and relevant coursework on your resume for CNA positions (if applicable).
This is how you can list your CNA certification on a resume:
Education on a CNA Resume—Sample
Sheriden Woods Health Center Nurse Assistant Program
Bristol, Connecticut, May 2007
Certified Nursing Assistant (CNA) 2007
Completed 124 hours of Classroom and Clinical Training
If you're making a nursing assistant resume who's yet to be certified, just add information to this effect. It could read certification in process for example.
If you graduated high school more than five years ago, you can skip listing your high school entirely.
Otherwise, keep it short:
Nursing Assistant Resume—Example Education
Middletown High School, Bristol, CT
Graduated in 2017
If you hold any relevant certifications, list them in a separate section of your CNA resume.
CNA Resume Example—Certifications
CPR Certified
BLS Certified
STNA Certified
Pro Tip: If the certifications you list on your resume have an expiration date, say until when they're valid.

Finally—
If you've completed any on-the-job courses related to your field of expertise, add them like this:
CNA Resume—Example Courses
2013
OSHA BloodBorne Pathogen Training
Connecticut Senior Living Facility
Completed 30 hours Training
Did you directly observe the work of a doctor ? Read our guide on how to put doctor / physician shadowing on a resume.
6
Consider Adding Extra Sections to Your CNA Resume
Adding extra sections to your CNA resume could be risky—
Unless you know how to handle it right.
As with any other section on your certified nursing assistant resume, relevance is the name of the game.
So—
Use the extra space on your CNA resume to show you've got some unique skills and convince the recruiter you're their kind.
Your CNA resume could benefit from such sections as:
Not sure you got everything right on your CNA resume? Take a look at our guide with resume dos and don'ts to be 100% sure.
7
Write the Best CNA Resume Cover Letter
Show off your impeccable communication skills, and write a cover letter for your CNA resume.
If you're wondering:
Do I really need a cover letter?
Just know that 50% of the recruiters expect candidates to submit their cover letters. And 50% of the candidates are lazy enough not to write a cover letter.
The conclusion is simple—
You can easily cater to the needs of half of the recruiters, and beat half of the candidates by just writing a CNA cover letter.
The question is—
It's not that difficult. Your certified nursing assistant resume cover letter must be:
easy to read
on point
relevant
Well-organized.
Easier said than done? Maybe.
But—
We have a series of dedicated articles that will guide you by the hand from start to finish:
And one more thing:
Your CNA resume cover letter is a letter. Not a novel.
So make sure your cover letter length is just right.
Pro Tip: Make the best impression on the recruiter and learn how to follow up on your job application like a pro.
Plus, a great cover letter that matches your resume will give you an advantage over other candidates. You can write it in our cover letter builder here. Here's what it may look like: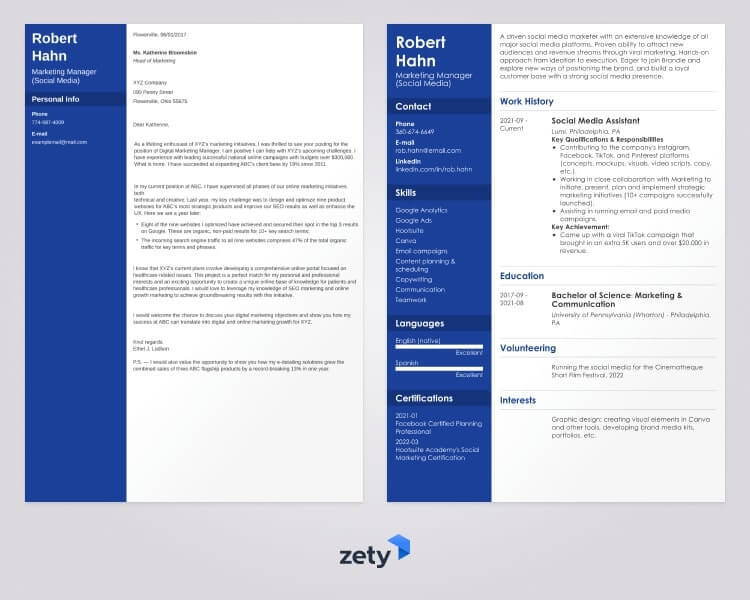 See more cover letter templates and start writing.
Key Takeaway
Here's how to make the best CNA resume:
Lay out your resume in the reverse-chronological order.
Open your resume with a resume objective or summary.
Tailor your certified nursing assistant resume to the job offer.
Use action words to highlight achievements on your resume.
Focus on presenting your strongest CNA resume skills.
Don't forget to include information on your certifications or licensures.
Consider adding some extra sections to your resume.
Write a CNA resume cover letter to boost your chances of landing a job interview.
Do you have any other questions on how to make a CNA resume? Or maybe you're already a registered nurse who'd like to share some advice? We'd love to hear from you! Give us a shout out in the comments below.
About Zety's Editorial Process
This article has been reviewed by our editorial team to make sure it follows Zety's editorial guidelines. We're committed to sharing our expertise and giving you trustworthy career advice tailored to your needs. High-quality content is what brings over 40 million readers to our site every year. But we don't stop there. Our team conducts original research to understand the job market better, and we pride ourselves on being quoted by top universities and prime media outlets from around the world.
Sources