Give us a minute and you'll write the best CNA nurse resume out there. But first...
Wanna know something really interesting?
Nursing assistants could see an increase in employment by 17% from now until 2024.
WOW.
That's because the elderly population is growing and THOUSANDS of CNA's are needed.
That means the probability of you landing a job is pretty high.
Good news, right?
Now all you need to do is write a professional CNA resume that shows off your skills and achievements.
New to the profession? No worries. You can still create a good CNA resume with no work experience and attract the attention of a recruiter.
See, a good resume is a direct reflection of you and your work ethic. Taking the time to write a good nurse aide resume tells recruiters you mean business and are serious about securing a job.
So my friends, if you're ready to roll up your sleeves and create a good resume this guide will show you:
A Certified Nursing Assistant resume example better than 9 out of 10 other resumes.
How to write a CNA resume that will land you more interviews.
Tips and examples of how to put skills and achievements on a CNA resume.
How to describe your experience on a resume for a Certified Nursing Assistant to get any job you want.
Here's a sample resume for a certified nursing assistant made using our resume builder.
Want to save time and have your resume ready in 5 minutes? Try our resume builder. It's fast and easy to use. Plus, you'll get ready-made content to add with one click. See 20+ resume templates and create your resume here.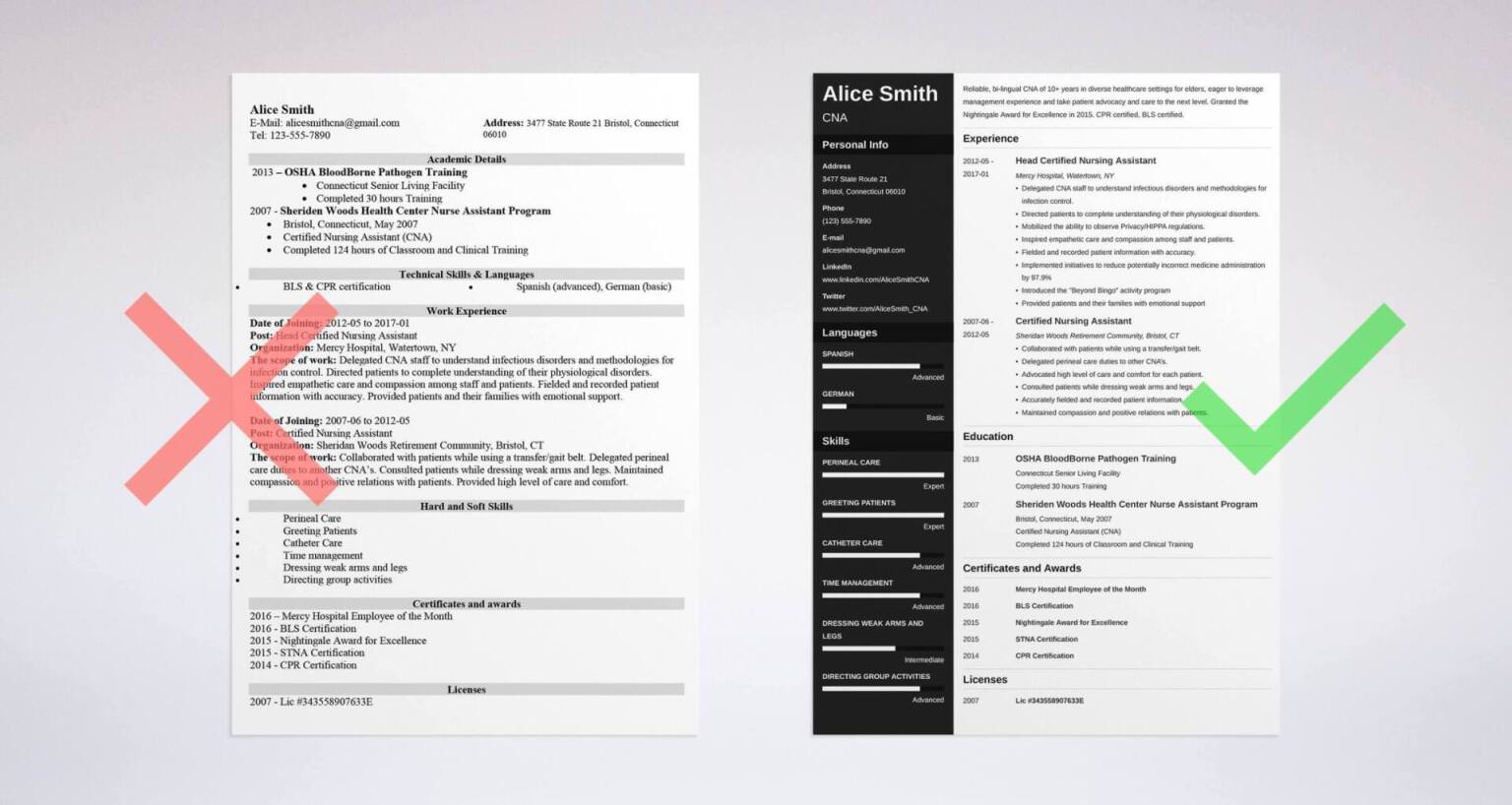 Sample CNA Resume—See more templates and create your resume here.
Are you a nursing student trying to find their first job? You are in luck.
Have a look at our guide: Nursing Student Resume Sample & Complete Guide
Already a nurse? We'll help you land that job: Nursing Resume Sample & Complete Guide
Finally, make sure to see other guides for jobs in medicine and healthcare:
1
What's The Best Format For A CNA Resume?
Kicking out a great resume is all about proper formatting. If you don't format in a way that pleases a recruiter, you may find your resume in the recycling bin.
You want to avoid that.
Maybe you have years of experience taking care of the elderly. Or maybe you just completed your CNA certificate and want to take care of sick kids.
No matter, your certified nursing assistant resume will use the reverse chronological format.
If you are an experienced CNA, start with your most recent job and work backwards.
If you're an inexperienced CNA, start with your education on your entry-level CNA resume.
Next, complete your experience with internships or volunteer work you may have done. Do you babysit? Swell. Babysitting would be the perfect inclusion.
Don't sweat the fonts, margins, and layout.
Choose a 12-point classic font like Arial, Helvetica, or Verdana.
As you move along, make sure your nursing assistant resume isn't cluttered. You want to attract attention to your skills and achievements, not to your ability to be a make a mess of things.
Want to make sure your resume will hook every recruiter and get you that interview? Get our free checklist and learn what makes a job-winning resume: 46 Things You Need To Do Before You Send Your Resume.
Pro Tip: Proper spelling and grammar will win points with recruiters. Consider using an online tool like Grammarly to help you flush out any mistakes.
Still not sure about how to format your CNA resume? Check out other formats in our guide: "3 Resume Formats: How To Format a Resume for Greatest Impact"
2
Contact Information Is Not As Basic As It Seems
You're a big deal now. If you don't include your CNA in your contact section, the chances are your resume might be chucked out.
This would be a sad day, because now you're not such a big deal anymore.
Let's include:
Your full name, CNA.
A working phone number.
A professional email address.
Add CNA after your name. And don't forget your license number.
You've earned these accolades. So shout them out to the world.
See, when job seekers like you scan a job post, they miss necessary requirements to include. Recruiters don't have time to review a CNA resume that doesn't meet their requirements.
Therefore, make sure your contact info is listed like this:
right
Alice Smith, CNA Lic #343558907633E alicesmithcna@gmail.com (123) 555-7890
wrong
Alice Smith mamalice544@gmail.com (123) 555-7890
Pro Tip: Don't use an email address that is unprofessional or uses the Hotmail or Yahoo extensions. Create a new email address using the Gmail extension.
For more on how to add other basics to your nurse aid resume, take a peek at our guide: "How To Make a Resume: A Step-By-Step Guide (+30 Examples)"
3
CNA Resume Summary or Resume Objective
Here's a really important part of your certified nursing assistant resume: The summary or objective.
Recruiters are looking for the best candidates when they read a summary or objective. These little paragraphs need to show off the best part about you in 2-3 sentences.
But what's the difference between a summary and objective?
So glad you asked.
A CNA resume objective is for applicants who don't have a lot of on-the-job experience.
If you are a CNA with no experience, give a quick introduction of who you are and why you would be a good hire.
Here's how to write a resume objective:
right
Trustworthy, newly licensed CNA 2017 graduate seeking to use nursing care and advocacy skills in an assisted living setting at Sunsetters Retirement Home. CPR certified.
wrong
New nurse looking for a job with old people.
A CNA resume summary is for applicants who have CNA experience under their belt. In the summary, include any achievements or certifications you've earned:
Here's how to write a resume summary:
right
Reliable, bi-lingual CNA of 10 years in diverse healthcare settings for elders, eager to leverage management experience and take patient advocacy and care to the next level. CPR certified, BLS certified (current). Available nights and weekends.
wrong
CNA of 10 years looking for new challenges.
Don't forget that a CNA license needs to be renewed every two years. The resume summary is a great place to let recruiters know when you last renewed it.
When making a resume in our builder, drag & drop bullet points, skills, and auto-fill the boring stuff. Spell check? Check. Start building your resume here.
When you're done, Zety's resume builder will score your resume and tell you exactly how to make it better.
Want to impress recruiters further?
Healthcare assistants are in high demand. They are often asked to start working evening hours. Let recruiters know that you're available to work those hours in your CNA resume summary.
There. Now they're impressed.
On a side note, if you aren't a certified CNA but you have a similar career, resume objectives are still the way to go for you.
Include relevant skills for those careers might be that of an:
Orderly: A hospital attendant charged with non-medical patient care.
Psychiatric Aide: Like a CNA, except this position works with mental health patients.
Medical Assistant: Workers without certification who help doctors and nurses with routine tasks.
Pro Tip: Include hours of availability in your resume summary.
Need more objective or summary examples for your CNA resume? Check out our guides and learn more: "+20 Resume Objective Examples - Use Them On Your Resume (Tips)" or "How To Write A Resume Summary: 21 Best Examples You Will See"
4
How to Describe Your CNA Experience
Look! We're halfway there! Hooray!
Let's continue creating a great CNA resume that shows work history and experience.
Remember to add your most recent job first because that job is of most importance to the hiring manager.
Add any nursing assistant resume duties here.
List no less than six responsibilities or achievements.
right
Certified Nursing Assistant
May 2010 - June 2016
Mercy Hospital, Watertown, New York
Delegated CNA staff to understand infectious disorders and methodologies for infection control.
Directed patients to complete understanding of their physiological disorders.
Mobilized the ability to observe Privacy/HIPPA regulations.
Inspired empathetic care and compassion among staff and patients.
Directed a team of CNA's in the absence of the Nurse Manager without incident.
Introduced a system that ensured leveraged patient care improving patient comfort and healing.
Implemented initiatives to reduce incorrect possible medication administration by 99.9%
wrong
Mercy Hospital, Watertown, New York
Told staff members to study disorders.
Explained to patients what was wrong with them.
Kept patient information private.
Was nice to patients and other staff.
Led team when needed.
Made corrections to the system.
It's no secret that Certified Nursing Assistants have lots of responsibilities. Sometimes so many, that their achievements go unnoticed.
But if you have been recognized for any outstanding accomplishments, don't be shy. List them in this section, too.
Use bullet points to highlight duties and accomplishments. Don't start each bullet point with "Responsible for."
Those words are dry and make you ordinary. You're not ordinary. You're extraordinary.
Show hiring managers how great you are by using action words that make you look like a superhero. Because let's face it, in the nursing profession you are.
right
Collaborated with patients while using a transfer/gait belt.
Delegated perineal care duties to other CNA's.
Advocated high level of care and comfort for each patient.
Consulted patients while dressing weak arms and legs.
Fielded and recorded patient information with accuracy.
Maintained positive relations and compassion with patients.
wrong
Moved patients.
Told other CNA's what to do.
Made patients comfortable.
Dressed arms.
Wrote stuff down.
Was nice to old people.
See the difference?
Okay, Pop Quiz here. Do you recognize the above skills? You should. They are the ones needed to pass the clinical part of a CNA exam.
But you knew that already because you're a nursing superhero.
Pro Tip: When you're determining how to write skills on a CNA resume, use action words to describe your duties.
Wondering how else to describe your CNA skills? Check out our Action Words Guide for ideas: +80 Examples of Resume Action Words for Every Profession
5
Your Education Section Underperforming? It Might Be
It's time to show the world the power of your CNA training.
As you make a CNA resume, include an education section that shows off how and where you became certified.
Every state has a Nurse Aide Registry. This registry establishes nurse aide training and competency. Be a gem and include the state you earned your certification in. Recruiters love that.
Every CNA program varies, so be sure to include the number of hours in your training program, too.
The CNA Plus website says chunk the information together as follows:
Sheriden Woods Health Center Nurse Assistant Program
Bristol, Connecticut, May 2007
Certified Nursing Assistant (CNA) 2007
Completed 124 hours of Classroom and Clinical Training
If you haven't taken the exam yet, put Certification in Process instead of the hours.
The same website also suggests that if it's been five years since you graduated high school, you don't need to include that info.
But if it's been less than five years, list it like this:
Middletown High School, Bristol, CT
Graduated in 2017
Super easy, right?
Okay, one more thing is this section.
If you've taken any on-the-job courses related to your field of expertise, add them like this:
OSHA BloodBorne Pathogen Training, Completed 2013
Connecticut Senior Living Facility
Completed 30 hours Training
Pro Tip: Stick with industry standards and formatting. Recruiters like seeing information listed this way.
What other information can you add to your CNA resume to make it shine? Read our guide, "What To Put On a Resume To Make It Perfect [Tips & Examples]"
6
How To Put Skills On a CNA Resume
Skill can make you or break you. Without them, recruiters won't think twice about not hiring you.
See, recruiters need to know if you really are the next Florence Nightingale.
Florence Nightingale was the pioneer of nursing because she had hard and soft skills.
What's the heck are those, right?
Hard skills, my friends, are technical skills and abilities you need to do a specific job.
Soft skills are often linked to personal qualities and people skills.
The primary hard skills that healthcare recruiters look for on a CNA resume:
Proper handwashing.
Ambulate residents using a transfer/gait belt.
Assist residents needing to use a bedpan.
Change bed linen while residents remain in bed.
Change residents position to a supported side-lying position.
Dress residents with weak limbs.
Measure and record a resident's radial pulse.
Measure and record a resident's respirations.
Provide catheter care to residents.
Provide foot care to residents in a chair.
Provide mouth care to residents.
Provide perineal care to female residents.
Provide residents hand and nail care.
Provide residents a partial bed bath and back rub.
Provide residents with passive range of motion (ROM) exercises.

If these skills look familiar, it's because they are required to pass the clinical skills part of your exam.
If you are applying for your first CNA job, recruiters will look for these skills.
They want to see them listed on your Certified Nursing Assistant resume.
The primary soft skills that healthcare recruiters want to see are:
Greeting the patient.
Considering the level of comfort for each patient.
Observation skills for marking the patient's mental and physical health.
Prioritizing work.
Strong verbal and concise written communication skills.
Empathetic and compassionate care.
Abiding by predetermined protocols.
Reassuring residents and families.
Directing group activities.
Instructing family members about care.
Mentoring new staff.
Orienting residents to daily routine
Computer and technical skills are important to include, too. Some skills to list are:
Basic administrative record keeping.
Electronic documentation.
Following care plans.
Utilizing adaptive equipment and safety devices properly.
Measuring and recording vital signs.
Direct care services.
Can you speed type with ease on a computer?
You'll want that as a skill. Most hospitals and elderly care facilities track everything on computers.
If you have administrative skills include them on your CNA resume. Include stellar computer skills, too.
You can divide these skills into three categories:
Hard Skills
Soft Skills
Technical, Computer and Record Keeping Skills
Pro Tip: Include required clinical skills with advanced skills you learned in the field as a CNA.
Want more tips on what you should put on your CNA resume? Take a look at our guide for more examples: +30 Best Examples of What Skills to Put on a Resume (Proven Tips)
7
How to Add Other Sections For An Effective CNA Resume
This section is your saving grace if you're new to the whole CNA gig.
If you have any licensures, awards, or certificates, list them here. Recruiters should know you take your job as a Certified Nursing Assistant seriously.
And seriously, it's important to take CNA seriously.
When you list them, use bullet points:
CPR Certified
BLS Certified
STNA Certified
Nightingale Award for Excellence in 2015
Employee of The Month 2016
If you are a CNA with no experience and no licensures, add a hobbies section. Include hobbies related to the job you are applying for.
Maybe you can build a model airplane. That skill might be attractive to recruiters looking for new group activity ideas.
For new CNA's with limited experience, adding information like this could get your resume to the top of the pile.
Next, maybe you raise crayfish. Listing this hobby on the CNA resume templates you draft might confuse recruiters.
Especially because crayfish swim in circles and you just watch them.
Boring.
Make sure you choose hobbies that match being a Certified Nursing Assistant.
That means if you walk the neighbor's dog and feed it when they're gone, add this! Dogs need love, too.
| right | wrong |
| --- | --- |
| Volunteer at Meals on Wheels | Raising crayfish. |
| Walk and take care of my neighbor's dog when they go on holidays. | Chasing pigeons. |
Pro Tip: Include hobbies and interests that fit the traits of the job description.
For more ideas on hobbies to add, take a look at this post: +20 Best Examples of Hobbies & Interests To Put on a Resume (5 Tips)
8
Here's The Most Common Myth About Cover Letters
If you're thinking that you don't need a CNA cover letter sample, my dear friends, think again.
There is a myth in certain circles that cover letters are not necessary.
Nope. Not the case.
About 32% of recruiters say they get more than their share of junk resumes. This means they can't find talented candidates that fit the bill.
You wanted to be the talented one. You don't want to be junk. Or bathwater.
You want the job.
That's why you need to write a sample CNA cover letter that makes recruiters swoon.
Did you know that recruiters spend about 6 seconds looking over a resume? That's no time at all.
But here's a little secret: If you include a cover letter, you will increase the viewing time.
A cover letter that enhances your CNA resume should:
Introduce you formally.
Express your personality.
Explain why you're the best candidate.
Explain any gaps in work history or career changes.
Include your contact information on your CNA resume cover letter. Include the employer's contact information, too.
And don't forget to add the date. That's kind of important.
Next, write the basic body of the letter and wrap it up with a witty conclusion.
The deal is, you want to hook recruiters in the first paragraph. That's the entire purpose of a cover letter. Don't forget to incorporate skills needed for the job, too.
Remember, make them swoon.
Plus, a great cover letter that matches your resume will give you an advantage over other candidates. You can write it in our cover letter builder here. Here's what it may look like: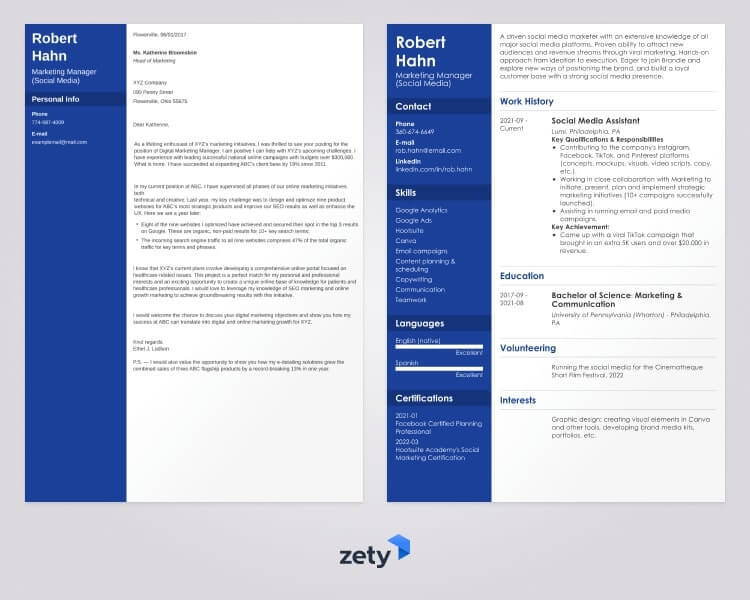 See more cover letter templates and start writing.
Pro Tip: Let your true self come through in your letter. Don't try and be someone else. Being authentic and witty is the key to a good hook.
Not sure how to write a CNA cover letter? We've got you covered. Read our CNA Cover Letter Sample & Guide
Key Takeaway
Wow. Would you look at this amazing resume? I've never seen anything like this before. This recruit is amazing!, said the recruiter that held your masterpiece resume in her hands. To make such a CNA resume, do the following:
Open your resume with a CNA resume objective or summary.
Tailor every resume you send to match the requirements of a given position.
In your work experience section, use action words to highlight your achievements.
Don't forget to include any extra certifications or licensures, too.
Did we miss anything? If you are still struggling with how to write a CNA resume, let us know in the comments, and we will do what we can to help. Thanks for reading!