You came to the right place to write your hospitality resume. But think about this—
There's a labor shortage in the hospitality industry. You could scribble your resume on a Do Not Disturb sign and get a job.
But here's the problem:
There's a lot of bad companies out there. They don't pay well. They think you're disposable.
If you want the best hospitality jobs, you need the best resume.
Chin up. It's not hard to write a great resume for hospitality jobs. Just show the right skills and achievements to fit the offer like a key card in a slot.
This guide will show you:
A hospitality resume example better than 9 out of 10 others.
How to write a hospitality resume that gets more interviews.
Tips and examples of how to put skills and achievements on a hotel resume.
How to describe your experience on a resume for hospitality jobs to fill any opening you want.
Here's a hospitality resume template made with our online resume builder tool.
Want to save time and have your resume ready in 5 minutes? Try our resume builder. It's fast and easy to use. Plus, you'll get tips and right vs. wrong examples while writing your resume. See +20 resume templates and create your resume here.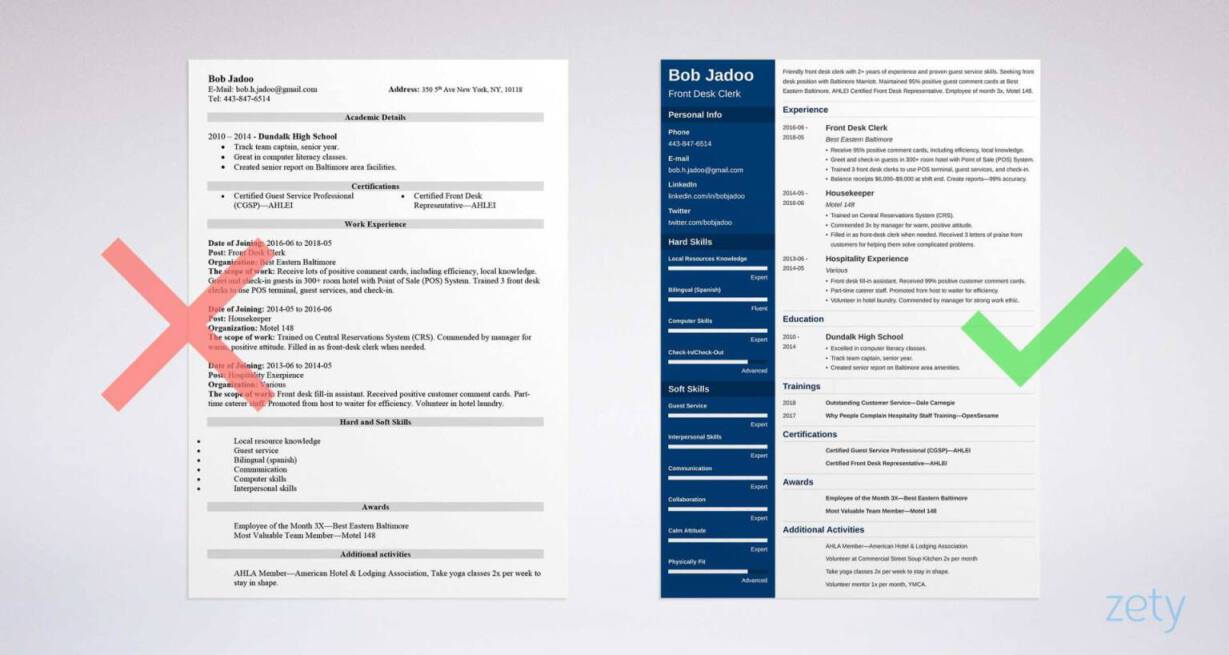 Hospitality Resume - See +20 resume templates and create your resume here
1
12 Great Free Hospitality Resume Templates
Looking for a standard hospitality resume sample? The example hotel resume above will book you solid.
If you need resumes for specific hospitality jobs, see the 12 great guides and samples below.
Just want to make the best resume for a hospitality job on earth? Scroll down. I'll share piles of tips and samples to write great hospitality industry resumes that'll help you bag the interview.
Restaurant Resume Templates
Housekeeping Resume Sample
Management Resume Samples
Front Desk Resume Sample
Use our online resume builder to make your own hospitality resume format for download.
Want your resume to hook the recruiter? Get our free checklist and learn what makes a job-winning resume: 46 Things You Need To Do Before You Send Your Resume
2
What's the Best Format for a Hospitality Resume?
Disaster!
The hiring manager just condemned your great hotel resume.
Gordon Ramsay wouldn't use it to shine his shoes with now.
What happened?
It wasn't your experience or skills. Those are great.
You used the wrong hospitality resume format.
Format is king in a job where tiny details add up to a great guest experience.
Pick a respected layout like the reverse-chronological resume format.
Use big headings, lots of white space, and the best resume fonts.
Last, save your resume for hotel jobs as a PDF. Hospitality job resume PDFs look great everywhere and work with ATS systems. MS Word resumes can turn into an unmade bed after you send them.
Pro Tip: Scan the hospitality job description to make sure it doesn't have a no-PDFs policy. Some companies don't allow hospitality resume PDFs.
Want to confirm our formatting advice? Not sold on the reverse-chronological format for your guest services or front desk resume? See our guide: Resume Format: How to Choose the Best One
3
Hospitality Resume Objective or Resume Summary
Congratulations!
The HR manager spent half an hour reading your hospitality resume. She's convinced you're perfect for the job.
Now let's come back from la-la land.
The truth?
She's got a pile of resumes for hospitality as tall as the Gevora Hotel to read by checkout-time. She'll spend six seconds on yours, max.
The fix? Grab her attention like a nine-foot "Free Breakfast" sign. Write a resume summary or resume objective.
A resume objective shows your passion for the job. Use one if you're a late arrival to the industry.
A resume summary proves your worthiness with experience. Write one if you've got ballrooms-full.
Either way, stuff it with pulse-quickening accomplishments.
Here are two examples:
How to Write a Resume Objective for an Entry-Level Hospitality Resume
Even with no experience, your resume for hotels doesn't have to seem half-baked.
A resume objective shows your passion. But—
Pack it with experience.
These two hospitality resume examples explain:
right
Efficient front desk clerk with proven guest service skills. Received 99% positive comment cards as front desk fill-in at Motel 148. Commended by manager of Red Roof Inn for strong work ethic as volunteer in hotel laundry. Skilled in POS terminal use and fluent in Spanish.
wrong
Extremely hard-working front desk clerk, skilled in local resources knowledge and computer skills. Fluent in Spanish. Good at providing exemplary guest service and operating POS terminal.
That first hotel resume sample could get you in at a Hyatt Regency. The second? Maybe Fawlty Towers.
But just a sec—
Where did a newbie get that much hospitality industry resume experience?
He used transferable accomplishments. I'll show how in a minute.
Now what if you've already got experience?
In that case, write a resume summary.
Hospitality Resume Examples [Resume Summaries]
One of these professional hospitality resume samples fails inspection.
WRONG
Presentable front desk clerk. Responsible for all front desk duties at Motel 148, including POS terminal operation, check in, check out, providing guest assistance, and communicating with other hotel staff. Skilled in local resources knowledge and have exemplary interpersonal skills.
What's wrong with that? Nothing, by itself. But put it in a pile of 300 others and it blends into the wallpaper.
It needs details and measurable achievements.
RIGHT
Friendly AHLEI Certified Front Desk Representative with 2+ years of experience and proven guest service skills. Seeking front desk position with Baltimore Marriott. Maintained 95% positive guest comment cards at Best Eastern Baltimore. Employee of month 3x at Motel 148. Strong interpersonal skills and check-in/check-out skills.
Way to go. The hiring manager just dropped her copy of Without Reservations in her jackfruit salad.
Pro Tip: Got stage fright? Soft-open your hospitality resume objective or resume summary. Write it last and build it from the highlights of your resume.
Our resume builder (you can create your resume here) will give you tips and examples on how to write your resume summary or any other section. You can easily copy them straight into your resume - it will save you a ton of time.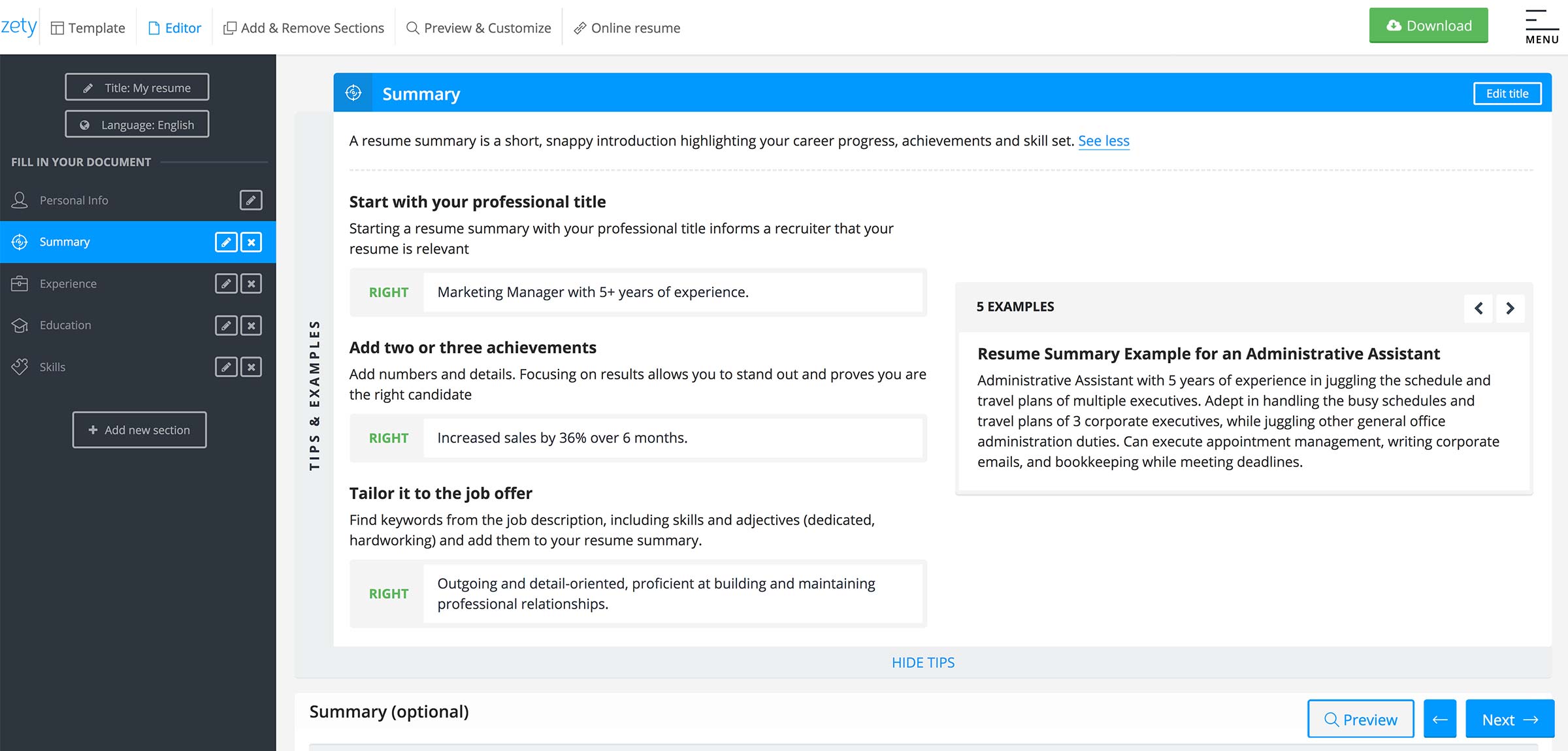 Inside our resume builder you will find tips and examples for your resume.
Want to max out your capacity for interview requests? Use the sample hospitality resume up top. Plus, see our guides:
4
The Perfect Hospitality Job Description for a Resume
Here's a question:
Is experience important in resumes for hospitality jobs?
Only as important as food and lodging.
Don't have it? Don't panic. I'll show you how to use transferable achievements.
But you've got to list them right or the hiring manager will ditch you like a bathrobe with a burn hole.
Show your last job first, with 3–5 resume bullet points that fit the job.
The next two entry-level hospitality resume examples show how.
Hospitality Resume Examples [Experience]
Compare these sample hospitality resume experience sections:
RIGHT
Front Desk Clerk
Best Eastern Baltimore
2016-2018
Received 95% positive guest ratings for efficiency and local knowledge.
Greet and check-in guests in 300+ room hotel with Point of Sale (POS) System.
Train 3 front desk clerks in POS terminal, guest services, and check-in.
Balance receipts of $6,000–$9,000 at shift end. Create reports w/99% accuracy.
The hiring manager would need a vacancy between her ears to trash your application. Your professional front desk duties resume just proved your worth.
With a couple management achievements, that could even be a good front desk manager resume.
But evict the details, and:
WRONG
Front Desk Clerk
Best Eastern Baltimore
2016-2018
Greet and check in guests with Point of Sale (POS) System.
Responsible for providing local knowledge tips to guests.
Provide guests with key cards and directions to rooms.
Balance receipts and create reports.
Hmm. Maybe they're hiring at the Bates Motel.
And if you have no experience at hospitality jobs?
Check out the next two entry-level hospitality resume examples.
How to Write a Resume for Hospitality with no Experience
How do you break into the hospitality industry?
Especially with no experience?
Are you locked out for good?
Transferable accomplishments are your master key to great hotel jobs with no experience.
Have you ever:
Volunteered at a hotel laundry?
Waited tables?
Tended bar?
Managed people?
Led a project?
Worked a cash register?
Worked with the public?
Any of those make great experience for a hotel resume.
See the next two entry-level hotel resume samples.
Two Entry-Level Hospitality Resume Samples [No Experience]
Which of these two front desk resume examples is more Bridal Suite than Basement Level?
RIGHT
Hospitality Experience
2017-2018
Front desk fill-in assistant. Received 99% positive customer comment cards.
Part-time caterer staff. Promoted from host to waiter for efficiency.
Volunteer in hotel laundry. Commended by manager for strong work ethic.
WRONG
Hospitality Experience: Haven't officially held any hospitality jobs, but please believe I'll do a great job.
Other Experience:
Auto detailing
Landscaping
No contest.
That first one could get you hired at the Marriott in Rivendell. The second? Maybe the Overlook needs help.
You must show experience in hospitality-related tasks, even if you've never held a job.
Pro Tip: You don't need 5 years of experience to write a good resume for front desk jobs. Even filling in for a few front desk shifts can build your resume.
Give the hiring manager a wake-up call. Build your hospitality resume with action words. See our guide: 240 Resume Action Words & Power Words to Make Your Resume Shine
5
Is Your Education Section a No Show? It Might Be
In a resume for the hospitality industry, education isn't as important as experience.
But schooling is a V.I.P. pass that can get you through the door.
Start with:
School Name and Location.
Years in School.
Degree.
Here's the magic:
Add relevant accomplishments.
Hospitality Resume Examples [Education]
WRONG
Dundalk High School
2010-2014
Maybe you'll get hired as a bellhop at the Econo-Host in Gotham City.
But add the right details, and:
RIGHT
Dundalk High School
2010-2014
Excelled in computer literacy classes.
Track team captain, senior year.
Wrote a senior report on Baltimore area amenities.
Pow. That's Four Seasons-level.
Pro Tip: Do you need to show your GPA in a hospitality resume? If it's recent and impressive, yes. Otherwise, save the space for Wyndham-worthy achievements.
Make your front desk or guest services resume education section shimmer like a solid gold welcome mat. See our guide: Education on a Resume: What to Include and How to Do It
6
How to Put Skills on a Resume for Hospitality Jobs
Say hello to the HR manager. Her name's Stacy.
Nice liquid desk wave.
Near it sit 250+ hospitality resumes.
She'd like to torch them all. Know why?
They all list the same hospitality skills.
They're almost carbon copies of each other.
Then she sees your front desk clerk resume. You've done something so smart, so simple, Stacy chuckles.
What was your big win?
You picked exactly the right skills, then you proved them.
Just like this:
Hospitality Resume Examples [Skills]
Let's say Stacy put these skills in the job description:
Hospitality Skills: (1) Accuracy, (2) Positive Attitude, (3) Problem-Solving
You list those, plus computer skills and check-in/check-out to add a little value.
Then you prove you've got those skills in your hotel resume bullet points:
Used Central Reservations System (CRS) with (1)

99% accuracy

.
Commended 3x by manager for warm, (2)

positive attitude

.
Received 3 letters of praise from customers for helping them (3)

solve complicated problems

.
You're hired.
The HR manager would trust you to staff a front desk on Mars.
List of Skills to Put on a Hospitality Resume
Let's kick off your interview parade with a list of hospitality resume skills.
They make great resume keywords too.
Add more from hospitality jobs online.
Hospitality Resume Skills

| | |
| --- | --- |
| Soft Skills | Hard Skills |
| Communication | Local Resources Knowledge |
| Interpersonal Skills | Bilingual |
| Guest Service | Computer Skills |
| Collaboration | Can Work Flexible Schedule |
| Organized | Accounting |
| Presentable | Conflict Resolution |
| Attention to Detail | Check-In/Check-Out |
| Calm Attitude | Central Reservations Systems (CRS) |
| Problem Solving | Group Reservations |
| Physically Fit | Run Reports |
Hospitality jobs pay $15.97/hr on average. To make more, you need to prove high-level skills.
Pro Tip: You need interpersonal skills to get hired, but you can't say, "I have interpersonal skills." Maddening? That's why achievements matter in resumes for hospitality.
Give your resume for hotel jobs skills section a longer length-of-stay. See our guide: +30 Best Examples of What Skills to Put on a Resume (Proven Tips)
7
Add these Things and Make Your Resume 5-Star
Freeze.
Think your resume is unique? Think again.
Hiring managers hate cookie-cutter resumes.
You need to prove you've got all the amenities.
Make them say, "Wow. This is not just some schlub."
To do that, list awards, trainings, physical activity, certifications—anything that shows real magic.
Put them in "other" sections in your hospitality resume.
Each one should dazzle like the Grand Budapest Hotel.
Hospitality Resume Examples [Other Sections]
WRONG
Long walks on the beach
Parrots
RIGHT
Trainings
2018 Outstanding Customer Service—Dale Carnegie
2017 Why People Complain Hospitality Staff Training—OpenSesame
Certifications
Certified Guest Service Professional (CGSP)—AHLEI
Certified Front Desk Representative—AHLEI
Awards
Employee of the Month 3X—Best Eastern Baltimore
Most Valuable Team Member—Motel 148
Additional Activities
AHLA Member—American Hotel & Lodging Association
Volunteer at Commercial Street Soup Kitchen 2x per month
Take yoga classes 2x per week to stay in shape.
Volunteer mentor 1x per month, YMCA.
That right example will fast-track you to the top floor.
Need a few hospitality resume builders? The AHLA offers certifications and even a hospitality jobs search engine. Dale Carnegie courses only take an hour.
Pro Tip: Experience and education often look like walls of text to hiring managers. The more headings you include, the more eye-time your resume for hotel jobs will get.
Not sure how to furnish your resume for hospitality industry jobs? See our guide: +20 Best Examples of Hobbies & Interests To Put on a Resume
8
What About a Hospitality Cover Letter?
Do you need to send a cover letter with your hospitality resume?
Yes.
About 45% of hiring managers toss no-cover-letter resumes.
So, write a hospitality cover letter for front desk hotel jobs. But here's the thing:
Make it short. Make it personal. Make an offer.
Start with the hiring manager's name. That'll catch her eye like a stack of 20s on the lobby carpet.
Prove you know her needs. (She put them in the job offer.)
Show you're the solution. That means sharing your best accomplishment.
This short example hospitality cover letter nails it:
I've wanted to work for the Baltimore Marriott for years. Your vision to enhance the lives of customers through unsurpassed experiences fits with mine. Maintaining 95% positive guest comment cards at Best Eastern came naturally for me. The three commendations I received from management for my friendly attitude were only...
Always end a cover letter with an offer.Try, "I'd enjoy the opportunity to share how I earned ten letters of praise from guests."
Pro Tip: Should you follow up on a hospitality resume and cover letter in 3 days or a week? Umm... both? As long as you don't overdo it, each follow-up is one more chance to land the interview.
Plus, a great cover letter that matches your resume will give you an advantage over other candidates. You can write it in our cover letter builder here. Here's what it may look like: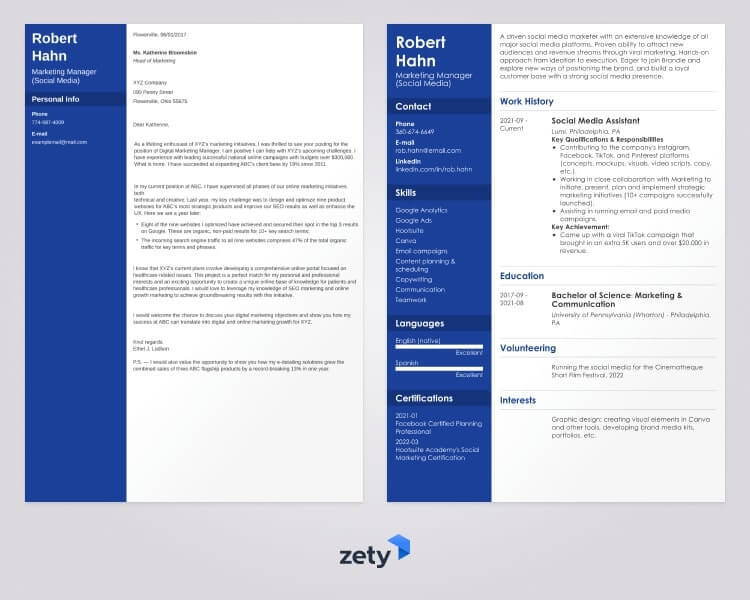 See more cover letter templates and start writing.
Want your hotel front desk cover letter to sizzle like a fresh-grilled ribeye? See our guide: Cover Letter for a Job Application That Works
9
The Trick to Contact Info on a Resume
You're goofing it.
You know contact info means:
Full Name
Updated Phone Number
Professional Email Address
Like so:
Bob Jadoo, Front Desk Clerk, bob.h.jadoo@gmail.com, 443-847-6514
You even know "professional email address" means no ILoveGoatYoga2382349023@yahoo.com.
So what's missing?
A LinkedIn address.
These days, 87% of recruiters use LinkedIn when they hire.
It lets them see your back-of-house before they interview you.
Pro Tip: Your LinkedIn profile is as crucial as a comfy lobby. Make sure it's in working order with our guide to optimize your LinkedIn profile.
Need more help to make a hospitality resume worthy of the Beverly Hills Hotel? See our guide: How to Make a Resume for a Job of Your Dreams: Writing Guide (30+ Examples)
Key Takeaway
Here's a quick recap of how to write a hospitality resume:
Sell your best stuff first. A hospitality resume objective or resume summary will grab the hiring manager's attention.
Read the job description. Stitch your bullet points to the job ad like a hotel logo to a stolen bathrobe.
Add other sections that prove you're great to work with. On a hotel resume, that means commendations, certifications, and professional associations.
Write a hospitality cover letter. Convince the hiring manager you fit her needs.
Do you have questions on how to write a great resume for hospitality jobs? Not sure how to describe your skills or achievements? Give us a shout in the comments! We'd be happy to reply.