Our customers have been hired by:
You're a wizard behind keeping the drinks flowing and the customers happy. And you know that that's the perfect job for you. But you don't know how to get that all down on your barback resume to hiring managers that you're the runner they're looking for.
Easy. We'll show you exactly how to do that and convince the recruiter that you are straight up the best barback they could hope for.
Want to save time and have your resume ready in 5 minutes? Try our resume builder. It's fast and easy to use. Plus, you'll get ready-made content to add with one click. See 20+ resume templates and create your resume here.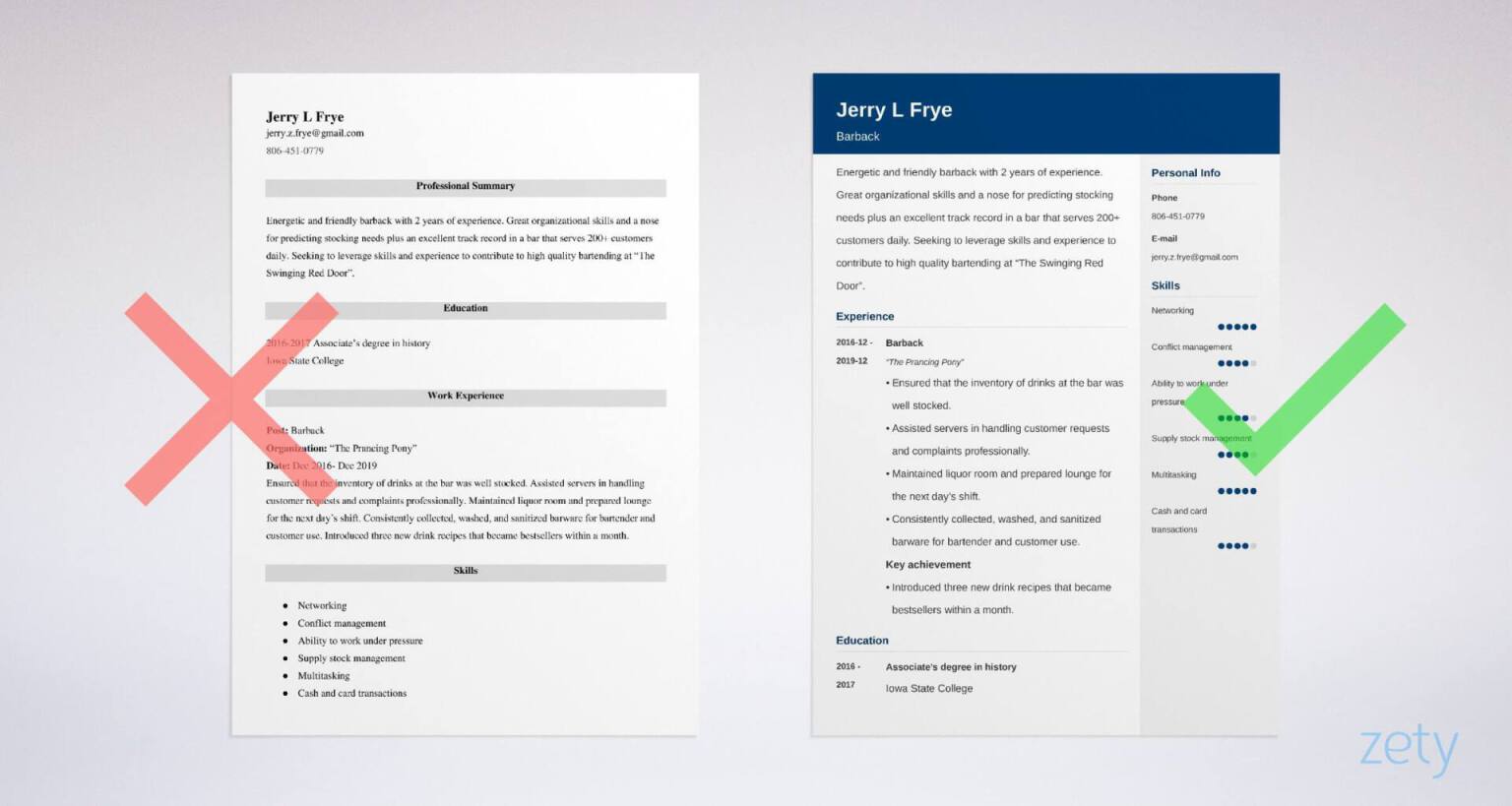 Sample resume made with our builder—See more resume samples here.
Interested in other positions in the food and beverage industry? We've got you covered:
Barback Resume Example
Jerry L Frye
jerry.z.frye@gmail.com
806-451-0779
Professional Summary
Energetic and friendly barback with 2 years of experience. Great organizational skills and a nose for predicting stocking needs plus an excellent track record in a bar that serves 200+ customers daily. Seeking to leverage skills and experience to contribute to high quality bartending at "The Swinging Red Door".
Work Experience
Barback
"The Prancing Pony"
Dec 2016- Dec 2019
Ensured that the inventory of drinks at the bar was well stocked.
Assisted servers in handling customer requests and complaints professionally.
Maintained liquor room and prepared lounge for the next day's shift.
Consistently collected, washed, and sanitized barware for bartender and customer use.
Key achievement
Introduced three new drink recipes that became bestsellers within a month.
Education
2016-2017 Associate's degree in history
Iowa State College
Skills
Networking
Conflict management
Ability to work under pressure
Supply stock management
Multitasking
Cash and card transactions
This is how to write a job-winning barback resume:
1. Use the Best Format for Your Barback Resume
What is a barback? A barback is the bartender's assistant or sidekick, and helps the bar run smoothly and efficiently. They're the unsung heroes of bars since they're the ones who make sure the right liquor is in stock, barware is clean and ready, and help out bartenders when needed. The purpose of your barback resume is to show that you have the skills and experience it takes to help a bar run smoother than a whiskey neat.
But there are dozens of different places that you could be a barback—only half of bartending positions are in restaurants. That means each barback position will require a certain set of skills and competition will be rough.
Bar managers also don't have the time to get to know you. They need someone to work fast.
To get the recruiter to look at everyone else's resumes like cups of eggnog, you need to follow these resume formatting rules:
There's a lot of talk out there about how long your resume should be. If you've been hustling behind the bar for several years, go for two pages. Otherwise, a one-page resume template should do the trick.
OK, so let's break down your barback resume to make sure everything is mise en place.
2. Write a Barback Resume Objective or Resume Summary
Start off your resume through your resume profile, or more specifically, a career objective or summary.
It's a short and sweet paragraph at the top of your barback resume that lays down the groundwork of why you're the person for the job.
A career summary is your go-to if you've been stocking liquor for more than a couple of years:
First jot down the key points in your experience and barback skills as well as accomplishments.
Then choose 3-4 top points from that list that make you shine and add them into your barback resume summary section.
If you're gunning for your first job as a barback, write a career objective:
Highlight the knowledge and skills you've gathered to date and how well you'd fit in the offered position.
Think of transferable skills and quantifiable achievements from other gigs you've had that are relevant to the open position and vouch for you.
Keep it up to 3-4 sentences long and tailor it to the job description of the position you're applying for.
Use resume keywords to pass the ATS scan. Check: What are Resume Keywords?
3. Create the Perfect Barback Resume Job Description
It goes without saying that your resume experience section needs to be a top-shelf spirit. So:
Start off with your most current position and then just go backwards in time with previous positions.
Make sure each entry includes: job titles, company name, dates of employment, and no more than 6 bullet points.
Decrease the number of bullet points in your job experience the further you go back. There's no need to have more than 3 for positions far in the past.
Start each bullet point with an action verb.
Focus on quantifiable achievements that will really wow the recruiter and make you stand out.
Tailor your barback experience section to match the position you're applying for.
Take another look—if there's any irrelevant information, 86 it.
Pro Tip: If you're just starting out and want to rack up some cool points to put on your resume, try to catch a few gigs at a friend's party or wedding and help serve drinks. Then ask for a review or reference and put all that down on your barback job description.
4. Make Your Barback Resume Education Section Shine
You don't need to add an education section, right?
Wrong. Even in sectors where you might think that your education is useless, it can sometimes turn out to be the very thing that gets you hired. That's why adding your education section is crucial.
Here's how to nail your education section:
If you have several years of job experience, include the short version of your educational history, so: high school/college/university name and location, years you studied, degree, major and minors.
If you have little to no experience, beef up your education resume section with achievements from your school days. Make sure to keep them relevant to the job description and list no more than 4-6 items.
If you're just starting out, consider putting your work experience below your education section. It'll help you start off your resume with no experience with a bang.
Still a student? Check out how to bend that to your advantage: Write a Great Student Resume
5. Highlight Your Barback Skills
Being a barback is a job that heavily depends on certain skills to keep a bar afloat.
Here's how to make your skills in your barback resume like a polished counter :
Think about all the job skills you have—this means soft skills and hard skills, technical skills, and any other relevant skills you've got. Compile them into a master list.
Pick the barback skills that are most relevant to the position by using the job ad as a cheat sheet. Add them in your barback resume. Mentioning skills that your education and experience sections can prove in your resume is a great added touch much like a fancy drink umbrella added to a glass.
Barback Resume Skills
Persuasion
Bar knowledge
Multitasking
Prioritization
More skills is all you need? See: Soft Skills List for a Resume & Hard Skills List for a Resume
When making a resume in our builder, drag & drop bullet points, skills, and auto-fill the boring stuff. Spell check? Check. Start building a professional resume template here for free.
When you're done, Zety's resume builder will score your resume and our resume checker will tell you exactly how to make it better.
6. Add Extra Sections to Your Barback Resume
Up to this point, you're still holding the hiring manager's attention, but this might be a spill. Show them that you can do more than make a mean Martini. After all, extra sections in your barback resume can sometimes be the one thing that tips the scales in your favor compared to other candidates.
Never forget to add language skills. A bar is a place where everyone can kick back and enjoy themselves so being able to talk to a customer in their native language can really give you a one up on the competition.
Include volunteering, achievements and awards, projects, and even hobbies and interests if they're relevant or can help prove your know-how or skills. You never know what small fact might end up suggesting to the hiring manager that you're the person for the job.
Read more: What Should a Resume Look Like?
7. Attach a Cover Letter to Your Barback Resume
Now, you've put a lot of effort into your resume, but you probably haven't thought about whether you should include a cover letter. If you want to give yourself the best possible chance to snag that interview, you should.
Write a barback cover letter to die for with the following tips:
When writing, keep in mind that the ideal length of an effective cover letter is around one page.
Read more: How to Write a Cover Letter
Plus, a great cover letter that matches your resume will give you an advantage over other candidates. You can write it in our cover letter builder here. Here's what it may look like: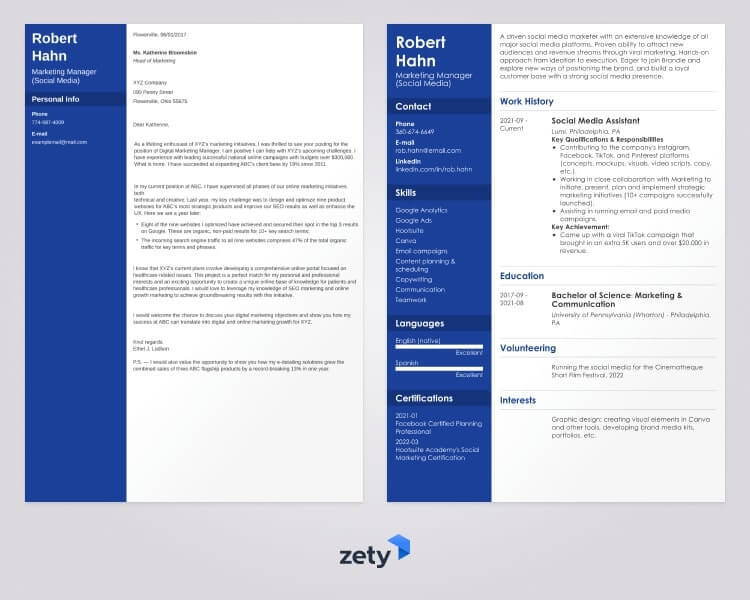 See more cover letter templates and start writing.
And once you have all that sent, remember to follow up on your job application! If you're going to sit there and wait for things to happen then how will they believe you have what it takes to keep bartenders from ending up in the weeds?!
That's the rundown of a tasty barback resume.
See some more resume guides you might find interesting:
Thanks for reading. Have any insider tips or tricks to share about creating the perfect barback resume? Share them in the comments below!
About Zety's Editorial Process
This article has been reviewed by our editorial team to make sure it follows Zety's editorial guidelines. We're committed to sharing our expertise and giving you trustworthy career advice tailored to your needs. High-quality content is what brings over 40 million readers to our site every year. But we don't stop there. Our team conducts original research to understand the job market better, and we pride ourselves on being quoted by top universities and prime media outlets from around the world.