Our customers have been hired by:
So you need to write a good resume for students. Writing a student resume is not easy, but so is looking for a job as a student, after all. The challenge is always the same: so much competition, and seems like all of them have way more professional experience than you.
It will take a perfect student resume to impress recruiters and get your foot in the door. Seem impossible? I'm going to teach you how to make a job-winning student resume in a flash.
This guide will show you:
A student resume example better than 9 out of 10 other resumes.
How to write a student resume that will land you more interviews.
Students' resume format to use in your application.
Tips and examples of how to put skills and achievements on a resume for students to make hiring you a no-brainer.
How to describe your education and experience on a student resume to get any job you want.
Want to save time and have your resume ready in 5 minutes? Try our resume builder. It's fast and easy to use. Plus, you'll get ready-made content to add with one click. See 20+ resume templates and create your resume here.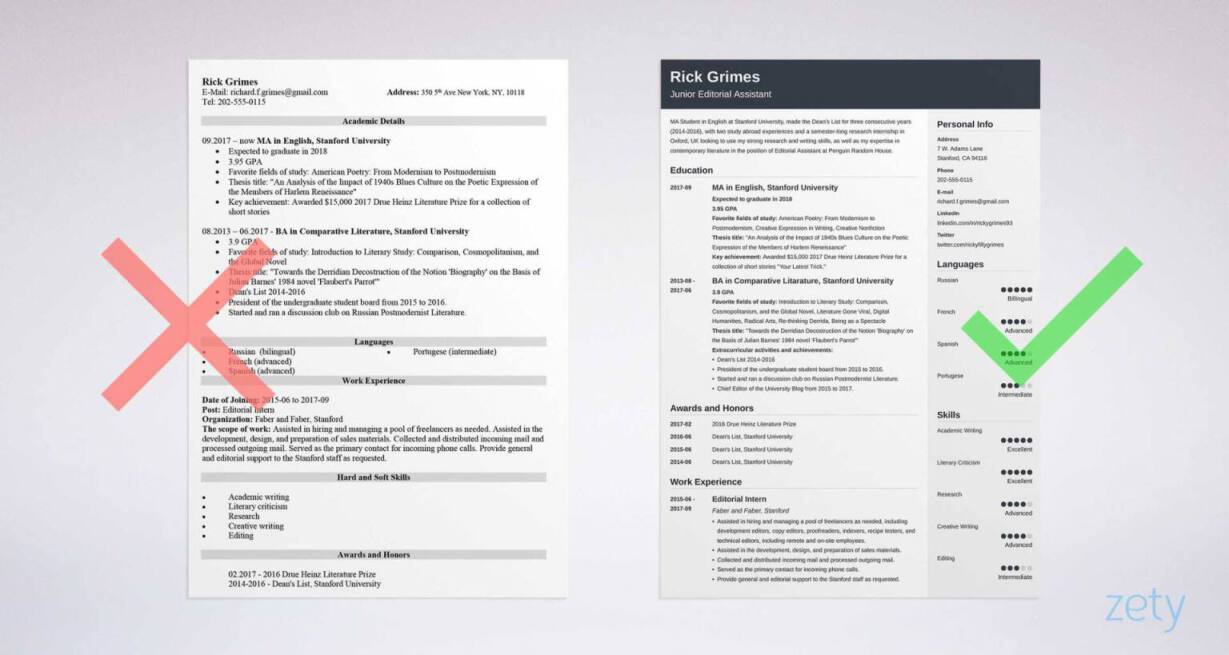 Sample Student Resume —See more resume examples here.
Below, you'll see a full student resume example to get you inspired. If you're looking for more specific information, we have resume guides no matter which level of education you've accomplished:
Are you in academia? Explore:
And if you're trying to get into school, read:
Student Resume Example
Rick Grimes
Junior Editorial Assistant
richard.f.grimes@gmail.com
502-555-0115
linkedin.com/in/rickygrimes93
Career Objective
MA Student in English at Stanford University, made the Dean's List for three consecutive years (2015-2017), with two study abroad experiences and a semester-long research internship in Oxford, UK looking to use my strong research and writing skills, as well as my expertise in contemporary literature in the position of Editorial Assistant at Penguin Random House.
Education
MA in English, Stanford University
Expected to graduate in 2019
3.95 GPA
Favorite fields of study: American Poetry: From Modernism to Postmodernism, Creative Expression in Writing, Creative Nonfiction
Thesis title: "An Analysis of the Impact of 1940s Blues Culture on the Poetic Expression of the Members of Harlem Reneissance"
Key achievement: Awarded $15,000 2017 Drue Heinz Literature Prize for a collection of short stories "Your Latest Trick."
BA in Comparative Litarature, Stanford University
2014–2018
3.9 GPA
Favorite fields of study: Introduction to Literary Study: Comparison, Cosmopolitanism, and the Global Novel, Literature Gone Viral, Digital Humanities, Radical Arts, Re-thinking Derrida, Being as a Spectacle
Thesis title: "Towards the Derridian Decostruction of the Notion 'Biography' on the Basis of Julian Barnes' 1984 novel 'Flaubert's Parrot'"
Extracurricular activities and achievements:
Dean's List 2015–2017
President of the undergraduate student board from 2016 to 2017.
Started and ran a discussion club on Russian Postmodernist Literature.
Chief Editor of the University Blog from 2016 to 2018.
Awards and Honors
2017, Drue Heinz Literature Prize
2017, Dean's List, Stanford University
2016, Dean's List, Stanford University
2015, Dean's List, Stanford University
Work Experience
Part-Time Editorial Intern
Faber and Faber, Stanford
2016-06–2017-09
Assisted in hiring and managing a pool of freelancers as needed, including development editors, copy editors, proofreaders, indexers, recipe testers, and technical editors, including remote and on-site employees.
Assisted in the development, design, and preparation of sales materials.
Collected and distributed incoming mail and processed outgoing mail.
Served as the primary contact for incoming phone calls.
Provided general and editorial support to the staff as requested.
Key Skills
Academic Writing
Literary Criticism
Research
Creative Writing
Editing
Languages
Russian—Billingual
Spanish—Advanced
Portugese—Intermediate
Now that's an effective and simple resume template! Let's see how it got made—
1
How to Get Started on Writing Your Student Resume?
Before you start writing your undergrad cv, ask yourself the following question: What's the most important difference between your student resume and any other piece of writing you've done so far?
Well—nobody really cares about your resume. As a high school or college student, you've had all your writing assignments carefully reviewed and assessed by your supervisors.
This won't be the case with your student resume. In fact, it will most likely get no more than 7 seconds of the recruiter's attention, according to our HR statistics report.
How can you turn that 6-second glance into a 60-minute interview? To begin with, choose the proper student resume format.
See—recruiters look for very specific information on a resume. A good resume format serves them this information on a silver platter. The most important thing about formatting your student resume is dividing it into sections.
What to put on a student resume?
Your student resume could include the following sections:
Work experience (if you've got none, let's skip this section for now)
Additional Sections, for instance:
If you want to make sure you'll get your student resume format and layout the right way and grab every recruiter's attention, here's a must-read guide for you: Standard Resume Formats.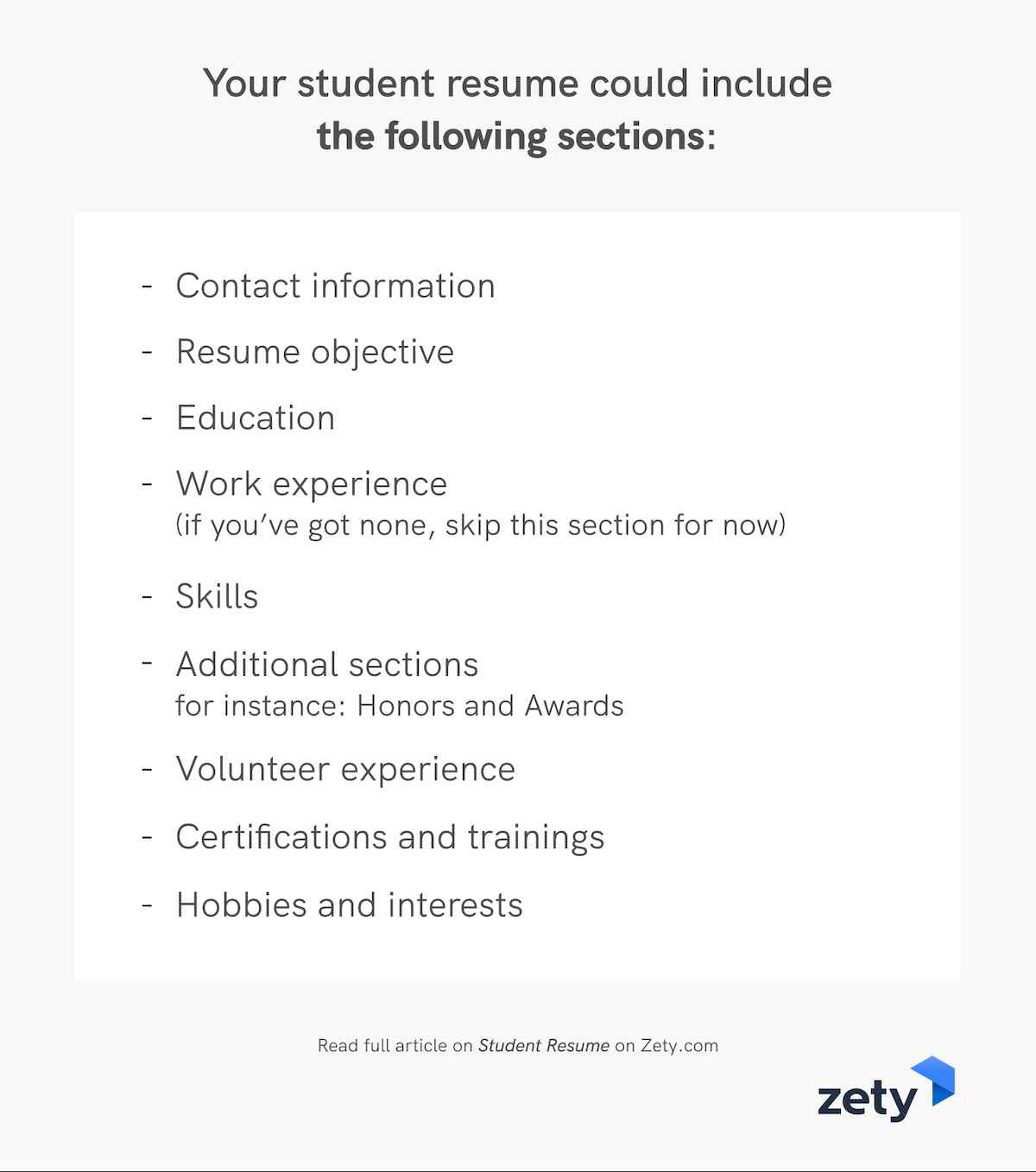 Once you've got this simple student resume outline, keep in mind some basic student resume formatting rules.
Here are the seven best resume tips you should follow:
Choose an attractive resume font that's easy to read.
Keep your font size between 10 and 12 points.
Set the margins for one inch on all four sides.
Align your content to the left for easy skimming.
Make section headings larger than the rest of the text; type them in bold or ALL CAPS.
Get photos off your resume. You're looking for a job, not a date.
Aim for a one-page resume. A two-page resume is for more experienced candidates.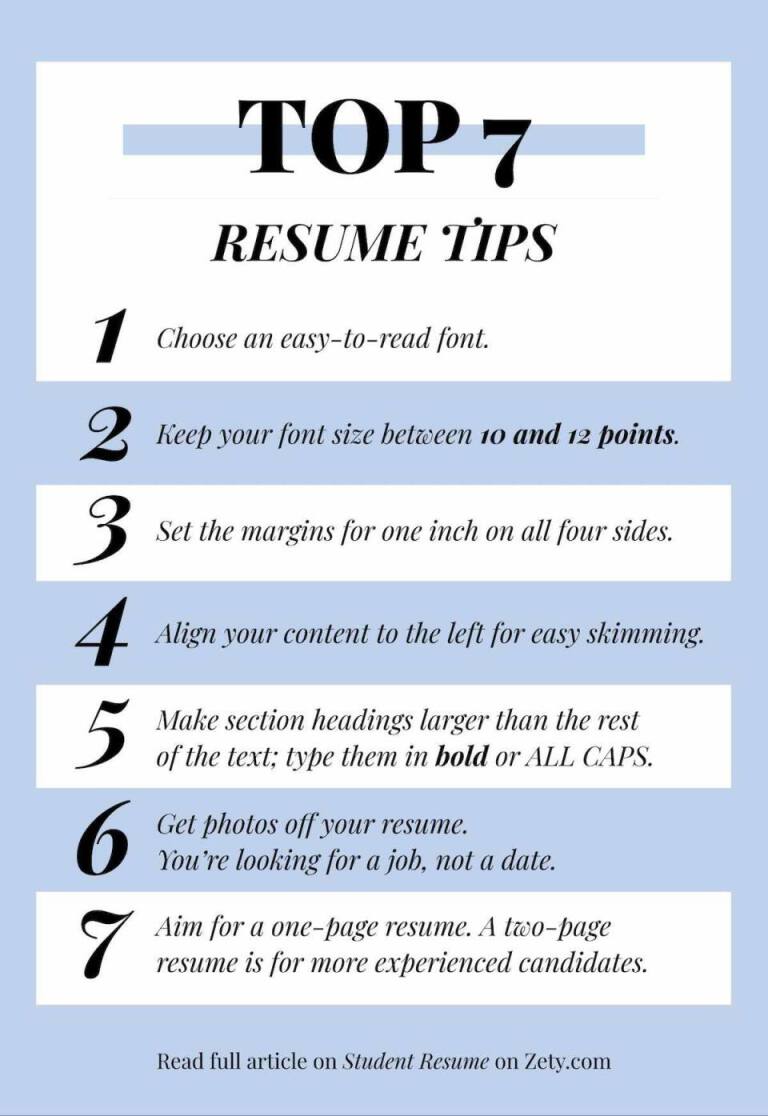 Pro Tip: After you finish writing, save your student resume in PDF. This way, your layout will remain intact. But double-check the job description. Some employers don't accept PDFs. If such is the case, submit your student resume in Word.
Right, so now you've seen a sample student resume layout and you've learned the most important resume design tricks.
Let's break down each section of your chronological resume so that your resume makes you the future Steve Wozniak, Umberto Eco, Nikola Tesla, Iron Man, or whoever else you're aspiring to become!
2
How to Put Contact Information on a Student Resume
Listing contact information on your student resume might seem like a walk in the park. Truth is, it's not always as straightforward as you think! Here's what you need to include in your resume header:
Sample Student Resume Contact Information Section
Your First and Last Names

That means, unless you use it on a daily basis, omit your middle name. You don't want to seem pretentious.
Phone Number

Even if you've got a landline, limit yourself to your cell phone number.
Professional Email

Remember that email address you came up with when you were fourteen? Femalebodyinspector@hotmail.com? Time to retire this one and go for something more professional.

In your email address, include only your given names. Also, choose a sophisticated provider like gmail or your private domain. For example: john.smith@gmail.com.
Social Media Handles

But not all of them. Your LinkedIn profile is a must. If you're using Twitter to discuss stuff related to your profession, this one also goes in here.

If you're targeting a creative or techie position, your student resume will be better off with links to your profiles on Pinterest, Tumblr, Instagram, or your Github account.

The rule is simple—before you add any social media handle, just ask yourself if what's in there presents you as a better candidate for this job.

(Just review your accounts to make sure you've taken down any unprofessional content like those pictures of you playing beer pong in a sexy kitten costume from last Halloween.)
URLs to Personal Websites or Blogs

Got a personal website with your portfolio? Run an industry blog? Show it off! Put the URL in your student resume contact info. Remember that we're living in the digital era. That means recruiters can and will research you on the Internet.
Have a look at our two handy guides that'll teach you how to take care of your online presence to impress employers and start getting more job offers: How to Check Your Online Presence Before Recruiters Look You Up and How To Optimize Your LinkedIn Summary & Profile To Get Jobs
3
How to Write a Resume Objective for a Student Resume
"Wow, this one's really interesting." You want the hiring manager to say these words as soon as she sees your student resume. Here's how to make that happen: Write a student resume objective and put it right below the contact information.
A resume objective is a short, snappy paragraph in which you say why you're the perfect candidate. The tricky part? You have to make your student resume objective about your employer's gain, not your personal benefit.
And the good news? There's a proven formula for that.
How to write an objective for a student resume?
Lead with your strong trait.
Say how your education will help you perform well for the job.
Name the position and the company you're applying for.
Show how you can add value to the company.
See how it works on an example of a student resume objective. Let's say our candidate majors in Business Administration.
Sample Student Resume Objective
Right
Highly-motivated (strong trait) Business Administration graduate with a 3.9 GPA (education) looking to fill a position as a Management Assistant at ABC Corp (position and company). Wishing to use strong data-analysis and management skills to help the ABC Corp with your upcoming challenges (added value).
Writing a student resume with no experience? The formula is the same. Have a look.
In this student resume objective example, the candidate's looking for a part-time job as a server.
Student Resume Objective Example
Right
Dedicated team player (captain of the swim team for 2 years) (education) with proven leadership and communication skills (strong traits). Seeking an opportunity to leverage my talents as a server at the Mele e Pere Restaurant (position and company). I have the follow-through and positive attitude that will allow me to achieve company targets (added value).
Nailed it. It's a perfect objective to put on a student resume.
Notice how both the grad resume objective and the high school student resume objective emphasize how the two candidates are going to use their talents to their future employers' benefit.
Also—both sample student resume objectives above include the name of the prospective company.
That's a strategy you have to use, too. Sure, it means you cannot randomly spam your resume around. And that's the point. Employers are more likely to give you a shot if you address them personally.
Pro Tip: Don't make your student resume objective longer than 60 words. Some times a simple resume headline will do. Feel like it's not enough? Follow up with a cover letter. Especially if you haven't got much relevant experience, a good student cover letter is your best chance for getting a foot in the door!
When making a resume in our builder, drag & drop bullet points, skills, and auto-fill the boring stuff. Spell check? Check. Start building a professional resume template here for free.
When you're done, our easy resume builder will score your resume and our resume checker will tell you exactly how to make it better.
If you want to learn more about writing a professional objectives for student resumes and see student resume objective samples for various industries, have a look at this guide: 20+ Resume Objective Examples - Use Them On Your Resume (Tips)

4
How to Write an Education Section That Gets You the Job?
What goes under the summary of qualifications or resume heading statement on a student resume? That's right, the Education section.
It's time for all those courses you've slaved over for years to start paying off!
What to put in a student resume education section?
That depends on the highest degree of your education. The rule of thumb is: include only your highest degree. The only exception? If you're doing or have done a Master's degree, include also your Bachelor's. On a student resume, omit your high school.
Anyways—always put your current or most recent educational institution at the top. Then, follow it with the previous ones. Skip high school if already in college.
In each education entry, include:
The name of your institution
Graduation date (or a prospective graduation date if you're still in this school)
Your major and minors (if applicable)
These are included in a basic resume for students. But a basic student resume won't impress anyone.
How much do you want this job? This much? Good. So let's boost your student resume education section.
To make your student resume more impressive, add the following to your education entries:
Favorite fields of study
Thesis/dissertation titles
Key academic achievements, e.g., Dean's List
Extracurricular activities and student involvement
Pro Tip: Listing your GPA is optional. In general, add it only if it's higher than 3.5. The most important part? Be consistent. If you list more than one educational institution you've attended—either include all GPAs or none.
Let's have a look at some examples of student resume education sections.
Education Section on a Student Resume: Example
2017 BSc in Marketing and New Media
University of Pennsylvania, Philadelphia, PA
3.9 GPA
Favorite fields of study: Global Media Systems, New Perspectives on B2C Marketing, Macroeconomy Basics, Film Theory, Marketing of the Media
Thesis title: "The Paradox of Luxury Goods Marketing—Examined"
Key achievements and extracurricular activities:
President of the undergraduate student board from 2015 until 2016
Dean's List 2014 and 2016
Started and run a discussion club on new trends in AI and Virtual Reality
Wow, right? Even if this candidate doesn't have a lot of experience, her education section makes hiring her a no-brainer.
What if you're still studying and only have some college education? In your undegrad cv, include an expected completion date like this:
Education Section on a Student Resume: Example

Flowerville High
Expected completion date - 2019
Current GPA - 3.7
Key achievements:
Student Body President and AP Student
Awarded the Best School Theatre Performer Prize in 2017
Voila!
If you want to learn more amazing tips and tricks on how to put education on a student resume to make recruiters want to interview you, read our handy guide: How to Put Your Education on a Resume [Tips & Examples]
5
Your Work Experience Section Is Still Vital
Thinking: Oh, but I don't have any professional experience...? Let me stop you right there. You're writing a student resume. Recruiters are aware that, as a student, you haven't had the time to pursue a full-blown job in your field.
Yet 91% of recruiters want to see experience on your resume. That's rough, but remember: they want to know you've got what it takes to hit the ground running in your new job. Prove them you can!
On your student resume experience section, list all your past professional experiences. Think you don't have any? Think again. Even the smallest activities count. Such as? Have a look.
Sample Student Resume Work Experience Section Entries
Part-time jobs
Participation in work experience programs
Even if some of the gigs you've done in the past aren't related to your industry, you should still put them in the work experience section. This way, you'll show that you're dependable, well-organized, responsible, and willing to self-improve. (Remember: always show your strengths on the resume.)
Here's what employers value most in a student resume (or any student resume for that matter):
Has completed an internship with your organization
Has internship experience in your industry
Major
Has held a leadership position
Has general work experience
High GPA (3.0 or above)
Has been involved in extracurricular activities (clubs, sports, student government, etc.)
School attended
Has done volunteer work
Is fluent in a foreign language
Has studied abroad
Just as you did with education, list your work experiences in reverse-chronological order. Start with the last one, then add the one before it, then the one before, and so on.
Your job title
The name and location of the company you worked or did an internship with
The dates worked
Up to 4 bullet points describing your duties and achievements
Want to have a look at a few student resume examples? Here you go.
Sample Undergraduate Student Resume for Internship: Work Experience Section
Events and Marketing Intern
Adidas Originals, 06-2017 - 10-2017
Boston, MA
Created and maintained lists of media contacts
Researched opportunities across online media channels
Produced product pitches and press kits
Supported event organization
Notice how the candidate used action words in the description of his duties. What do I mean by that?
"Created," "researched," and "produced" sound so much better than "responsible for creating, researching, and producing." You want to come across as an achiever, not merely a doer.
And what if you've got no internship experience to showcase yet? Say, you're writing a high schooler resume and the only job you've done so far was at a fast food chain.
Here's an example of a high school resume experience section.
High School Student Resume Sample: Work Experience Section
McDonald's (06-2016 - 09-2016)
Swing Manager
Took accurate food orders
Prepared the world famous McDonald's food
Ensured items were well-stocked
Motivated crew members to do well in their current positions so they can move on to new roles
This candidate might not have an all-star professional experience. But the entry above clearly shows that she's dedicated, attentive to detail, and a good team player!
Alright. So now you've got your education and work experience sections taken care of. Job done? Not yet. Here's where the student resume skills section comes in!
If you ever need a recap of resume best practices, see: How to Create a Resume for Any Job
6
How to Put Skills on a Student Resume?
You'll want to do two things with your skills. First, make a separate skills section. Put your strongest, most relevant skills here.
By relevant, I mean these skills that will help you perform well in the job you're trying to land. (Yes, that means you'll have to skip your amazing dancehall skills in a resume for an accounting internship.)

Next, have a look at a job description. See some skills-related words? Ask yourself how many of these skills you have. Quite a few?
Good! Pepper these skills throughout your student resume. Include some in your resume objective, coursework description, and experience section.


Pro Tip: Pay special attention to soft skills. Are you a good writer? Do you have sales experience? What about leadership skills? Soft skills are valuable in almost any position. Put your strongest soft skills as close to the top third of your high school or college resume as possible.
One last thing: be as specific as possible when talking about your skills, especially hard skills. For example, don't say that you're "Computer Literate." What does that even mean? That you can spell out the name of your PC brand?
Instead, say that you can create and test data source connections in Microsoft Performancepoint Server. That'll clearly indicate your proficiency level, right?
A recent study found out what skills employers value most in their student candidates: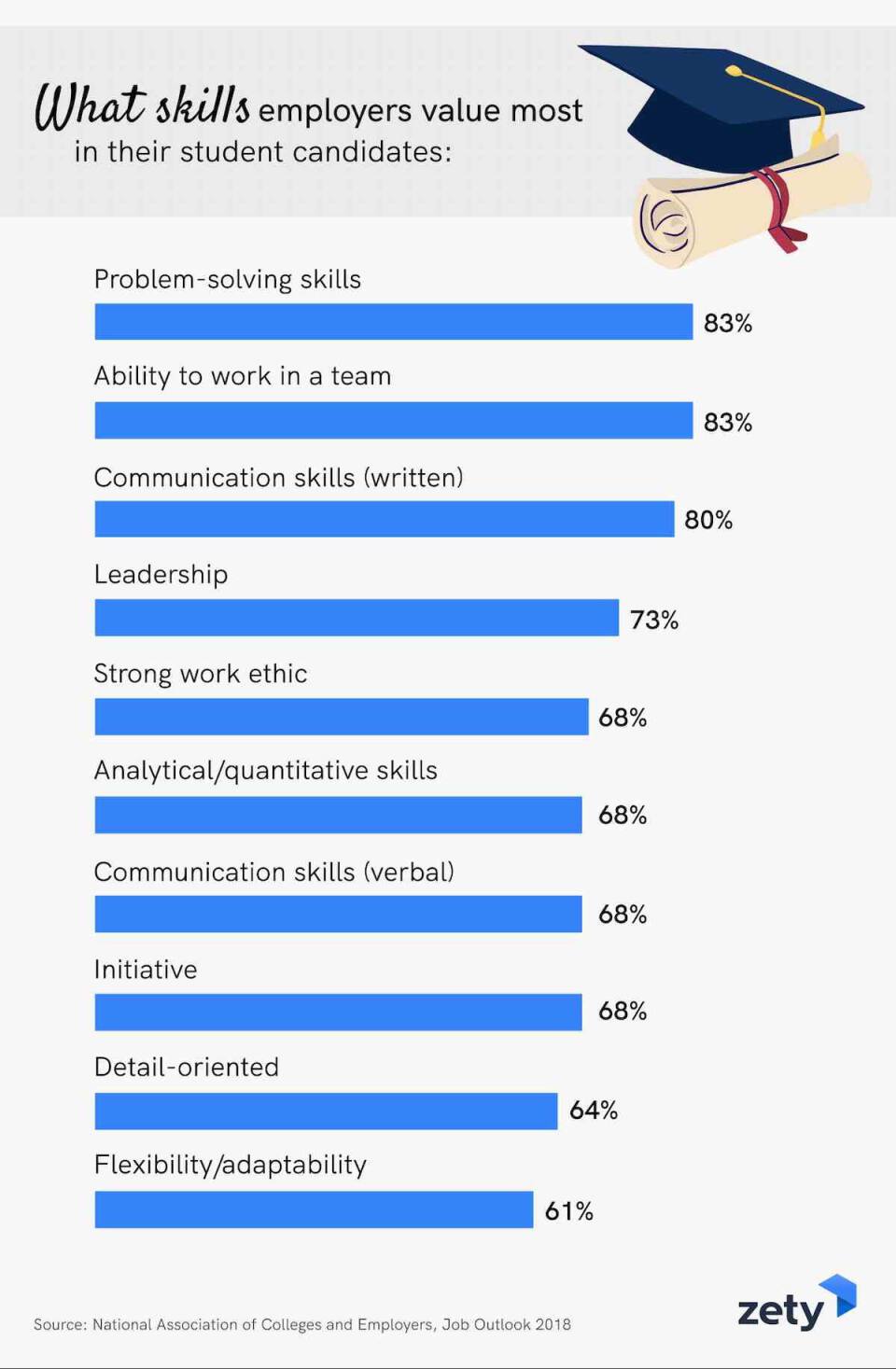 A good list of skills is crucial for every student resume. Want to learn more about employability skills? Here's the guide you need: 30+ Resume Skills Examples to Put on a Resume
7
The Secret Behind Additional Sections on a Student Resume
Most students end their resumes with their skills section. And that's one of the reasons they struggle to get a job.
Want to outshine other candidates? Add an additional section to your student resume. Show hiring managers that your skills and experiences have been awarded and appreciated by others.
Here are three types of sections you could add to your student resume to make it perfect:
Honors and Awards
You could add a separate section if you received quite a few awards in school (or, you can also add honors and awards to your resume education section if you received only one or two, e.g. dean's list.)
If you graduated with Latin honors, such as magna cum laude or summa cum laude, or were the valedictorian or the salutatorian of your graduating class, you can put that in your education section next to your degree.
Have a look at this master's student resume example.
Sample Student Resume: Honors and Awards Section
Purdue University 2005 - 2009
BA in English Literature - Valedictorian, Magna Cum Laude
Other honors and awards could include:
Any academic award or scholarship.
Academic Honors - participation in an honors program, making the Dean's List, or acceptance into honors societies (campus, national, or international).
Work-related awards or honors (these can go in an honors and awards section or under the relevant job in your experience section).
Activities and Associations
Adding an activities and associations section is good for high school student resumes and for recent college graduate resumes with little to no experience.
It gives you a chance to show where and how you developed certain skill sets. Pick those activities that reflect the type of work you'll be doing and illustrate skills you found in the job description.
Sample Student Resume: Activities and Associations Section
Boy Scouts of America Assistant Scoutmaster
2015 - present
Provided guidance and assistance for scouts wishing to achieve a higher rank.
Your activities can range from on-campus student body organizations, publications, and clubs to volunteer work, athletics, and other activities off campus.
Hobbies and Interests
Adding a hobbies and interests section boosts just about any resume. And it's a super easy section to put on a student resume because you probably have a lot of hobbies and interests beyond your school activities.
The key is matching your hobbies to your future company's work culture. Want to learn exactly how to do it? Here's a guide you've been looking for, give it a read: Attractive Hobbies for a Resume (20+ Interests & Activities)
8
Student Cover Letter: Yes, You Do Need It
Actually, it's your best chance. Why? Because as a student, you probably don't have enough achievements to fill up your resume up to the brim.
Cover letters do what even best resumes can't. They tell a story. And humans love stories a lot more than data sheets.
In your student cover letter, you can explain your passion for the industry, talk more about your skills and support them with solid evidence.
Do employers read cover letters?
45 out of 100 recruiters won't even be bothered to open your student resume if there's no cover letter attached. So writing a cover letter basically doubles your chances of landing that interview.
Yes. You read that right. There's no arguing with stats, is there?
You can learn how to write a cover letter that gets every recruiter hooked and excited to interview you with help from:
Plus, a great cover letter that matches your resume will give you an advantage over other candidates. You can write it in our cover letter builder here. Here's what it may look like: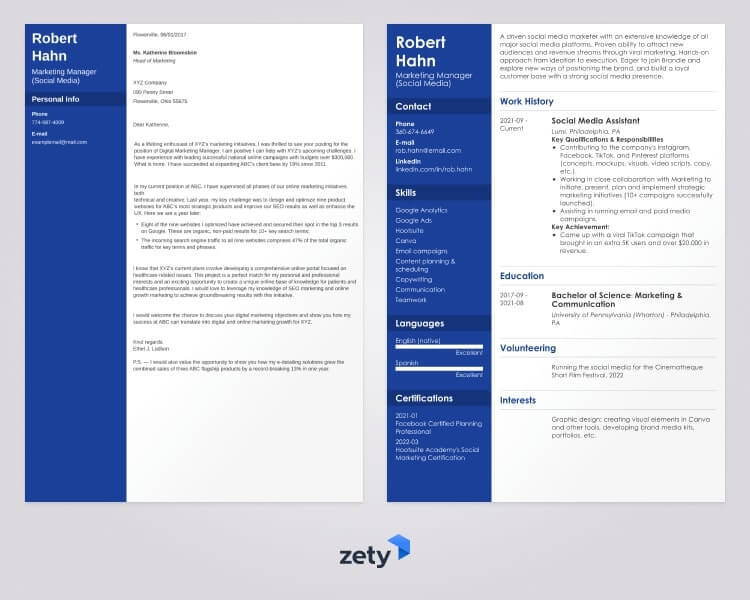 See more cover letter templates and start writing.
Getting your first job is hard work. Preparing your graduate resume shouldn't be.

As a student, you've got the skills and education it takes to do a good job. It's just harder to convince a hiring manager that you've learned to apply them.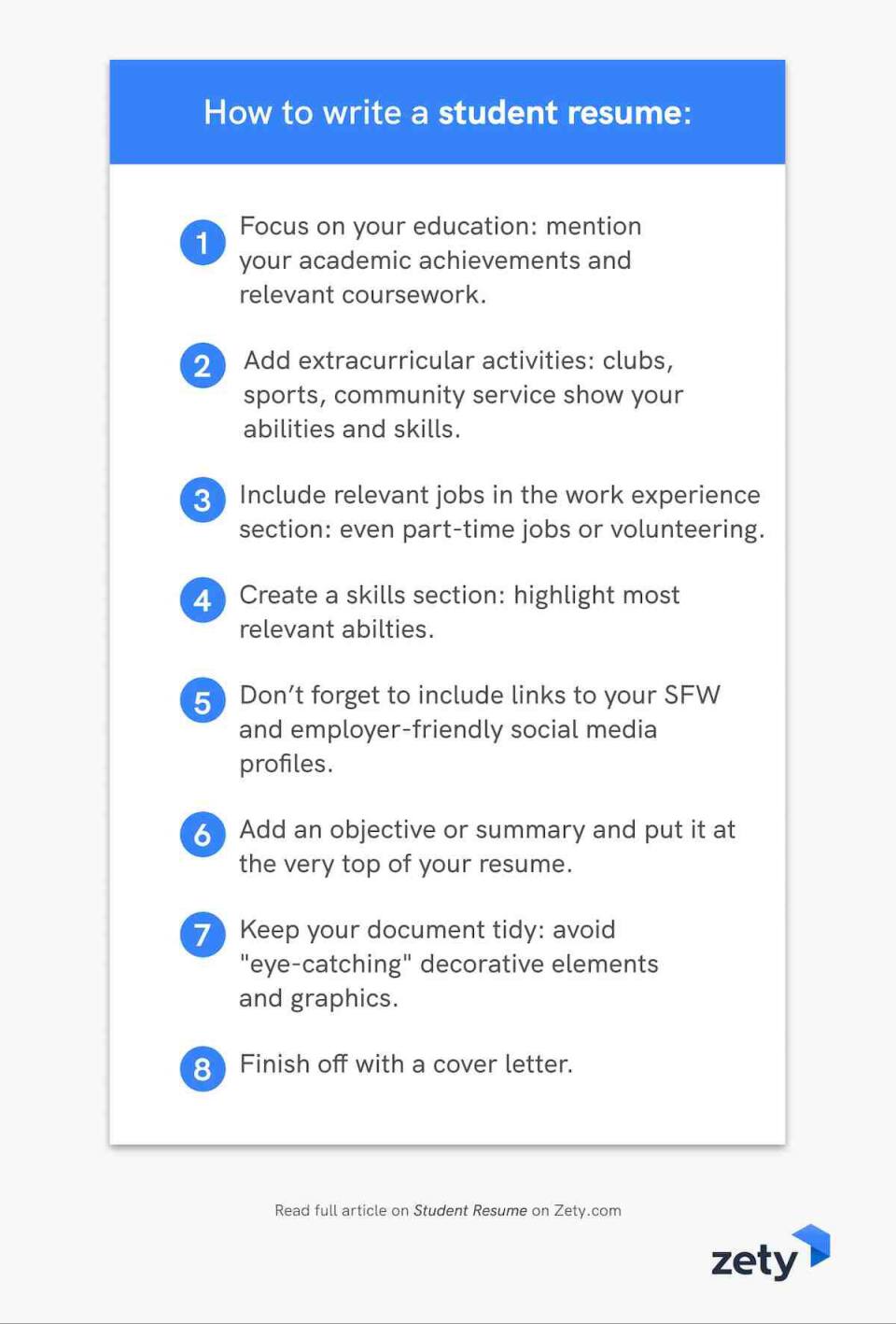 Here's a recap of how to write a student resume:
Follow the expert student resume sample for inspiration.
Focus on your education: mention your academic achievements and relevant coursework.
Add extracurricular activities: clubs, sports, community service show your abilities and skills.
Include relevant jobs in the work experience section: even part-time jobs or volunteering.
Create a skills section: highlight most relevant abilties.
Don't forget to include links to your SFW and employer-friendly social media profiles.
Add an objective or summary and put it at the very top of your resume.
Keep your document tidy: avoid "eye-catching" decorative elements and graphics.
Finish off with a cover letter.
All check? Get ready for interview calls!

Need more details? Still not sure how to make a resume for students? Write us a comment with your problem and we will help you solve it. Thanks for reading!
About Zety's Editorial Process
This article has been reviewed by our editorial team to make sure it follows Zety's editorial guidelines. We're committed to sharing our expertise and giving you trustworthy career advice tailored to your needs. High-quality content is what brings over 40 million readers to our site every year. But we don't stop there. Our team conducts original research to understand the job market better, and we pride ourselves on being quoted by top universities and prime media outlets from around the world.
Sources
Frequently Asked Questions about Student Resumes
How do you write a college resume?
Like writing any job application, it's important to include all of the essential parts of a resume. Follow these steps to write a student resume tailored to the job:
1. Add your full name, contact information and LinkedIn profile at the top of the resume.
2. Write a professional career objective statement (or a resume summary if you already have some relevant experience to put on your resume).
3. List any relevant work experience you have.
4. Make an education section that gives in-depth info about your qualifications.
5. Create a list of skills relevant to the job.
6. Add certifications, awards, or conferences you attended.
7. List languages you know, including your proficiency levels.
8. Mention interests that can make you stand out from other applicants.
9. Fit the information in one page—you may want to pick a one-page resume template for help.
Remember that your education must work to your advantage. Don't simply list the school you attend or graduated—add relevant coursework, academic achievements, extracurricular activities, student projects, organizations you joined, and other things that show you have versatile experience. You may also consider putting references on your resume.
How to make a resume for a high-school student?
Getting good jobs for teens may be difficult. To create an effective high-school student resume, follow these steps:
1. Add your name, surname, and contact details at the top of the resume.
2. Write a career objective or a resume summary that can catch the recruiter's attention.
3. Mention any relevant work experience, such as part-time jobs, tutoring, babysitting, etc.
4. Expand your education section with extracurricular activities, school projects, etc.
5. Make a list of skills you've got that are relevant to the job description.
6. List additional information on the resume, such as certifications or awards you received.
7. Add languages you know, and mention the proficiency levels, too.
8. Put hobbies you've got that may show useful knowledge and relevant abilities.
Use a professional resume layout to show you're serious about getting a job. Then, write a brief message to email your resume to an employer.
What type of resume should students use?
That's a valid question, as using the wrong format is a big resume DON'T. The reverse-chronological format is recommended for most college and high school students. It's favored by recruiters, it's scannable by ATS resume software, and it's easy to read because it has a logical resume structure. Students with little to no work experience can list the education section right after the resume objective or summary in order to make their academic accomplishments stand out and make a good impression.
Other than the reverse-chronological format, students may also go for a combination resume. This resume format highlights the skills together with the candidate's experience.
How to put college on resume if you haven't graduated yet?
Students who haven't graduated don't need to worry about listing college on a resume. Simply, instead of writing the year of graduation, they may say "Expected graduation in…" or "Expected to graduate in …"
When creating a college resume, students should focus on expanding their education section. Don't just simply write your major and years of study! Add relevant coursework, academic accomplishments, extracurricular activities, academic projects, and anything else that shows your abilities, like scholarships or Phi Beta Kappa membership.
If you're already in college, you don't need to describe your high school experience in much detail. Just add the name of the school and years of study. Your high-school grades and other additional info shouldn't be included in your resume.
How do you write a resume if you have no experience?
Everyone feels self-conscious about not having enough work experience. Some are even tempted to lie about their career in a resume, but that's a very bad idea. If you truly haven't worked before, you must think of other types of experiences that might back you up in a student resume. These might include:
If you lack experience to put on a resume, consider participating in volunteer projects in your area, signing up for an online certification course to learn a new high-income skill, or spending your free time in a constructive way. It might not sound as relaxing as Netflix & Chill, but it may pay off in your future!
What to write 'about me' in a resume for students?
It's important to describe yourself professionally in a resume. But rather than simply writing something about yourself, opt for a resume summary or a career objective. These types of resume profiles are more valuable for hiring managers, as they provide a better overview of the candidate's qualifications.
When writing your resume profile, remember to include:
Highest level of education: your academic degree or the high school class you recently graduated.
Relevant skills: choose abilities you've got that match the job description.
Impressive achievements: pick something you accomplished during part-time jobs, school activities, or academic experiences.
What you can do for the employer: say how your skills and knowledge can assist the company.
That's one of the elements that make a good resume. Your student's resume profile should be about 3–4 sentences long, so much shorter than a typical school essay!