College Freshman Resume Example & Writing Guide
College life is expensive and you need a part-time gig to get you through it. Land one with a great college freshman resume.
Barely started college, and here you are—entering the job market. It's no longer just about making class and keeping up with that annoyingly smart 14-year-old classmate. It's also about making money. Maybe to reduce your student debt, or just to be able to socialize outside the dining hall. Out of the frying pan and into the fire.
But don't worry, a great college freshman resume will do the trick. With our advice, you won't end up underpaid and working under Michael Scott.
This guide will show you:
A college freshman resume example better than 9 out of 10 other resumes.
How to write a college freshman resume that will land you more interviews.
Tips and examples of how to put skills and achievements on a college freshman resume.
How to describe your experience on a resume for a college freshman to get any job you want.
Want to save time and have your resume ready in 5 minutes? Try our resume builder. It's fast and easy to use. Plus, you'll get ready-made content to add with one click. See 20+ resume templates and create your resume here.
Sample resume made with our builder—See more resume examples here.
Here are some other resume guides tailored to the college student:
Collage freshman resume example
Emmanuel Rodrigues
Bachelor of Science in Computer Science
123-456-7890
emmanuel.rodrigues@email.com
linkedin.com/in/emmanuel.rodrigues
Summary
Motivated and data-driven college freshman pursuing a Bachelor of Science in Computer Science from the University of Puerto Rico Mayaguez Campus with the desire to contribute my knowledge and skills to Matrix Systems as a Junior Software Developer. Possesses strong technical aptitude, excellent communication skills, and demonstrated history of academic excellence. Looking forward to bringing my passionate enthusiasm for software development, critical thinking abilities, and growth mindset to the role of Junior Web Developer at SoftDev.
Experience
Intern
Innovaris Dynamics – Bayamón, PR
May 2020–August 2020
Key Qualifications & Responsibilities
Developed and tested web applications utilizing Django framework and Python language.
Created intuitive user interfaces (UI) for customer-facing applications using HTML5/CSS3 standards.
Assisted software development team with backend coding tasks using SQLite database management system.
Designed visuals for websites using Adobe Photoshop software applications.
Developed detailed documentation for each project throughout the code development process.
Key Achievement:
Successfully created an interactive UI for customer-facing applications that increased user engagement by 20%.
Education
Bachelor of Science in Computer Science
University of Puerto Rico - Mayaguez Campus, PR
(Expected Graduation - May 2022)
Relevant Extracurricular Activities & Academic Achievements
Member of the Association for Computing Machinery (ACM) since 2020.
Recipient of a full National Science Foundation Research grant in recognition of research proposal in the field of artificial intelligence.
Participated in a hackathon for mobile application development and won second place.
Coded a website for an Artificial Intelligence course that was used in the following semester.
Skills
Programming Languages—Python, Java, SQL
Web Development—Django Framework, HTML5/CSS3
Database Management—MySQL, SQLite
Graphic Design—Adobe Photoshop
Communication
Business writing
Negotiation
Creativity
Certifications
Certified Coding Bootcamp Graduate – CodeLocal Academy (2020)
Awards
Fifth Place in Programming Competition - UPRM (2019)
Memberships
Member of the Association for Computing Machinery (ACM) since 2020.
Served as mentor to two new members in the association.
Languages
Spanish—Native
English—Fluent
Interests
Web Designing – Creating visually appealing web designs through HTML5/CSS3 scripting.
Guitar – Playing guitar for over 5 years, performing at open mics in local venues.
1
What's the Best Format for a College Freshman Resume?
Remember that lesson about formatting docs?
Here's where you take what you learned back in high school English and put it into play.
A well-formatted, neat layout of your resume will help you convince the recruiter to start reading its content.
So—
Use 1.15 line spacing in your college freshman resume and use a fresh, modern, 12 point font. Also use headings to help navigate the different content sections.
After all, you have less than seven seconds to impress the recruiter.
Go with the reverse-chronological resume format.
Why?
It's versatile enough to work for you even if you have little to no work experience and will bring your skills to the forefront. It gets its funky name from placing your latest position at the top and the previous ones follow.
Here's what sections you should include in a college freshman resume, from top to bottom:
College Freshman Resume Template
Contact information
Resume objective
Education
Work experience (if you have any)
Skills
"Extra" sections: awards, certifications, volunteering experience, or hobbies & interests.
An added bonus is that hiring managers far and wide recognize and appreciate this layout.
Pro Tip: Using a college freshman resume PDF? Check the job description first to make sure they're not off limits. Some employers prefer resumes in Word vs PDF.
Not sure reverse-chronological is the best college freshman format? Don't miss out on a better alternative: 3 Resume Formats: How to Choose the Best One [Examples]
2
Add Contact Information to Your College Freshman Resume
Professional resume headers should at least have your first and last name, address, phone number, and an email address (preferably clickable.)
Have any social media accounts or sites you'd like to link to? First take a long, hard look at what you're linking to. If you wouldn't want your mother to see it, chances are the recruiter wouldn't want to either.
A good rule of thumb is to stick to safe, professional accounts like LinkedIn or relevant sites to the job you're looking for like a blog or portfolio. Save the social media for your friends.
Here's a great example of contact information in a college freshman resume:
College Freshman Resume—Header
Leon Zander
707 E. Corrine Drive
Denver, CO 80203
(720) 447-3749
leonz@gmail.com
linkedin.com/in/lzander
computerglitchgalore.com
Need some more insight on how to write a great college freshman resume header? Head on over here: Professional Resume Header Examples & Why They Work
3
College Freshman Resume Summary or Resume Objective?
You know the saying—you only have one chance for a first impression. Grab the recruiter's attention like "gimme that A" with a solid resume introduction.
How do you make that happen? Write a compelling resume objective.
The objective will describe the goals you have for the job you're applying for backed up by skills and achievements.
Yes, most of the internet will be telling you to write a summary, but that's pretty old school thinking. The hack is to write your objective so that it's a solid statement that summarizes your accomplishments and goals.
Your college freshman resume objective should be no longer than a tweet to make sure prospective employers don't go TL;DR on you.
Here's an example of a college freshman resume objective:
College Freshman Resume: Objective
Right
College human resource management student with 10 months' experience in HR recruitment processing.
Wrong
Looking for an HR position where I can grow and develop my knowledge and skills. I'm passionate about making an impact and I love working with people!
The wrong example sounds about as vague as a college essay prompt. It's not catching the recruiter's attention and so it's not getting you the job.
But look at the right example. That's a solid A+.
You've not only mentioned your field of study, but also given a resume summary of relevant experience and knowledge. Plus, there's a number achievement to wow the recruiter.
Pro Tip: You've probably noticed that the "wrong" example uses the first person. Avoid this when writing your resume objective.
Want more advice on writing career objectives on resumes for a first year college student? Check out our guide: How to Write a Resume Objective: 50+ Examples for All Professions.
When making a resume in our builder, drag & drop bullet points, skills, and auto-fill the boring stuff. Spell check? Check. Start building a professional resume template here for free.
When you're done, Zety's resume builder will score your resume and our resume checker will tell you exactly how to make it better.
4
Is Your Education Section Making You Look the Dunce?
Always put your best foot forward.
If you don't have work experience, focus on your education.
This is doubly true for research projects you might be applying to. Show them you're the brains they're looking for!
And yes, you can list education you're currently undergoing. We'll show you how.
Here's how to list your education on your resume:
When you're done, your freshman college resume education section should look like this:
Sample College Freshman Resume—Education Section
RIGHT
Majoring in Human Resources Management (Bachelor of Science)
Pace University, Lubin School of Business, New York, NY
Expected Graduation: 2021
Relevant Coursework: Business Law, Elementary Statistics, Managerial and Organizational Concepts, Group Relations and Interviewing Techniques, and Contemporary Business Practice
Lexington High School, Lexington, MA
Graduated 2018
Should you put your GPA on your resume? Unless it's going to impress the college crest right off someone's hoodie (e.g. a 4.0) then leave it out.
Pro Tip: Remember that your education section is probably more impressive than your work history right now, so put in right beneath your resume objective
Got something other than these common educational scenarios? Check this guide out: Education Resume Section: How to List High School & College Education
5
How to Describe Experience on a College Freshman Resume
According to NCES, undergraduate employment was nearly 50% in 2017 for full-time students and a whopping 83% for those studying part-time.
That makes for some pretty stiff competition for the position that you want!
It also means, if you have any work experience, even if it's not related experience, make sure to describe it on your college freshman resume. It'll give you an edge over more than half of your competitors.
And yes, any resume work experience is better than no relevant experience. In fact, the 2019 NACE Outlook Study found that general work experience is in the top 5 most important hiring factors.
Here's a sample college freshman resume for an entry level position:
Resume Sample for a College Freshman—Work History
Right
Computer Science Intern
May 2018 - September 2019
CUNA Mutual Group, Madison, WI
Key Qualifications and Responsibilities
Primary focus on software development and operations in C# and .NET
Assisted in database definition and testing
Key Achievement
Assisted in finding and removing bugs in updated version of corporate financial services software, raising user satisfaction by 15%.
Wrong
Computer Science Intern
May 2018 - September 2019
CUNA Mutual Group, Madison, WI
Key Responsibilities
Software development
Working on projects with the team
Other system responsibilities
The first one is really making the grade by not only including responsibilities, but also achievements and data to prove their skills.
But wait, what if I don't have any professional work experience and applying for an internship?
Relax, you're a first year student so recruiters understand you won't have tons of experience. But that doesn't mean you can just skip your work experience and leave recruiters drawing a blank.
Here's a sample college freshman resume for internship:
Sample College Freshman Resume—Experience
Right
Crew Member
June 2018 - December 2018
Wendy's, Atlanta, GA
Key Qualifications & Responsibilities
Managed and coached customer orders via all channels (counter, phone, online, drive-thru)
Influenced customers through promoting special offers and beneficial deals
Assisted in implementation of new customer survey
Key Achievement
Exceptional customer satisfaction rating of 95%.
Though the food service experience might not be directly related to the internship you're applying for, relatable achievements still shine through.
But what if I've only worked as a volunteer?
That's great because that counts as work experience!
College Freshman Resume Template—Volunteering
Right
Weekly Volunteer
March 2018 - December 2019
YMCA, Glendale, AZ
Key Qualifications & Responsibilities
Taught young high school students key studying skills to study more effectively
Motivated youth to achieve better grades and put more effort into school
Coached through complicated decision making processes
Mentored through tough life decisions
Key Achievement
Helped two high school students raise their grades from "F" to "C" in three subjects in one semester.
This example proves that you're responsible and take your job seriously and that's what recruiters want to see.
Pro Tip: When you're just starting your career journey, feel free to add experience that isn't related to your field. It shows that you're responsible and know how to hold a job.
Want some more information on adding volunteer work or freelance gigs to your college freshman resume? These guides will help you out:How to List Volunteer Work on Your Resume and How to List Freelance Work on a Resume
6
How to Put Skills on a College Freshman Resume
Yeah, you've got game and you've got skillz. But so do a lot of college freshmen. Question is—whose skills are madder?
To know that, you have to know which skills are the best to list on your resume.
Begin with a basic list that includes both hard and soft skills. Hard skills are things you've learned to do (Microsoft Excel, C++.) Soft skills are a part of your personality (communication skills, leadership.)
Here's a list of the most popular skills on college resumes:
Most Common Skills for College Freshman Resumes
Hard Skills
Event Planning
Foreign Languages
Fund Raising
Soft Skills
But hold on, it's not enough to just pick a random few and then go watch Netflix. Take a look at the job ad and use it as a guide.
Here's a sample engineering job description:
Support the coordination of Industrial Engineering group projects by analyzing data, creating project schedules and implement project deliverables.[2,3]

Support product transfer projects to localize production of TRUMPF products.
Analyze Bill of Materials (BOM) data and Material Master data in

SAP system to setup localized procurement.[1]

Create Work Instructions (WI) to document Industrial Engineering processes and functions.
Design workholding and material handling fixturing using SolidWorks software.
This is basically the Cliff Notes of the strengths you need to list on your resume.
Resume Samples for College Freshman—Skills Section
Right
Basic understanding of SAP [1]
Skilled at data analysis and projections [2]
Knowledgeable at creating work plans and project schedules [3]
Wrong
CRM
Projects
Engineering software
You can see that the second skills section gets a big fat "F".
Just like a custom made suit, a tailor made resume just fits so much better.
Remember that hard skills aren't "better" than soft skills so give the latter some thought too. In fact, LinkedIn lists soft skills among the most in-demand skills.
One last thing, remember to avoid being vague like the, well, plague.
Many companies use an applicant tracking system to handle the avalanche of resumes they get each day. The system scans resumes for specific keywords that the recruiters are looking for.
Nothing relevant on your resume? You've been put in the "on hold" pile. Yeah, that dusty, cobwebby one.
Avoid this by following the wording listed in the job ad.
Interested in more tips for writing the skills section for college freshman resumes? See our guide: Best Examples of What Skills to Put on a Resume (Proven Tips.)
7
How to Add Other Sections for an Effective College Freshman Resume
So you've finished your skills section and you're done, right?
Wrong!
What you've done so far is the core of your resume. Now it's time for the electives.
In an age where around 80% of millennials believe they don't have all the skills and knowledge for the current job market, you can step up and show the recruiter you're a valuable hire.
Here are some great choices for additional sections to your college freshman resume:
Here's where you can mention and honors or awards that you've been given, such as scholarships or making the Dean's List.
Have you taken part in any academic fairs, bees, or other competitions? Make sure to note down any awards you might have received.
Since you're still a freshman in college, feel free to include honors or awards from high school such as Advanced Placement (AP) classes, making Honor Roll or High Honor Roll, or being a part of the NHS.
Proficiency in any foreign language, especially as a college freshman, really stands out like a college textbook price. Make sure to use a standardized scale to rate your language knowledge.
This is a section often overlooked because who cares about your hobbies, right?
Actually, this is the section where you can show off your hard and soft skills in action instead of just listing them.
Also this should be an easy section to write given all the interests and extracurricular activities you have outside of class (just remember to match them to your future company's work culture.)
Here's a good example of an additional interests section in a college freshman resume:
Resume Samples for College Freshman: Extra Sections
Achievements:
Peoria High School 2005 - 2009
Valedictorian
NHS Member 2006-2009
Languages:
Spanish (C1), Italian (B1)
Additional Activities:
Boy Scouts of America Assistant Scoutmaster
2009 - present
Provided guidance and assistance for scouts wishing to achieve a higher rank.
Remember to include all necessary sections in your freshman resume. What are they? Here's a guide to help you out: What Categories to Put on a Resume: Examples and Guide
8
How About a College Freshman Cover Letter?
Sending through a college freshman resume without a college freshman cover letter is like submitting your term paper without a title page.
Flunked.
In your first year of college, you probably don't have a heap of experience to fill your resume with. But you do have a ton of history to put in your cover letter.
Where resumes are more like lists, cover letters tell a story and there's nothing more people like more than a good story.
Here are some tips to really knock your freshman cover letter out of the park:
Start your cover letter with a compelling introduction, like you did in your resume heading.
Explain why you are the best candidate they could possibly hire.
Explain your passion for the industry and enthusiasm to learn and grow.
Show them you want to be part of their team and what you could add by becoming a part of it.
Close your cover letter it with a powerful ending statement.
See theory in practise in our dedicated guide: Entry-Level Cover Letter (Example and Guide)
Pro Tip: Before you send your college freshman resume and cover letter in your application, make sure to double check for any errors using Grammarly. Also read it out loud to see if it flows well.
Want to know more freshman cover letter tricks that always work? See these articles: 35+ Best Cover Letter Tips, Advice & Guidelines and How to Write a Job-Winning Cover Letter in 8 Simple Steps (12+ Examples)
Plus, a great cover letter that matches your resume will give you an advantage over other candidates. You can write it in our cover letter builder here. Here's what it may look like: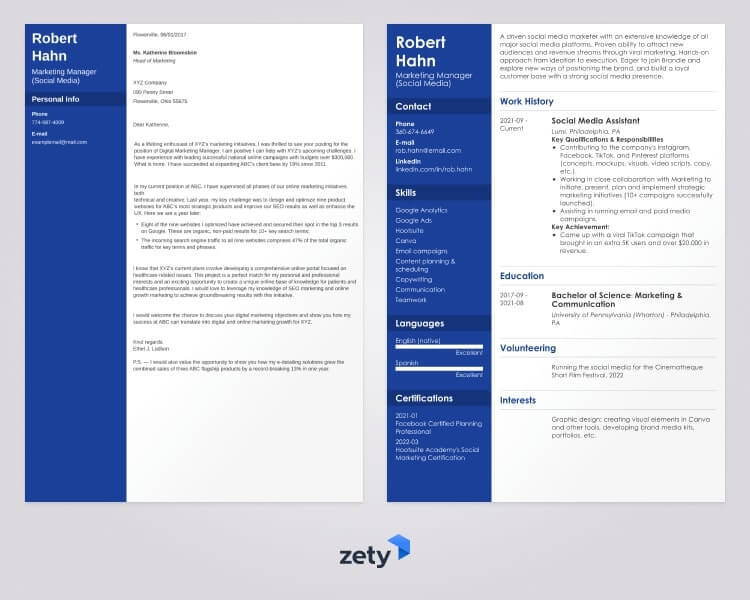 See more cover letter templates and start writing.
Key Takeaway
So there you have it. Easier than going through initiation, no?
Let's recap to make sure that the important stuff sticks.
Here are some tips for how to write a college freshman resume:
Use the reverse-chronological format. Employers will find it easy to read.
Start with a captivating objective. A good freshman college student resume objective sums up your resume nicely.
Focus on your resume education section. Add relevant coursework, achievements, favorite fields of study, etc.
Document previous job history, don't just list your job responsibilities. Include part-time jobs, internships, and volunteering.
List relevant skills. Include both hard skills and soft skills with resume keywords found in the job ad.
Add extra resume sections. Stand out from the other college freshman applicants by adding extracurricular activities, interests, awards, and languages.
Attach a college freshman cover letter. Always include a cover letter for college freshman jobs.
Proofread and edit. Check for typos or grammar errors, and then see how it reads.
Use an attractive student resume template.
Now you have the summa cum laude of all college freshman resumes!
Got any questions on how to write a freshman resume? Need more professional resume tips for college students? Get at us in the comments below, and thanks for reading!
About Zety's Editorial Process
This article has been reviewed by our editorial team to make sure it follows Zety's editorial guidelines. We're committed to sharing our expertise and giving you trustworthy career advice tailored to your needs. High-quality content is what brings over 40 million readers to our site every year. But we don't stop there. Our team conducts original research to understand the job market better, and we pride ourselves on being quoted by top universities and prime media outlets from around the world.