Medical student CV needed! Any (future) doctor here?! Not yet, but soon there will be! However, there are tons of passionate medical school applicants who devoted their life to becoming medical students. How to get ahead of them?
Writing a compelling medical student CV can make the university recruiters so impressed that they will need to call for medical assistance or take at least two aspirins and call you in the morning! So, are you ready to create your PERFECT CV for medical student?
Want to save time and have your CV ready in 5 minutes? Try our CV builder. It's fast and easy to use. Plus, you'll get ready-made content to add with one click. See 20+ CV templates and create your CV here.
Medical CV made with our builder—See more CV samples and create your CV here.
Want to get into medical school? We have a specific guide for that: Medical School Resume Sample for Admission
And here's a few for academia and working in your industry:
Structure Your Medical School CV Template Properly
Let's start from the best place—the beginning.
There is a substantial difference between a CV and a resume. A resume is focused on looking for a job.
A CV, on the other hand, is more academic in nature and used in academia to apply for open academic positions or to apply to some specialist schools such as medical school.
Your medical school CV needs to have the correct format if you want it to even be read.
A medical school CV template should include the following sections:
Medical School CV Template—CV Sections
Professional Appointments
Grants and Fellowships
Conferences
Teaching Experience
Research Experience
It looks Dr. House levels of overwhelming, but don't keel over just yet.
These are all the sections that can be included in a med school CV, but they don't all have to be there. Especially if you're just applying for med school.
In the end, the name of the game is relevance. If something applies to you and what you're aiming for—add it. If it doesn't, then leave it alone.
So let's break this down into easy-to-swallow doses along with examples on how to give your medical school CV a clean bill of health.
1. Contact Information Section
This one requires next to zero brain power. The contact information on your CV should include:
Full legal name
Professional email
Phone number
Address (optional)
LinkedIn profile (optional)
If you do add your LinkedIn profile or any other website to your medical school CV, remember to make sure to clean up your social media footprint. Recruiters will check what you've been up to online!
2. Education Section
The education section of your medical school CV is the most important part.
After all, you are applying to an academic program so the admissions board will be most interested in what you know and how well you know it!
It's not enough to just jot down where you went to school and move on.
Here are the details you should include in your med school CV:
Name of the school you attended and its location
Date of completion or expected graduation
Your major (and minor, if applicable)
Awards or honors received
GPA (optional, add only if it's really impressive)
Put that all together and it should look something like this:
Medical School CV—Education Section Example
University of California, Auckland
May 2018
Bachelor of Science, Biochemistry
GPA: 3.92
University of Oxford, Oxford, UK
Study abroad, 2017
Neurobiology, systems biology
Awards:
Dean's List: 2 semesters
Read more: How to Write a CV Education Section That Stands Out
3. Experience Section
This is the section where you can show off the experience you've gained in research or clinical environments.
This may seem a little overwhelming because you may feel that you don't have much to show for here, but don't get your BP too high.
Remember that things like volunteer experience count! Adding your internship experience to your CV is also a good way to go!
But that also doesn't mean that you can just cram everything you've ever done into your medical student CV.
Keep it relevant.
Here's how to format your medical school CV experience section:
Put your relevant experience in bulleted list. Don't use more than 6 bullet points.
Use the reverse-chronological format. It's not only the most common, it's also the preferred CV format in the medical community.
Include your job title, the organization where you worked, and the dates of employment.
Don't just make a long, boring list of your responsibilities. Let your achievements shine through instead and show recruiters how you excel.
Use power verbs to make your accomplishments really stand out.
Quantify whenever possible.
Use that healthy recipe and your experience section should turn out something like this:
Medical School CV—Experience Section Samples
Medical Ethics Intern
Graham Hospital, Phoenix, AZ
May-July 2016
Assisted doctors with ethics consults pertaining to end-of-life care
Assisted in rounds in ICU and trauma units with physicians and surgeons.
Undergraduate Researcher
Behemly Labs, Tuscon, AZ
2015-2016
Communicated with patients in study cognitive behavior therapy for elderly stroke patients.
Analyzed clinical data in Excel and internal lab data systems
Participated in conducting interviews and cognitive tests before and after therapy to assess potential changes.
Medical Scribe
Glendale Medical Group, Glendale, AZ
June 2015
Charted 100+ patient-physician medical exams.
Updated electronic health records for all incoming and outgoing patients over a one month period.
Key achievement:
Implemented a filtering system that decreased data search time by 10%.
It may not seem like much when you look at it at first, but it's exactly what medical school recruiters want to see.
Not only do you have tangible experience and skills in the clinical field, you also have experience in research, which is one of the pillars of being a student, especially in medicine.
Read more: How to Mention Work Experience in Your CV
4. Skills
And how about those skills above? They're pretty obvious, right?
Wrong.
Especially when you're trying to get into medical school, you need to prove that you already have a skill base worth developing. And I'm talking Meredith Grey type skills.
But you probably don't have any specific medical skillset just yet.
Don't fret. Instead, push your transferable skills out into the spotlight of your medical student CV.
Here's a sample list of skills that you can use for your medical school CV:
Conflict resolution
Adaptability
Remember that no matter what skills you add, they need to be relevant to the medical school you're applying to.
For maximum impact, select professional skills that the experience and achievements you've listed on your medical student CV can prove.
Read more: CV Skills You Can't Afford to Leave Out
5. Volunteering
The whole science of medicine is based upon the idea of helping others.
Volunteering proves better than almost anything else that you're willing to help others based on principle and personal drive instead of money and titles.
Being a volunteer also allows you to gather valuable experience that could otherwise be hard to get, especially at the start of your career.
But here's the thing.
With volunteering on the rise, you need to make sure that the time you spent volunteering gets noticed above all others. Show them you're the Florence Nightingale of today.
Take a look at this sample of what this section could look like in your medical student CV:
Medical School CV Example—Volunteer Work
IVHQ Medical Volunteering Abroad (Mexico)
Assisted in performing x-rays and ultrasounds in underprivileged areas.
100 hours shadowing general surgeon in simple surgeries.
Passion, engagement, hard work—it's all there and exactly what the recruiter is looking for.
Read more: Volunteer Experience Examples That Will Look Great on Your CV
When making a CV in our builder, drag & drop bullet points, skills, and auto-fill the boring stuff. Spell check? Check. Start building a professional CV template here for free.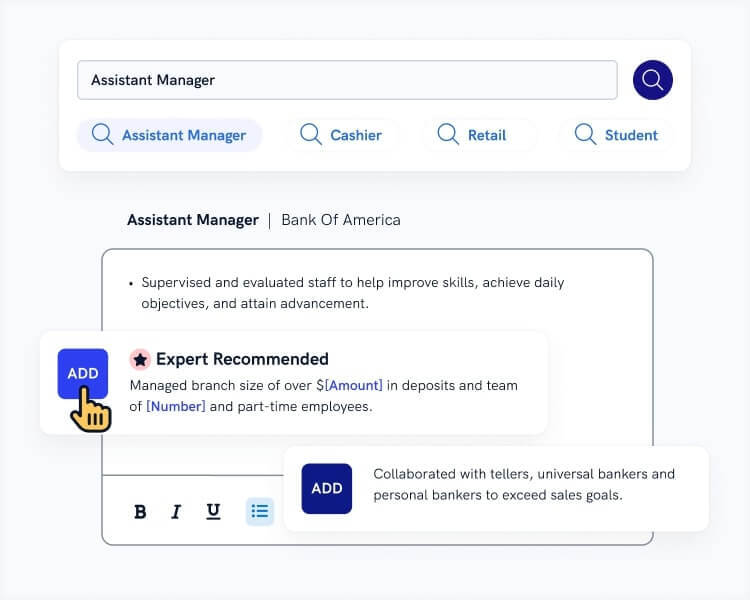 When you're done, our professional CV maker will score your resume and our CV checker will tell you exactly how to make it better.
6. Awards and Honors
If you don't have that many awards or honors or they're strictly academic, such as making cum laude or making the dean's list at college or university, feel free to just mention them in the education section of your CV for medical school.
But if you've got more than a handful of honors or awards, then you can create a separate section for them in your medical student CV. This is especially a great idea if your awards don't specifically tie into your education.
Here's what this med school CV section could look like:
Medical School CV—Awards and Honors Samples
Received 95% patient satisfaction rating in post-visit satisfaction surveys.
All my tutoring students raised their SAT math score by 35%.
As always, quantify your awards and honors where possible. Numbers always make a bigger impression than words on recruiters.
Read more: How to List Key Achievements in Your CV
7. Affiliations
Showing your membership to affiliations is crucial in order to show medical school recruiters that getting into med school isn't just an idea for you, it's a calling.
As with awards, if you belonged to only a couple of affiliations, you have the option of just coupling them onto the end of your education section.
But in order to keep your education section neat and make sure your affiliations don't get lost in blocks of information, consider creating an entirely separate section for them.
This approach would let you list all the organizations you're a part of, even if they're not specifically linked to medical school or academia.
Choose which option works for you; neither is better than the other.
Medical Curriculum Vitae Example—Affiliations
National Honor Society
Scholars Friendship Association
Girl Scouts of America
Each one of these organizations demonstrate that you have acquired a certain skill set and have specific qualities that recruiters will take into consideration when assessing your application.
8. Publications
This section sounds pretty hard core, but don't let it scare you off.
Especially if you're just applying to medical school, you will probably have little or ever nothing to add here.
That's ok. Just go on to the next section that pertains to you and your experience.
For those of you who might have had some experience in academia or published research already (I'm looking at you Doogie Howser!), this is definitely where you want to include it.
Remember to check whether the school you're applying to has any professional guidelines or preferred bibliographic style (MLA, APA or Chicago) that they want to see in your application.
Here's a sample of a publication in Chicago:
Kessling, F, Beters, G, Mainor P. "A Pilot Survey to Define Quality Emotional Therapy in Elderly Post-Stroke Patients." The Online Medical Journal Vol. 5, Issue 3 (2018). Page 23-25.
Read more: CV Publications Format Examples That Work
9. Extracurricular Activities
It's not just what you do at college or university, but also what you do outside that matters. Just look at Dr. Mike!
Use this section to demonstrate that you're an active member of your community, whether that be at school, your neighborhood, or nation-wide.
Here are some samples of some extracurricular activities that you could add to your medical school application:
ASU Softball Team
ASU Student Council
Women's self-defense instructor
At first glance, you might think "who cares about softball"? Well, that activity demonstrates teamwork, communicating with others, and the ability to perform under stress.
These are all great traits for medical school so don't be too quick in throwing your extracurricular activities down the drain.
Read more: Extracurricular Activities in a CV
10. Leadership
It's always worthwhile to show off your leadership experience, especially if you were nicknamed "Miranda Bailey" by your peers.
Remember, leadership isn't only found in specifically managerial roles. Organizing, mentoring, and supervising are all roles that demonstrate leadership skills even while in college or at university.
Here are a few specific leadership examples that can help you diagnose your own:
Softball team captain
Organizer and moderator of the "Make Healthcare Healthy Again" discussion club.
ASU Student Council Treasurer
As you can see, you can find examples of leadership skills in a variety of different fields so think over different areas of your life to see if you've done a role that could work.
Read more: Leadership Skills Examples for Your CV
10. Additional Courses and Certifications
This almost might look like a miscellaneous section, but remember—relevance is key to writing a stellar medical school application.
It's a great section to add in proof of relevant skills and knowledge that don't really fit in anywhere else and would run the risk of getting overlooked.
Here's an example of what this section could look like:
Medical School CV—Additional Section Sample
AHA CPR course
American Red Cross certified lifeguard
NASM Senior Fitness Specialist
All these entries prove skills that could be helpful in medical school and your future medical career!
Read more: How to Include Interests in a CV
How to Format Your Medical School CV
Before you tackle all the lovely formatting options Word offers, first visit the website of the school you're applying to and double check if they don't have any professional formatting requirements of their own.
The guidelines of the medical school you're applying to should always come first.
If the college or university has zero or just partial formatting guidelines, here are some extra tips to make your medical student CV look neat and professional:
As mentioned before, follow the reverse-chronological format which is most widely accepted in the health community.
Use clearly labelled sections to make your medical student CV neat and easily scannable.
Use bullet points to keep your details sleek and easy to read.
Ensure you have 1" CV margins all around the page. A CV filled to the edges will just make the recruiter run in the other direction.
Use a reader-friendly CV font that makes it pleasant to read and gives your medical student CV a modern look.
Read more: The Best CV Formats
Plus, a great cover letter that matches your resume will give you an advantage over other candidates. You can write it in our cover letter builder here. Here's what it may look like: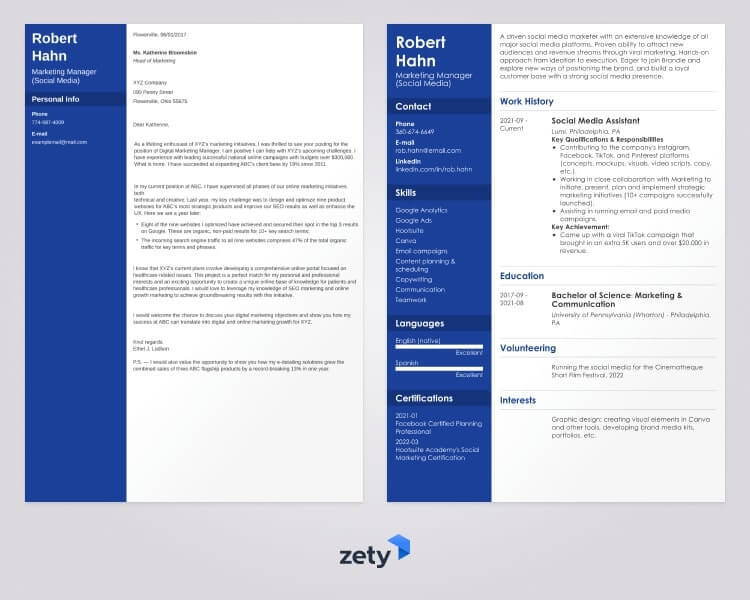 See more cover letter templates and start writing.
Key Takeaway
Your medical school CV is crucial to getting you into med school, but it doesn't have to make you hyperventilate.
Just like when dealing with your health, balance is key.
Keep these professional tips in mind when writing your medical school CV:
Take your time and carefully think through what you can include in your medical student CV to boost your chances.
Research the medical school you're applying to for any specific guidelines or tips for your application.
Start your medical student curriculum vitae with the education section.
Focus on relevant experience and skills, even those outside your medical career.
Use the reverse-chronological order and give your medical student CV a sleek, modern look.
Writing your medical school CV for the first time? Or maybe you wrote one that got you into the medical school of your dreams? Let us know in the comments below!
About Zety's Editorial Process
This article has been reviewed by our editorial team to make sure it follows Zety's editorial guidelines. We're committed to sharing our expertise and giving you trustworthy career advice tailored to your needs. High-quality content is what brings over 40 million readers to our site every year. But we don't stop there. Our team conducts original research to understand the job market better, and we pride ourselves on being quoted by top universities and prime media outlets from around the world.
Sources