Medical School Resume Sample for Admission & Pre-med Tips
How to write a resume for medical school admission? What sections to include? Find out here and see the perfect medical school resume examples.
Do you know what a great doctor and making a perfect medical school resume both require?
A lot of patience. So, consider your medical school resume your first patient, and give it the right treatment.
This guide will show you:
A medical school resume better than 9 out of 10 other resumes.
How to write a resume for medical school application to get a place at the best schools.
Tips and examples of how to put skills and achievements on a resume for medical school, so they shine.
Want to save time and have your resume ready in 5 minutes? Try our resume builder. It's fast and easy to use. Plus, you'll get ready-made content to add with one click. See 20+ resume templates and create your resume here.
Sample resume made with our builder—See more resume examples here.
Interested in resume writing guides for medical and healthcare professions? We've got you covered:
Looking for a different kind of resume writing assistance?
Medical School Resume Example
Amanda Johnson
Medical Student
123-456-7890
amandajohnson@email.com
linkedin.com/in/amanda.johnson
Objective
Dedicated Medical Student with a Bachelor's degree in Biology seeking employment as a Genetic Researcher at the Stamford Genetic Clinic. Looking to apply knowledge of biology and DNA analysis to help bolster your company's genetic research. Graduated with a 3.8 GPA and received a perfect score in the graduation thesis.
Education
Bachelor of Science in Biology
Stamford University, Stamford, CT
August 2016–May 2020
GPA: 3.8
Thesis: "Impact of Genetic Factors on Cardiovascular Diseases"
Relevant extracurricular activities
Volunteer, Health Outreach and Promotion Society, Stamford University
Member, Pre-Medical Society, Stamford University
Academic Achievements:
Dean's List: 2016-2020
Awarded Stamford University Biology Department's 'Excellence in Research' Award
2017, Stamford University Scholarship, Stamford University
Experience
Medical Intern
Stamford Hospital, Stamford, CT
June 2020–Present
Key Qualifications & Responsibilities
Assisting in patient care and medical procedures.
Conducting patient interviews and recording medical history.
Directly supervised by senior medical professionals.
Documenting all activities.
Key Achievement:
Led a team of interns in a fast-paced emergency room setting,
Medical Assistant
Stamford Clinic, Stamford, CT
May 2018–May 2020
Key Qualifications & Responsibilities
Supported the pediatric team by managing medical records.
Assisted physicians during medical procedures.
Ensured patient comfort during their visit.
Key Achievement:
Received the 'Employee of the Month' award six times due to dedicated patient care.
Affiliations
Member of the American Medical Student Association since 2016
Presented a case study at the 2018 AMSA convention
Organized the AMSA regional conference in 2019
Languages
English—Native
Spanish—Intermediate
Skills
Patient Care
Medical Coding
Phlebotomy
Emergency Room Experience
Pediatrics
Record Management
Team Leadership
Medical Terminology
Interests
Volunteering at local community health fairs.
Running half-marathons.
Publications
Public, J. (2020). The nuances of genetic predispositions in cardiovascular diseases. Journal of Genetic Disorders, 10(2), 34-40.
Additional courses and certifications
Medical Terminology Certification, ABC Medical Training, 2019
First Aid and CPR Certification, American Red Cross, 2018
1
What's the Best Medical School Resume Template?
A medical school resume differs from a resume for a job in several significant ways.
First of all:
It's an academic document.
As such it has a lot in common with an academic CV.
Second:
It's not supposed to get you a job but a place at an academic institution.
Plus:
It's neither the first nor the only document the admissions committee members will see.
And most importantly, it may not even be required as part of your application.
But if you're planning on preparing a medical school resume—
Make sure it's done right.
Here's a list of sections you may want to consider including in your medical school resume template:
Medical School Resume Template—Resume Sections
Contact Details
Education
Experience
Awards and Honors
Affiliations
Volunteer Work
Extracurricular Activities
Leadership Positions
Languages
Skills
Interests
Publications
Additional Activities
Obviously—
It doesn't mean your medical school resume must include each and every section listed above.
The most important rule of resume writing can be encapsulated with a single word:
Relevance.
It follows that your medical school resume should only consist of sections that apply to you, and are relevant to the situation.
That said, your medical school resume should always include your contact details, educational background, and experience sections.
Everything else depends on you.
Pro tip: No matter what sections you decide to include in your resume, make sure each of them is ordered reverse-chronologically. This way your latest experience and education comes first.
Having mixed feelings about what resume format to choose? Read our guide: Resume Format: Samples and Templates for all Types of Resumes
Now—
Let's examine each section to see what kind of information you might want to include.
1. Contact Details
This section of your resume for medical school is pretty much self-explanatory.
List your:
Full name
Email
Telephone number
Home address
The final two points are optional. But your LinkedIn profile may give the admissions officer some insight into the things you weren't able to include on your resume.
Pro Tip: Make sure your email address looks professional. Avoid infantile usernames—it's best to stick to your first and last name.
Double-check your online presence. Clean up your social media profiles from the things you wouldn't like others to see. Here's our guide you may find interesting: How to Check Your Online Presence Before Recruiters Look You Up
2. Education
You're applying for a place at a medical school—
So the education section of your medical school resume requires special care and attention.
The university name, dates, and location are hardly enough.
You need to go a little deeper, and list:
The degree earned
Major/minor
School name and location
Graduation year
GPA
Thesis title
Relevant coursework
Awards
Honors
Achievements
Pro Tip: This should be the first section of your medical school resume. There's no need to put your professional objective up top as your resume is only a part of your medical school application. And your objective is clear: to become a student.
Here's an example of the education section of a medical school resume:
Medical School Resume—Sample Education Section
2018
Stony Brook University, New York, NY
Bachelor of Science, Biochemistry Honors
GPA: 3.95
Thesis title: The role of synthesis and assembly of DNA-defining complexes in Nephrotic Syndrome patients.
Relevant coursework:
Organic chemistry
Physical chemistry
Analytical chemistry
Rhetoric and Writing
Awards and honors:
Dean's Scholars Program
Dean's List: all semesters
2nd place in a student essay contest
Scores:
Pro Tip: Leave out your high school education. There's no need to go so far back in time.
Want to learn more about what to put on display in your medical school education section? We've got you covered: Education Resume Section: How to Do It Right (20+ Examples for Any Situation)
3. Experience
Use this section of your medical school resume to show off your professional, clinical, or research experience.
It will give the admissions committee members further insight into the skills you've developed.
If you're having problems with filling in this section with content, don't leave it empty.
Use it to present your:
community involvement
internship experience
Now—
Don't just list everything you've ever done in your entire life. Here's how to nail your experience section:
Put your relevant experience in bullet-point list.
Follow the reverse-chronological order.
Put your job title, name of the company, and dates worked.
Don't list more than 6–7 bullet points under each entry.
List more than your duties. Try to add your achievements.
Start your bullets with action verbs to highlight your skills.
Put numbers and percentages wherever possible.
Here's an example of what your medical school resume experience section could look like:
Medical School Resume Sample—Experience
Undergraduate Researcher
Bolton Lab, New York, NY
2016–2018
Conducted research in mucous membrane regeneration with the focus on ocular surface.
Gathered research material on the subject of ocular surface epithelial stem cells.
Collaborated with an international team of 5 multi-disciplinary researchers.
Chemistry teacher
Stuyvesant High School, New York, NY
2014–2015
Prepared and taught courses in organic and nuclear chemistry.
Supervised and coordinated 20+ lab experiments.
Created lesson plans in line with district and state standards.
Encouraged students to use their chemistry analytical skills from concept to real life laboratory applications.
Key achievement:
Over 80% of my students took part in Chemistry Olympiad Exams.
How is this sort of experience relevant to your future career as a doctor?
An experience section like the one above concentrates on your transferable skills, such as critical thinking, collaboration, or leadership.
Not to mention your research experience is bound to get you extra points.
Academic research is part and parcel of being a medical school student.
Don't know how to describe professional experience on your medical school resume? Read our article: Work Experience on a Resume: Job Description Bullet Points Samples
4. Skills
Here's the thing—
A dedicated skills section is optional.
But should you choose to have it on your medical school resume, make sure it's done right.
Just remember:
Relevance is king.
In the case of a medical school resume, it's best to bring your transferable skills in the limelight.
Here's a list you can use:
Negotiating
Conflict resolution
Adaptability
It's best to focus on your transferable skills. To achieve maximum impact, select the ones your experience and education sections testify to.
Pro Tip: Consider merging your skills and interests sections into one. This way you'll save some space.
Not sure what skills to put on your medical school resume? Head straight to our guide: 99 Key Skills for a Resume (Best List of Examples for All Types of Jobs)
When making a resume in our builder, drag & drop bullet points, skills, and auto-fill the boring stuff. Spell check? Check. Start building a professional resume template here for free.
When you're done, our professional resume builder will score your resume and our resume checker will tell you exactly how to make it better.
5. Volunteering
The willingness to help another person can get you far.
Both on your resume and in real life.
Engaged students are more than welcome in the bustling med student community.
Have a look at an example of what this section could look like on your medical school resume.
Medical School Resume Example—Volunteer Work
Stony Brook Volunteer Ambulance Corps
Member of an emergency response team
Stony Brook Medical Center
200 hours of shadowing an orthopedic surgeon and anesthesiologist
Need more detailed information on how to make the most of a volunteering section on your medical school resume? Here's a guide for you: How to Add Volunteer Work To Your Resume [+Sample]
6. Awards and Honors
You can either create a subsection in the education section to accommodate your academic awards and achievements or make a full-fledged, dedicated section.
The latter option is preferable if the awards and honors you want to present don't have much to do with your educational background.
In fact, we have a dedicated guide that shows you exactly how to put all kinds of achievements on your resume. Check this out: Achievements to Put on a Resume—Complete Guide (30+ Examples)
7. Affiliations
Just like in the case of the previous section, you can show your professional and academic affiliations in two ways.
In a subsection under the education heading, or in a separate section.
Each way has its pros and cons.
If you put all the information into the education section, you can rest assured nothing will be left out. On the other hand, the section itself may become too long and hard to navigate.
A dedicated section makes everything look much clearer and allows you to list all sorts of organizations you're a member of, not just the academic ones. The problem is it might end up somewhere at the bottom of your medical school resume.
The choice you make should depend on the length of the education section on your resume.
Medical School Application Resume Example—Affiliations
Phi Beta Kappa Stony Brook—Member
The Golden Key International—Member
Alpha Eta Mu Beta—Member
8. Publications
Have you published any papers or articles?
Don't let them go unnoticed, and create a dedicated section.
Choose your bibliography format out of the three most popular MLA, APA or Chicago, and use it consistently.
Mind you—
If the medical school you're applying to offers any guidelines as to the preferred bibliography format, stick to it.
9. Extracurricular Activities
Medical schools value engaged students, willing to make a difference.
Create a separate section on your pre-medical school resume to show you're an active member of the student community.
Here's an example to give you some inspiration:
Stony Brook Premed Society—Member
Student Government
Environmental Student Organization
Baseball Team
10. Leadership
It might be a good idea to prepare a separate section to show off your leadership experience.
This is especially important if you're applying to one of the most prestigious schools.
Your Harvard medical school resume needs to show your leadership skills are strong enough.
Here's a couple of ideas to get you inspired:
Managing Editor at Chemix—a student-run popular science blog
Stony Brook Club Volleyball—Team Captain
Organizer and moderator—Cyberpunk student discussion club
10. Additional courses and certifications
If you happen to have completed extra courses, earned licenses and certifications relevant to your future career, put them in a separate section on your medical school resume:
Here's an example:
EMT-Basic training
American Heart Association CPR course
NYS EMT-B
Basics of Differential Diagnoses
Maintenance Medications
Looking for information on what other sections your medical school resume would benefit from? Here's a guide you may find interesting: Resume Sections & Item Order [Extra: Additional Categories that Matter]
2
How to Format Your Medical School CV
Before you decide on the best format for your medical school resume, double-check the school's website to see if there are any guidelines you should stick to.
The guidelines may contain information on the preferred length of the resume or specify the sections you're supposed to include.
Remember: such guidelines come before anything else.
If you can't find anything, here's a list of points to consider when formatting your medical school resume:
Follow the reverse-chronological order to put your latest education, experience, and key achievements in the spotlight.
Divide your medical school resume into sections to make it easily navigable.
Use bullet points to make your entries reader friendly.
Use white space to your advantage. A cluttered resume will put the reader off.
Select a resume-friendly font, and make sure its size is comfortable to read.
Not sure how long your medical school resume should be? Take a look at our guide to find out: How Long Should a Resume Be? Ideal Resume Length.
Plus, a great cover letter that matches your resume will give you an advantage over other candidates. You can write it in our cover letter builder here. Here's what it may look like: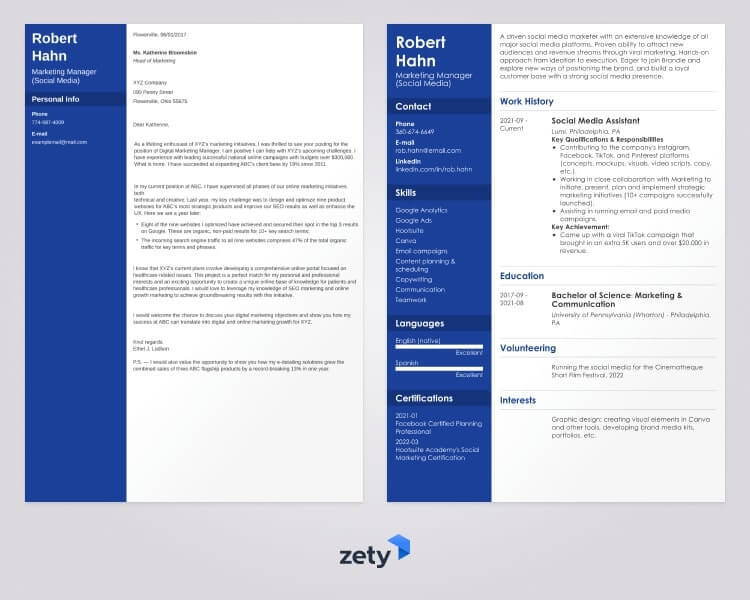 See more cover letter templates and start writing.
Key Takeaway
Your medical school resume is more than a list of everything you've done in your life.
This is how to make your medical school resume stand out from the crowd:
Take your time and think carefully about what you want to show on your medical school resume.
Concentrate on your relevant achievements, both academic and professional.
Start your medical school resume with the education section.
Focus on your relevant experience, so that is shows you've got what it takes to succeed.
Organize your resume in the reverse-chronological order.
Are you writing a medical school resume for the first time? Or perhaps you're a medical student who'd like to share their experience? We'd love to hear from you, leave your comment below!
About Zety's Editorial Process
This article has been reviewed by our editorial team to make sure it follows Zety's editorial guidelines. We're committed to sharing our expertise and giving you trustworthy career advice tailored to your needs. High-quality content is what brings over 40 million readers to our site every year. But we don't stop there. Our team conducts original research to understand the job market better, and we pride ourselves on being quoted by top universities and prime media outlets from around the world.