You help people. Save lives. But writing resumes… may be a little something you're not used to doing. Well then, let's triage you into the best EMT resume on the web!
EMT jobs are growing fast, but to get one that pays well and provides great benefits, you'll need an EMT resume that's A&Ox50. And by the end of this article, you'll know exactly how to achieve that.
This guide will show you:
A EMT resume example better than 9 out of 10 others.
How to write an EMT resume that gets more interviews.
Tips and examples of how to put skills and achievements on an EMT or EMT-B resume.
How to describe your experience on a resume for an EMT to get any job you want.
Want to save time and have your resume ready in 5 minutes? Try our resume builder. It's fast and easy to use. Plus, you'll get ready-made content to add with one click. See 20+ resume templates and create your resume here.
Sample resume made with our builder—See more resume samples here.
Are you an EMT plus other things? Still asking, "Should I be an EMT?" See our other medical resume guides:
1
Emt resume example
Jessica Robinson
Emergency Medical Technician (EMT)
505-555-1234
jessica.robinson@email.com
linkedin.com/in/jessica.robinson
Summary
Resourceful and certified EMT with 8+ years of experience, seeking employment as an Emergency Medical Technician at Rapid Medical Services. Keen to apply in-depth knowledge of emergency medical protocols and best practices to help serve the local community in Albuquerque, New Mexico. Notable accomplishments include successfully responding to over 1,000 emergency calls with a 13% decrease in response time year-on-year for EMS Solutions.
Experience
Emergency Medical Technician (EMT)
EMS Solutions, Albuquerque, NM
April 2012–January 2021
Key Qualifications & Responsibilities
Responded to emergency calls promptly and professionally.
Use advanced medical equipment for triage and treatment of patients according to established EMS protocol during each call.
Instructed other EMTs in proper patient assessment techniques, crisis intervention strategies, and safety procedures.
Utilized knowledge of medical terminology, anatomy, and physiology during patient assessments.
Key Achievement:
Successfully responded to over 1,000 emergency calls, decreasing response time by 13% year on year.
Emergency Medical Technician (EMT)
Life Ambulance Care, Albuquerque, NM
April 2011–February 2012
Key Qualifications & Responsibilities
Administered ALS/BLS prehospital treatments during emergencies, including trauma assessment and management
Communicated with other healthcare professionals such as doctors or nurses regarding the critical condition of patients during transport from the site of injury to appropriate hospital facility for further evaluation or treatment program adjustments if required.
Acted as liaison between ambulance crew members, ensuring that all personnel acted safely while adhering to company policies concerning patient care standards.
Key Achievement:
Assisted multiple successful transports from the site of injury into appropriate hospital facilities while maintaining the highest safety standards at all times.
Education
Associate Degree in Emergency Medical Technology
Albuquerque Community College, Albuquerque, NM
2006–2008
Relevant Extracurricular Activities
Volunteer EMT, Albuquerque Fire Department – 2008–2011
Member of the National Association of Emergency Medical Technicians – 2010–2012
Academic Achievements
Received the Academic Excellence Award in 2008 for exhibiting the highest academic excellence in Emergency Medical Technology.
Skills
Emergency Medical Protocols and Best Practices
Patient Assessment Techniques
CPR & First Aid Certified
Advanced Medical Equipment Operation
Crisis Intervention Strategies
Medical Terminology Knowledge
Anatomy and Physiology Expertise
Safety Procedures Familiarity
Certifications
Basic Life Support – American Red Cross – 2011
Advanced Cardiac Life Support – American Red Cross – 2015
Awards
Most Valuable Member Award – EMS Solutions – 2018
Memberships
Member of the National Association of Emergency Technicians since 2015.
Languages
English - Native
Spanish - Fluent
Interests
Yoga Instructor – Completed 200hr certification course from Yoga Alliance – 2020
Photography enthusiast – Awarded 2nd place in the State Photography Contest 2020
What's the Best Format for an EMT Resume?
Disaster.
You spent hours writing a great EMS resume. Then you sent it off to 20 hospitals and—
Crickets.
What went wrong?
Chances are you picked the wrong EMT resume format.
Does format really matter that much on a resume for EMT jobs?
Well—does attention to detail matter for an EMT?
(Nasal cannula, anal cannula—what's the difference?)
The right layout proves attention to detail.
Start with the reverse-chronological resume format. It puts your most recent hero work first.
Use white space, big headings, and the best resume fonts. The medical director will appreciate your clarity.
Last, save it as a PDF. Today's PDFs are machine readable. MS Word EMT perfect resumes can train wreck when they're emailed.
Check the job ad to make sure it doesn't say, "No PDFs."
Pro Tip: Moving to EMT jobs from another line of work? Use the combination resume format. It transplants transferable experience into your EMT or EMT Basic resume.
Want other options for your firefighter EMT resume or other emergency medical technician resume? See our guide: Proper Resume Format: Pick the Best One [+Templates]
2
EMT Resume Summary or Resume Objective
Say hello to Hank, the hospital's HR wizard.
Nice "Ashes of Difficult Patients" coffee mug.
Hank stands between you and the 401K, the great work life, the vacation to Nepal...
But you're invisible to Hank. You're in a mountain of EMT duties resumes on his desk and he won't read them all.
He'll flip through and pick the few that look good at a glance.
Car crash.
How can you get Hank's attention?
Do it with an EMT resume objective or resume summary.
A resume objective works when your experience just cut the umbilical. Use it to grab the hospital hiring manager with your passion.
A resume summary is for EMTs with more experience than James O. Page. It makes the manager say, "Wow, this one knows her way around a bag valve mask."
The secret?
Pack either with achievements.
These two senior EMT resume examples give a demonstration.
EMT Resume Examples [Resume Summaries]
Can you find the system shutdown in the first of our senior EMT resume samples?
wrong
Hard-working EMT with 2 years of experience. Handled all EMT duties at Mississippi Central Regional Hospital, including providing emergency patient care, transporting patients, and preparing patients for hospital treatment.
That's not totally unresponsive, but it won't rev up the interview machine.
To wake the medical director like an epipen, try our next EMS resume example:
right
EMT-B with 2+ years of experience. Seeking to deliver medical excellence for Mid Mississippi Regional Medical Center's patients. At Watertown Regional, drove 100+ calls, cut inventory costs by 25%, and received the "Pitch In" award for maintaining a spotless ambulance and bay.
Now you've got a pulse again. Those achievements work a miracle.
Paramedic Resume Example [Resume Summary]
Looking for paramedic resume examples? Here's one:
right
Paramedic with 4+ years of experience. Seeking to provide high quality emergent care to Portland Hospital's patients. At Chemsbury Regional, received frequent commendations for showing up early, leaving late, and doing the prep work, maintenance, and cleaning nobody liked. Drove the vehicle on 75% of shifts and turned in all documentation ahead of time and with zero errors.
Now that's a paramedic resume example that makes me want to work with you.
Don't have that kind of experience? See the junior EMT resume examples below.
Two Entry-Level EMT Resume Objectives
If your EMT experience is still covered in amniotic fluid, try a resume objective.
Back in the "bring out your dead" days those would show your passion. See the next of our EMT resume objectives:
wrong
Driven EMT, skilled in emergency medicine, intubation, airway management, and assessment. Good at vehicle maintenance and ready to learn on the job.
Okay, great! You're eager to get started!
But so are lots of other candidates and oh-oh—they have experience.
Don't flatline. Check out the next of our new EMT resume examples:
right
Energetic EMT, skilled in assessment and vehicle operation. Commended by 5 professors at MSU for strong work ethic. Worked as volunteer on Binghamton ambulance service and served on 5 medical extractions as a whitewater rafting trip leader on the Penobscot River in Maine.
That'll activate the hiring manager's vaso-vagal nerve.
But what if you have no experience for a resume for EMT jobs?
That's next.
Pro Tip: Don't bang your head against a wall trying to write a paramedic resume objective. Write your resume first. That'll give you lots of juicy goodies to pick from.
When making a resume in our builder, drag & drop bullet points, skills, and auto-fill the boring stuff. Spell check? Check. Start building a professional resume template here for free.
When you're done, our online resume builder will score your resume and our resume checker will tell you exactly how to make it better.
Want the interviews to roll in like ER patients during a full moon? Use the sample EMT job duties resume up top. Plus, see our guides:
How To Write 20+ Resume Summary Statements that Really Work
Career Objective Examples & 20+ Proven Tips
3
The Perfect EMT Job Description for a Resume
Excellent.
Hank, the clinic director, just called. He loved your EMS resume and wants to interview you.
How did you do it?
You're not even the most experienced.
You showed the right experience on your resume for paramedic or EMT jobs. And you did it better than the others.
Now let's make that real.
Start with your most recent job experience. List 3-5 resume bullet points that show your EMT chops.
Use the next of our paramedic resumes examples for guidance.
EMT / Paramedic Resume Examples [Experience]
Spot the difference in these two sample EMT resume experience sections:
right
Watertown Regional Hospital
EMT-B
2017–2018
Drove 100+ calls. Led team of 2–3 EMTs on 40% of calls.
Commended 3X by medical director for excellent documentation.
Received "Pitch In" award for maintaining clean ambulance and bay.
Managed inventory. Cut costs 25% through better vendor sourcing.
That's Joe Connelly-level. Those measurable accomplishments make it live and breathe.
But slice off those achievements, and:
wrong
Watertown Regional Hospital
EMT-B
2017–2018
Drove ambulance and delivered patient rescue care.
Assessed patients and leveraged deep knowledge of emergency medical techniques to stabilize their conditions.
Responsible for managing inventory.
Calmed patients and reassured family members during difficult times.
Plane crash! EMT professional resume examples like that should give you palpitations. They need measurable accomplishments.
But what if you have no experience at EMT jobs?
See these entry-level EMT resume examples.
How to Write a Resume for an EMT with no Experience
First the bad news:
You can't write a resume for EMT jobs with no experience.
But—
You've got experience or you can get it fast.
List transferable accomplishments from:
Filling in
Ride alongs
IFT driving
Don't have any of those? Get them this week and put them on your emergency medical technician resume.
Does the job ad say "minimum of one year of experience?" Apply anyway. Lots of EMTs get hired with less.
The next entry-level EMT resume samples demonstrate the operation.
Two Entry-Level EMT Resume Samples [No Experience]
The first of these entry-level EMT resumes examples is code brown.
wrong
EMT Experience: None yet as an official EMT, but I know my stuff and I'm ready to work hard.
Other Experience:
Chicken shed shoveler
Barista
Ouch. That's CTD (Circling The Drain).
So—add details to get this EMT resume example:
right
EMT Experience
2017–2018
Worked as volunteer on Binghamton ambulance service.
Served on 5 extractions as whitewater rafting leader, Penobscot River, Maine.
Drove 3 transports from local nursing home to hospital.
Nice. You're Greg Friese in the rough.
How to List CPR on a Resume
You don't need to show CPR certs on a resume for EMT jobs. It's part of your license.
But how to put EMT on resumes for other jobs?
Just find the skills that transfer. If you just finished nursing school, your EMT experience looks great. If you're vying for an office manager position, talk up EMS leadership experience.
Pro Tip: Do the measurable achievements on your firefighter EMT resume or EMT Basic resume match the job offer? They should. Scroll down to see how in the skills section of this guide.
Don't make the clinic manager go A&OX0. Make your paramedic resume shock her back to life with action words. See our guide: 240 Resume Action Words & Power Words (+Buzzwords to Avoid!)
4
Is Your Education Section Assuming Room Temperature? It Might Be
You know you need to show education on an EMT resume.
But how can you do it so the medical director says, "Wow?"
If you say, "I took EMT training," do you know what the manager will say?
Not much, because that's on all the EMS resumes he sees.
So—be different.
Start with:
School Name and Location
Years in School
Degree
Then add achievements that fit the job like MAST pants.
The next EMT sample resume examples show the right and wrong way:
EMT Resume Examples [Education]
These EMT/Paramedic resume samples are for a job that needs leadership, a strong work ethic, and robust knowledge of the basics.
right
B.S. in Biology, Michigan State University
2014–2018
Excelled in human physiology.
Completed senior project on trauma science.
Commended by 5 professors for strong work ethic.
Wilderness EMT-B, SOLO Program, 2015
Scored top of the class on EMT test.
Chosen to lead mock backcountry rescue because of leadership skills.
That'll contract the hiring manager's pupils.
Now let's try that the generic way:
wrong
B.S. in Biology, Michigan State University
2017–2018
Cheyne-Stokes. That guy probably thinks prostate is a reproductive organ.
Pro Tip: To GPA or not to GPA? Add grades to your EMT or EMT-B resume if they're high or recent. Otherwise, send them to the Eternal Care Unit.
Make your emergency department technician resume education section get up and dance. See our guide: How to List Education on a Resume [Tips & Examples]
5
How to Put Skills on a Resume for an EMT
Think about this—
If the medical director knows you've got the EMT skills he needs, you're hired.
The hard part is convincing him.
There are two parts to this challenge:
Pick the right skills to show on your EMT or paramedic resume.
Don't just list them—prove them in your resume bullets too.
The professional EMT resumes examples below show how.
EMT Resume Examples [Skills]
Let's say Hank put these EMT qualifications in the EMT job description for resumes:
Required EMT Skills: (1) Vehicle Maintenance, (2) Driving Emergency Vehicles, (3) Documentation
So, list them, plus a couple more. Then do like this EMT resume sample:
(1) Maintained two ambulances and kept them defect-free and incident-free.
(2) Drove rescue vehicle on 50+ IFT transports
Delivered all (3) reports with 99% accuracy.
Show your EMT and paramedic resume skills like that, and your interview rate will get off life support.
List of Skills to Put on an EMT Resume
Need some EMT resume skills to use as great resume keywords?
Use the list below. Find more in each job offer you apply to.
EMT Resume Skills

| | |
| --- | --- |
| Soft Skills | Hard Skills |
| Judgement | Intubation and Infusion |
| | Emergency Medicine |
| Dependability | Airway Management |
| Detail Oriented | Assessment |
| Physically Fit | Patient Stabilization |
| Perceptiveness | Medical Terminology |
| Customer Service | Emergency Vehicle Operation |
| Compassion | Vehicle Maintenance |
| | Rescue & Medical Equipment |
| | Incident Command System (ICS) |
Pro Tip: Couldn't you just lie about EMS resume skills? Sure! You'll probably get the interview, but not the job. It's easy to poke holes in lies during job interviews.
Give your EMT worker resume skills section a shot of epinephrine. See our guide: +30 Best Examples of What Skills to Put on a Resume (Proven Tips) and Nursing Skills for Any Medical Resume
6
How to Show Licenses and Certifications on a Resume
Nightmare time.
"Hmm, she's not licensed."
Don't let the manager say that about your EMT or paramedic resume!
Employers skim resumes. You've got to put your license where even skimmers see it first.
Put your license:
At the top of your EMS resume, near your name
At the beginning of your resume summary
In a special "License" section after your summary
Check out this EMT resume example:

Got other certifications like NIMS certs or wilderness medicine certs? Those are great. But don't hide your hard-fought EMT license with them.
Put them in a "certifications" section down below your education.
Certifications
Wilderness EMT Certification
NIMS IS-800.C—National Response Framework
Need more certifications? Check out the NAEMT or FEMA's NIMS page.
Pro Tip: Got lots of certifications that aren't exactly relevant to the job? Why not toss them into your EMT resume just in case? Because they're clutter. They'll hide your valuable skills.
Want your license to stand out like a high visibility vest on your resume for EMT jobs? See our guide: Certifications & Licences on a Resume: How to List Them?
7
Add these Things to Build a Healthy Resume
Why should they hire you?
You've got experience and education, yeah. But so do 90 other applicants.
What makes you different? It's the "other" resume sections on your EMT or paramedic resume. They show you actually care about the work.
Watch that in two sample EMT professional resumes:
EMT Resume Examples [Other Sections]
The first of these EMT resumes examples is a sucking chest wound:
wrong
Mud wrestling
Rock climbing
Kite surfing
Hey, great, let's party while I hire someone who can do the job.
If you want the job yourself, do this:
right
Conferences
2017 NAEMT Conference—Spoke on panel about HIPAA law.
2016 EMS Expo.
Additional Activities
Active Member, National Association of Emergency Medical Technicians.
Take CrossFit 2x/week for fitness and self care.
Volunteer 2x per month at 5th Street Homeless Shelter.
Full recovery. Your professional EMT worker resume could cure the dead.
Pro Tip: Don't expect the medical director to understand why an "other" bullet on your EMT resume is relevant. Notice how CrossFit is "for fitness and self care" above.
Drawing blanks for what to put on a resume for an emergency medical technician? See our guide: +20 Best Examples of Hobbies & Interests To Put on a Resume (5 Tips)
8
What About an EMT Cover Letter?
Rats. Do you need to submit a cover letter with your EMT resume?
Yep.
You've heard that 60% of hiring managers don't read cover letters. The other 40% won't read EMS resumes without them.
But nobody will read a generic EMT cover letter. "Generic" means "Hi, here's my resume."
Instead, say, "Dear Hank, I fully understand your needs for this position and here's why you should hire me."
But say it like this:
This short example EMT cover letter practically levitates:
When the medical director at Watertown Regional Hospital commended my work ethic 5X, it was because of my core belief about EMS. Namely, my life is a lot more fun when I'm helping other people, and that means working hard.
During the 100+ calls I drove as an EMT-B, things went smoothly because of all the time I spent in non-call hours cleaning, prepping, and making sure everything was stocked. In fact the 25% reduction in inventory I created was...
Always end a cover letter with an offer. Try, "I'd like to talk to you about why pitching in to drive IFT transports helped me see the true purpose of an EMT."
Pro Tip: Follow up on your EMT cover letter or paramedic resume not once but three times. In three days, in a week, and in three weeks. Each one is another chance to land the job.
Plus, a great cover letter that matches your resume will give you an advantage over other candidates. You can write it in our cover letter builder here. Here's what it may look like: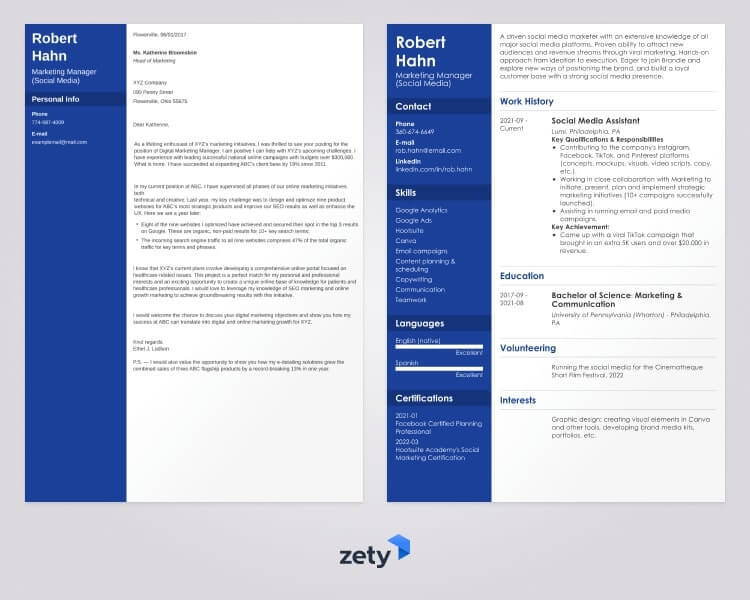 See more cover letter templates and start writing.
Want to make your EMT cover letter shine like Ray Barishansky wrote it? See our guide: How to Write a Cover Letter for an Application that Wins (+12 Examples)
9
Do This Before You Add Contact Info to a Resume
"I already know how to add contact info to a resume."
But do you?
Of course list:
Full Name
Updated Phone Number
Professional Email Address
Like this:
Brynn Jacksonwald, EMT-B, brynn.t.jacksonwald@gmail.com, 601-421-7120
"Professional email address" means john.doe@gmail.com. Not ArtyArtyTheOneManParty2389284509555@yahoo.com.
But here's the secret:
Sanitize your social media accounts for bear traps that could shank your EMT resume.
Our guide to optimize your online presence can help.
Pro Tip: A LinkedIn profile is a good idea too. Make sure it's in stable condition before you release it to the world. Use our guide to how to optimize a LinkedIn profile.
Want your resume for EMT jobs to give the medical director a duty to act? See our guide: How to Write a Job Resume: the Ultimate Guide (+30 Examples)
Key Takeaway
Here's a recap of how to write an EMT resume:
Write an EMT resume objective or resume summary. Cram measurable achievements into it to make the manager express consent to hire you.
Read the job description. Match your EMS resume bullets to it like a pneumatic tourniquet.
Add other sections that prove you could resuscitate George Washington. List conferences, volunteer gigs, and professional associations on a paramedic resume.
Write an EMT cover letter. Make it personal and passionate to grab the medical director like Stryker restraints.
Do you have questions on how to write a great resume for an EMT? Not sure how to describe your skills or achievements? Give us a shout in the comments! We'd be happy to reply.
About Zety's Editorial Process
This article has been reviewed by our editorial team to make sure it follows Zety's editorial guidelines. We're committed to sharing our expertise and giving you trustworthy career advice tailored to your needs. High-quality content is what brings over 40 million readers to our site every year. But we don't stop there. Our team conducts original research to understand the job market better, and we pride ourselves on being quoted by top universities and prime media outlets from around the world.