How to Put Study Abroad Experience on a Resume
Some say studying abroad looks good on a resume. Others see it as "academic tourism." Here's how to put it on your resume to get that job—no matter who reads your application.
Your study abroad experience gave you useful skills and broadened your horizons. The bad news is—if you don't show it right on your resume, employers won't care.
To really boost your chances of getting hired, you need to show how your international experience can benefit them—when they give you that job.
Don't worry. You're about to learn how to nail it.
This article will show you:
Where and how to put study abroad on a resume.
What skills to focus on when describing your international experience.
How to incorporate your student exchange into a cover letter.
Want to save time and have your resume ready in 5 minutes? Try our resume builder. It's fast and easy to use. Plus, you'll get ready-made content to add with one click. See 20+ resume templates and create your resume here.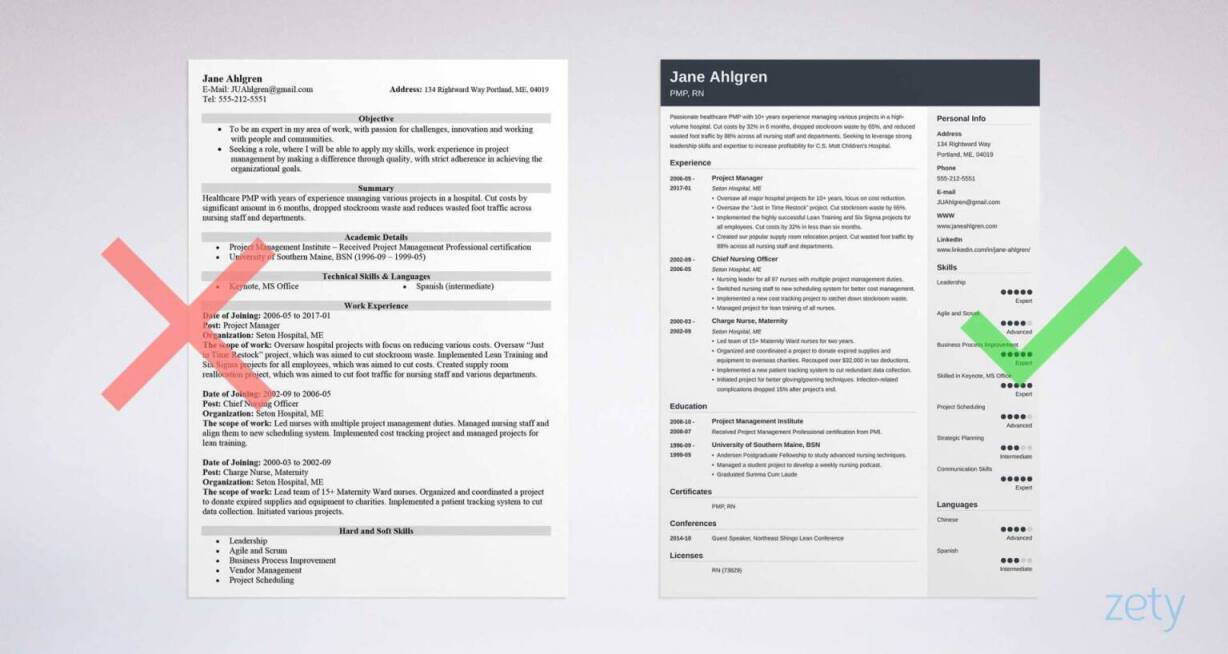 Sample resume made with our builder—See more resume examples here.
Looking for other resume writing resources? Check out our guides:
1
List Study Abroad on Your Resume in Various Sections
First things first: Not all types of resumes need to include your study abroad experience. For example, an executive resume will be just fine with a brief mention of your most recent educational background.
Putting study abroad on a resume makes perfect sense when you're preparing a:
In other words, when your professional experience on a resume isn't huge yet.
Now that you know when to add study abroad to a resume, let's take a look at where to put it.
Study Abroad Resume
—
Education Section
This is the most typical place to put your study abroad experience on a resume. Put it right below the school you attend or graduated from. Just make sure the formatting is consistent across all entries.
Remember to put the school name and location, dates, and degree earned. And—if you have little or no professional experience, you might want to put the resume education section before the experience section.
Pro Tip: If you're using our resume builder, you don't have to worry about inconsistent formatting.
Here's how you can add study abroad to your resume education section:
Study Abroad Resume Example
2015–2018
U.C. Berkeley, CA
BA in English and Psychology
Dean's List all semesters
2016–2017
University of Warsaw, Poland
Concentration in Language Studies
Fulbright U.S. Student Program—English Teaching Assistant
Remember: you can expand your resume education section to accommodate all information relevant to the position. These include relevant coursework, Dean's List, GPA on a resume, or cum laude on a resume if applicable.
Study Abroad on Resume
—
Professional Experience Section
This resume section is a perfect place for listing study abroad on one condition: If you managed to combine work and study. Should you choose this option, just see to it that the formatting is consistent for all entries.
Here are some basic rules for making a powerful resume experience section:
Add the job title, company name, as well as dates worked.
Put your duties and achievements on a bullet-point list.
Be selective and don't add more than 6 bullets.
Remember: focus on the experience relevant to the position and tailor your resume.
Start your study abroad bullet points with action words: taught, collaborated, etc.
Try to put numbers wherever you can to demonstrate your real impact.
Take a look at the example below to see how to include study abroad in your resume work experience section:
Study Abroad in a Resume Experience Section—Example
2017–
SEO Juice, Los Angeles, CA
Content Specialist
Wrote 70+ high-traffic articles optimized for search engines.
Prepared copy for 20+ landing pages and microcopy for 5+ products for various clients.
Collaborated with external agencies to optimize existing pages and blog articles.
2016–2017
Best English School, Warsaw, Poland
English Teacher
Taught general English lessons to groups of up to 10 cross-cultural adult learners.
Prepared and conducted 100+ business English lessons to Poles working for international corporations.
Collaborated with a team of teachers and teaching assistants to develop cultural awareness among teenage students.
Pro Tip: Don't forget to highlight your key achievements for a resume in a dedicated subsection of your resume job description section.
Study Abroad on Resume
—
Skills Section
The benefits of study abroad programs for your future career development are massive.
The Learning Abroad Center at the University of Minnesota has identified a skill set you may gain during your study abroad program. Some of the skills include:
Adaptability
Confidence and independence
Cultural awareness
Open-mindedness
Sensitivity to economic and political issues
Tolerance
Remember: focus on your top skills on your resume, don't list everything you can do. And—pick out the skills you can easily prove by making a reference to your resume education or experience sections.
Study Abroad on Resume

—

Resume Objective Section
The resume objective is a short opening paragraph that introduces you to the recruiter in the form of a written elevator pitch.
A well-written resume objective should focus on your transferable skills, and show the recruiter how they make you a perfect fit for the role.
Here's what your resume objective could look like:
Study Abroad—Resume Objective Sample
A tech-savvy and hard-working fresh graduate from U.C. Berkeley with a Bachelor's Degree in English and Psychology. Eager to support XYZ Media as a content specialist with strong communication and research skills. Previous study abroad experience as an English language tutor in a cross-cultural environment.
Obviously, depending on what position you're applying for and what company you want to join, you will need to highlight different aspects of your study abroad experience on a resume.
Pro Tip: Don't forget to mention your knowledge of foreign languages on your resume. It's also a skill you developed thanks to your international experience.
When making a resume in our builder, drag & drop bullet points, skills, and auto-fill the boring stuff. Spell check? Check. Start building a professional resume template here for free.
When you're done, our easy resume builder will score your resume and our resume checker will tell you exactly how to make it better.
2
Include Study Abroad in a Resume Cover Letter
Should you write a cover letter? Yes! Over 50% of recruiters would like to read yours. A cover letter is another opportunity for you to put study abroad experience in the limelight. Especially when it's pretty recent, and you don't have much professional experience to brag about.
Just like in the case of your resume, focus on what's relevant and leave out all the rest. Follow these tips and learn how to write a cover letter quickly and effectively:
Here are some ideas on the phrasing you could use to describe your international experience in your cover letter:
How to Mention Study Abroad in a Cover Letter—Examples
My study abroad experience in France gave me a cross-cultural perspective on international communication issues.
As an international exchange student in Spain, I learned how to effectively communicate in a cross-cultural environment.
My semester abroad in Japan taught me how to quickly adapt to new environments and effectively cooperate with people of diverse backgrounds.
As an international student with the University of Thessaloniki, I understood the benefits and challenges of working within a culturally diverse project group.
It makes the most sense to include such information either in the second or third paragraph of your cover letter. Why? This is where you're explaining why you're a great fit for the position or describing the value you'll bring to the company.
Pro Tip: Learn how to answer the toughest interview questions to show your study abroad experience was an opportunity for you to develop.
Plus, a great cover letter that matches your resume will give you an advantage over other candidates. You can write it in our cover letter builder here. Here's what it may look like: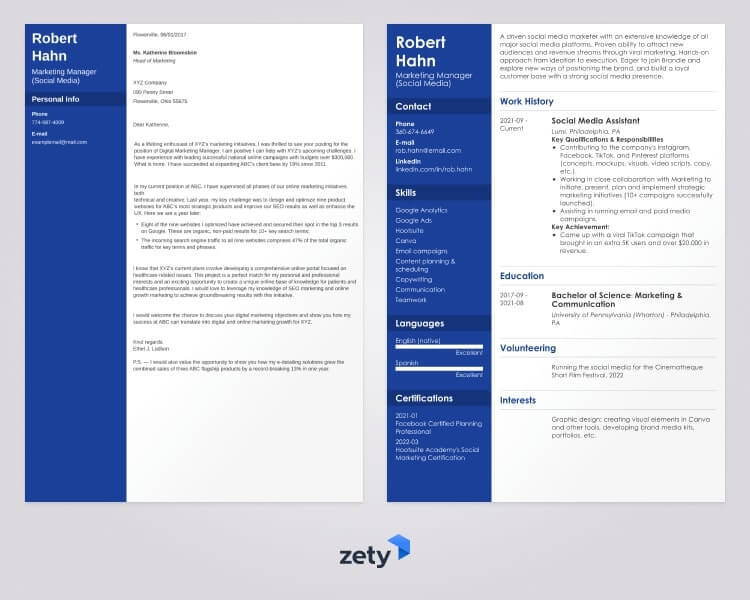 See more cover letter templates and start writing.
Key Takeaways
How to put study abroad on a resume:
Add study abroad to your resume education section.
Make sure to add the details relevant to the position you're applying for.
List it in the experience section if you both worked and studied.
Show off the skills you acquired in an international environment.
Use it in the resume objective section if you have no exprience.
Leverage it in your cover letter to show off a unique selling point.
Not sure if studying abroad looks good on a resume? Still have mixed feelings about how to put study abroad on your resume? Give us a shout out in the comments below! Always happy to help.
About Zety's Editorial Process
This article has been reviewed by our editorial team to make sure it follows Zety's editorial guidelines. We're committed to sharing our expertise and giving you trustworthy career advice tailored to your needs. High-quality content is what brings over 40 million readers to our site every year. But we don't stop there. Our team conducts original research to understand the job market better, and we pride ourselves on being quoted by top universities and prime media outlets from around the world.
Sources