You're about to see a great executive resume sample. But here's the problem—you know you're an adept executive. You understand the industry. Leadership is stamped into your DNA.
But the senior executive doesn't know that. Worse, he barely has time to read 10 of his 10,000 emails. How can you write an executive resume that conveys your strengths, and that he will actually read?
This guide will show you:
An executive resume example better than 9 out of 10 other resumes.
How to write an executive resume that lands more interviews.
Executive resume writing tips and examples for how to list skills and achievements.
How to describe your experience on a resume for an executive position to get any job you want.
Want to save time and have your resume ready in 5 minutes? Try our resume builder. It's fast and easy to use. Plus, you'll get ready-made content to add with one click. See 20+ resume templates and create your resume here.
Sample executive resume made with our builder—See more resume examples here.
Looking for specific resume samples for supervisory positions? We've got you covered:
And here you can find some examples for business manager related jobs:
Executive Resume Example
Austin Penske
Executive
+1 (123) 456-7890
austin.penske@email.com
linkedin.com/in/austin.penske
Summary
Highly experienced executive specialized in strategic planning, budgeting, and process improvement. Eager to join OptiMax Technologies as an Executive to leverage my leadership skills and drive organizational success. Successfully led the development of Energetic Innovations' innovative product line, resulting in a 20% increase in sales revenue.
Experience
Executive Director
Energetic Innovations, Lafayette, LA
May 2017–Present
Key Qualifications & Responsibilities
Managed over 100 employees across multiple departments with efficiency while staying on budget.
Spearheaded 5 successful projects within the organization that increased revenue by 25%.
Developed key strategies for improving operational workflow and enhancing customer satisfaction levels.
Implemented team-building events that increased employee satisfaction by 7%.
Key Achievement:
Introduced a new and creative range of products, led to a growth of 20% in sales revenue.
VP of Operations
OptiMax Technologies, Lafayette, LA
March 2011–May 2017
Key Qualifications & Responsibilities
Established new processes for customer service support that improved quality assurance ratings by 10%.
Developed plans on increasing profitability and strategies for mitigating risks associated with potential investments.
Directed daily operations of the company while assessing employee performance at regular intervals.
Key Achievement:
Spearheaded an initiative to promote corporate social responsibility among employees that saw a 20% boost in employee morale across all departments.
Education
Master's Degree in Business Administration
University of Louisiana at Lafayette, Lafayette, LA
September 2009–May 2011
Relevant Extracurricular Activities
Served as Vice President of Finance for the University Student Association.
Member, Business Consultation Club.
Academic Achievements:
Graduated summa cum laude from UL-Lafayette.
Skills
Team Management
Budgeting & Financial Analysis
Strategic Planning & Problem Solving
Leadership & Coaching
Customer Relationship Management
Data-Driven Decision Making
Project Management
Business Process Improvement
Microsoft Office Suite & ERP Systems
Certifications
Project Management Professional (PMP), Project Management Institute (PMI), 2020
Awards
Outstanding Performance Award (2020), Energetic Innovations
Memberships
Member of the National Association of Professional Women since 2018.
Languages
English–Native
French–Fluent
Spanish–Advanced
Interests
Playing chess competitively; coached an international chess tournament team; has won multiple awards both domestically and internationally.
1
What's the Best Format for an Executive Resume?
"90% of what you're saying ain't coming out of your mouth." That quote from the movie Hitch describes why resume format is so important.
We're not judged merely by what we say, but also how we say it. The conclusion? Your executive resume must broadcast the right message loud and clear.
Start with a trusted format like the reverse-chronological layout. It presents your freshest victories up front. Use clear, powerful fonts. Nothing flashy. Lead with big headings, contrasted with clean white space.
Spell check. Grammar check. A company is constructed of a thousand details. Show you'll care for every one.
Finally, save it as a PDF. An executive resume PDF preserves its formatting. MS Word formats can turn to soup in transit. Just make sure the job offer doesn't outlaw PDFs.
Pro Tip: Rethink the two-page resume format. Account executive business resumes are elevator pitches, not peel-the-onion exposés.
Not sold on the reverse-chronological format for your sales executive resume? Want more modern resume examples? See this guide: Resume Formats: How to Choose the Best Type
2
How to Write a Summary Based on Executive Resume Summary Examples
Now the bad news: No one's going to read your perfect executive resume. It's too long. They've got ten thousand things to do, and 200 other resumes to read.
It's sad, but true. The average recruiter spends just seven seconds looking at each resume, according to our HR statistics report.
Your goal? Make them love those seconds. Make them ravenous for more. Do it with a resume summary that'll blow their Gammarelli socks off.
That sounds big and hairy, but let's break it down. Write the rest of your resume first so you've got plenty of material. Then, build your summary around your biggest, baddest metrics.
These two sales executive level resume samples show how.
Senior Executive Resume Examples – Resume Summaries
wrong
Sales executive with 8 years experience, skilled in cost-cutting, customer retention, and budgeting. Seeking senior management position with a national firm. Fulfilled all sales executive duties and responsibilities for large IT firm, including setting quotas, training, and driving sales cycle.
What's wrong with that bit of executive level resume writing? It's strictly off-the-rack. Your resume summary should wake that senior executive like a thousand chocolate-covered espresso beans.
right
Passionate sales executive with 8+ years experience, skilled in new business development and communication. Seeking to dramatically increase Northwestern Mutual's KPIs. Raised revenue 22% at Karma MS, increased ROI 30%, cut costs 35%. Grew business 77% at Apexi Inc.
That second sales executive resume sample says it all. The senior exec is thinking you're the next Jack Welch. The difference? Metrics. Corporations want results, and you've just shown you own them.
The same strategy works on an IT executive level resume or marketing executive director resume.
When making a resume in our builder, drag & drop bullet points, skills, and auto-fill the boring stuff. Spell check? Check. Start building a professional resume template here for free.
When you're done, our online resume builder will score your resume and our resume checker will tell you exactly how to make it better.
Pro Tip: Had a lot of different jobs? Don't fret. A study of 459,000 LinkedIn members proves executive resumes with several job functions are more likely to succeed.
Need more examples for writing sales executive resume summaries? See this post: How To Write A Resume Summary: 21 Best Examples You Will See
3
How to Describe Executive Experience on a Modern Executive Resume
Meet the senior executive. His name's Alan. Nice textured Kiton.
He has zero time to read your excellent executive resume. Yet he wants to know beyond a shadow of a doubt that you've got mountains of experience.
See the problem?
Prove your strength the way you'd prove the ocean's power to someone who has never seen it. Not with a picture of every wave it ever had, but with a few impressive shots.
Start by reading the job description. Highlight the executive duties and responsibilities. Research the company. What are its goals? Its challenges?
Then, for every job you list in your executive resume experience section, add 4-6 bullet points. Prove you are their knight in shining mid-weight cashmere.
Let these two samples from sales executive level resumes light the way.
Senior Sales Executive Resume Examples – Experience
Imagine a widget company with flagging sales. It just announced a drive to open up new sales channels.
The job description calls for increasing revenue, sales leadership, cutting costs, and communication skills.
You could list 500 accomplishments in your account executive resume. But you only show these crucial four:
right
Sales Executive
Karma Microsystems
2013 - 2017
Led sales team for a large IT firm. Set and managed quotas, trained sales staff, and drove full sales cycle.
Surfaced new revenue opportunities, enhancing pipeline to boost revenue company wide. Increased total sales by 22% across 15 regional territories.
Facilitated real-time communication of all sales goals and initiatives to all stakeholders. Increased ROI 30%.
Prepared all sales budgets and forecasts. Implemented lean sales initiative. Won buy-in and idea generation from all team members, cutting costs 35%.
Can you see how that would land the interview? It's as if the director said, "I need a Honma Five Star 7 Iron with a lightweight grip," and you handed her exactly that.
Now contrast it with a far less surgical sales executive resume sample:
wrong
Sales Executive
Karma Microsystems
2013 - 2017
Responsible for growing client list and finding new business for major IT firm. Grew client list by 25%.
Built/maintained a national network of industry contacts and influencers to support identification of fresh business opportunities.
Prepared/delivered presentations to clients, showcasing new tech solutions. Grew client buy-in with new products by 32%.
Drove sales and revenue KPIs to goals. Increased ROI by 38%.
That's not terrible. If you saw both management resume samples without knowing the company, you'd flip a coin.
But the first of those strong sales executive resume examples follows Sun Tzu's advice: know the challenge, and yourself.
That strategy works just as well for a human resources executive manager resume.
Pro Tip: If you lack C-Suite experience, leading a big part of a company also looks great on a contemporary resume for an executive.
Need more tips to give your account executive resume the rock star treatment? See our guide: How to Put Achievements on a Resume - Complete Guide (+30 Examples)
4
Is Your Education Section Undervalued? It Might Be
Remember Alan, our senior executive? He values experience above all else. He doesn't really care about your MBA.
But that's not the point. You don't wear a Rolex to prove you can tell time. It's a symbol of your ability to get things done.
In the same way, the education on your executive resume doesn't prove you went to college. It shows that you were destined for the role.
Start with the basics:
College Name and Location.
Years in School.
Degree.
Then add bullet points that prove you fit the job like a tailored Brioni.
Look at the big difference in these two sales executive resume examples:
Examples Executive Resume Samples [Education]
wrong
MBA, Cornell University
2004 - 2009
Received MBA with concentration in sales and marketing.
GPA 3.4.
Active swim team member, all four years.
Coco Chanel said, "In order to be irreplaceable one must always be different." The account executive resume sample above is as replaceable as a burned-out bulb.
But look what happens when we add details that match the job:
right
MBA, Cornell University
2005 - 2009
Received MBA with concentration in sales and marketing.
For senior project, sold 1,100 units of a silicone bracelet to raise money for breast cancer research.
Now that sales executive resume writer was born to get the job. She might be the next Indra Nooyi. But all it takes is knowing the job requirements, then looking at your past for proof that you can nail them.
Don't have an MBA? Don't fret. Nearly 60% of all executives are in the same boat.
Pro Tip: There's no place for GPAs on a resume for an executive. You're too experienced to boast about how well you did in school.
Need a helicopter view of putting education on your account executive resume? Want more modern resume examples? See this guide: How to Put Your Education on a Resume [Tips & Examples]
5
How to Put The Right Skills on a Resume for an Executive
"Planning, development, leadership, decision-making." Every candidate puts the same skills on an executive resume, so do skills matter?
Not if you don't prove them. On a resume for an executive, absence of evidence is evidence of absence.
You need proof. So, list the skills the company is looking for. Then avoid burying them in a long list of unrelated skills.
Let's see that in action, in two sales executive resume summary examples:
Executive Resume Sample Skills List
Imagine ACME Thermoplastics needs an executive. She must be skilled in New Business Development, Revenue Growth, Customer Retention, and Communication.
So, you list those skills, like this:
right
Skills
New Business Development, Revenue Growth, Customer Retention, Communication, Leadership, Interpersonal Skills
Notice how you added Leadership and Interpersonal Skills to round things out.
But what you didn't do is this:
wrong
Skills
Strategic Planning, Budgeting, Finance, New Business Development, Product Presentation, IT Skills, Revenue Growth, Scheduling, Customer Retention, Reviewing Performance, Communication, Leadership, Interpersonal Skills
You have all those skills. You're proud of them. They look good on a resume for an executive.
But more is not better. You're making the board members drink from a firehose. To quote Hans Hofmann, "eliminate the unnecessary so the necessary may speak."
Then weave the important skills into your sales executive resume bullet points. You'll make the director's choice an easy one.
Example:
As sales account executive for mid-level logistics firm, managed sales team and sales pipeline and facilitated communication with stakeholders.
Handled full sales cycle. Grew business by 77% through creative strategies.
Communicated with clients to understand pain points. Increased customer retention 35%.
Consistently exceeded sales goals, increased revenue 54%.
Success. You picked the right skills, then you backed them up with metrics in your best executive resume.
That's a Blue Ocean Strategy for job hunting.
List of Skills to Put on an Executive Resume
Of course there's no cookie cutter list of executive resume skills. The right areas of expertise on a resume vary by industry and job description.
No matter whether you're writing a financial executive or a healthcare executive resume, the list below makes a nice jumping-off point.
Add to it from your own experience, and from job offers online.
Executive Resume Skills

| | |
| --- | --- |
| Soft Skills | Hard Skills |
| Confidence | Strategic Planning |
| | New Business Development |
| Perseverance | Budgeting & Finance |
| Math Skills | |
| | Reviewing Performance |
| Communication | Reaching KPI Goals |
| | Negotiating Contracts |
| | |
| | Relationship Building |
| | Scheduling |
Follow the plan above, and your account executive resume will make you look like Anne Mulcahy or Brad Smith.
Pro Tip: Worried you're not really "proving" anything with your executive resume skills list? Don't worry. You'll have time for hard data in the interview.
Need to give your skills section a promotion? Use the sample sales executive resume template from up top. Also, see this guide: +30 Best Examples of What Skills to Put on a Resume (Proven Tips)
6
How to Add Certifications to Executive Resumes in 2023
"This guy's got a solid background." You want the powers that be to speak those words when they first glimpse your best executive resume.
Certifications can be a gamechanger. Executives need a strong financial background, so CPA or CFP certifications can help.
Depending on your industry, a law degree, sales certification, or other certificate may also look good on a resume for an executive.
List certifications that provide value to the director. Put them in a special section in your professional executive resume, like this:
Certifications
CSE Certified Sales Executive
Cornell University Executive Leadership Certification
If a certification is central enough, add it to your name as well. A certifications list can give you a Howard Schultz aura at a glance.
Pro Tip: If you've got a certification the company won't care about, save it for a different application. The idea of an executive resume isn't to impress, but offer value.
Need more executive level resume writing tips? See this guide: What To Put On A Resume To Make It Perfect [Tips & Examples]
7
How to Add Other Sections for an Effective Senior Management Resume
Victor Kiam said, "In business, the competition will bite you if you run. If you stand still, they'll swallow you." Your competition is the stack of 200+ resumes for executives on the boardroom table. Many are quite good.
Yours is in the "second look" pile, with 50 others. Now how do you get it into the top 10? With storytelling. Share non-work accomplishments that show your sky-high bandwidth.
Sales Executive Resume Sample "Other" Sections
Take a look at these awards and acknowledgements resume examples.
Additional Activities
My article on influence in "Brain Blogger" got 1.5 million views.
Headed the team that received the Northeast Shingo Prize.
Active member, Sales and Marketing Executive Association (SMEI).
My Sales Podcast "Why We Sell," has 5,000 subscribers.
See my professional portfolio online at zakarik.com.
Conferences
Dreamforce, 2017 - Spoke on panel about generating new revenue streams.
Sales 3.0, 2015 - Spoke on panel about growing new business.
How do the C-Suite trophies above help lift a sales executive resume off the launchpad? By adding non-work proof you're passionate and dedicated.
Need more help with adding non-work accomplishments? See the sample resume for a senior management position at the top.
Pro Tip: Do a little head-scratching for your executive resume "other" sections. What seems fleeting to you may be the one thing the senior exec falls in love with.
Get more tips to help you build great "other" sections for an account executive resume. See our guide: +20 Best Examples of Hobbies & Interests To Put on a Resume (5 Tips)
8
Here's the Most Common Myth About Cover Letters
Picture two board members. Kate and Alan. Kate doesn't read cover letters. Alan considers them essential.
If you don't write an executive cover letter, you'll lose Alan. If you do write one, Kate will skip it, but so what? She'll still read your resume.
So, write a cover letter. Show your passion for the job and your understanding of the company's needs. Add the senior exec's name if possible, to make it personal.
Dear Mr. Upsani,
Canics, Inc. has one of the best track records for customer focus in the industry. I say that not just because of your 98% customer satisfaction scores and high customer retention rate, but because I spoke about it in my talk on revenue growth at the Accelerate sales conference this year.
Canics' stated barriers to expansion present a formidable problem. As a sales executive who grew market share by more than 100% at Unterworks and Gullfire Systems, I think I'm uniquely equipped to help you reach your goals.
An executive cover letter like that will get you called up to the majors fast.
Finally, end your cover letter for an executive resume with a call to action. "I'd welcome the chance to talk with you about your needs" works great.
Pro Tip: Build good relationships with executive recruitment firms. An executive cover letter works exponentially better if it's backed by an enthusiastic recommendation.
Plus, a great cover letter that matches your resume will give you an advantage over other candidates. You can write it in our cover letter builder here. Here's what it may look like: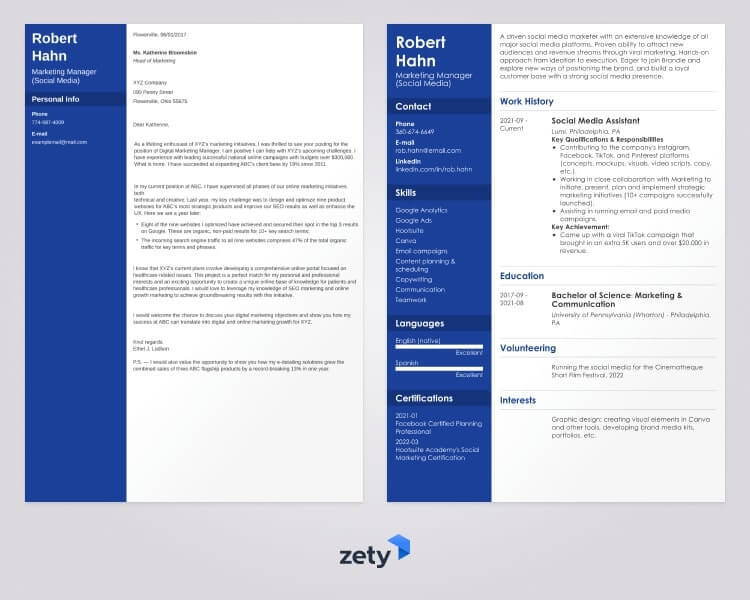 See more cover letter templates and start writing.
Need more granularity to write your executive cover letter? See our guide: How to Write a Cover Letter [Complete Guide With Examples]
9
How to Add Contact Info to Your Modern Executive Resume
You're probably making a mistake. You know your professional executive resume needs:
A Full Name
An Updated Phone Number
A Professional Email Address
Like this:
Meg Zakarik, meg@zakarik.com - 646-873-6016
But add your LinkedIn profile — 87% of recruiters check LinkedIn before interviewing candidates. Don't add one, and you risk coming off more like Willy Wonka than Tim Cook.
Finally, have a personal portfolio site, and link to it from your C-Level executive resume. A personal site can show your personality, your passion, and let directors dig deeper into your achievements.
Check out our guide on how to make a website for professional use. For more help adding contact info, use the executive director resume template up top.
Pro Tip: Need to up your LinkedIn game for your account executive resume? Check out our guide on how to make a great LinkedIn business profile here.
Want a deep dive into building a resume for an executive position? See our guide: How to Make a Resume: A Step-by-Step Guide (+30 Examples)
Key Takeaway
Even with free sample executive resume templates at your fingertips, writing an executive level resume can be a struggle. Use these strategies:
To custom-fit your account executive resume to the role like a bespoke Bugatti, read the job description and research the company.
Focus on the skills the board of directors wants. List those in your sales executive resume. Also, prove them in your bullet points, with metrics.
Finally, add "other" sections that tell the story of your competence. The right details can make or break a resume for an executive.
Do you have questions on how to write a great resume for an executive? Not sure how to describe your skills or achievements? Questions regarding examples of executive resumes? Give us a shout in the comments! We love to help.
About Zety's Editorial Process
This article has been reviewed by our editorial team to make sure it follows Zety's editorial guidelines. We're committed to sharing our expertise and giving you trustworthy career advice tailored to your needs. High-quality content is what brings over 40 million readers to our site every year. But we don't stop there. Our team conducts original research to understand the job market better, and we pride ourselves on being quoted by top universities and prime media outlets from around the world.