You're about to see the best property manager resume example out there. But first—
So you're a property manager. Or at least looking to become one.
The pay is good. The commissions even better. And hey, you get to brag about having one of the 20 happiest jobs in the US.
As a result, people often ask you: "what do property managers do?"
This is usually another time for you to brag. You know the job isn't as simple as other people might think.
You're a firefighter and a customer genius rolled into one - 24/7, you're taking up fire, and you're fixing problems. And you make sure the people closest to you understand that.
Employment is forecast to grow, so your job outlook is all sun no rain.
Right?
Not really. Competition is catching on. Everyone wants in on property management jobs.
Breathe. With our guide, your resume for a property manager job will stands out from the crowd.
In this article, you'll find:
An example of a property manager resume that's better than 9 out of 10 other resumes.
How to write a property manager resume that will land you more interviews.
Tips and examples of how to put skills and achievements on a property manager resume.
How to describe your experience on a resume for a property manager to get any job you want.
Here's a sample resume for a property manager made using our resume builder.
Want to save time and have your resume ready in 5 minutes? Try our resume builder. It's fast and easy to use. Plus, you'll get tips and right vs. wrong examples while writing your resume. See +20 resume templates and create your resume here.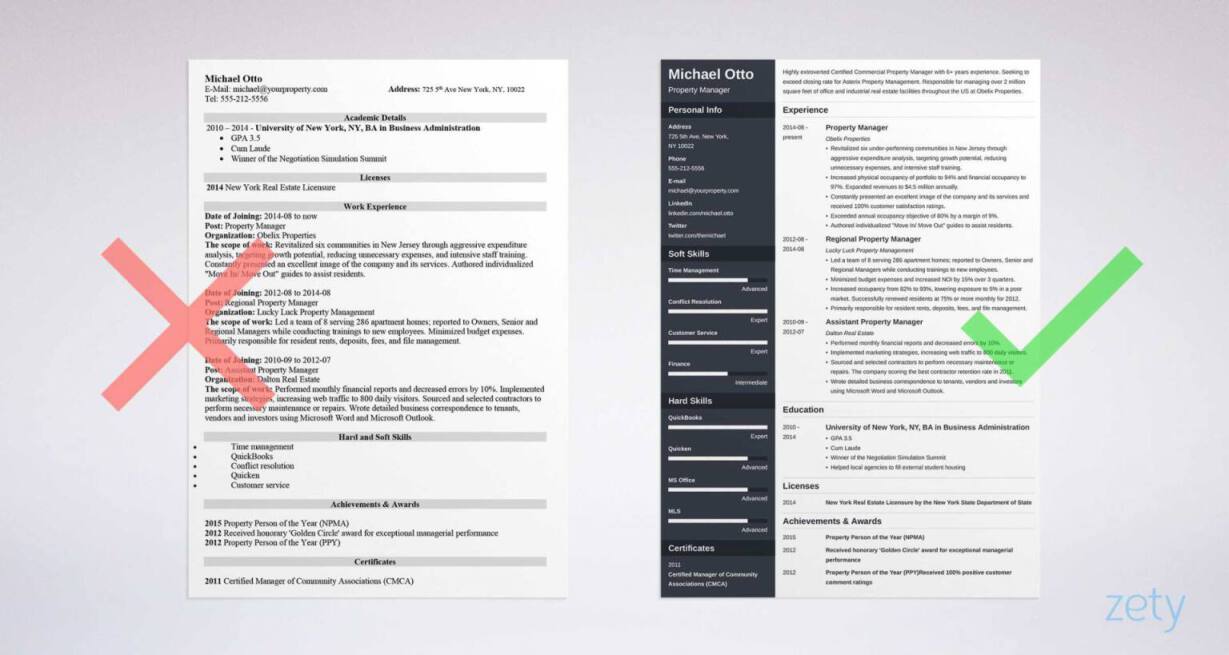 Property Manager Resume Example - See +20 resume templates and create your resume here
1
What's the Best Format for a Property Manager Resume?
On average, each job offer attracts 250 resumes. Of those candidates, 4 to 6 will get called for an interview, and only one will get the job.
You're basically like your tenant looking for the perfect apartment in the biggest cities out there, you have a hell of a lot of competition. And how do you advise your potential clients to seal the deal and get cosy in their dream home?
Well, you tell them that they need the best application out there.
Same applies to you.
You need to pay attention to the smallest details in your property manager job application, including its format.
How do you write the best resume for property management?
Use the reverse-chronological resume. This type of leasing manager resume puts your best assets right in front of your recruiter.
It gives a simple format for showing off the most salient points in a clean, tidy manner. Of all people, you know what mess and clutter say to those around it... run away now!
You don't want your recruiter to do that.
So use clear, classic fonts, big headings and white space to attract your reader to the focus point of their visit to your property management resume: your skills and experience.
Make sure you save your resume as PDF. A property management specialist resume PDF is like the perfect property, they just look and feel good all the time.
Pro Tip: Check the the job posting to make sure PDFs are OK. Sometimes hiring managers play landlords, they can be a bit picky.
Still not sold on the reverse-chronological format? Check our guide: 3 Resume Formats: How to Choose the Best One [Examples]
Want to make sure your resume will hook every recruiter and get you that interview? Get our free checklist and learn what makes a job-winning resume: 46 Things You Need To Do Before You Send Your Resume.
2
Should you Use a Property Manager Resume Summary or Resume Objective?
Meet Sally. She's the CEO of Asterix Property Management.
She started as an assistant property manager. She doesn't have a degree. But she hustled. She worked long hours and put up with the craziness of handling landlords, tenants, service-providers, contracts and administrative duties. Back in the day, she was a rising star.
Today she lives in a house as drool-worthy as the ones in her portfolio. She's an inspiration to work for.
So how do you get her attention? By showing her your impressive super powers with a resume objective or resume summary.
A resume summary is an overview of your property management experience. Use it if you've got your pockets full of commissions or if you're writing a senior property management resume.
A resume objective works without experience. It highlights your drive and ambition. Use it if you're writing an assistant resume for property management or any other entry-level property manager resume.
Let's have a look around.
Senior Commercial Property Manager Resume Sample [Resume Summaries]
wrong
An extroverted property manager with exceptional organizational and administrative skills. Track record of managing rental issues and promoting and supervising apartment maintenance.
Pretty sure Sally won't be impressed because you didn't show her why you'd be a good investment.
Look what happens when we "stage" your professional property manager resume summary:
right
Highly extroverted Certified Commercial Property Manager with 6+ years experience. Seeking to exceed closing rate for Asterix Property Management. At Obelix Properties, increased physical occupancy of portfolio to 94% and financial occupancy to 97%. Responsible for managing over 2 million square feet of office, retail, and industrial real estate facilities throughout the US.
Now that's a winner. It showcases the experience and the measurable achievements that will make Sally go "I want you on my side!"
Is your experience comparable to the facilities available at a studio - that is, non-existent? Don't worry too much about all the resumes that are like luxury 5-bedrooms with pools and tennis courts. The resume objective has your back.
How to Write a Resume Objective for an Entry-Level Property Manager
This is pretty much your sales pitch, telling your reader who you are and why you would be a valuable hire.
Let's say you're writing an entry-level residential property manager resume. This is how your resume objective should look:
wrong
College graduate with strong negotiation skills and ability to identify properties that meet client requirements.
right
College graduate passionate about studying negotiation skills. Created and maintained a successful resident retention program as part of a class project. Seeking to leverage experience in customer-facing roles to become one of Asterix Property Management's best closers and managers.
Pro Tip: Avoid generic resume objectives and summaries. Be a straight shooter and aim for details and performances highlighting your strengths.
Our resume builder (you can create your resume here) will give you tips and examples on how to write your resume professional summary section. Or any section for that matter. You can copy the examples to your resume, customize, and save a lot of time.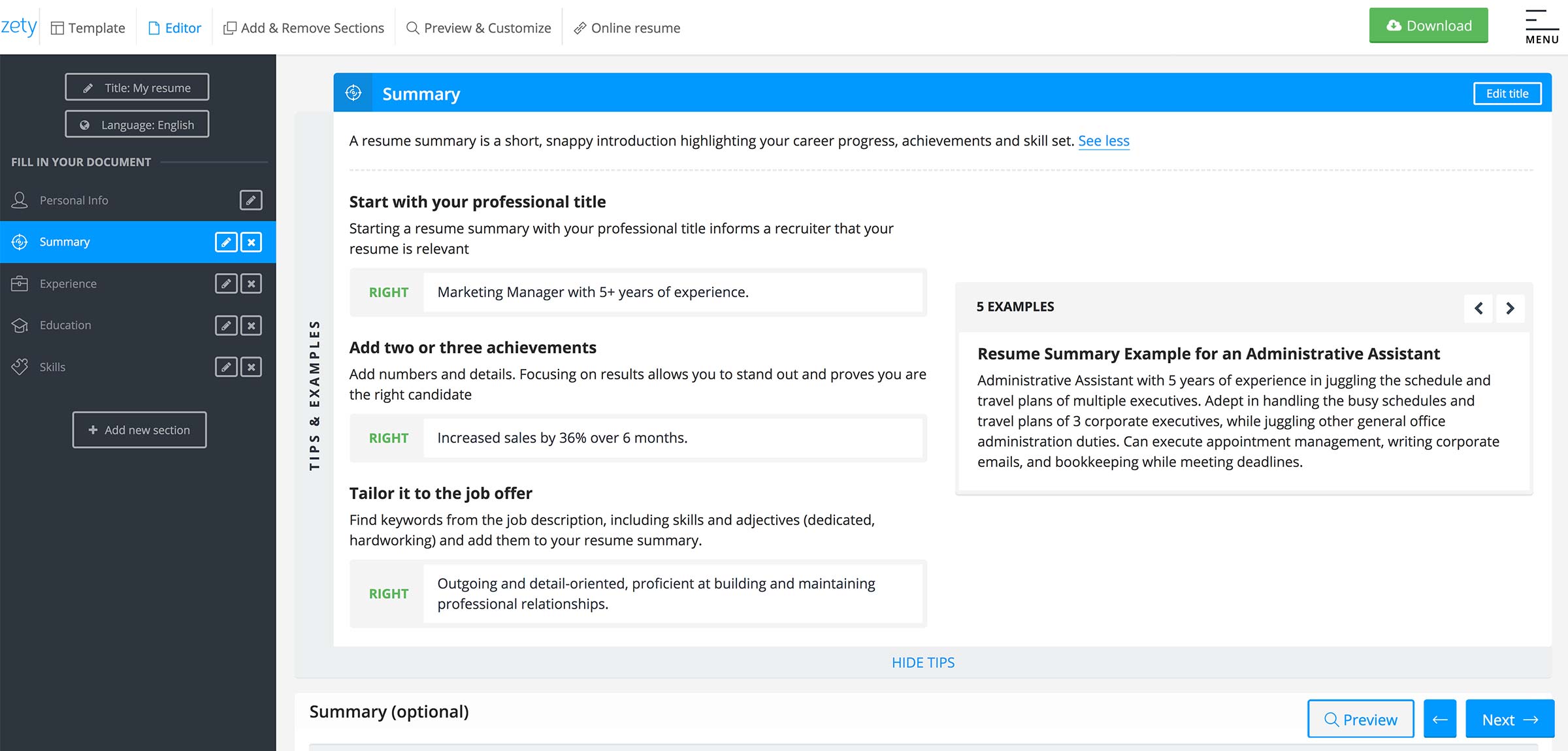 Inside our resume builder, you'll find expert tips and examples for your resume summary.
Hungry for more advice and examples of a resume summary or resume objective for property management? Check out our guides: "How To Write A Resume Summary: 21 Best Examples You Will See" and "+20 Resume Objective Examples - Use Them On Your Resume (Tips)"
3
How to Describe your Property Manager Experience?
Apartment-hunting is just like job-hunting. It needs to be a great fit.
Let's get back to Sally. She has two folders, one says "Interviews" the other says "Shredder."
Basically, either you're shredded to pieces by her assistant or you're the lucky winner of a sit down with Sally.
We're guessing, the latter sounds more attractive and lucrative.
Good. Here is how to make it.
Read Sally's job description carefully. Highlight all the duties, skills and qualities required. These are your property manager resume keywords.
Insert them into your property manager resume bullet points. This works for industrial, residential, and commercial property management jobs alike.
It should be similar to something like this:
Resume for Property Manager Examples [Experienced]
right
Property Manager
Obelix Properties
2014-2017
Revitalized six under-performing communities in New Jersey through aggressive expenditure analysis, targeting growth potential, reducing unnecessary expenses, and intensive staff training. Expanded revenues to $4.5 million annually.
Performed incredible customer service to challenging clients. Received 100% customer satisfaction ratings.
Exceeded annual occupancy objective of 80% by a margin of 9%.
Authored individualized "Move In/ Move Out" guides to assist residents.
With experience like this, Sally would put all the other property management resumes she received in the shredder. No questions asked!
Don't believe us? This is a generic property manager resume sample.
wrong
Property Manager
Obelix Properties
2014-2017
Responsible for analysis, growth and staff training.
Handled customer service conflicts.
Worked with clients and colleagues to exceed annual targets.
Created individual guides for residents.
See what we're talking about?
By using concise bullet points that demonstrate your accomplishments and quantify your experience, any recruiter will be obsessed with getting you on their team.
What happens if you don't have any property management experience?
How to Write an Entry-Level Property Manager Resume
Whether you're a graduate of the University of Real Estate Management or just the School of Life, you can get into property management.
Don't worry, it doesn't involve buying your own properties and investing capital you don't have. Making the right connections would help tremendously though.
Couple that with the best property manager resume sample for entry-level job positions, and you got yourself a job in no time.
wrong
Property Manager Experience: none yet but have been reading about it online and educating myself
Other experience:
right
Cashier
Big Retail Store Inc
2014-2015
Responsible for operating the cash register. Increased up-sells at cash counter by 25%.
Proficient at handling customer conflicts. Achieved cashier-of-the-Month 7 times.
Now that's an applicant who shows a knack for sales and customer service. They might be a beginner property manager, but the recruiter won't care that much if they show discipline, hard-work, customer service, and a passion for negotiating.
Pro Tip: Do you just want your foot in the door and then start walking (better yet, running)? Try networking with property managers on LinkedIn. Having some industry connections will help you get that first job you've been dreaming of.
To make your property manager resume stand out, enrich it with action words. Get some here: "80 Examples of Resume Action Words for Every Profession"
4
Is your Education Section Under-Occupied? It Might Be
While a degree isn't necessarily required to get a job as a property manager, depending on the job's requirement and the property management firm you want to join, a certification or a degree might tip the scales.
In any case, and if relevant, you want to show your education under the best light possible. This is valid whether you're an industrial, residential, or commercial property manager.
Display:
University and Location
Degree type
Major
Awards, honors, and other standouts.
List things about your education that prove you're the best fit for the job:
right
BA in Business Administration
University of New York, NY
2010-2014
GPA 3.8Cum Laude
Winner of the Negotiation Simulation Summit
Helped local agencies to fill external student housing
wrong
BA in Business Administration
University of New York, NY
2010-2014
Received degree with GPA 3.5
Involved in student clubs
Active in local community
Whether you have a university degree or not, you'll want to add your certifications before your other formal education.
right
New York Real Estate School, New York, NY
Property Management Certification 2011
Learned property inspection, finance and customer service best practices
wrong
New York Real Estate School, New York, NY
Property Management Certification 2011
Remember to put your licensure above whatever school you finished. Put your high school on your entry-level property manager resume only if you haven't finished college.
If you have, make sure you only mention your GPA if it's above 3.5, anything below should stay off your professional property management resume.
Pro Tip: If you finished a semester or two of college, put it on your property manager resume. You paid for those credits, and you earned it. You can also add a coursework description to showcase relevant knowledge or skills. For property management, basic business or communication classes would shine.
Need more help making the best property manager resume? Use this guide: How to Put Your Education on a Resume [Tips & Examples].
5
How to Put Skills on a Resume?
Being in property management may seem simple to those outside of the industry, but it is in fact quite complex.
As a property manager, conflict resolution is your second language. Time management is your first.
Whether speaking to a prospective resident, discussing market trends with an owner, or improving business relationships with a fellow colleague or service provider, you're a jack-of-all-trades, adaptable and proactive under any circumstances.
So how do you get Sally to understand that you're the perfect candidate for the job?
Well, it's quite simple. She doesn't want someone to have any old skills, she wants someone with the right skills for the property manager job she listed.
The next step? Getting to know Sally's job description.
Let's assume it values communication, marketing, and basic skills in finance. Your task is to prove you have those skills using your property manager resume bullet points.
right
Excellent communicator. Frequently worked for a large client portfolio.
Resilient when exposed to different elements.
Strong execution of the properties marketing plan. Maximized use of the marketing software increasing prospect traffic weekly.
Use Quicken and QuickBooks daily.
wrong
Property Manager Skills: Agile, Trustworthy, Courageous, Hard working, Finance, Communication
You need to fit the job description, not the other way around. Need more inspiration? Use this property manager skills list.
Then add to it from similar job posts online.
List of Skills to Put on a Property Manager Resume
Communication
Problem Solving
Conflict Resolution
Planning & Organization
Leadership
Taking Criticism
Negotiation
Responsiveness
Confidence
Customer Service
Keep in mind that you will want to add some details so the hiring manager gets a better idea of what you can do.
Pro Tip: If you list a crucial skill in your skills section, back it up in your experience section. Show how you used that skill to help your former employer.
Want your skills section to be a favorite? Use the licensed property manager resume template up top as your guide. Also, have a look at this article: "+30 Best Examples of What Skills to Put on a Resume (Proven Tips"
6
How to Add Other Sections to your Resume?
Let's pretend you're a homeowner. You want to impress your prospective resident. You want them to call your property manager 6 seconds after seeing the first picture of your property.
How do you do that?
You stage your property. You go shopping for flowers, decorations, and stage your home. Never looked this good before, right?
Same applies to you and your property management resume. But instead of heading to Ikea to buy trendy mugs to put on that coffee table you've never used, you go shopping for additional sections.
Dress your resume to impress!
Here are some additional property manager resume sections to consider:
If you received some big accolade or made a huge achievement, consider adding it to the Awards and Accolades section. If you only have one, consider adding it to the Achievements section.
Add a section for conferences you have attended if the conference focused on skills that matched the property manager job description.
Consider adding clubs you belong to and hobbies you might have that prove the skills needed for the job.
Here are five property manager certifications to consider if you want to be a property manager:
National Association of Realtors: Government Issued Real Estate Licenses & REALTOR® Membership
National Board of Certification: Certified Manager of Community Associations (CMCA)
National Association of Residential Property Managers: Residential Management Professional (RMP)
Institute of Real Estate Management: Certified Property Manager (CPM)
National Apartment Association: Certified Apartment Manager (CAM)
Depending on your state, and how you're being remunerated, you may need to get a license.
If your compensation is salary-based, then no need to get licensed. If you're being paid a commission or on a transactional basis, then a broker's license is required.
This is how your property manager license section should look:
Licenses
2014 - New York Real Estate Licensure by the New York State Department of State
Pro Tip: Lacking some business and marketing skills? Consider taking an online course. From the convenience of your home, and at your own pace, you'll be your prospective employer's best asset to market, sell and rent properties. You can also learn everything you need to know about marketing skills from our guide.
Need more suggestions to give some extra bonus points to your property manager resume? Check out this guide: "+20 Best Examples of Hobbies & Interests To Put on a Resume (5 Tips)"
7
Here's the Most Common Myth about Cover Letters
Yes, you still need a cover letter.
Your resume, LinkedIn profile and online presence are not enough to give you that job you want so badly.
You're a number-driven individual after all so here is a breaking stat: 45% of recruiters will skip your resume if it doesn't have a cover letter.
Do not use a cookie cutter approach or a cover letter from a previous job application.
Do some research and find out the name of the person making the hiring decision. Address your letter to them.
When writing your property manager cover letter, pay a visit to the company's website. Make sure you include details about the company that interests you.
Use your property manager cover letter to explain:
Unemployment Gaps
Career Changes
Awkward Blips on your Resume
Pro Tip: Just like with your clients, make sure you follow up on your cover letters and resume. A little push a week won't hurt.
Plus, a great cover letter that matches your resume will give you an advantage over other candidates. You can write your cover letter in our resume builder here. Here's what it may look like: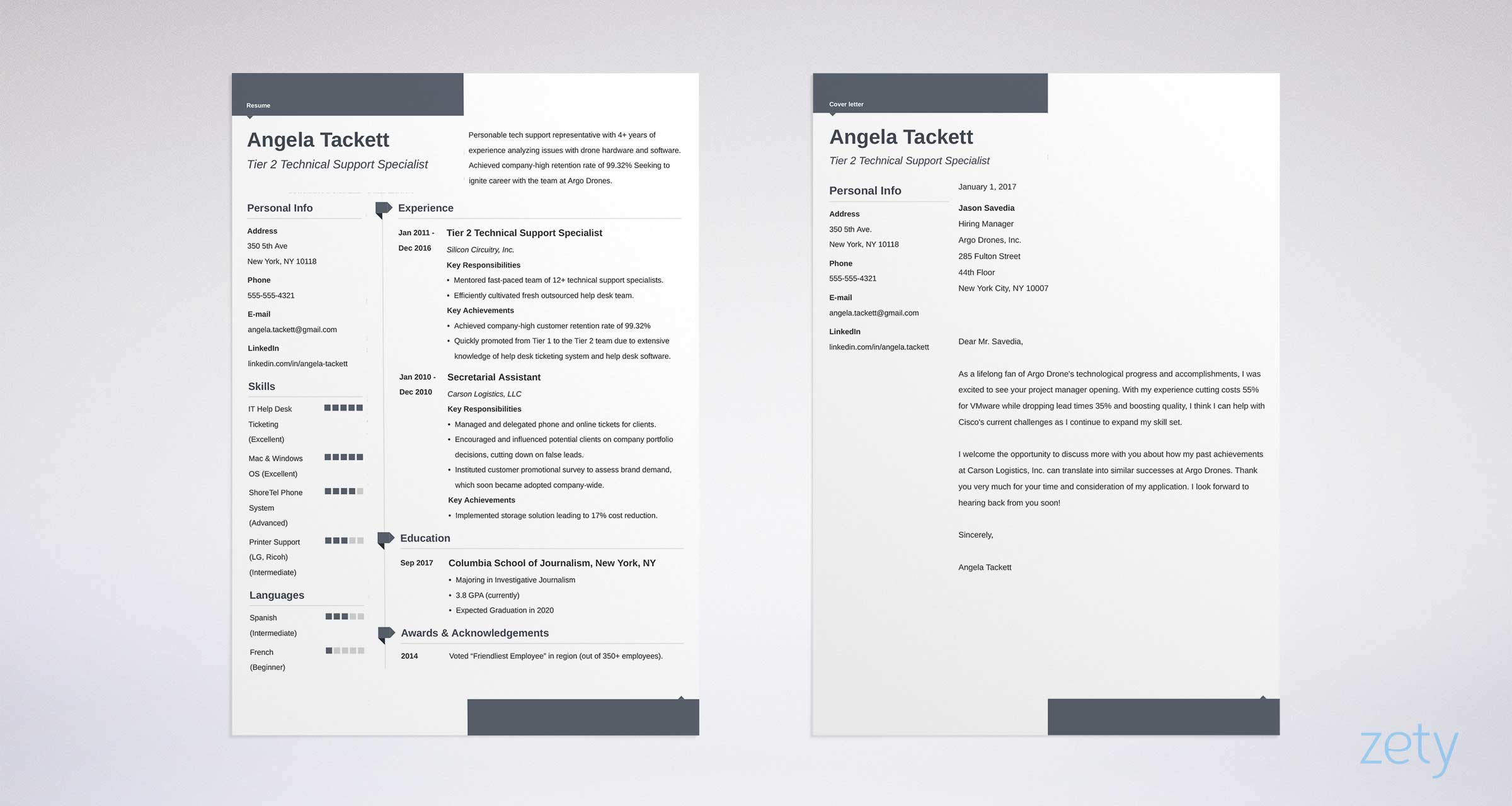 See more templates and create your resume and cover letter here.
To write a solid a cover letter for your property management resume, see our guide: How To Write A Cover Letter [Complete Guide With Examples]
Key Takeaway
Here's a quick recap of the key strategies for writing a property manager resume:
Make sure you list your property manager skills, and your certifications, licenses and experience in property management.
Make sure your resume objective and experience puts you above your peers. It needs to fit with the job description like the perfect sofa to that corner space.
Add "other" sections to highlight your value and showcase your best wins.
Your property manager resume is more than just a sheet of paper, it's your sales pitch to recruiters and managers.
Do you have questions on how to write a great resume for a property manager? Not sure how to describe your skills or achievements? Give us a shout in the comments! We love to help!