Our customers have been hired by:
A love of real estate, interior design, sales, and customer service. Some may call it a bizarre concoction, you call it your dream job. But to successfully find one of the assistant property manager jobs, you need to impress your future employer. Best way to do it? With a perfect resume.
To land you an interview, your assistant property manager resume needs to shine brighter than an Axel Verwoordt-designed skylit living room.
Sound like a tall order? Don't worry, we'll get you through in one piece.
This guide will show you:

An assistant property manager resume example better than 9 out of 10 other resumes.
How to write an assistant property manager resume that will land you more interviews.
Tips and examples of how to put skills and achievements on an assistant property manager resume.
How to describe your experience on a resume for an assistant property manager to get any job you want.
Want to save time and have your resume ready in 5 minutes? Try our resume builder. It's fast and easy to use. Plus, you'll get ready-made content to add with one click. See 20+ resume templates and create your resume here.
Sample resume made with our builder—See more resume examples here.
Check out these related articles below:
Assistant Property Manager Resume Sample
Jason Hancock
Assistant Property Manager
1437 Morgan Street
Pensacola, FL 32507
850-457-1744
JFHancock@zetymail.com
Summary
Enthusiastic assistant property manager with 2.5 years of experience as top leaser for Royal Free Holdings. Managed a portfolio of 17 developments, providing day-to-day management support. Maintained a strict on-budget expenditure scheme, cutting costs by 12% in comparison to other assistant property managers. Seeking to apply my skills towards driving growth and revenue for Sunshine Properties.
Professional Experience
Assistant Property Manager
Royal Free Holdings, Petersburg, FL
2017–2020
Reduced delinquency incidents by 50% by fervently pursuing overdue payments.
Maintained a 100% reliable response time as judged by tenants of 350 units across 17 developments.
Received the Assistant Manager of the Year award for two consecutive years.
Assisted in obtaining, processing and reviewing information on potential new holdings.
Modeled yearly cash flows with 97% accuracy.
Educational Background
Bachelor's Degree in Business Administration
College of Central Florida, Orlando FL
2013–2017
Relevant Coursework: Business Operations, Marketing Operations, E-Business Ventures, Human Resources Administration
GPA: 3.9; Graduated summa cum laude
Key Skills
Excellent Customer Service
Record Keeping
Budgeting & Financial Strategizing
Collecting Payments
Exceptional Time Management & Multitasking
Conflict Resolution
Confidence
Certifications & Courses
Institute of Real Estate Management: Certified Property Manager (2019)
Oxford Management Centre Accreditation: Strategic Community Relations Course (2019)
This is how to prepare an outstanding assistant property manager resume:
1. Create Your Assistant Property Manager Resume with the Right Format
Assistant property managers work on listing properties, keeping records, and handling correspondence. As they often run tenant events, a well-prepared assistant property manager resume will also showcase a strong set of customer service and interpersonal skills and vast knowledge of real estate.
But—
There are other things to check on first before verifying your resume adequately shows expertise in all of those areas.
Just like you wouldn't start presenting the property from the attic, you can't talk about a proper job application without first tackling the steps to format your resume.
It all starts with the proper resume layout. For you, that would be the reverse-chronological resume, as it presents your best side without beating around the bush.
Next, consider the font of your resume. It needs to look presentable, right alongside the headings ,resume margins, and plenty of white space to create an attractive resume layout. Font-wise, Arial or Calibri set to 11–12p will do just fine. Margins set to 1 inch on all sides are the industry standard.
With that kind of a foundation, your resume is impregnable. Now, just add the cherry on top—your resume contact info in the resume header—and you're good to go.
Pro tip: Saving the resume file as a PDF, if allowed, is like installing home security. It protects you against unwanted incidents (which .doc files sometimes cause).
2. Lead with an Assistant Property Manager Resume Profile
Imagine you're searching for a property to rent on apartments.com.
Aside from the thumbnail picture, what's the first thing you're going to notice?
Probably the key details like square footage, number of rooms, and which floor it's on.
Listings that aren't upfront about providing this kind of crucial information lie deep at the bottom of page 52, covered in old dust and cobwebs.
Without a resume introduction—which presents the same kind of crucial details, but about your career—you can be sure the CEO will forget about you just seconds after glancing at your application.
Therefore, write a resume profile statement to give them a quick rundown of what you bring to the table.
If you're a seasoned real estate expert, summarize your resume by bragging about your greatest achievements and collected commissions. Include a couple of your best accomplishments, alongside a few key skills and a promise to achieve something special for the new employer.
Resume objectives are for complete freshers and should focus more on your ambition and readiness to utilize the experience you do have, no matter the industry, to create success as a property manager. You can use transferable skills and experience, alongside academic achievements.
Read more: How to Start a Resume
3. Write a Professional Assistant Property Manager Resume Work Experience Section
There are an estimated 364 thousand property manager positions in the US alone. That's quite a number to compete against.
As such, to stand tall above all the rest, your resume work experience section needs to combine quaint charm with the comfort of living in a metropolitan closed neighborhood.
In other words, it needs to be perfect.
Read more: How to Write Better Resume Bullet Points
4. Shine with Your Education on Your Assistant Property Manager Resume Sample
Sure, you don't need a Ph.D. to assist in managing properties. But your education still needs to find its way onto your resume.
If you've been working as an assistant property manager for more than five years, list just the basics: school name, graduation year, and obtained degree.
If you're still finishing college or university, or if it's your highest completed degree, put high school on your resume.
For applicants who are changing careers or have otherwise not yet gathered work experience, include extra details in your education section. High GPA? Let them know. Excelled in relevant coursework? Put it out there.
Pro tip: If you're writing a resume with no experience whatsoever, put your education section before your work experience. Always play to your strengths, it increases your chances.
When making a resume in our builder, drag & drop bullet points, skills, and auto-fill the boring stuff. Spell check? Check. Start building a professional resume template here for free.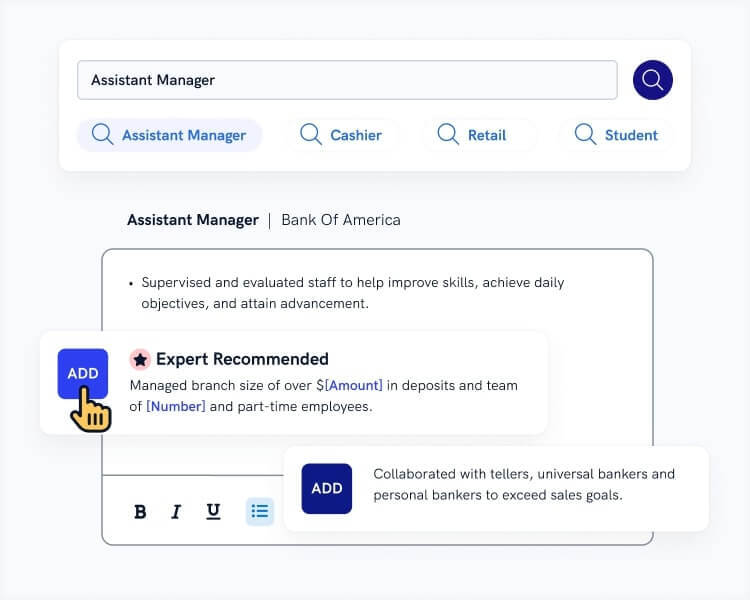 When you're done, Zety's resume builder will score your resume and our resume checker will tell you exactly how to make it better.
5. Prove Your Real Estate Skills on an Assistant Property Manager Resume
By far one of the most important skills for a property manager involves excelling in negotiations and being an active listener.
But that's not all, not even close.
Here's a sample list of skills for assistant property managers:
Best Assistant Property Manager Resume Skills
Property Know-How
Friendliness
Vetting Prospective Residents
Background Checks
Preparing Financial Statements
Budget Planning
Work Order Processing
Lease Form Preparation
Carrying Out Evictions
Conflict Resolution
Office Duties
Negotiation
Responsiveness
Clerical Skills
But slap all of that on a resume and the most you'll get is a raised eyebrow.
Instead, follow this procedure:
Take a moment to look through the job posting and search for relevant resume keywords. These will clue you in on what exactly the company is looking for in an ideal candidate.
Compose a list of all of your hard skills, soft skills, and technical skills. Brainstorming anything that comes to mind should get you a very extensive breakdown in no time.
Once you've done both, compare them. Match the skills from the job description with your list and put the matches on your resume. You'll get bonus points for weaving them into your experience and education parts.
Read more: What Skills to Put on a Resume?
6. Throw in Extra Sections to Your Assistant Property Resume
A perfect resume should be more than just the sum of its parts. If the recruiter comes away from it feeling like they've gotten to know details about an actual person, your chances increase tenfold.
Adding some final, personal touches to your resume can carry you far. They can come in the form of extra sections such as licenses and certifications, language skills, hobbies and interests, or passion projects.
You'll show off some personal flair and passion for what you do, and the employer will come to value you more than a landlord that doesn't require 5 months' rent upfront.
Read more: 50+ Resume Tips and Tricks
7. Attach an Assistant Property Manager Resume Cover Letter
Yes, you read that right. Cover letters help applicants make a good impression. Lots of recruiters still expect to see one, so a cover letter is definitely necessary.
But do it poorly and it'll look like a disorganized mancave.
Here are a few cover letter tips to follow:
Choose a proper good cover letter format before beginning.
In the cover letter opening, name the position you're applying for and mention how your past experiences would make you a great fit.
Explain in detail what the company stands to gain by going with you.
End the cover letter by making them an offer so good, they'd be crazy to refuse it.
How much space are we working with? Well, the perfect cover letter length is typically 3–4 paragraphs, so under one page.
Read more: How to Write a Cover Letter Step by Step
Plus, a great cover letter that matches your resume will give you an advantage over other candidates. You can write it in our cover letter builder here. Here's what it may look like: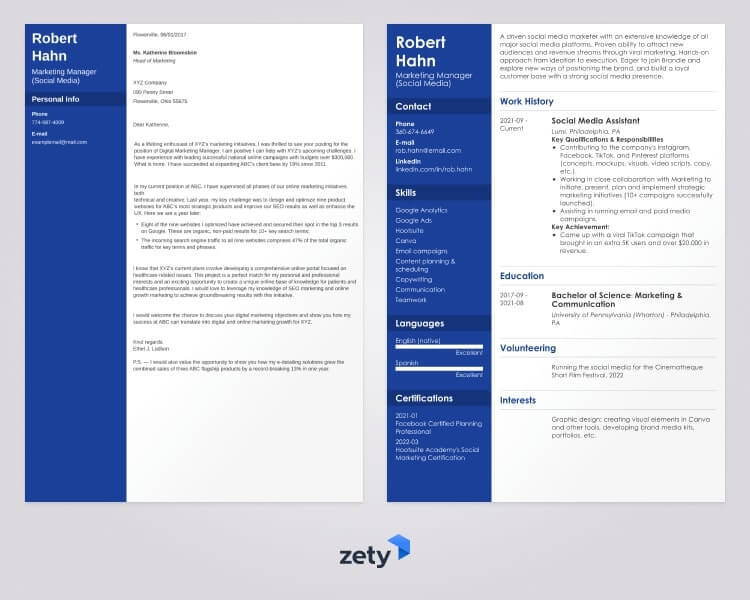 See more cover letter templates and start writing.
Thanks for reading! If you have any questions about how to write an assistant property manager resume, head to the comments. We're always eager to help!
About Zety's Editorial Process
This article has been reviewed by our editorial team to make sure it follows Zety's editorial guidelines. We're committed to sharing our expertise and giving you trustworthy career advice tailored to your needs. High-quality content is what brings over 40 million readers to our site every year. But we don't stop there. Our team conducts original research to understand the job market better, and we pride ourselves on being quoted by top universities and prime media outlets from around the world.
Sources