What Are Career Goals? 20 Examples & Definition for 2023
What can impress employers as much as a perfectly-crafted resume? Well-set career goals which say "I have a plan, and I am here to accomplish it!"
"What are your career goals?". It's a question dreaded by many. You can hear it during a job interview or a performance review at work. So perhaps it's time to ask yourself that question.
Establishing realistic career goals can really help you take control of your work life. Don't let employers decide for you! Read our guide, find out what is a career goal and see professional career goals examples that will help you grow!
This guide will show you:
How to set compelling, reachable professional goals (short and long). Plus 20+ career goals examples.
How to meet work goals fast.
Sample answers to the "What are your career goals" job interview question.
Job objective examples and how to pick the best ones for your career.
Want to save time and have your resume ready in 5 minutes? Try our resume builder. It's fast and easy to use. Plus, you'll get ready-made content to add with one click. See 20+ resume templates and create your resume here.
Sample resume made with our builder—See more resume examples here.
Learn more about impressing your hiring manager! Learn what are some common interview questions and answers, and read our guides:
1
How to Set Career Goals That Power You
To answer that question, we should first learn the career goal definition.
What is a career goal?
A career goal is a statement that explains how you plan to progress in your career. Clear career goals are essential for every candidate. And strong career goals make it easier to get jobs, succeed, earn more, and grow.
Ok, so we know what. But why?
Why are career goals important?
Realizing what career goals are will help you fight work-related aimlessness, which can be exhausting and demoralizing. Setting them will help you get on the right track with your career and, therefore, with your life! The right career goals can light you up inside so everything just happens.
How?
Author Steven Covey said to vividly imagine your own funeral. What will they say about you? Did you do everything you hoped?
Focus on the prize. Cozy up to a notebook and paint your dreams in big, bold strokes.
Professional Goals Checklist
Don't go shallow when you plan professional goals. Too often we say, "I'd like to make six figures." But money isn't everything when you want to improve your life.
Consider all the things:
Money. Don't short yourself in this important step. You're worth it. Set an income you'll be happy with.
Passion. It keeps spare time from slipping down the Facebook hole. In Big Magic, Elizabeth Gilbert says it feels like falling in love. What makes you feel that way?
Strengths. What are your core skills? Does your future self use them every day to great effect? Tie career goals to your strengths.
Challenge. Passion comes from skills plus challenges, according to psychologist and author Mihaly Csikszentmihalyi. How much challenge do you want?
Free time and other perks. How many hours does your future self-work? Where in the world is your job? Who do you work with?
Autonomy. Do you have enough say in what you do? Does future-you have more? Does he run his own company, perhaps?
Degree. You spent a good time and money on that degree. Should you use it to reach job goals or strike out on a new path?
More education. Do you need more schooling to step up into a brighter world? Or are you itching to get started now?
Passion packs the biggest punch. We dream of working less. But with passion, you'll never work at all.
Pro Tip: You need big dreams, but they can be exhausting. Bring them down to earth with long-term and short-term career goals you can reach.
Knowing your perfect career can help you pick the best professional goals. See our guide: What Career Is Right for Me? What Job Should I Have? How to Choose.
2
Five Long Term Career Goals Examples
Again, let's start with the definition.
Long-term career goals are what you want to achieve in the future that's at least a couple of years ahead. That's why they require planning, and it often takes many steps to accomplish them.
But what do strong long-term goals look like? They're not muddy. They're so detailed, you know exactly what, when, why, and how.
In short? They're SMART career goals.
What are S.M.A.R.T Career Goals?
SMART goals are: Specific, Measurable, Action-Based, Relevant, and Timeline-driven. They have start and end dates and exact metrics, and they map to scheduled actions that make them easier to reach. The goals turn into doable calendar items.
Let's go a bit deeper to understand that correctly:
Specific. A "better job" is nice, but "$110,000 a year for 30 hours a week of fun, engaging work as a remote DevOps engineer" is specific.
Measurable. Specific goals are measurable. How much money? How many hours? What you measure, you improve.
Action-based. I want a magic genie too. But—set realistic goals and break them into doable chunks.
Relevant. Do your professional goals inspire you, or make you think, "oh, yuck.?" Come back to your passion to make work goals relevant to you.
Timeline-driven. Keep your list of objectives short. Then put the action items in your calendar. You'll do what you schedule. The rest will disappear.
Need long term work goals examples? Here they are:
Long Term Goals Examples
Jeff Bezos dreamed up Amazon on a cross-country road trip. These goal statement examples will help you plan your own great escape:
Start a private dental practice in six years by completing dental school in four years and apprenticing at a practice for two years.
Publish 15 books in five years by spending 10 hours a week writing 8,000 words on topics I'm passionate about. Sell 300,000 copies and earn $2.1 million.
Start SaaS biz in 3 years that lets users make animated videos. Build a prototype in 15 hours a week in one year. Get an investor and hire a team to do the rest.
Run my own sports sales rep business in 5 years with 10 reps and $1.5M revenue. Start by cutting back at Outyco and working 30 hours a week on it.
Work as head of product for a unicorn company in 10 years. Start by getting hired in marketing and delivering projects 20% under budget and with 10:1 ROI.
Why do those professional goals examples work? They're like the famous check for $10,000,000 Jim Carrey wrote himself as a teen. They give you a shining start to shoot for. But, what's more important, They've got an action plan that shows the path to make them real.
Pro Tip: Break your long-term career goals down further into short-term objectives. Then schedule them in your calendar. I'll show how next.
Can't stand your job? You may need more than a new list of professional goals. See our guide: I Hate My Job. I Hate My Boss. Here's What to Do *Now*
3
Short Term Career Goals Examples
Long-term goals are nice but distant:
"I want to be rich."
"I want to be happy."
"I want to retire."
Emily Blunt was once a stutterer. She didn't say, "My goal is to win a Golden Globe and star in Mary Poppins." Instead, she committed to use accents and character voices in a school play to fight stuttering.
The short-term career goals examples below show how to do it right:
Short Term Goals Examples
Let's have a look at these short-term career objectives examples:
Get a remote software engineer job with a Silicon Valley firm, starting at $60,000 in three months. The position includes flex time and full benefits. Write a strong resume and apply to 20 great positions every day.
Earn a promotion to charge nurse in six months by completing all required training and applying for the position in March.
Get hired as a solar energy technician in three months by getting my certification through night classes and applying to 10 openings per day.
Start my first money-making website in six months by working 15 hours a week to build the product and write the copy. Hit $800 in revenue a month after one year.
Raise my sales figures by 20% in 3 months by taking three Dale Carnegie classes and increasing my touches by 30%.
Each of those professional goals examples is specific and measurable. We know the finish line, and we can chart our progress toward it.
Pro Tip: The last of the short-term career objectives examples above is a professional development goal. For more examples of goals at work, keep reading.
Is one of your short-term work goals a bigger salary? See our guide: Negotiate a Salary Like a Boss (From Salary Requirements to Job Offer)
4
What Are Your Career Goals Examples [Sample Answers to a Job Interview Question]
Why a recruiter might ask you, what are your career goals?
They want to know if you're their dream employee. They're about to spend a lot of money onboarding you. If you jump ship, they're sunk.
How to prepare for that question?
Know their perfect employee by reading up on the company. Do informational interviews with team members to learn about their challenges.
Show how your goals fit theirs. Maybe they want to develop leaders. If your professional goal is to work your way into a manager role in five years, you fit right in.
Let's see some examples:
What Are Your Career Goals Examples [Answers]
This long-term career goals example is for a small product manufacturer. It wants to compete on a national scale in the next few years.
right
Q: What are your long-term goals?
A: My professional goal is to build a small, regional sales team into a major, nationally-competitive team with over $5 million in annual sales, in three years.
That shows your goals fit theirs like hand-in-glove.
Don't do it like the next of our career goals examples:
wrong
Q: What are your work goals?
A: My career goal is to earn $120,000 a year as a sales team manager for a great company, with flex time and full benefits.
That's a beautiful wish list, but those professional goals won't show the company you'll help achieve their dreams.
Pro Tip: The more you know about the employer, the better you can answer the what are your career goals interview question. If you love the company, don't skimp on the research.
They won't only ask about short and long-term work objectives. Here are all the other tricky questions you should be prepared for: Most Common Job Interview Questions & Sample Answers
Want to impress them even more? See our guide: 50+ Interview Tips that Work: Best Advice for a Successful Job
When making a resume in our builder, drag & drop bullet points and skills, and auto-fill the boring stuff. Spell check? Check. Start building a professional resume template here for free.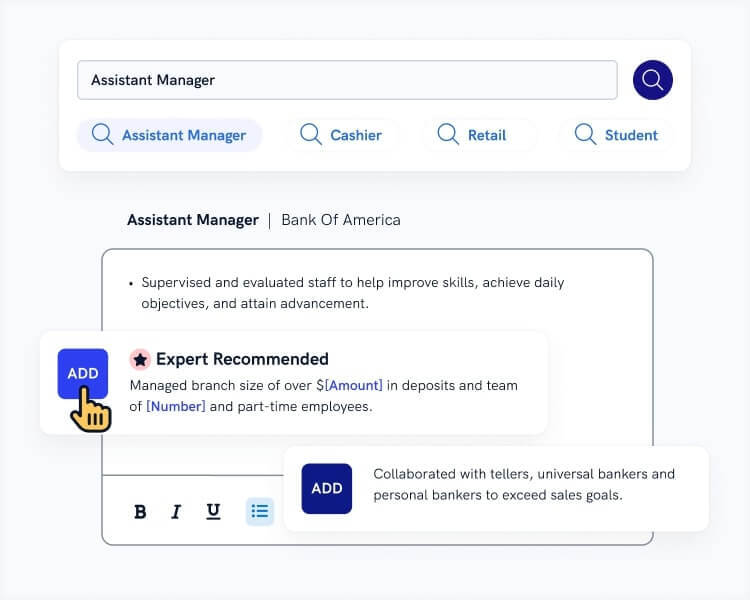 When you're done, Zety's resume builder will score your resume and our resume checker will tell you exactly how to make it better.
5
How to Set Career Objectives
Have you already got a job, but want to do it better?
There are other types of career goals that helps you with your development. They're called professional development goals, job objectives, or work goals. By any name, they're personal goals for work. They're targets that make you an invaluable employee.
How to Set Work Goals
Note your weak spots. Build a list of your biggest "areas for improvement." (If we drop the kid gloves, that means "where you're failing.")
Discuss the soft spots with your boss. Which ones are most important to the company?
Pick 1–2 to focus on. Set Key Performance Indicators (KPIs) for each weak point and start to measure them. (What gets measured gets improved.)
Create action items to help you reach each goal and put them in your calendar.
Here are a few examples of goals to set for yourself at work:
right
| | | |
| --- | --- | --- |
| Q3 Performance Goals | Current | Target |
| New signups per month | 7,500 | 10,000 |
| Published product reviews per month | 10 | 15 |
| Trial-to-buy ratio | 20% | 25% |
Those work goals examples have wheels. They're specific, calendar-ready, and reachable. They're easy to turn into SMART goals by scheduling the steps for each.
The next of our job objective examples won't fly:
wrong
Fix product quality issues.
Get the word out more about our product.
Win more customers.
Those professional goals are vague and open-ended, like a race without a finish line.
Pro Tip: Which classes or books could help you reach your professional development goals? Ask if your employer has a professional development fund to help.
Did you set personal goals for work? Maybe you just need better skills. See our guide: Top 10 Employability Skills—Definition and Examples [+How to Improve]
6
How to Reach Career Goals and Professional Development Goals
Setting career goals is easier than reaching them. However, that can also be done. Let's have a look at some guidelines on how to succeed in achieving your goals.
Make an "Avoid at All Costs" List
Billionaire investor Warren Buffett keeps an "avoid at all costs" list. On it, he puts all the things that aren't his central goals. Keep your goals list short and powerful.
Use Your Calendar
New York Times bestselling author Kevin Kruse interviewed 200+ billionaires and champions, and they advise not to use to-do lists. Sure, they seem like a good idea, but they don't focus on your goals. What's a better solution? Using calendars!
right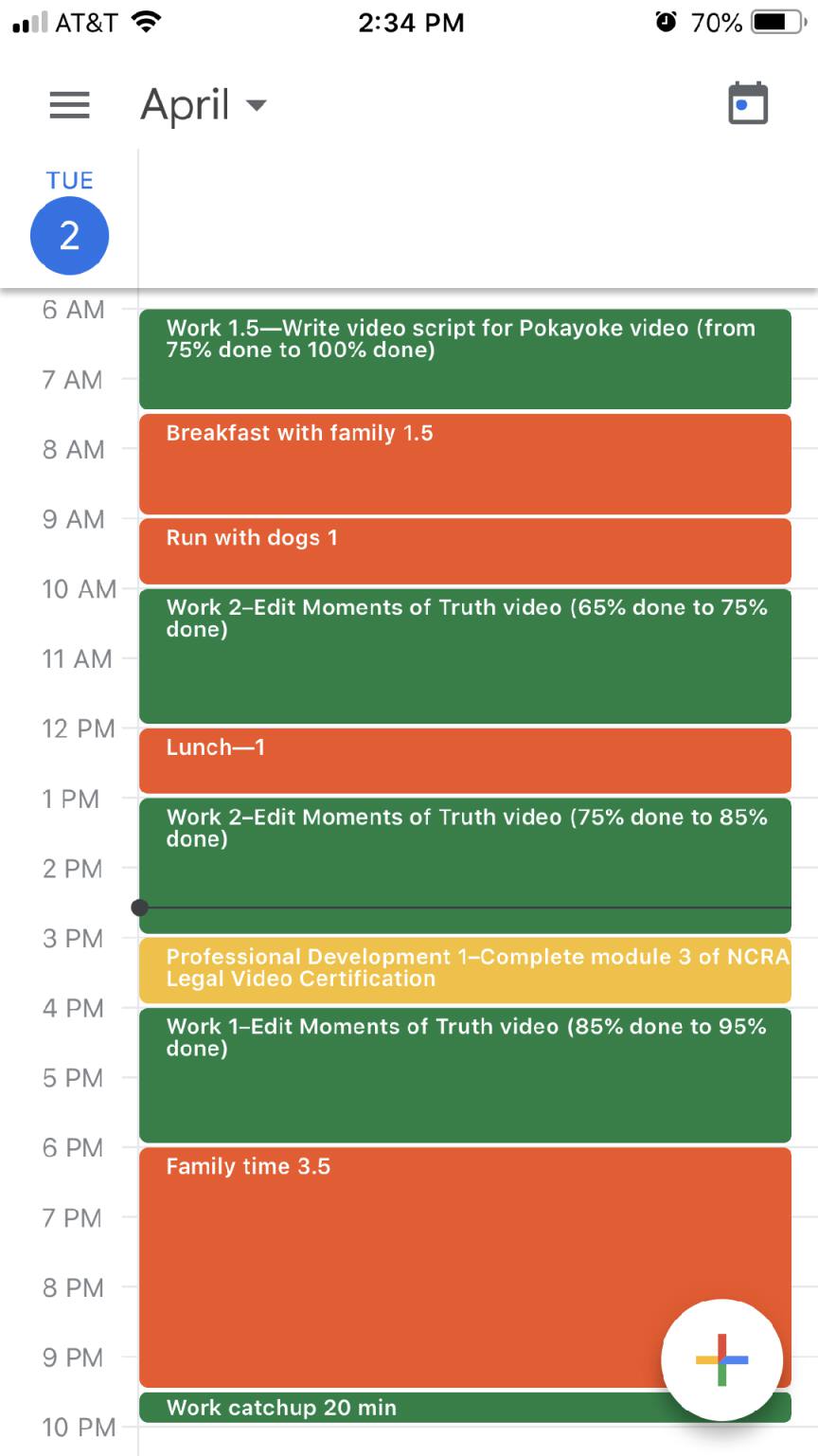 It gives you not only things you need to do, but also specific time in which you need to do that. So there's no procrastination involved with such specific planning.
This short-term goals example blows it:
wrong
To Do
Make Pokayoke video
Make Moments of Truth video
Run with dogs
Clean gutters
Get legal video certification
Talk to Fred about Karen
Winterize boat
Haircut
Want to reach professional goals like a project manager? See our guide: Your Personal Life Is a Project. Learn to Manage It like a PM Superstar!
Plus, a great cover letter that matches your resume will give you an advantage over other candidates. You can write it in our cover letter builder here. Here's what it may look like: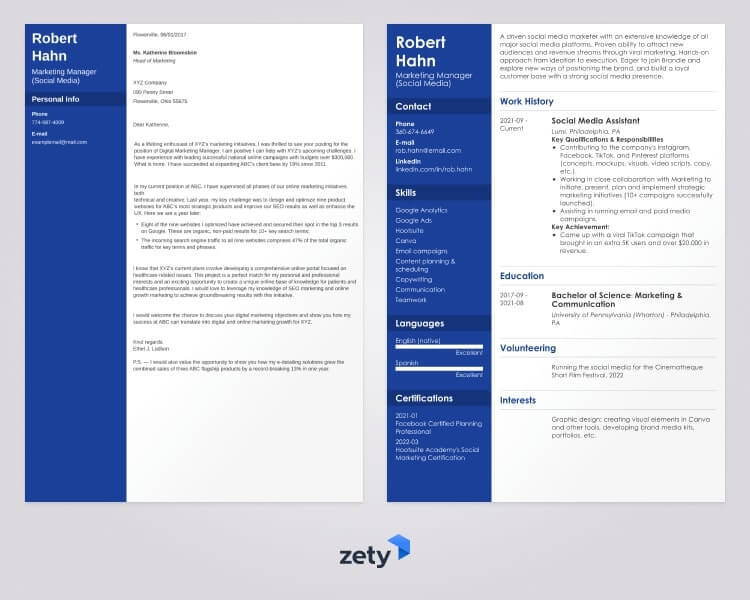 See more cover letter templates and start writing.
Key Takeaway
Here are the best career goals examples (short term and long term):
Develop a new skill.
Make a career change.
Gain experience at a large, well-known company.
Get hands-on experience in your field.
Earn a certification, license, or degree.
Become an expert in your domain.
Network and make new connections.
Start your own business.
Improve your KPIs.
Become a manager.
Win an industry award.
Having a hard time coming up with career goals that motivate you? Need more work goal statement examples? Give us a shout in the comments. We'll be happy to reply!
About Zety's Editorial Process
This article has been reviewed by our editorial team to make sure it follows Zety's editorial guidelines. We're committed to sharing our expertise and giving you trustworthy career advice tailored to your needs. High-quality content is what brings over 40 million readers to our site every year. But we don't stop there. Our team conducts original research to understand the job market better, and we pride ourselves on being quoted by top universities and prime media outlets from around the world.
Sources