Your interview asks you, "What motivates you?"
Hmmmm… Well, um, money, I guess. And fame. Oh, and that generous sick pay you offer.
Yeah, that's not going to work.
This one sounds so straightforward, doesn't it? However, it often ends up being more of a trick interview question than you might have thought.
But don't worry. With this guide, we'll cover how to best answer the what motivates you interview question, what not to do, and advice on more specific situations.
This interview motivation question guide will show you:
Why they ask what motivates you and what inspires you interview questions.
How to answer what motivates you in a way that wins the interview.
Tips and advice on what to avoid when given that tricky question.
Over a dozen what motivates you answer examples to help you form your own.
Want to land more job interviews? Create the perfect resume in our builder:
Pick a professional template.
Get expert resume tips from recruiters.
Edit and download your resume in minutes.
Start getting more job offers. See 20+ resume templates and create your resume.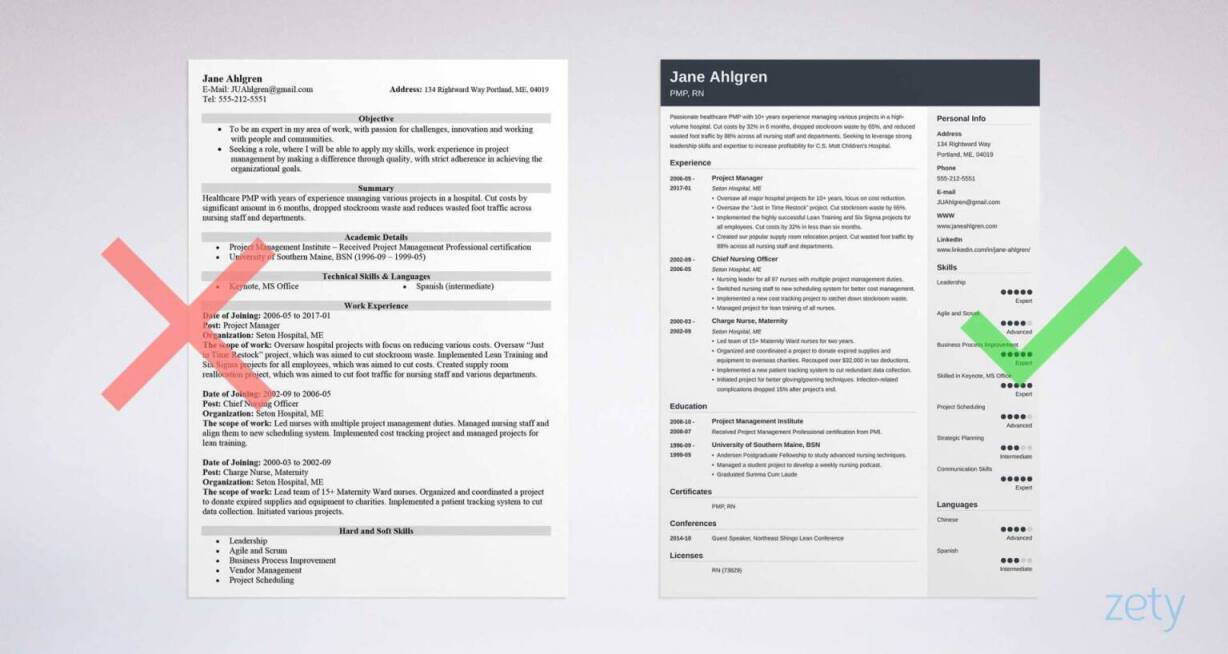 Sample resume made with our builder — See 20+ templates and create your resume here
1
Why They Ask "What Motivates You?"
It's a broad question, and there is no one right answer. However, there is a way to answer it correctly.
When an interviewer asks what keeps you motivated?, they are really asking: What drives you to succeed? What makes you tick? What energizes you? What inspires you?
This question is deeper than how it appears at face value, and your response answers more than just the base question.
Your reply to the motivation question tells them how you would fit in with the company culture.
On top of that, the interviewer gains insight into how you would be as an employee, which is crucial. After all, these interviews are designed to find the company the best possible candidate.
Pro Tip: All candidates being equal, answering this question correctly will put you on the top of the call-back list. Make sure you've got a great answer planned out!
This is an important question, for sure, but there are many others you need to get right, as well. Check out this article to get familiar with them: Common Job Interview Questions and Best Answers
2
How to Answer the "What Motivates You?" Interview Question
First, it is important to understand that when an interviewer asks what motivates you?, they are asking in the broadest, most general sense possible. Don't assume it means what motivates you at work?, or anything more specific like that.
Think about your strengths, as these are a good place to start. What are you great at? What do you have to offer the team? Also, decide on what your interests and passions are. Do any of these overlap with your strengths? If so, this could make for a perfect answer!
Get your hands on the company values. Use them as a guide for answering the question correctly. Does this organization take pride in its staff's problem-solving abilities and teamwork? If so, and if that matches you, then that would make for an excellent response to the what motivates you? question.
Most importantly, it is important that you be honest. You can't make it far if you tell them you enjoy working on a team when a previous work reference would say that you shy away from teamwork.
So, without further ado, let's check the best answers to this tricky interview question:
How to Answer the Question "What Motivates You?"
learning new things
acquiring new skills
meeting deadlines, goals and targets
coaching others
improving processes, finding ways to solving problems
leading a team or being a part of a team
completing a difficult project
overcoming challenges
coming up with creative ideas
Scroll down the article to see sample answers for different positions.
Pro Tip: Almost as important as being honest in answering this question is to prepare. This is a tough interview question, and it is not one you'll do well with if you try to respond on the spot!
As we discussed, a great place to start off with figuring out your perfect answer to the question what is your motivation? is to understand how you'd speak about your strengths. Read this article to get that right: How to Answer the "What Are Your Strengths?" Interview Question
3
How Not to Answer "What's Your Motivation?"
Though we mentioned that honesty is key, there are some times when you should just keep your honest answer to yourself. Don't be dishonest—but keep away from the answers below (even if you'd be joking):
Money. This is the load-bearing pillar unfortunately placed in the center of a dance floor that you and your interviewer must shimmy and shake around. We all know that, in the end, your paycheck is the primary motivating factor. And that's fine—we all need to survive, after all. But dance around it.
Friends. Telling the HR director or recruiter that you have some pals there could definitely be a motivating factor for you, but it is also one they will most likely decline you for. Employers want to know that you care about the company and the projects you'll take on. You'll make some friends if you are hired, teamwork is crucial, but companies don't want work to be seen as some type of social club. Leave your friends out of it.
Perks. Similar to money, don't give the interviewer a reason to believe that you are only interested in the company because of the perks and benefits they have to offer.
The simplest way to stay on target is to think of this question like you would when introducing yourself to a date or love interest for the first time. Sure, some of these items might be icing on the cake, but you wouldn't want to appear shallow, would you?
Pro Tip: Fortunately, there are a lot more possible answers than ones to avoid. However, there could be others to avoid that aren't listed above. Do your due diligence and answer as honestly as you can, and you should be just fine.
We've got tips and advice for all other things an interviewer might throw at you: 50+ Successful Interview Tips, Advice & Guidelines
4
Sample Answers to "What Motivates You?"
You know where to look for a perfect answer, and you know some of the worst replies to avoid. Let's look at some great answer examples to help you form your own.
What motivates you to succeed?
On an interview for a teaching position:
Well, my own baby sister inspired me to want to teach. You see, my sister has a severe learning disability, and it was, and continues to be, a struggle to help her develop educationally. However, she finally got the personal attention she needed, and I couldn't be happier with her progress. I want to help children in the same way that my sister received help, so this is what motivates me the most to become a special education instructor.
What motivates you as an employee?
On an interview at a large company:
I absolutely love working as a part of a team. I enjoy discussing ways to move forward with teammates, and I love to respectfully debate others to ensure we are moving in the right direction. On top of that, I take pride in the work that I do, and it is humbling whenever I see a product or service being used in the real world that I was a part of.
So, what's your motivation?
On an interview at a small library:
Literature is both a strength and a passion of mine. As a bookworm ever since I can remember, that love of reading stayed with me through university, where I ended up majoring in western literature. My passion for literature continues to this day and has no sign of letting up, so it continues to be the biggest motivating factor in my life.
What motivates you to put forth your greatest effort?
On an interview at a creative ad agency:
I really enjoy flexing my imagination and creative muscles. Art and modern design was my first true love, and my appreciation and devotion to superior artistic direction continues just as strongly now. My adoration for creativity dictates every other aspect of my life, and I'd love for it to be put to use in my career, too.
Pro Tip: Make sure you convey your enthusiasm when you talk about things that motivate you. You'd not be believed if you lack the sense of conviction during your interview!
Opposite your strengths, you may find it much more difficult to discuss your weaknesses with potential employers. But, you've still got to answer! Check out this post: "What Is Your Greatest Weakness?" Best Answers (6 Proven Examples)
5
Getting More Specific: "What Motivates You _______?"
Often, when an interviewer asks what motivates you?, they mean broadly, in general, as we mentioned in the first chapter.
However, they may get more specific, asking what motivates you to do a good job? or what motivates you in life?
Don't get caught unawares. Here are the some perfect ways to ace these narrower queries:
What motivates you to do a good job? What motivates you to work hard?
These (and their variations) are the most common specific versions of the general one. Great answers include some formulation of a) that you love and believe in what you do, and b) that you enjoy helping people (the customers).
Also, as we mentioned earlier, remember not to say that compensation is your motivation for working hard!
What is your motivation to apply for this position?
Your body language here is just as important as the words that come out of your mouth. Be sure to show how eager and excited you are to be considered for the company as you answer. Include in your response how perfectly the job description matches your interests.
What motivates you to come to work everyday?
The interviewer here is looking for answers that show that you'll be eager and willing to arrive at the office each day and start knocking out tasks. Make sure that your reply here includes your love of always remaining busy and productive, or perhaps your passion to perform a specific job function for the customers, for example.
What gets you out of bed in the morning?
This variation is similar to the last one, but a bit broader, as the employer wants to know in general. As such, it would include what gets you energized in the morning even on days when you aren't working.
If you like to be productive at all times, this is an easy win and a great answer to give. However, if on your off days you prefer to be lazy, frame it in a way that makes you look responsible:
I really love being productive as often as I can, including on my days off. However, I do know that my body and mind require a break every now and again, so I have to force myself to relax sometimes.
What motivates you to learn new things?
The interviewer will watch your answer to this closely, as it directly relates to how ideal you are for the job. State that you enjoy learning and building up your knowledge. If relevant, tell them that learning on the job helps you grow not just professionally, but personally, as well.
What demotivates you?
Though this is the opposite question, it is just as helpful to employers, as it lets them understand if you'll be a good fit in the company. Answer candidly, but within reason. Common successful answers include negativity, a boss or teammate that's given up on them, and lack of focus.
Well, that's it! Hopefully, you will be able to come up with a great answer if and when the interviewer springs this one upon you.
Keep these points in mind when answering the what motivates you? interview question:
Stay honest. You have to make sure that your answers remain true to who you are, but leave out any answers about money and other personal interests.
Use passions and interests to guide your answer. If you can find where your passions and interests intersect with the company's values, you've got a great response on your hands.
Be prepared! Don't try to answer this question on the spot. Take time to craft a response that fits the company, and remember that one size doesn't fit all. Another interview at a different company may require a different answer.
Do you have any questions on how to answer what motivates you? Not sure if your interests and passions match the company values? Get at us in the comments below and we will answer your question. Thanks for reading!