How to Make a Resume That Stands Out: Examples & Tips
You feel your resume isn't good enough to beat the competition. Don't worry! See these transformations of Zety readers' resumes and learn how to make your resume stand out.
You find a perfect job opportunity. This could be the career break! You know you'd be a great fit. But then the doubts kick in. "What about all these other candidates? I'm sure some are more experienced than myself."
Maybe they are. But you can outperform them by creating a resume that stands out.
This guide will show you:
Real-life examples of resumes that stand out from Zety readers.
Ideas on how to make a resume that stands out and hooks the recruiters instantly.
Effective and easy-to-use strategies for making a resume stand out in no time.
Examples of standout resumes that pave the way to a job interview.
Want to save time and have your resume ready in 5 minutes? Try our resume builder. It's fast and easy to use. Plus, you'll get ready-made content to add with one click. See 20+ resume templates and create your resume here.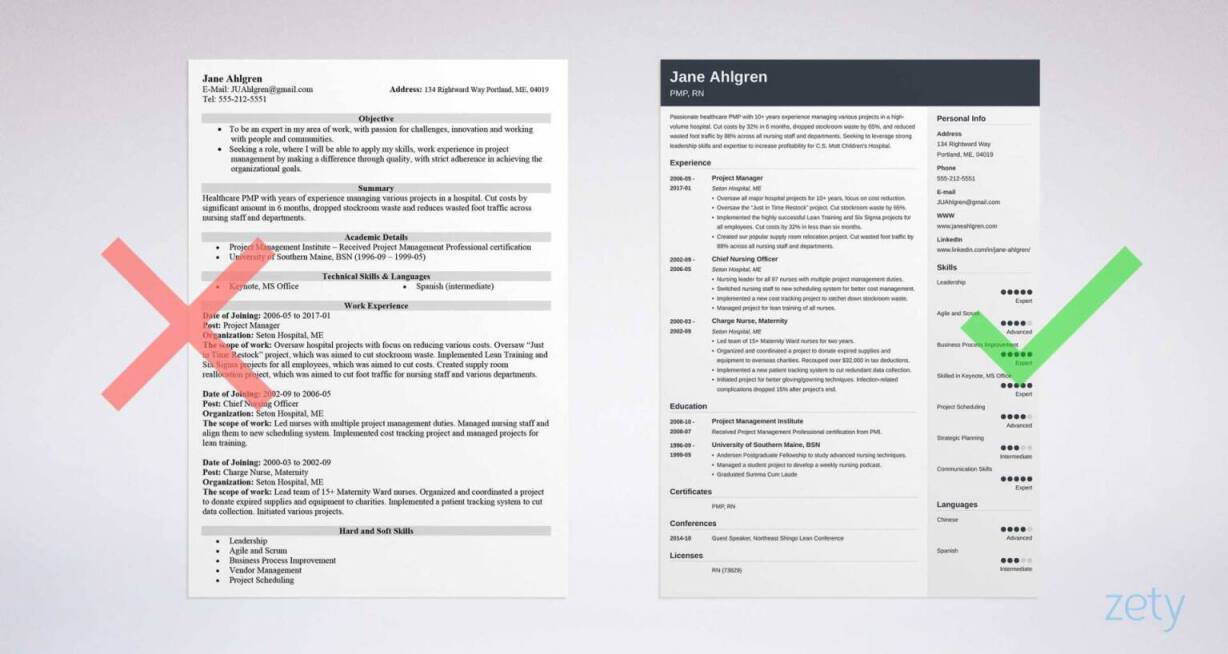 Sample resume made with our builder—See more resume samples here.
Only came here for the bottom line?

Here are the best ways to make your resume stand out from the competition:
Make your resume visually appealing.
Personalize your resume to match the job requirements.
Focus on achievements, not just duties and responsibilities.
Quantify whenever possible.
Use the appropriate resume length.
Focus only on relevant information.
Standout Resume Example #1: Iñaki and One Hell of a Career Change
The first job-seeker whose resume I helped rewrite was Iñaki from Spain. He had just finished working in Orlando, Florida, and was seeking an overseas opportunity.
Iñaki was looking for a job in Customer Service or Human Resources. But there was a problem—
Although he thought he had the necessary skills, most of his recent experience came from a very niche industry: he used to specialize in goalkeeping.
Iñaki was a Player Liaison Officer at one of the popular goalkeeper gloves' brands, as well as a Goalkeeping Coach and Head of the Goalkeeping Department in local clubs and organizations in Florida. Plus, he worked as a freelance event manager at international sports conferences.
As Iñaki put it:
Supervising the goalkeeping and coaching has been the core of my professional life for the past few years, but I think it's time to focus on some standard job.
And while he had what it takes to succeed in a "standard" office job, he had no clue about how to present it on a resume.
Then, there was another problem: over the years, Iñaki has held a lot of jobs in different industries and in many countries.
International experience? Sure, that's a plus for most openings.
But Iñaki's resume made his career come across as random, with no logical or linear progression.
Just have a look:
Iñaki's Resume Pre-Transformation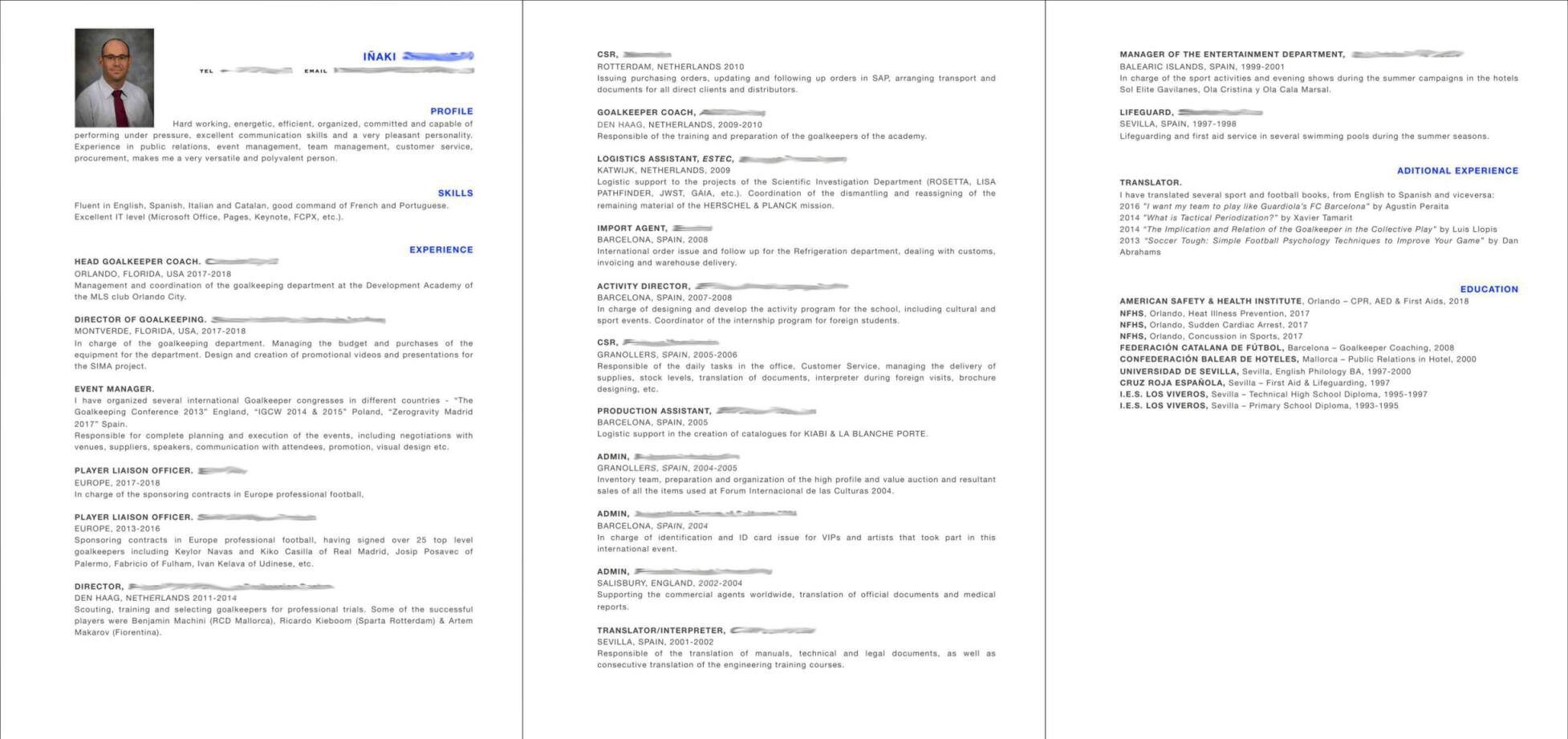 Not great, right? Here's why in particular:
Any customer service hiring manager would reject the resume in seconds—Iñaki just doesn't appear to be the right candidate, does he?
The thing is—Iñaki has an amazing, unique set of skills.
True, he learned them in an unorthodox way, but his abilities would make him an asset to any company. That was also reflected by his professional achievements.
For some reason, he didn't mention any of the below on his resume:
He handled budgets of over 1 million dollars, negotiating $300,000+ contracts.
As a Player Liaison Officer in a developing sports equipment company, he signed deals world-class goalkeepers, including Real Madrid's Keylor Navas—all that despite having to compete with more powerful brands such as Nike or Adidas.
He was fully responsible for all stages of organizing international events with 100+ participants.
With all this in mind, Iñaki and I began working on his resume redo.
First things first—we needed to find a specific job opening to which we'd tailor his resume.
Iñaki found a position as an HR Customer Advisor in a multinational R&D company. He thought he ticked all the boxes.
Here's the job ad:
Position: HR Customer Advisor with French and Spanish
[Company Name]

As part of our HR Services Team, you will act as an HR guide for our employees. You will have the opportunity to navigate them through the world of HR topics and design smart and elegant solutions for them.


What skills will make you successful in the role?
Fluent / very good combination of the following: French and Spanish or Spanish and Italian
Fluent English
Problem-solving attitude
Influencing, persuasion, and negotiation skills
Passion about customer service
Team-working skills and change-agent personality
Pro-active attitude and innovation spirit.
After a few hours of chatting with Iñaki, one thing was 100% clear.
To maximize his chances of landing this job, Iñaki needed to use the combination resume format—
One that highlights, and verifies skills, instead of focusing on career progression.
Have a look at Iñaki's previous resume: he did list his key skills, but there was no proof to back them up. And that proof is exactly what the combination resume provides.
We decided that, for this particular opening, the most important skills to show on Iñaki's resume were:
His proficiency in 6 (!) languages
His problem-solving abilities
Negotiation
Customer service.
We also rephrased Iñaki's career objective at the top of his resume. In the new version, it was customized to match the job requirements and offered to deliver value to the employer.
Finally, we made Iñaki's resume much more believable by linking his skills to specific job accomplishments.
And, of course, we used Zety's resume builder to revamp the layout and design of Iñaki's resume.
See the final effect:
Iñaki's Resume Post-Transformation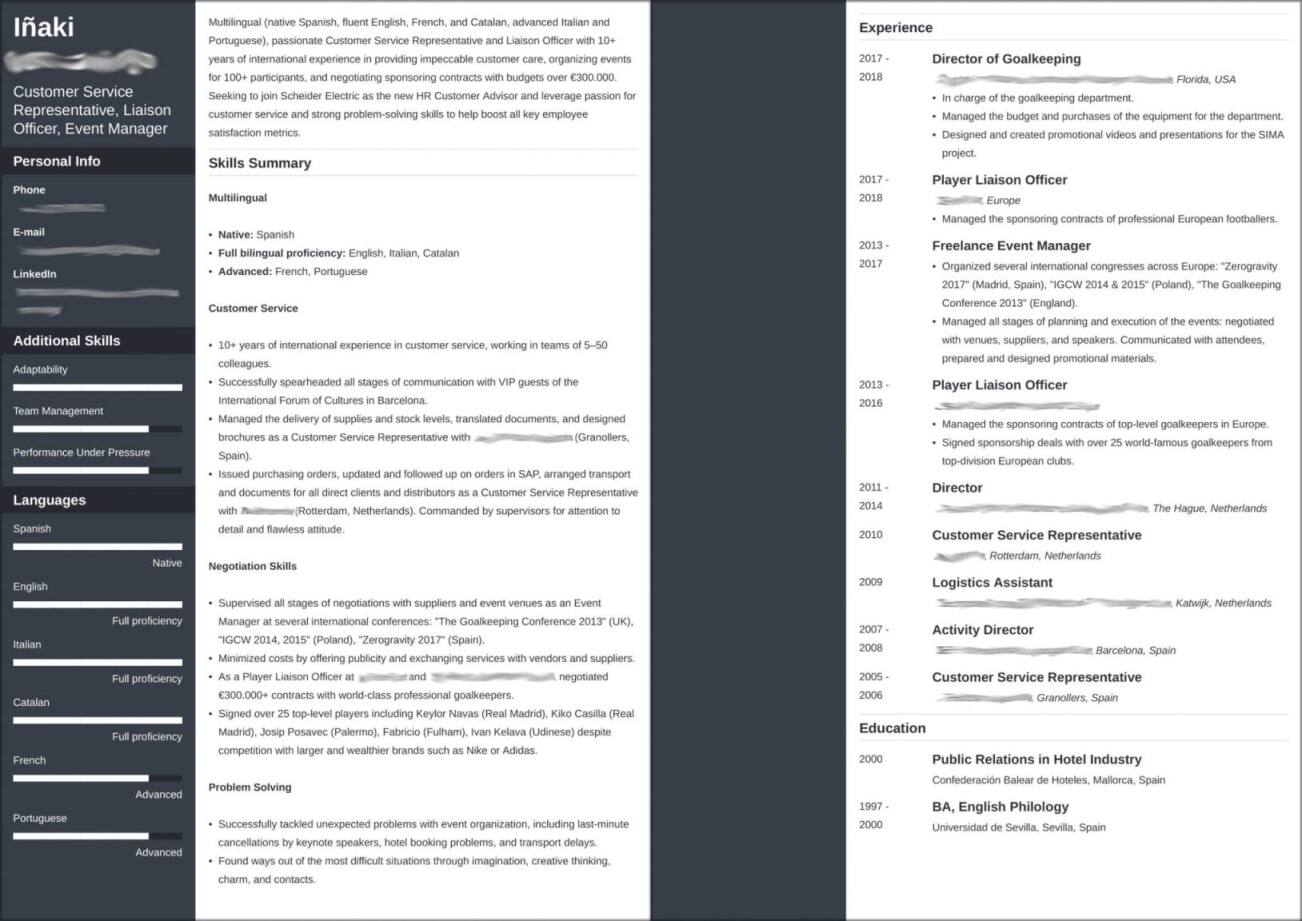 Wow, right?
Now, the summary of Iñaki's skills, following his career objective takes up the whole first page of the resume. Below each skill, in bullet points, we provided evidence of putting the skill to practice.
Since it's a combination resume, not a purely skills-based one, on the second page there still are brief descriptions of Iñaki's past positions—but they're not the central part of the narrative, which takes the attention away from Iñaki's somewhat erratic work history.
And...
Iñaki scored the interview!
But he didn't land the job. Ouch, right?
Nah, not really.
In the process, Iñaki learned the most important strategies for writing great resumes.
He sent out a few more, each perfectly tailored to match the requirements of a given position. Within a month, he accepted a job offer as a Recruitment Coordinator with a huge multinational corporation.
Does Iñaki's job history resonate with you? Try out the combination resume format! You can learn about all the ins and outs here: Combination Resume: Samples and Writing Tips
Now, hear a very different resume-redo story.
When making a resume in our builder, drag & drop bullet points, skills, and auto-fill the boring stuff. Spell check? Check. Start building a professional resume template here for free.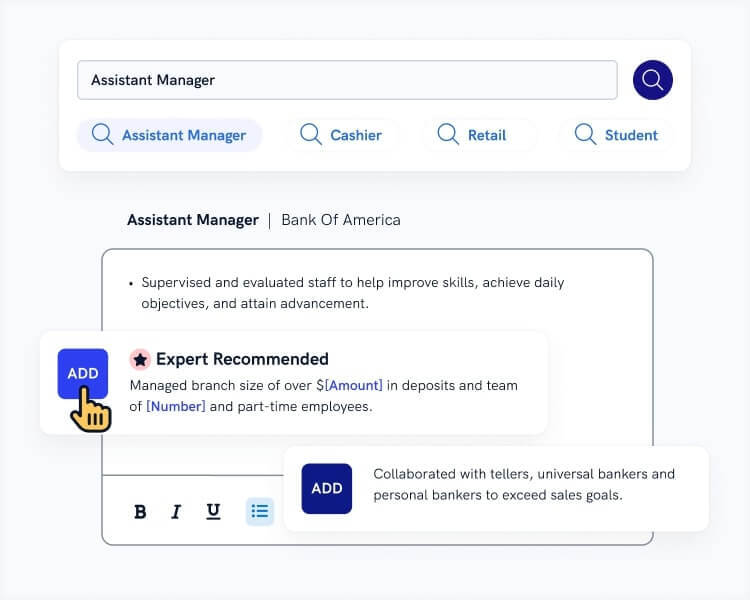 When you're done, our professional resume builder will score your resume and our resume checker will tell you exactly how to make it better.
Sample Resume That Stands Out #2: Colleen Who Didn't Want to Brag
The second example comes from Colleen, a US-based candidate who, like Iñaki, wanted to make a career change—but her case was very much different.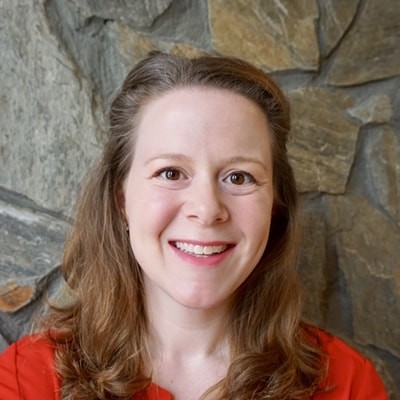 Coleen was re-entering the workforce after a three-year sabbatical she'd taken to grieve a personal tragedy, the loss of her son.
Her plan was to make a switch from aerospace program management (so basically rocket science) to IT project management.
Not that drastic a change, right?
Colleen didn't yet have a specific position in mind. She just wanted to create a general "master" resume well-suited to job search in IT project management.
And she felt something was missing...
So she reached out to Tom Gerencer, my fellow career advice writer at Zety.
After their first conversation, Tom expected little work. Colleen seemed like someone with a solid resume.
And Tom was right. Colleen's resume was solid. The thing is—
Solid isn't the word to describe her work history. Stellar is more like it (especially considering her industry). First things first, though—
Have a look at Colleen's old resume.
Collen's Resume Before the Redo
Impressive?
At first glance, maybe. But Colleen's resume is missing so many important details about her employment history!
Get this—
In the aerospace firm she worked at, she slashed their time spent in meetings from 10 hours to 2 hours weekly for 40 engineers. That's not on her resume.
She saved the company $32,000 a WEEK.
(Not on her resume.)
And it's just the tip of an iceberg.
Colleen automated the tracking of 17,00 customer requirements across 120+ programs.
She cut daily disruptions by 60%.
She led a panel during a major industry conference…
None of the above was on her resume.
Colleen had amazing achievements but, for some reason, failed to properly highlight them on a resume.
See the updated version of her resume she worked on with Tom.
Pay particular attention to the difference towards the very top of the document.
Colleen's Resume After the Redo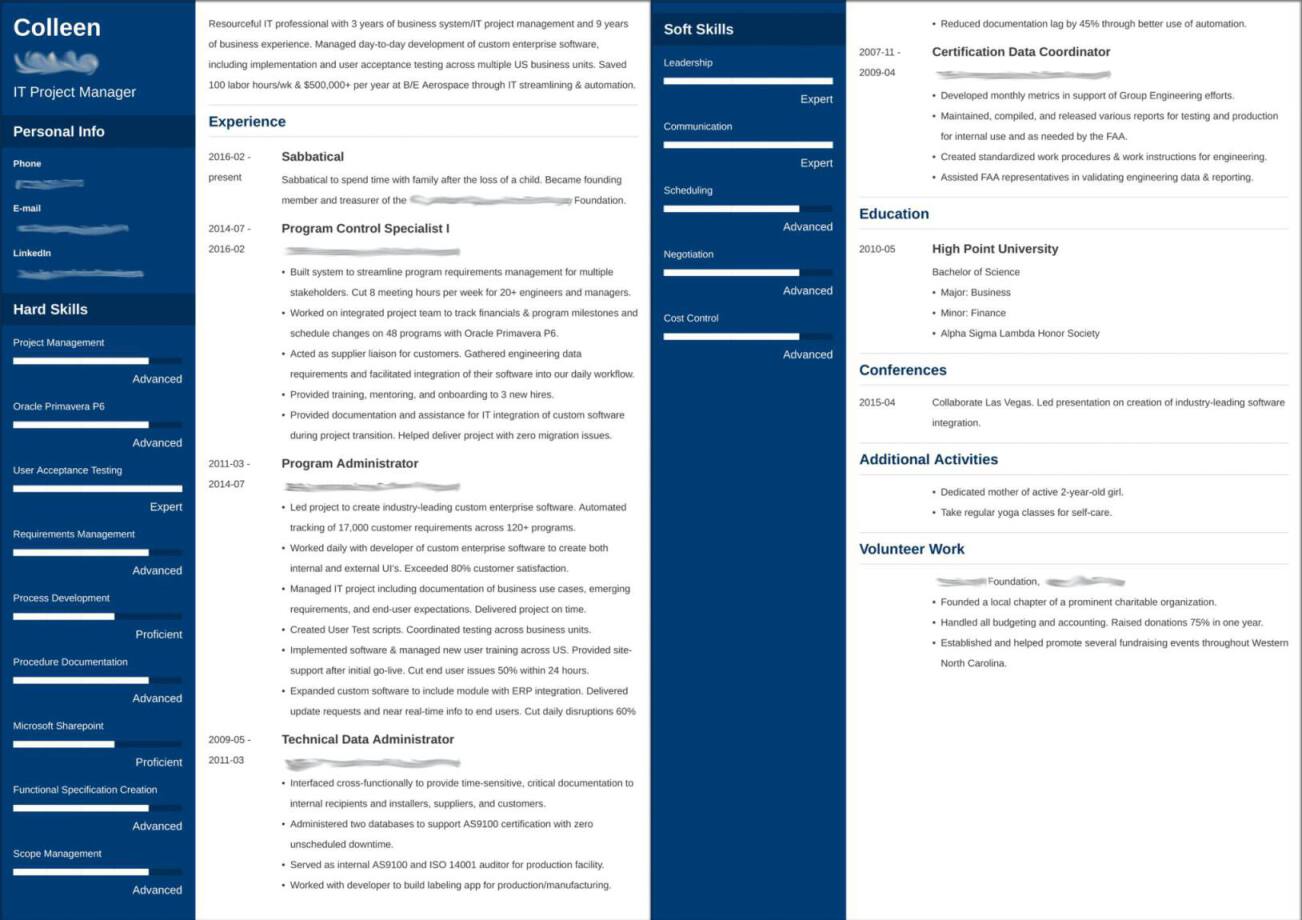 That's more like it!
Eye-tracking studies on recruiters and in-house HR pros have shown that they spend most time looking at the top-third of resumes. That's usually the place for a resume profile.
On Colleen's previous resume, that part read, well, okay: she mentioned years of relevant experience. Gave examples of past duties. But it lacked the sparkle.
The new version? It shows the superstar Colleen is.
"Saved 100 labor hours/wk & $500,000+ per year at B/E Aerospace through IT streamlining & automation."

I mean—if I were the hiring manager I'd have to be insane to not want similar results for my team. And Colleen's resume promises to deliver!
Looking for hot tips to improve your resume profile as Colleen did? Look no further. See this guide: Resume Profile: Examples & Writing Guide
Colleen's case only confirmed something I've noticed before when working with other candidates on improving their resumes.
Job seekers don't know how to show off and quantify their achievements!
No idea why that is. Maybe they're too afraid to come across bullheaded. Perhaps they don't know how to identify the most important accomplishments.
Some people seem to think "yeah, achievements surely can make a resume stand out, but it doesn't apply to me. I don't work with hard numbers."
Sound like you? Well, even if you think you can't come up with numbers to illustrate your work performance, you're most likely wrong.
But since that happens so often, I compiled a guide that will teach you how to add quantified achievements to a resume (and how to come up with those when you think you have none!). Check it out: Achievements on a Resume: Examples & How to List Them
Plus, a great cover letter that matches your resume will give you an advantage over other candidates. You can write it in our cover letter builder here. Here's what it may look like: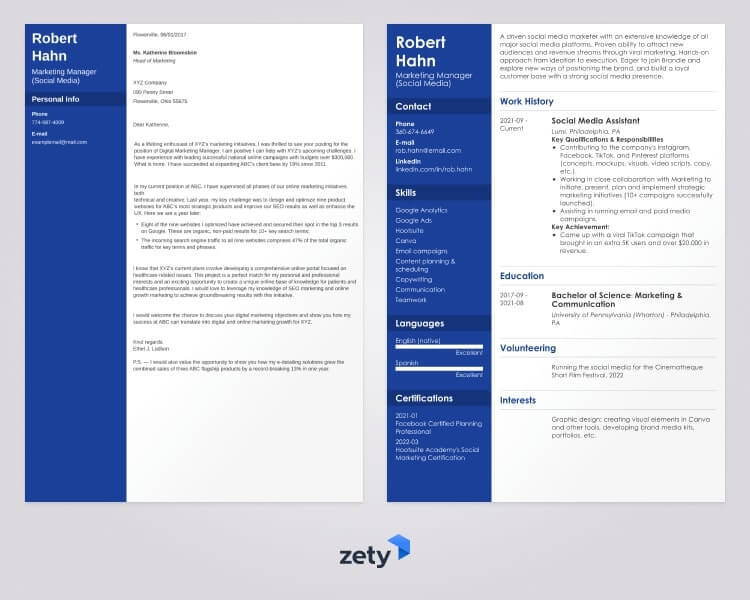 See more cover letter templates and start writing.
So—what do you think?
I hope you enjoyed the resume transformations and I hope you learned something from them!
For a step-by-step breakdown of how to improve your resume, see our resume 101: How to Write a Job-Winning Resume in <1h
Want us to help you rewrite your resume? We'll be happy to do it (as long as you agree to share your resumes pre- and post-transformation with the rest of Zety readers). Just drop us a line in the comments and we'll get back to you.
Disclaimer: due to limited capacity, we reserve the right to only help redo selected resumes.
Share your thoughts in the comments! I can't wait to hear from you.
About Zety's Editorial Process
This article has been reviewed by our editorial team to make sure it follows Zety's editorial guidelines. We're committed to sharing our expertise and giving you trustworthy career advice tailored to your needs. High-quality content is what brings over 40 million readers to our site every year. But we don't stop there. Our team conducts original research to understand the job market better, and we pride ourselves on being quoted by top universities and prime media outlets from around the world.