IT Manager Resume Sample [+Summary Templates]
Looking to write an IT manager resume? Look no further. This guide will help you write the best resume for IT management jobs with plenty of expert IT tips and tech examples.
You're about to configure an IT manager resume to get that top tech job.
From supervising talented developers to maintaining organizational effectiveness, you know you're the IT leader they've been grepping for.
But first—
Prove it to them.
Write a resume for IT managers as effective as launching a DDoS attack on the other candidates.
No prob, Bob—
This IT manager resume guide will show you:
IT manager resume examples better than 9 out of 10 other resumes.
How to write an IT manager resume that gets more tech job interviews.
Tips on how to put skills and achievements on an IT supervisor resume.
How to describe your experience to get any tech work and IT job you want.
Want to save time and have your resume ready in 5 minutes? Try our resume builder. It's fast and easy to use. Plus, you'll get ready-made content to add with one click. See 20+ resume templates and create your resume here.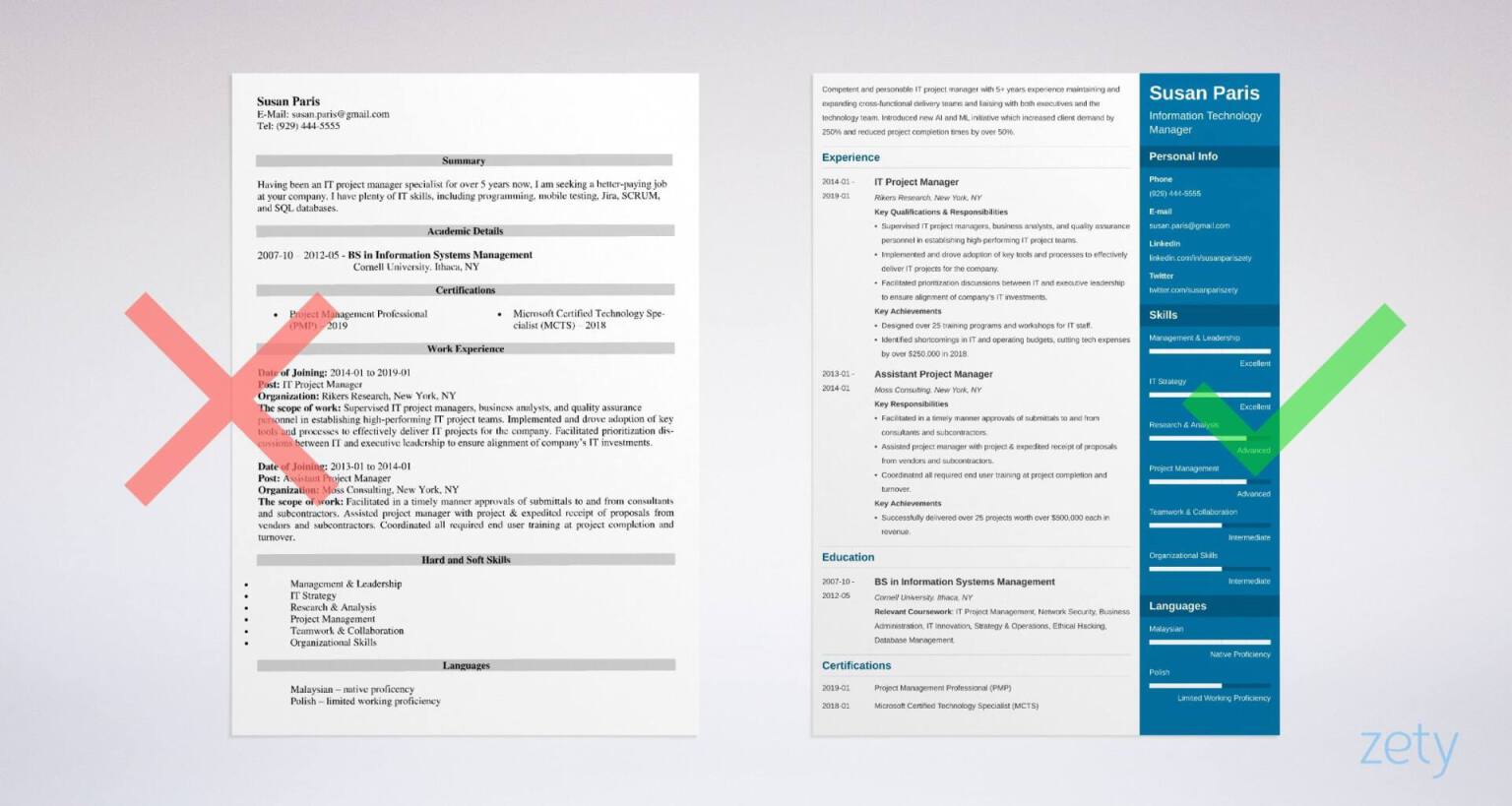 Sample IT Manager Resume—See more templates and create your resume here.
Looking for specific IT resume samples for other tech jobs? We've got them for you right here:
1
What's the Best Format for an IT Manager Resume?
If building a web app, you'll follow standards set out by W3C, unless you don't want anyone's browsers to interpret your code correctly.
Same here—
If you want HR recruiters to understand your IT manager resume, follow the proper resume structure.
First, keep it in the chronological format.
HR managers and CTOs feel at home with this standard resume format.
Now, here's how to format a resume for IT managers:
Contact details. Address the resume accurately.
Resume summary. Write a compelling heading statement.
Work history. Give relevant responsibilities and achievements.
Education. List education with related coursework and honors.
Job skills. List tech skills, IT skills, and management skills.
Certifications. Information technology-related certificates.
Other sections. Include relevant items, such as volunteer work or licenses.
You know how to give applications accessibility and usability. So, use legible fonts, white space, and section headings to guide the employer's eyes easily through all your resume sections.
Also remember, as a prospective IT manager, prove both your technological competence and managerial mastery.
Don't geek out with all the IT jargon without showing you're boss material, as well!
Pro Tip: Save your information technology manager resume as a PDF. As you can imagine, the PDF saving format ensures it's able to render correctly on any device the HR manager views it on, like a great responsive website.
Not persuaded using the reverse-chronological format is right for your IT leader resume? Well, you have two more options. See our guide: Best Resume Format & How to Choose It [Guide with Examples]


2
IT Manager Resume Objective or Summary?
Server-side, you know you've got what it takes to be a great IT manager.
Let it come across client-side, as well—
Show off your techy, managerial prowess with a catchy, confident, and compelling resume heading statement.
This intro statement comes in two flavors: a career summary and a career objective.
They're each 3–4 lines long and placed at the top of your IT management resume. They give hiring managers an introduction to you and the rest of your tech resume.
You have IT experience for this manager job, so which one to choose?
Use the resume summary.
The summary statement sums up your relevant management skills and IT experience. It offers a key accomplishment with numbers to prove you're the best IT leadership choice, as well as a brief intro into your professional background.
Here are two information technology manager resume examples of summaries:
IT Manager Resume Samples: Resume Summary
right
Competent and personable IT project manager with 5+ years experience maintaining and expanding cross-functional delivery teams and liaising with both executives and technology team. Introduced new AI and ML initiative which increased client demand by 250% and reduced project completion times by over 50%.
wrong
Having been an IT project manager specialist for over 5 years now, I am seeking a better-paying job at your company. I have plenty of IT skills, including programming, mobile testing, Jira, SCRUM, and SQL databases.
The wrong example tells them your skills, but doesn't prove it. Anyone could say "they have experience with" such-and-such technology.
That'll be deprecated like a Java crapplet.
The right example, however, gives numbered achievements to verify your IT skills—
As refreshing to them as hitting CTRL + F5!
Pro Tip: Just because the information technology resume objective or summary goes at the top doesn't mean you have to write it first. Actually, write it last. It's hard to summarize your resume if there's nothing yet put down to rehash!
Want more advice on writing a career summary or career objective on a resume for IT jobs and management positions? Check out our guides: 20+ Resume Objective Examples for Any Career [+General Proven Tips] and 50+ Resume Objective Examples for Any Career [+General Proven Tips]
When making a resume in our builder, drag & drop bullet points, skills, and auto-fill the boring stuff. Spell check? Check. Start building your resume here.
When you're done, Zety's resume builder will score your resume and tell you exactly how to make it better.
3
How to Describe Your IT Management Experience?
Computer and information systems managers, including IT managers and IT project managers, will increase by more than 12% between 2016–2026.
That's another 44,200 candidates to challenge for your job.
So—
Compile a work history section they'll go bananas over.
Here are two IT manager resume samples:
IT Manager Resume Examples—Work History Experience
right
IT Project Manager
January 2014–January 2019
Rikers Research, New York, NY
Key Qualifications & Responsibilities
As Head of PMO, supervised IT project managers, business analysts, and quality assurance personnel in establishing high-performing IT project teams.
Implemented and drove adoption of key tools and processes to effectively deliver IT projects for the company.
Facilitated prioritization discussions between IT and executive leadership to ensure alignment of company's IT investments.
Key Achievements
Designed over 25 training programs and workshops for IT staff.
Identified shortcomings in IT and operating budgets, cutting tech expenses by over $250,000 in 2018.
wrong
IT Program Manager
January 2014–January 2019
Rikers Research, New York, NY
Key Responsibilities
Managed information technology staff.
Acted as bridge between IT and execs.
Developed great IT policies.
The CTO wants that second one like they want their source code leaked.
It's borked up.
The right one, however, will satisfy even the most demanding employer—
The responsibilities were carefully chosen to include the most relevant duties from your previous job. On top of that, you gave a couple of key accomplishments with numbers to prove you're capable.
As powerful as quantum computing!
Now—
What if you have another job to add without IT experience?
No problem.
You still have skills and experience related to IT to land you that manager job.
Here's how to list other, non-IT experience in an IT-relevant way:
IT Manager Resume Sample—Other Experience
right
Assistant Project Manager
January 2013–December 2014
Moss Consulting, New York, NY
Key Qualifications & Responsibilities
Facilitated in a timely manner approvals of submittals to and from consultants and subcontractors.
Assisted project manager with project & expedited receipt of proposals from vendors and subcontractors.
Coordinated all required end user training at project completion and turnover.
Key Achievement
Successfully delivered over 25 projects worth over $500,000 each in revenue.
This one connects with the employer like a properly-configured API—
The duties listed above were cherry-picked to be the most relevant to IT manager jobs. Also, like the other examples, a quantifiable achievement verifies your knowledge and impact.
You look as rare as bugfoot!
Pro Tip: Always tailor your resume to the job description. When an HR recruiter gets an IT manager resume so generic that it looks as it was sent to everyone, they mark it as spam. We all know what happens to spam…
Need some more ideas on the right achievements to put on a resume for event coordinators? Check out this guide: How to Put Achievements on a Resume—Complete Guide (30+ Examples)
4
Is Your Education Section Underperforming? It Might Be
There's no SVN on a tech resume for you to roll back any changes once you release it to the hiring manager.
So, ensure your education section is perfect from the git-go.
IT Manager Resume Sample—Education Section
Here's how to list a degree on an IT management resume:
BS in Information Systems Management
Cornell University. Ithaca, NY
Relevant Coursework: IT Project Management, Network Security, Business Administration, IT Innovation, Strategy & Operations, Ethical Hacking, Database Management.
According to IT Career Finder, "IT managers are required to have at least a bachelor's degree education in IT, preferably with well-rounded major such as computer science, information technology or management information systems."
So, since you have completed a university degree, don't add your high school diploma.
Also, as you can see above, we gave a brief list of relevant coursework. Add the classes you took which are most appropriate for the IT management job you're pursuing.
Skip the basics, such as IT 101—you're not basic.
Pro Tip: A bachelor's degree may be sufficient for IT manager roles, but higher positions, such as the CIO or CTO jobs of large corporations, may require master's degrees or higher. If you have one, add that first, followed by your bachelor's below.
Got something other than these common educational scenarios? Check this guide out: Education Resume Section: How to List High School & College Education.
5
How to Put Skills on an IT Manager Resume
All your IT staff have skills.
You, on the other hand, as their new IT manager, have to have all their tech skills, combined with top leadership abilities.
So—
First, make a general list of both hard and soft skills, like this one below.
Don't confuse them—
Hard skills are those you're able to learn (e.g., web development), while soft skills are traits you develop throughout life (e.g., problem-solving skills).
IT Skills for an Information Technology Manager Resume Sample Lists
Here are some common IT manager skills:
IT Manager Skills
IT Strategy
Research & Analysis
Attention to Detail
Teamwork & Collaboration
Accountability
Professional Development
Adaptability
And some IT management specialties as skills for a resume:
IT Management Specialties
Cyber Security
Application Development
Cloud Computing
Quantum Computing
Applications Architect
Data Center Management
Enterprise Resource Planning (ERP)
Business Intelligence
Business Analytics
Network Administration
Web Development
Software Development
Database Administration
Data Architect
Solutions Architect
Development Operations (DevOps)
Mobile Application Development
However—
Don't just copy and paste these skills lists straight into your IT manager resume.
That shows poor decision-making skills.
Instead, go back to the IT manager job description.
Here's a sample manager of information technology job description:
Oversee the streamlined operation of the Information Technology (IT) department and ensure operations align with the business objectives of the organization.

[1]

Develop and manage application portfolios for each department and to attain all IT service level agreements for the user community within the organization.

[2]

Plan, coordinate, direct, and design all operational activities of the IT department, as well as provide direction and support for IT solutions that enhance mission-critical business operations.
Work closely with decision makers in other departments to identify, recommend, develop, implement, and support cost-effective technology solutions for all aspects of the organization.
Manage IT department operational and strategic planning, including business requirements, project planning, and organizing and negotiating the allocation of resources.
Formulate and deploy long-term strategic plans for acquiring and enabling efficient and cost-effective information processing and communication technologies.

[3]
See that?
If you look carefully, you'll recognize the exact IT skills and leadership skills they're looking for:
Here are a couple information technology manager resume examples:
Manager of IT Resume Sample—Skills Section
right
Efficient at streamlining IT operations

[1]

Effective at meeting all service level agreements

[2]

Skilled at formulating long-term strategic IT plans

[3]
wrong
Friendly.
C++.
Microsoft Office.
Those wrong skills are generally okay, just not for this job—
They're as unwanted as spam and meatloaf.
The right IT skills are tailored perfectly to this one job description.
Finally, keep the ATS in mind.
The applicant tracking system is a program that helps larger organizations cope with the countless resumes they receive each day.
HR staff scan each resume into their system, search for particular resume keywords, and receive a score in return based on your match for the IT management job.
To beat the ATS, use keywords the job ad uses, as close to their wording as possible.
Pro Tip: In IT, hard skills, such as programming and security, are more valuable than soft skills. However, in IT management, the opposite is true, as the leadership aspect is emphasized.
Want more tips for writing the soft, hard, or technical skills section for IT manager resumes? See our guide: 99 Key Skills for a Resume (Best List of Examples for All Types of Jobs).
6
How to Add Other Sections for an Effective IT Manager Resume
Every prospective IT manager resume included those previous sections.
How can yours stand out?
On an IT supervisor resume, complement those core sections with some unique additionals.
Here are some great extras to add to a resume for IT leadership jobs:
IT Manager Resume Sample: Extra Sections
IT and management certificates add to the impressive education you've got, and they easily set you apart from other candidates.
Here are great choices of certifications for IT management:
IT Management Certifications
Adding volunteer experience might seem irrelevant on an IT resume for management. However, helping out the community is a big part of many of the leading startups and millennial companies.
3. Languages
Can you i18n? Adding another language is a huge boon for managers of IT departments!
Relevant interests and activities say you're leadership material without saying it explicitly.
Pro Tip: As an information technology worker, you're no doubt knowledgeable on social media. So, before you turn in your IT managerial resume, check your online presence and fix up your LinkedIn profile.
For more, check out these guides: What to Include on a Resume: Best Things to Add and The Parts of a Resume: Best Sections to Include
7
How About an IT Manager Cover Letter?
A resume without a cover letter is like a Windows PC without issues—
Something's missing.
Always attach a cover letter when sending your IT leadership resume, if you want to LAN the job. 53% of HR staff agree that a resume alone just isn't enough.
Here're a few tips on how to write an IT manager cover letter they'll love:
Start with a captivating introduction.
Show them why you are the best IT manager for the job.
Detail how they are the only company you want to work for.
Give a few numbers to prove your IT knowledge and skills.
Close with powerful call-to-action.
Cover letter is the first thing hiring managers lay eyes upon—
Don't capture their interest here, then the resume is useless.
Check out this IT cover letter example, follow all the expert tips there, and your application for this IT manager job won't go unnoticed.
Pro Tip: IT managers have high standards to live up to. Make sure your tech cover letter meets those heavy demands. Never write a generic cover letter, as it's as welcome as an un-tailored resume.
Want more cover letter tricks that always work? See these articles: 35+ Successful Cover Letter Tips, Advice & Guidelines (With Examples) and How to Write a Job-Winning Cover Letter in 8 Simple Steps (12+ Examples)
Plus, a great cover letter that matches your resume will give you an advantage over other candidates. You can write it in our cover letter builder here. Here's what it may look like: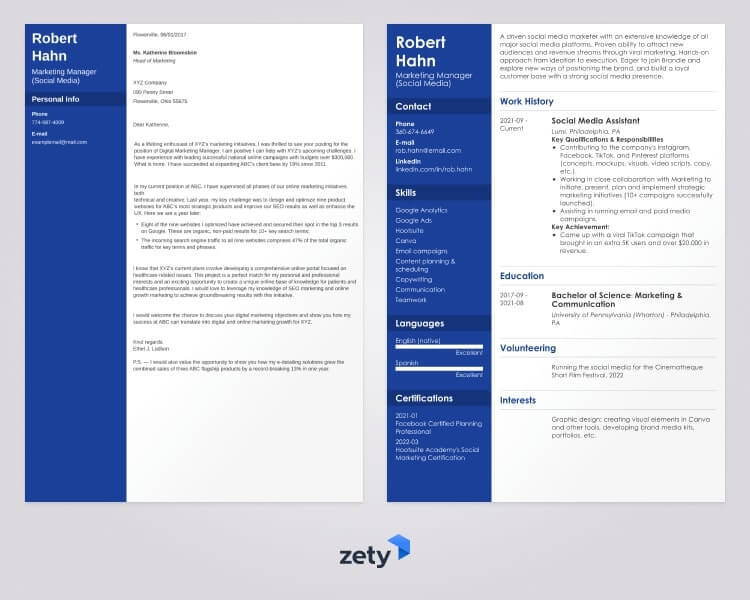 See more cover letter templates and start writing.
Key Takeaway
Writing a resume that'll blow the competition to kingdom.com is not so crazy hard, right?
So, let's recap.
Here is how to write an IT manager resume:
Use the reverse-chronological format and structure it for scannability.
Write a compelling IT manager resume summary.
Add job experience with relevant duties and quantifiable achievements.
Document your educational background.
List IT skills and management skills mentioned in the job ad.
Include additional sections to set yourself apart.
Attach an IT manager cover letter.
Now THIS is an IT manager resume that's indeed <!DOCTYPE awesome>!
Got any questions on how to write a resume for IT managers? Not sure how to talk about your technical skills, IT experience, or programming achievements? Get at us in the comments below, and thanks for reading!