Agile Project Manager Resume: Sample & Guide (+20 Tips)
No sprint goes past deadline on your watch. But to make the recruiters notice, you have to know the ins and outs of writing a great Agile project manager resume first.
You've read the Manifesto. No, you know it by heart.
Its principles drive your every move at work.
When it comes to APM, you're the cream of the crop.
And yet—
The applications you send seem like the project keeps iterating away from your target, with you having no control over the direction.
Time to get that control back with a perfect Agile project manager resume.
This guide will show you:
An Agile project manager resume example better than 9 out of 10 other resumes.
How to write an Agile project manager resume that will land you more interviews.
Tips and examples of how to put skills and achievements on an Agile project manager resume.
How to describe your experience on a resume for an Agile project manager to get any job you want.
Want to save time and have your resume ready in 5 minutes? Try our resume builder. It's fast and easy to use. Plus, you'll get ready-made content to add with one click. See 20+ resume templates and create your resume here.
Sample resume made with our builder—See more resume examples here.
Looking to increase velocity in other positions? See our other guides below:
Agile Project Manager Resume Sample
Derrick Murrieta
Agile Project Manager
330-542-3918
Derrickmurrieta@cmail.net
Linkedin.com/in/dcmurrieta
Resume Summary
Effective Project Manager well-versed with Agile methodology with 6+ years of experience in managing dynamic and flexible environments. Highly adept at creating a positive and reassuring work atmosphere. Collaborated with teams of 7–20+ members to deliver projects with a total budget of $50M. Seeking to join CircleSoft to utilize 95% under-budget-delivery aptitude.
Work Experience
Agile Project Manager
GrenWorks Ltd., Berlin, Ohio
July 2018–November 2022
Implemented cornerstone project involving CMS transition for the biggest client ($35M of est. value).
Resolved numerous interdepartmental workplace disputes amicably, increasing overall team efficiency by 30% by directing attention away from Agile team.
Trained 15+ interns/junior PMs/Scrum Masters in the intricacies of Agile & Scrum.
Identified potential roadblocks in key moments of the project lifecycle, effectively diverting workflow elsewhere as needed and ensuring 98% deadline adherence.
Key Achievement: Utilized foresight and math skills to deliver 95% of projects under budget.
IT Project Manager
Whiteboard Technologies, Cyrill, Michigan
May 2016–July 2018
Documented workflow and reported to upper management on a bi-weekly basis during meetings.
Stressed importance of introducing Agility to the work environments in small to medium-size projects that I was put directly in charge of.
Managed deliverables for a team of 55-70 developers where 80% of the team is offshore or at other locations.
Education
Bachelor's Degree in Computer Science
University of North Carolina at Chapel Hill, NC
2016
Skills
Sprint and Iteration Burn-Down Reports
Product Roadmaps
Adaptability
CMS Software
Management & Leadership
Risk Management
Problem-Solving
Communication
Certifications
Certified ScrumMaster (CSM), ScrumAlliance, 2018
Awards & Memberships
GrenWorks: Company Helping Hand Award for Outstanding Selflessness (2018)
International Coaching Federation (ICF) – Certified Member since 2014
Languages
English: Native
Spanish: Advanced
Here's how you write an Agile PM resume:
1. Format Your Agile Project Manager Resume Correctly
Agile project managers combine traditional project management with Agile methodology. Adaptability is the name of the game, and APMs call the shots with planning, team management, and leadership. All of these skills have to be evident on an Agile project manager resume, along with relevant experience.
On the most basic level, Agile is all about having a clear vision and a well-structured plan to achieve specific goals. And you can't hope to show your vision, structure, or goals with a resume that looks like you typed it up in your iPhone Notes during your morning commute.
So, it all starts with a coherent resume format that clearly lays out your professional journey. Here's how to go about it:
Pick the right resume layout. While there are a few options, as an APM you'll likely find the reverse-chronological resume to be the most efficient. As the name suggests, it involves listing your experience in reverse-chronological order (most recent first).
Set the margins of your resume to 1" on every side. Utilize proper spacing and white space on your resume to visibly separate your resume sections.
Your resume headings should use slightly larger fonts and be quick, yet efficient and professional.
Speaking of resume fonts, go for tried-and-tested elegance, and not for gaudy pomp. Classics such as Helvetica, Garamond, or Cambria at size 11 or 12 fit this bill pretty well.
Do not go over one page when considering the ideal resume length for Agile project manager resumes. Too much disruption leads to poor performance.
If there is no mention of MS Word formats being preferred/required, upload your resume in PDF. Making that little adjustment ensures your resume design remains intact.
Read more: What Should My Resume Look Like?
2. Write an Agile Project Manager Resume Profile
Recruiters are the masters of agility, even if they have nothing to do with the methodology.
I mean, with about 7 seconds spent per resume, they decide if someone is the right fit for the job or not! That's quite a rapid sprint.
What's that? You don't think your 7 seconds will be enough to beat out the—
*checks notes*
—52,700 other candidates gunning for new IT project management positions by 2030?
Well, what if I told you that you could beat them?
You just need the right resume profile, otherwise known as a resume objective or resume summary.
Here's what you need to know:
A resume summary is a brief 3–4 line introductory statement boasting about the years of experience you have in Agile project management. Successful resume summary examples include the greatest career moments, numbered achievements, and demonstrable skills and knowledge. Structure your resume summary like it's a collection of the best bits from your resume. Finish on a promise to achieve a specific goal for the new company.
Resume objectives on the other hand are for those who have yet to prove themselves in the field. They focus on transferable skills, knowledge, and a passion to learn off the back of the first two.
Be warned—
Writing a resume profile is likely to cause writer's block. If that's the case, well, be agile and course-correct yourself onto writing other sections first and come back once you're ready to get down to business.
Read more: How to Write a Successful Resume Introduction
3. Hone in on the Details in Your Agile Project Manager Job Description
This is it, the meat of your resume, the one the hiring manager is after, the big one. Can't mess it up.
So… you just say you worked on Agile projects, kept client needs in mind, and took everyone's feedback to adapt as necessary?
No. Not at all.
You have to demonstrate you're not just some digital pencil pusher.
You're a brainstorm session-leading, motivation-spurring, sprint on-time-completing Agile machine.
Sound intimidating? Maybe, but to you, it's second nature. Check this out:
As mentioned: reverse-chronological order. That means first job goes last, last job goes first. Remember to include the basics such as company name and location, your job title, and the dates (month + year).
Focus on condensing your most impressive professional achievements into 4–6 bullet points (fewer as you go back in time). Good resume bullet points carry far more impact than drawn-out descriptions.
When describing your work history, include numbers and percentages to show just how much impact your work actually had. Recruiters like over-achievers and go-getters, and that quick little trick sends your chances sky-high.
Use power words like improved, generated, implemented, spearheaded etc. to really hammer in that direct link between you and company success.
Pro Tip: One of the big pitfalls of the work experience section is listing irrelevant experience. Avoid at all costs, lest you end up scorning the precious yet fleeting attention of the hiring manager.
4. Polish Your Education on an Agile PM Resume (It Really Matters!)
Can your education show agility?
Yes, it can, because what you put in the education section isn't set in stone—
It's variable.
You need to adapt the information you include to your experience level, like so:
Got 5 years or more in the industry? You're best off writing down your graduation year, school name and location, and information about your degree. Include basics like your majors and minors, not much more.
Up-and-coming APM with fewer than 5 years of experience? No worries: add extra details to your education info to make up for the short work experience section. Consider including coursework on your resume, or some extracurricular activities that show soft skills like teamwork or communication. Add GPA to your resume only if it was high enough to brag about (3.5+).
Read more: How to Put a Degree on Your Resume
When making a resume in our builder, drag & drop bullet points, skills, and auto-fill the boring stuff. Spell check? Check. Start building a professional resume template here for free.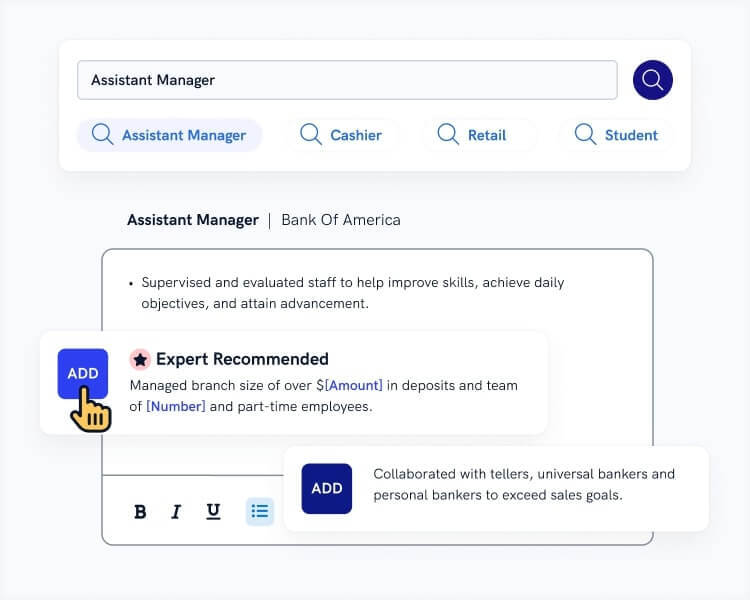 When you're done, Zety's resume builder will score your resume and our resume checker will tell you exactly how to make it better.
5. Create a Tailored Skills Section on an Agile Project Manager Resume
I think by now we've hammered in the point that you need your resume to be tailored and flexible.
Of course, that shouldn't pose any problems if you're familiar with working in Agile environments. Point is, the skills section can benefit this approach just as much, and without a doubt, the skills are what have the potential to influence your image in the eyes of the employer.
So, what's the best way to go about this and toss the 99 resumes while keeping yours?
Creating a skills section they could have only imagined in their dreams.
Begin by making an Excel spreadsheet or a document, anything where you can divide your skills into categories: soft skills, hard skills, technical skills, and all the stuff in-between.
Analyze the job posting. Trust me, once a manager has dreamt up that perfect employee, they project their vision of a perfect skillset into the job ad that finds its way online. The skills they require are the key to your success.
Once you've found those resume keywords, compare and cross-check them with your master list. Any skills that can be seen in both are the skills you need to put onto your resume.
A skills section with 6 to 8 cherry-picked skills not only makes one hell of a good impression, but it also makes your resume pass ATS checks with flying colors.
And since we're giving away all of these top tips for free, here's a sample APM skills list to rock any recruiter's world:
Agile Project Manager Resume Skills
Team Coaching
Brainstorming
Working Under Pressure
Flexibility & Adaptability
Ability to Prioritize
Risk Assessment
Creating Project Overviews & Roadmaps
Scrum, Kanban, Lean, SAFs
Atlassian Jira
SprintGround
Interpersonal Skills
Read more: Best Skills to Put on Your Resume to Guarantee Success
6. Boost Your Chances by Including Extra Sections on a Resume for Agile Project Managers
Delivering projects on time and with frequent updates is your jam.
But how about delivering 110%, even earlier, even better?
That's a blowout.
And extra resume sections can help you achieve that same effect:
Whatever you decide to include, make sure the impression they get is that you're passionate about working in the field and joining the company.
Alright, but are there any big no-no's about resume writing? Sure there are. Read about them here: Worst Resume Additions That Should Not Be Included
7. Send a Cover Letter Alongside Your Agile Project Manager Resume
Do you need a cover letter as an Agile PM?
Yes, you do. The resume alone doesn't cover all of your bases.
Here are the best cover letter writing tips:
The total length of your cover letter shouldn't exceed one page.
Read more: Modern Cover Letter Templates to Match Your Resume
Plus, a great cover letter that matches your resume will give you an advantage over other candidates. You can write it in our cover letter builder here. Here's what it may look like: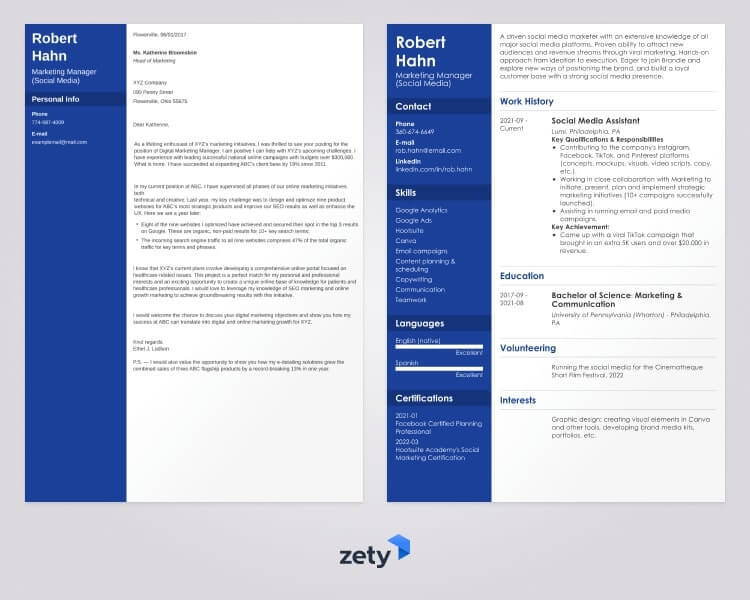 See more cover letter templates and start writing.
Finished!
An Agile project manager resume in perfect harmony with the manifesto's commandments.
Thanks for reading. Got any Agile tips to share for the perfect resume? Perhaps you have an unanswered question regarding writing a resume for Agile project managers? Our comments section awaits you!
About Zety's Editorial Process
This article has been reviewed by our editorial team to make sure it follows Zety's editorial guidelines. We're committed to sharing our expertise and giving you trustworthy career advice tailored to your needs. High-quality content is what brings over 40 million readers to our site every year. But we don't stop there. Our team conducts original research to understand the job market better, and we pride ourselves on being quoted by top universities and prime media outlets from around the world.