IT Project Manager Resume Examples 2023 (Sample & Guide)
You turn complex, technical projects into epic successes. Use that wizardry to generate an IT project manager resume that'll make you champion of any project.
You know scopes, assessments, and systems like the back of your hand. There's not an IT project on this side of the Google servers that you can't handle. But the hiring manager doesn't know that.
And here you are with an incredible opportunity at your fingertips, and the opportunity cost is high. The best way to cash in—a perfect IT project manager resume. Good news is that it's super simple. All you have to do is read on.
Want to save time and have your resume ready in 5 minutes? Try our resume builder. It's fast and easy to use. Plus, you'll get ready-made content to add with one click. See 20+ resume templates and create your resume here.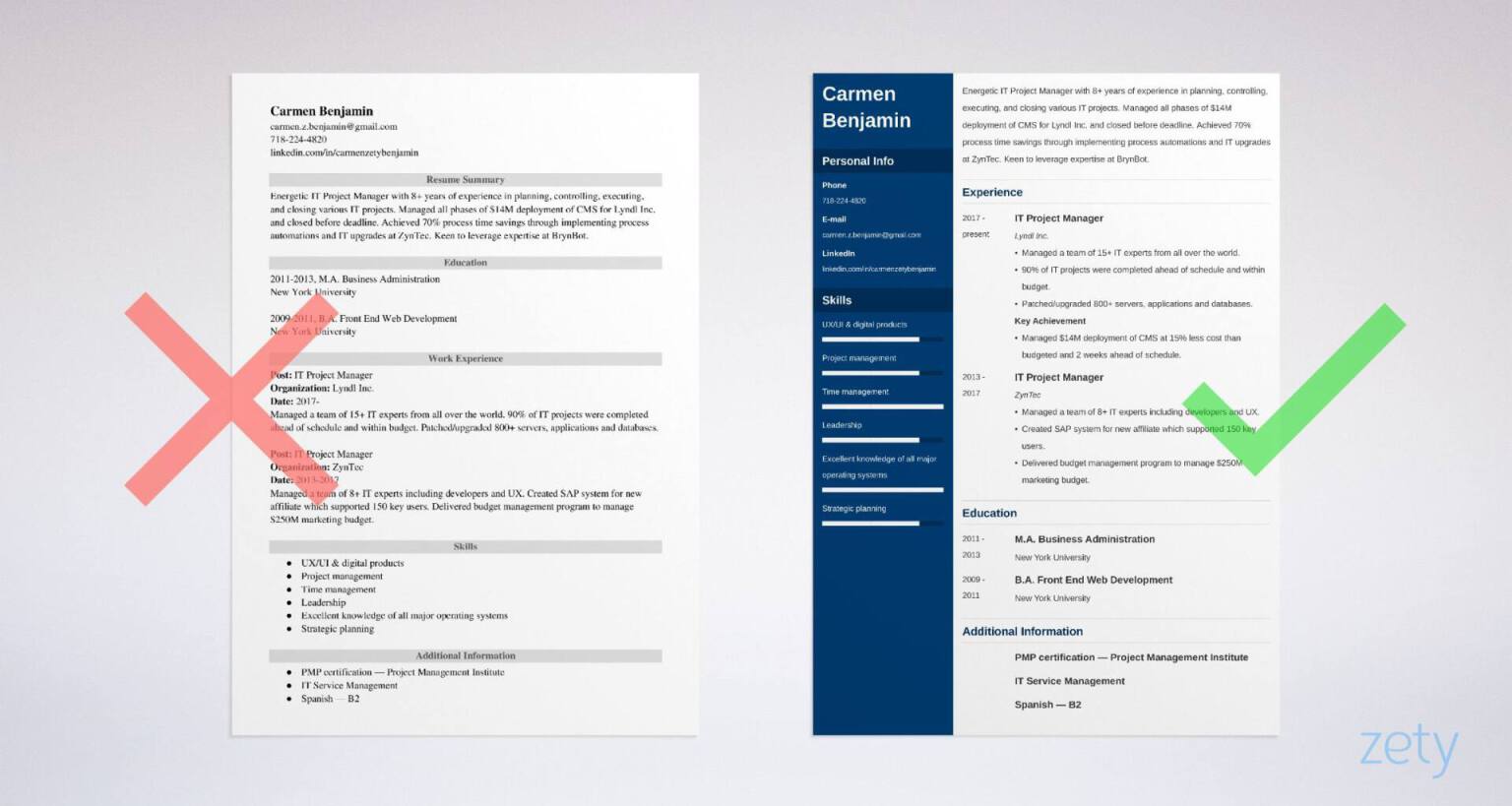 Sample resume made with our builder—See more resume samples here.
Are you looking for a different IT job? Check out our other dedicated guides to informational technology:
Here are some other guides related to managerial roles:
Sample IT Project Manager Resume
Carmen Benjamin
carmen.z.benjamin@gmail.com
718-224-4820
linkedin.com/in/carmenzetybenjamin
Resume Summary
Energetic IT Project Manager with 8+ years of experience in planning, controlling, executing, and closing various IT projects. Managed all phases of $14M deployment of CMS for Lyndl Inc. and closed before deadline. Achieved 70% process time savings through implementing process automations and IT upgrades at ZynTec. Keen to leverage expertise at BrynBot.
Work Experience
IT Project Manager
Lyndl Inc.
2017-
Managed a team of 15+ IT experts from all over the world.
90% of IT projects were completed ahead of schedule and within budget.
Patched/upgraded 800+ servers, applications and databases.
Key Achievement
Managed $14M deployment of CMS at 15% less cost than budgeted and 2 weeks ahead of schedule.
IT Project Manager
ZynTec
2013-2017
Managed a team of 8+ IT experts including developers and UX.
Created SAP system for new affiliate which supported 150 key users.
Delivered budget management program to manage $250M marketing budget.
Education
2011-2013, M.A. Business Administration
New York University
2009-2011, B.A. Front End Web Development
New York University
Skills
UX/UI & digital products
Project management
Time management
Leadership
Excellent knowledge of all major operating systems
Strategic planning
Additional Information
PMP certification — Project Management Institute
IT Service Management
Spanish — B2
How to write an IT project manager resume:
1. Choose the Best Format for Your IT Project Manager Resume
An IT project manager is responsible for large scale IT projects. They make sure that complex IT projects such as technology updates and deployments run smoothly, are on time, and within budget. The purpose of your IT project manager resume is to show recruiters that you have the know-how and the experience to complete any IT project.
But nowadays, the market is filled with both IT experts and project managers who all claim they can do your job.To top it off, you have less time than it takes to turn your computer on to impress a hiring manager with your resume.
To turn the recruiter into a key stakeholder of your IT career, you need to follow these resume formatting rules:
At this point you might also be wondering how long your resume should be. If you have several years in IT project biz, go for two pages. Otherwise, one-page resume template should do the trick.
OK, so let's break down this project into manageable chunks, section by section.
2. Write an IT Project Manager Resume Objective or Resume Summary
Introduce yourself through your resume profile, or more specifically, a resume objective or summary. It's a short and sweet summary of qualifications at the top of your IT project manager resume that lays down the groundwork of why you're the best person for the job.
Use a career summary if you've been down in the project trenches for more than a couple of years:
First jot down the key points in your experience and IT project skills as well as accomplishments.
Then choose 3-4 leads and add those into your IT project managers resume summary section.
If you're an entry-level IT project manager, opt for the career objective:
Underline the knowledge and skills you've gathered to date and how well you'd fit in.
Think of transferable skills and quantifiable achievements from other gigs you've had.
There's no need to crash this section with data overload. Keep it 3-4 sentences long max and tailor it to the job description of the position you're applying for.
Use resume keywords to pass the ATS scan. Check: What are Resume Keywords?
3. Create the Perfect IT Project Manager Resume Job Description
Plain and simple, your resume experience section needs to be saying that you're the employee upgrade the company is looking for. So:
List your most current position and then just go back in time with previous positions.
Make sure each entry includes: job titles, company name, dates of employment, and no more than 6 bullet points.
Limit the number of bullet points as you go back in time with your experience. Have up to 3 for positions far in the past.
Start each bullet point with an action verb.
Don't ramble on like a bad meeting. Focus on quantifiable achievements and not just a laundry list of duties and responsibilities.
Tailor your IT project manager experience section to match the position you're gunning for.
Write up any stints when you were self-employed in this resume section as well.
It's a little like coding—there's no room for irrelevant info here.
Read more: How Far Back Should a Resume Go
4. Make Your IT Project Manager Resume Education Section Shine
Who cares about your education? Well, actually a lot of people do and it will definitely give you an ROI boost.
Here's how to nail your education section:
If you have several years of job experience opt for only listing the following: college/university name and location, years you studied, degree, major and minors.
Have limited experience? Sprinkle your education resume section with achievements from your college days. Make sure to keep them relevant to the job description and list no more than 4-6 items.
Graduated cum laude? Check how to put it on your IT project manager resume: How to List Latin Honors on a Resume
5. Highlight Your IT Project Manager Skills
This is where you highlight the IT project management skills that make you so excellent at your job so you need to get it right. After all, it's the IT project manager's skill set that can ultimately determine the future success of projects.
Create a master list of all the job skills you have—this means soft skills and hard skills, technical skills, and any other relevant skills you've got on your hard drive.
Pick the IT technical project management skills that are most relevant by using the job ad as a guide. Include them in your IT project manager resume. Get a level up if you can mention IT infrastructure manager skills that your education and experience sections can prove.
Don't forget—project managers in IT need to showcase their hard skills but equally important are your soft skills because you deal with people on a daily basis.
IT Project Manager Resume Skills
Programming languages
IT Architecture
Cost control
Risk and quality management
Negotiation skills
Coaching
When making a resume in our builder, drag & drop bullet points, skills, and auto-fill the boring stuff. Spell check? Check. Start building a professional resume template here for free.
When you're done, our professional resume builder will score your resume and our resume checker will tell you exactly how to make it better.
6. Add Extra Sections to Your IT Project Manager Resume
You're checking box after box of acceptance criteria, but you're not in the closing phase just yet. Show them that you're the candidate to hire with extra resume sections.
Pro Tip: There are lots of opportunities to grow your portfolio through freelance gigs. Show up with a flimsy portfolio and hiring managers will be coming up with a 404 error before you say a word. See more: How to List Projects on a Resume
7. Attach a Cover Letter to Your IT Project Manager Resume
If you're thinking if you should include a cover letter, then let's make it super clear—yes, you do. 50% of hiring managers expect to get it.
So write the best IT project manager cover letter that will have you at the top of the value tree with the following tips:
It's easy to, but don't go overboard and write a novel. The ideal length of an effective cover letter is 1 page.
Read more: How to Write a Great Project Manager Cover Letter
Plus, a great cover letter that matches your resume will give you an advantage over other candidates. You can write it in our cover letter builder here. Here's what it may look like: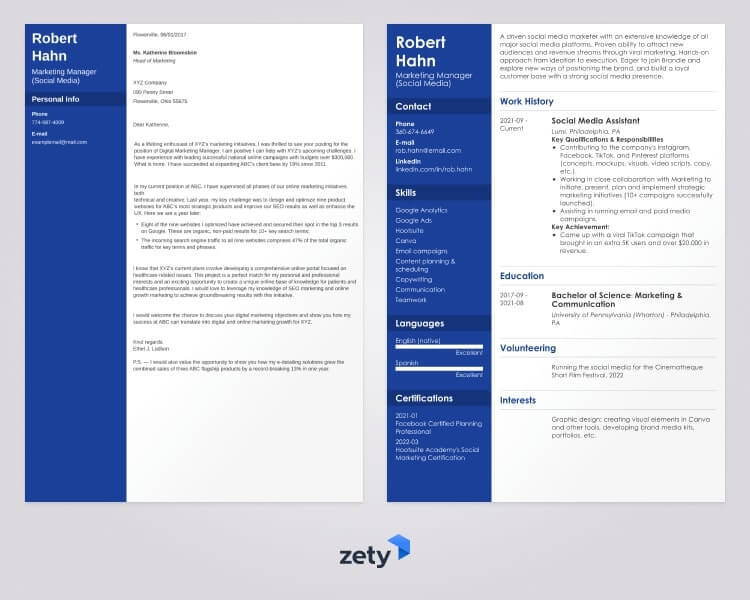 See more cover letter templates and start writing.
And once you have all that sent, remember to follow up on your job application! If you're going to sit there and wait for things to happen then how will they believe you have what it takes to manage multiple projects?!
That's the rundown of a successful IT project manager resume.
Thanks for reading. Have any insider tips or tricks to share about creating the perfect information technology project manager resume? Share them in the comments below!
About Zety's Editorial Process
This article has been reviewed by our editorial team to make sure it follows Zety's editorial guidelines. We're committed to sharing our expertise and giving you trustworthy career advice tailored to your needs. High-quality content is what brings over 40 million readers to our site every year. But we don't stop there. Our team conducts original research to understand the job market better, and we pride ourselves on being quoted by top universities and prime media outlets from around the world.
Sources