Picture this: A Scrum Master's resume is so powerful that it can clear any backlog in a single bound! Sounds too good to be true? Well, buckle up because our Scrum Master Resume Samples Guide is about to make it a reality.
We'll help you demonstrate your mastery of Scrum on paper like a boss, ensuring your resume doesn't end up in the dreaded "product backlog" of job applications. Ready, set, sprint!
This guide will show you:
A Scrum Master resume sample better than 9 out of 10 others.
How to write a Scrum Master resume that gets more interviews.
Tips and examples of how to put skills and achievements on an Agile Scrum resume.
How to describe your experience on a resume for a Scrum Master to get any job you want.
Want to save time and have your resume ready in 5 minutes? Try our resume builder. It's fast and easy to use. Plus, you'll get ready-made content to add with one click. See 20+ resume templates and create your resume here.
Sample Scrum Master Resume—See more resume examples here.
Trying to put Agile on a resume for non-scrum jobs? Show transferable achievements and use our guides:
Also check these Good Sample Resumes for Job Applications.
Here's how to write a scrum master resume:
Scrum Master Resume Example
Peter McNish
Scrum Master
(406) 212-1234
petermcnish@email.com
linkedin.com/in/peter.mcnish
Summary
Certified Scrum Master with 5+ years of experience facilitating Agile Scrum ceremonies and removing impediments. Seeking to improve delivery, efficiency, and quality at Hyperion Innovations by leveraging technical and leadership skills. Led a scrum team at Electra Solutions that delivered a complex project 10% ahead of schedule.
Experience
Scrum Master
Electra Solutions, Missoula, MT
January 2015–December 2020
Key Qualifications & Responsibilities
Led and motivated a team of 10+ developers, testers, and Project Managers.
Facilitated daily stand-ups and retrospective meetings.
Liaised with project stakeholders to ensure alignment and delivery of project goals.
Implemented Agile best practices and maintained Scrum boards.
Key Achievements:
Led a scrum team that delivered a complex data migration project 10% ahead of schedule.
Scrum Master
Vantage Solutions, Missoula, MT
June 2009–December 2014
Key Qualifications & Responsibilities
Facilitated sprint planning, review, and retrospective meetings.
Ensured the team was working as a unit to achieve sprint goals.
Tracked and reported sprint progress to stakeholders.
Key Achievements:
Implemented Scrum process, which improved delivery time by 15%.
Education
Master of Science in Computer Science
University of Montana, Missoula, MT
Aug 2007–May 2009
Relevant extracurricular activities
Mentored junior software developers in object-oriented design and project management.
Student representative in the Computing Science Department Council.
Academic achievements
Awarded Scholarship for Academic Excellence, 2008.
Top 5% of graduating class (3.9 GPA).
Skills
Agile & Scrum methodologies
Leadership and team motivation
Task prioritization
Conflict resolution
Excellent communication
Adaptability
Knowledge of JIRA & Confluence
Technical Understanding
Certifications
Certified ScrumMaster (CSM), Scrum Alliance, 2010
Languages
Interests
Reading leadership and management books.
Active member of a local hiking club.
1
Format Your Scrum Master Resumes Correctly
Meet Pete, the Scrum Master hiring manager. He's got a coffee mug that says, "Scrum and get me" and 300 Scrum Master resumes to read by end of day.
Your resume for Scrum Master jobs needs to strut your stuff at a full sprint.
The reverse-chronological resume format is best. Why?
Because it shows your latest, greatest wins first.
Keep the layout as simple as a burn down chart.
Mix white space, punchy headings, and the professional resume fonts to make your info easy on the eyes.
Finally, save that certified Scrum Master resume as a PDF. Resumes in word DOC format can backfire in transit. Just make sure the job offer doesn't nix them.
Pro Tip: Switching into scrum from some other career? In that case, try the combination resume format. It collects your greatest career hits from all over.
Not so sure about the chronological resume format? Want other options? See our guide: 3 Resume Formats: How to Choose the Best One [Examples]
2
Write Scrum Master Resume Summary or Resume Objective
"We've got a winner."
The right Scrum resume can make the hiring manager say the words above.
Here's the problem:
Most resumes only get seven seconds of reading time, according to our HR statistics report.
How can you convince anyone to hire you that fast?
You can't.
But you can persuade them to read your resume.
Do that with a Scrum Master resume summary or resume objective.
Which is which? And which is right for you?
A resume objective is for fledgeling Scrum Masters. Use it to show your Martin-Fowler-level passion.
A resume summary shows experience. Use it if your achievements have achievements.
Let's start with two senior Scrum resume examples.
wrong
Hard-working Scrum Master with 3 years of experience. Responsible for all Scrum Master tasks at Tekkhelper Worldwide, including gathering requirements, leading scrum teams, and delivering products.
That's not as bad as ignoring the customer's needs, but it won't win any trophies.
Scrum Master Resume Summary Example
right
Certified Scrum Master with 3+ years of experience and a proven track record of raising revenue and cutting costs. Boosted earnings from $1.5 M to $2.3 M in 2 years at Tekkhelper Worldwide. Delivered 15 products at avg. 10% under budget. Saved $800,000 at Healy Digital Media.
Bam. Straight outta The Five Dysfunctions of a Team.
"But I don't have that much experience."
If your Scrum Master experience is a little too lean, use a resume objective.
Decades ago, you'd have stuffed it with passion, like this sample Scrum resume objective:
wrong
Passionate entry-level Scrum Master, skilled in meeting facilitation and Agile planning. Expert in Agile coaching and servant leadership. Eager to learn on the job.
Three cheers for passion! Now let's hire someone with experience, right?
You need measurable achievements. The next of our junior Scrum Master sample resumes has them:
Scrum Master Resume Objective Example
right
Enthusiastic entry-level Scrum Master. Have worked in Agile environment as a software engineer for 7 years. Worked on two Scrum teams and filled in as Scrum Master on several occasions. Proven history of successful work with cross-functional teams.
You just burned it down. But where can you get even that much experience?
That's next.
Pro Tip: Put one or two skills in your Agile scrum master resume summary, but no more. Make sure they're listed in the job ad and prove them later with achievements.
When making a resume in our builder, drag & drop bullet points, skills, and auto-fill the boring stuff. Spell check? Check. Start building a professional resume template here for free.
When you're done, our easy resume builder will score your resume and our resume checker will tell you exactly how to make it better.
Want to fill your calendar with interviews? Follow the Scrum Master sample resume up top. Plus, use our guides: How To Write A Resume Summary Statement: 21 Best Examples You Will See AND +20 Resume Career Objective Examples - Use Them on Your Resume (Tips)
3
Describe Your Scrum Master Experience
Remember Pete, our hiring manager?
He's got two blockers when it comes to hiring.
The first is resumes with waterfalls of irrelevant experience.
The second is applicants with no experience at all.
I'll show you how to fix both.
First, if your experience would put Jurgen Appelo to shame, don't show it all. That's not Lean!
Instead, show the tip of the iceberg.
List your most recent job first. Add 3-5 bullet points crammed with measurable achievements.
The next of our Agile resume examples shows how.
Scrum Master Job Description for a Resume
right
Tekkhelper Worldwide
Scrum Master
2016–2018
Led 2 Scrum teams, working with cross-functional teams to increase revenue from $1.5 million to $2.3 million in 2 years, slashing time to delivery 22%.
Scrum Master for 15 products, completed an average of 10% under budget.
Trained 3 Scrum Masters for other departments.
Enforced Kanban usage, cutting cycle time 25%.
The hiring manager who'd ignore that probably thinks "Scrum" is some new bathroom cleaner.
Now delete those achievements:
wrong
Tekkhelper Worldwide
Scrum Master
2016–2018
Worked in position as Scrum Master for Tekkhelper Worldwide.
Handled multiple products in the course of two years.
In charge of various trainings.
Responsible for enforcing Kanban usage across the company.
Look familiar? That's the Agile resume version of optional deliverables.
Now, what if you've got no experience as a Scrum Master?
Our next entry-level Scrum Master resume samples show what to do.
How to Write a Resume for Scrum Master with No Experience
Let's say you've never been a Scrum Master, but you want to be. Stuff your Scrum resume with relevant experience.
Have you ever:
Been on a scrum team?
Worked in the industry?
Facilitated scrum projects?
Demonstrated skills as a communicator or collaborator?
"Led" a self-organizing team?
None of those are "scrum master experience." Yet they're 100x better than listing "no experience" (or irrelevant experience).
They make a Scrum resume with no experience look like Craig Larman wrote it.
The next two entry-level Scrum Master resume samples show how.
Two Entry-Level Scrum Master Resume Samples [No Experience]
Why does one of these fresher Scrum Master sample resumes fly, while the other splats?
wrong
Scrum Master Experience: Still looking for my first official Scrum Master job. I'm very passionate and eager to start!
Other Experience:
Software Development
Car Wash Attendant
Ick, someone get the paper towels. That's like a cancelled sprint.
It lacks details. This junior Scrum Master resume example has them:
right
Scrum Experience
2017–2018
Worked as professional software engineer in Agile environment since 2011.
Worked on a Scrum team for 6 months.
Worked with 3 cross-functional teams to deliver 3 products.
That's as good as doing twice the work in half the time.
Yet none of it is Scrum Master experience. It all came from other jobs.
Pro Tip: A Scrum certification can increment you toward getting hired. I'll share how to show certifications on a resume for Scrum Masters soon.
Make your language agile. The best Scrum Master resumes wake the hiring manager with action words. See our guide: 240 Resume Action Words & Power Words to Make Your Resume Shine
There's no bachelor's degree in Scrum mastery. So why care about your education section?
The same reason you'd never have a silent standup. It's there, so use it. Done right, it can be the thing that gets you hired.
Start with:
School Name and Location.
Years in School.
Degree.
Now comes the magic:
Add relevant achievements.
The certified Scrum Master resume samples below show right from wrong.
Scrum Master Resume Education Examples
right
Park University, MO, Computer Science
2007–2011
Excelled in organizational behavior coursework.
Completed a senior project in Agile.
Used Scrum methodology to develop an expense tracker webapp.
That candidate has done more than read the Scrum Guide. She's been in training since day one.
Now let's go generic:
wrong
Park University, MO, Computer Science
2007–2011
You might as well write "education here" on your Agile Scrum Master resume.
Pro Tip: Does GPA belong in a resume for Scrum Masters? If it's impressive or recent, add it. If not, save the space for a real achievement.
Make your Scrum Master resume education section pop like Esther Derby wrote it. See our guide: How to Put Your Education on a Resume [Tips & Examples]
5
Put Skills on a Resume for a Scrum Master
Let's pretend we're in an elevator with Pete, the hiring manager. We ask him what one thing is most important for a Scrum Master.
His answer? Skills.
So, Google "Scrum master resume skills" and copy-paste the list. Right?
Wrong.
See, Pete has a very specific list of skills in mind. Luckily, he put them in the job ad.
Only one of the professional Scrum Master sample resumes below makes him happy.
Pretend Pete put these skills in the job description:
Scrum Master Skills: Automation, Kanban, and Idea Systems.
Here's the wrong way to show your Scrum Master skills:
wrong
Scrum Master Skills: GitHub, Meeting Facilitation, Agile Planning, Agile Coaching, Servant Leadership, Automation, Interpersonal Skills, Kanban, Communication, Collaboration, Time Management, Idea Systems, Detail Oriented, Everything Under the Sun Implementation...
TL;DR, right? Anyone can say that. Why not prove it?
right
Saved $800,000 through a company-wide automation drive.
Employed Kanban to improve team velocity 35%.
Increased idea implementation 55% with a new Lean idea system.
Coordinated efforts of a 7-person team for 8 projects.
With a resume for Scrum Master jobs like that, you'll be holding Daily Scrums in no time flat.
Use the Scrum Master skills for resumes below. The skills on it make great resume keywords for Scrum Master jobs.
20 Most Important Scrum Muster Skills for a Resume
Meeting Facilitation
Forecasting
Conflict Resolution
Agile Planning
Agile Estimation
Agile Coaching
Empathy
Enforcing Rules
Detail Oriented
Shielding the Team
Adaptable
Removing Impediments
Technical Tools
Customer Service
Servant Leadership
Follow those steps, and your Agile resume will put you in the Salesforce zone.
Pro Tip: Also show relevant software knowledge on a Scrum Master resume, like GitHub, Trello, or JIRA. Bonus points if they are listed in the job description.
See more examples of good skills to put on a Scrum master resume here: Project Management Skills Employers Want.
6
how Certifications on a Resume
Do you need a certification? Does it help?
Especially on entry-level Scrum Master resumes, a certification makes a great springboard.
The PSM 1 cert carries weight and costs $150. If you think you've got the skills, you can even waive the 2-day class.
Got more experience? PSM II and III provide more oomph. CSM is another well-respected cert.
Add it to your resume header. But don't stop there.
Put it in your resume summary too, and in a special section above "Experience."
Certified Scrum Master Resume Sample
That way, no matter where the hiring manager glances first, he knows you're certified.
You can add other certifications on a resume for Scrum Master jobs. The key rule? Make sure they're relevant to the opening.
Pro Tip: Do you need a PSM certification? Not if you've got experience. Experience beats certifications on any Scrum or Agile project manager resume.
What else should go on Scrum Master resumes? See our guide: What To Put On A Resume To Make It Perfect [Tips & Examples]
7
Add These Things to Grow Your Interview Backlog
Once you've got experience, education, and skills, you're done, right?
Wrong.
Hiring managers really want to know if you will make a great employee.
Your work history can show that, but—
Another indicator is your passion.
That's why every Agile development resume needs other sections.
They show you do more than the required minimum.
See that work in two sample Scrum Master resume sections.
Scrum Master Resume Other Sections Example
Don't do it like this in a resume for a Scrum Master:
wrong
Parrot Yoga
Belly Breathing
It takes all kinds, right? But how does that make you a better Scrum Master?
Now look at this Agile methodology resume example:
right
Conferences
Business Agility 2016 -- Spoke on panel about Emerging Requirements
Agile 2017 Conference
Publications
Article on 3 Questions published in Age of Product Blog
Spoke on the Modern Change Management Podcast about Sprints
Additional Activities
Participate in weekly CrossFit classes to stay in shape
Volunteer at Red River Soup Kitchen 2x per month
That applicant clearly lives and breathes Scrum and Lean.
Even the CrossFit and volunteer work help because they show a well-rounded character.
The real mind-blower? You probably have plenty of gold nuggets like that in your past. Just take the time to dig them up and dust them off.
Pro Tip: If you're writing an agile coach resume but you've never coached, look for relevant experience in your past. Maybe you've coached or trained others in non-Scrum roles.
Not sure what extras to put in your certified Scrum Master resume? See our guide: +20 Best Examples of Hobbies & Interests To Put on a Resume (5 Tips)
8
Write a Scrum Master Cover Letter
Aren't cover letters dinosaurs? If you mean "big and powerful," yes.
Hiring managers often cite great cover letters as a reason for hiring. So, you need to send a cover letter with your Scrum Master resume. The
The good news? It's not that hard to make a great deliverable.
Use the hiring manager's name to make it personal. Then, show you'll meet the needs shown in the job description. This short example Scrum Master cover letter does it right.
Scrum Master Cover Letter Example
I've wanted to work at Moderal Global for years. I know you're trying to cut costs and improve quality. At Tekkhelper Worldwide, my teams cut cycle time by 25% and product budgets by 10%. At the same time, we raised revenue from $1.5 M to $2.3 M in 18 months.
End your cover letter with an offer like, "I'd love to discuss ideas to raise your revenue by 30% this year."
Pro Tip: How long should you wait to follow up on your Scrum Master cover letter and resume? Most hiring managers say between one and two weeks.
Plus, a great cover letter that matches your resume will give you an advantage over other candidates. You can write it in our cover letter builder here. Here's what it may look like: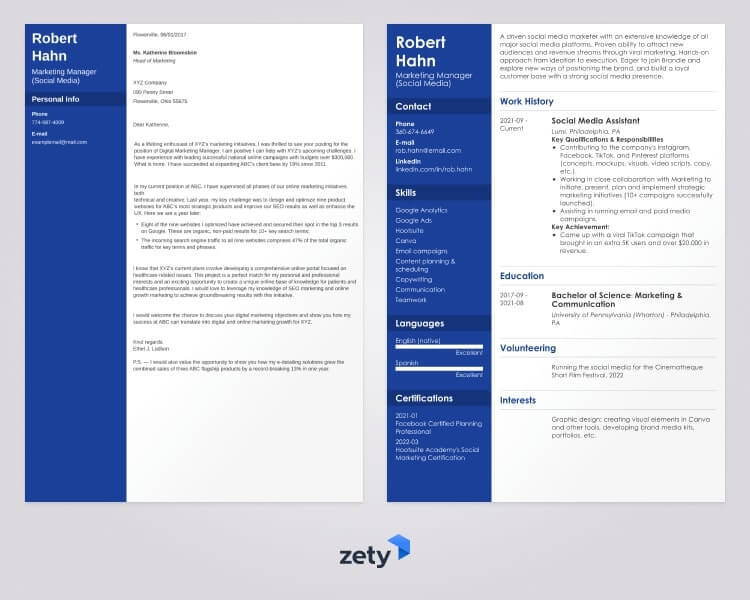 See more cover letter templates and start writing.
Want your cover letter for Scrum Master jobs to stand out like Mary Poppendieck in a Scrum Team? See our guide: How To Write A Cover Letter in 8 Simple Steps (+12 Examples)
9
Don't Add Contact Info to Your Resume Without This
Of course you know to add contact info to your Scrum Master resume.
You'll start with:
Full Name
Updated Phone Number
Professional Email Address
Like this:
Kim Benchemsi, Scrum Master, PSM I, kimbenchemsi@gmail.com, 816-315-0754
You even know not to use addresses like scrumoverlord934983@yahoo.com. (A professional address like FirstnameLastname@gmail.com works best.)
But did you know how important a LinkedIn address is?
These days, 87% of recruiters use LinkedIn while hiring.
Also, if you've got a portfolio website, add it to your professional Scrum Master resume.
Pro Tip: Your LinkedIn profile is as important as a Sprint Review. Use our guide to create a great LinkedIn profile.
Got questions? Need more help to make a Roman-Pichler-worthy resume for Scrum Master work? See our guide: How to Make a Resume: A Step-by-Step Guide (+30 Examples)
Key Takeaway
Here's a recap of how to make a Scrum Master resume worth its weight in cross-functional teams:
Use a resume summary or resume objective. It's your TL;DR at the top of your Scrum Master resume.
Pay attention to the job description. Use achievements to custom-fit your resume to it.
Add other sections that show passion. An Agile Scrum resume with conventions, publications, or awards work beats one without.
Write a cover letter. A resume without a Scrum Master cover letter is like speaking at a standup without being committed.
And if you're looking for more IT-related resumes, visit our guids:
Do you have questions on how to write a great resume for a Scrum Master? Not sure how to describe your skills or achievements? Give us a shout in the comments! Let's get you in that dream job.
About Zety's Editorial Process
This article has been reviewed by our editorial team to make sure it follows Zety's editorial guidelines. We're committed to sharing our expertise and giving you trustworthy career advice tailored to your needs. High-quality content is what brings over 40 million readers to our site every year. But we don't stop there. Our team conducts original research to understand the job market better, and we pride ourselves on being quoted by top universities and prime media outlets from around the world.
Sources