Our customers have been hired by:
With 71% of companies adopting agile methodologies, you'd think you'd have recruiters fighting over you.
But somehow they don't. And most don't even bother to reply to your job application.
You can be the best backlog groomer, story prioritizer, and product visionary out there, but if your resume doesn't catch the reader's attention within seven seconds, you're practically doomed.
Fortunately, we've got the roadmap for a job-winning project owner resume laid out for you.
This guide will show you:
A project owner resume example better than 9 out of 10 other resumes.
How to write a project owner resume that will land you more interviews.
Tips and examples of how to put skills and achievements on a project owner resume.
How to describe your experience on a resume for a project owner to get any job you want.
Want to save time and have your resume ready in 5 minutes? Try our resume builder. It's fast and easy to use. Plus, you'll get ready-made content to add with one click. See 20+ resume templates and create your resume here.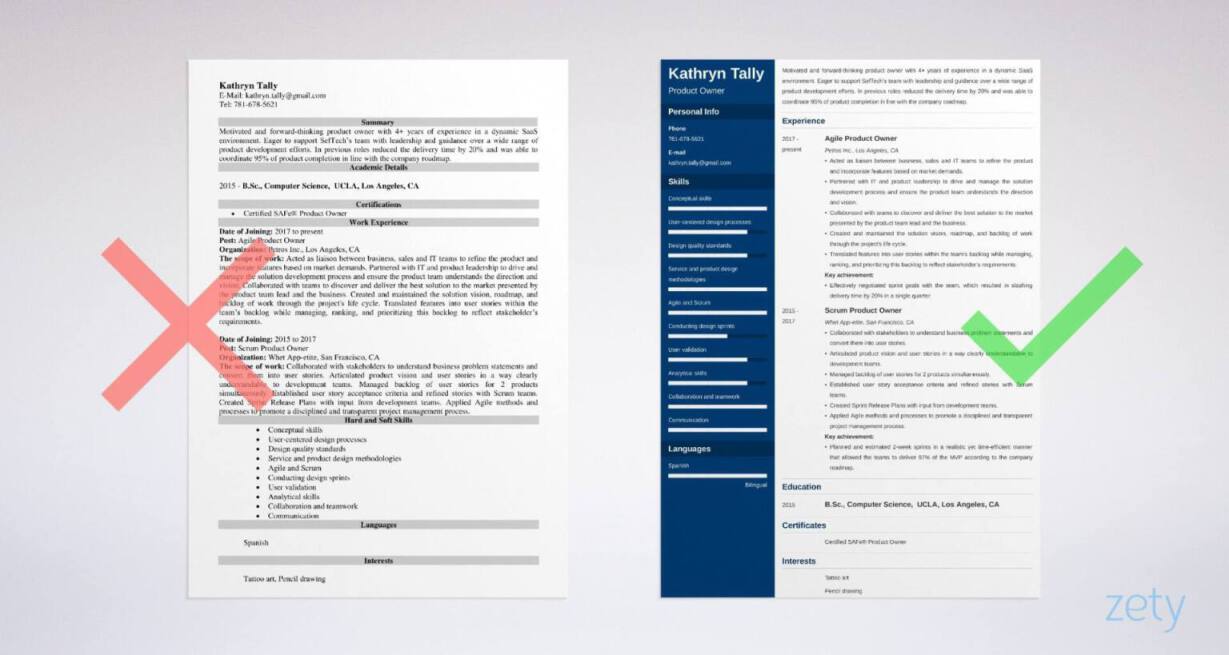 Sample resume made with our builder—See more resume samples here.
Interested in other IT or management positions? Check out our guides:
Product Owner Resume Sample
Kathryn Tally
kathryn.tally@gmail.com
781-678-5621
Objective
Motivated and forward-thinking product owner with 4+ years of experience in a dynamic SaaS environment. Eager to support SefTech's team with leadership and guidance over a wide range of product development efforts. In previous roles reduced the delivery time by 20% and was able to coordinate 95% of product completion in line with the company roadmap.
Work Experience
Agile Product Owner
Petros Inc., Los Angeles, CA
2017–
Acted as liaison between business, sales and IT teams to refine the product and incorporate features based on market demands.
Partnered with IT and product leadership to drive and manage the solution development process and ensure the product team understands the direction and vision.
Collaborated with teams to discover and deliver the best solution to the market presented by the product team lead and the business.
Created and maintained the solution vision, roadmap, and backlog of work through the project's life cycle.
Translated features into user stories within the team's backlog while managing, ranking, and prioritizing this backlog to reflect stakeholder's requirements.
Key achievement:
Effectively negotiated sprint goals with the team, which resulted in slashing delivery time by 20% in a single quarter.
Scrum Product Owner
Whet App-etite, San Francisco, CA
2015–2017
Collaborated with stakeholders to understand business problem statements and convert them into user stories.
Articulated product vision and user stories in a way clearly understandable to development teams.
Managed backlog of user stories for 2 products simultaneously.
Established user story acceptance criteria and refined stories with Scrum teams.
Created Sprint Release Plans with input from development teams.
Applied Agile methods and processes to promote a disciplined and transparent project management process.
Key achievement:
Planned and estimated 2-week sprints in a realistic yet time-efficient manner that allowed the teams to deliver 97% of the MVP according to the company roadmap.
Education
B.Sc., Computer Science
UCLA, Los Angeles, CA
2015
Key Skills
Conceptual skills
User-centered design processes
Design quality standards
Service and product design methodologies
Agile and Scrum
Conducting design sprints
User validation
Analytical skills
Collaboration and teamwork
Communication
Certifications
Certified SAFe® Product Owner
Languages
Interests
Here's how to make your product owner resume prove you've pwned the recruitment process:
1. Choose the Best Format for Your Product Owner Resume
A recruiter's single glance can have a profound impact on your future career.
So let's make sure your future is bright.
Here's how to ensure your product owner resume's instant success:
2. Write a Product Owner Resume Summary or Objective
To impress the recruiter from the start, you must know how to write a great resume profile.
It's a short blurb that introduces you to the recruiter and functions as an elevator pitch.
The resume profile can take either of the two forms:
A resume summary should be your choice if you have 2+ years of experience. It concentrates on your experience and key accomplishments.
A resume objective is for you if you're a fresher or career changer. It focuses on your transferable skills that will contribute to your success in the role.
Always add some numbers (like $ or %) to your resume profile to make it more convincing to the recruiter.
Pro Tip: You can leave writing this section until your entire product owner resume is ready. This way it will be much easier for you to pick out the best parts.
3. Create the Perfect Product Owner Job Description for a Resume

The way you describe your work experience on a resume really matters.
To own the recruiter you must show them you can do your thing better than the rest.
How?
For starters, tailor your resume so that it lasers on your relevant skills:
Put your latest position first.
Add your job title, company name, dates worked, and location.
List your experience on a bullet point list. Steer clear of long paragraphs.
Let all your bullets contain resume action verbs, such as delivered, boosted, collaborated, delivered, etc.
Quantify your experience inasmuch as you can.
Pro Tip: Select up to three of your key achievements and single them out in an accordingly labeled subsection.
4. Make Your Product Owner Resume Education Section Deliver
Details matter.
So make sure your resume education section isn't lagging behind.
If you have over 5 years of experience add your degree, school name and location, as well as graduation year. Done.
Less experience? Add info on relevant coursework, GPA (if >5.5), extracurricular activities, and academic honors and achievements.
Your professional certifications and licenses deserve a separate section to make them visible.
5. Highlight Your Product Owner Skills
Do you have the skills to deliver the sprint? Great! Show them off on your product owner resume.
Use the list below to identify what you're most agile at:
Product Owner Resume—Examples of Skills
Agile and Scrum
Bugzilla
Conducting design sprints
Defining MVPs and prototypes
Design quality standards
eCommerce
Java
Jira
JS
Kanban
Prioritization frameworks
Python
Quality Center
Rally
SaaS
Scaled Agile Framework (SAFe)
Service and product design methodologies
UI/UX development
Unix/Shell Scripting
User-centered design processes
User research methodologies
User validation
Here's how to pick out the right skills for your product owner resume:
Compile a list of all your work skills (including soft skills, hard skills, and technical skills).
Look again at the job ad to see what skills it lists.
Revisit your master list and pick out the skills you see in the job ad.
Focus on these skills. Pick out up to 10 and put them in a key skills section.
Shower your entire agile product owner resume with skills. Your resume profile and experience sections are great places.
Pro Tip: Focus on your top skills. Don't mention the ones you're not great at.
When making a resume in our builder, drag & drop bullet points, skills, and auto-fill the boring stuff. Spell check? Check. Start building a professional resume template here for free.
When you're done, our free resume builder will score your resume and our resume checker will tell you exactly how to make it better.
6. Add Other Sections to Your Product Owner Resume
Show them there's much more you can offer, and that you're a cultural fit.
Consider including the following sections:
7. Attach a Product Owner Resume Cover Letter
Absolutely.
About 50% of recruiters expect them.
Follow these tips below to prepare a cover letter for a resume quickly and easily:
Make sure you know how long a cover letter should be not to lose the reader.
Pro Tip: Send a follow-up email after application to confirm your interest in the role.
Plus, a great cover letter that matches your resume will give you an advantage over other candidates. You can write it in our cover letter builder here. Here's what it may look like: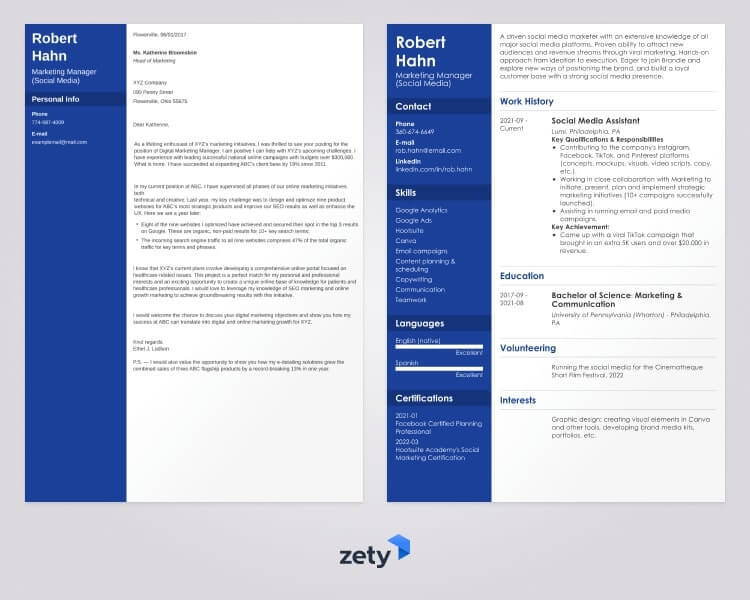 See more cover letter templates and start writing.
This is it!
This is how you make a job-winning resume for scrum product owner positions.


Are you writing a product owner resume for the first time? Or perhaps you're a seasoned pro eager to help the rookies out? We'd love to hear from you, leave your comment below!
About Zety's Editorial Process
This article has been reviewed by our editorial team to make sure it follows Zety's editorial guidelines. We're committed to sharing our expertise and giving you trustworthy career advice tailored to your needs. High-quality content is what brings over 40 million readers to our site every year. But we don't stop there. Our team conducts original research to understand the job market better, and we pride ourselves on being quoted by top universities and prime media outlets from around the world.