You're a professional product manager. You don't get stuck in traffic jams—you get stuck in backlogs. When you look out the window, you see product landscape. At the gym, you work on agility. And when traveling, you're tempted to use the customer journey map instead of the satnav.

But are you aware that your product manager resume is your key product? It's time to put extra work into it: with the right advice, your product manager resume can help you reach new milestones in your career.
This guide will show you:
A product manager resume example better than 9 out of 10 other resumes.
The ideal product manager resume template including formatting tips and hints.
How to write a product manager resume that lands more interviews.
Tips and examples of how to put skills and achievements on a product manager resume.
How to describe your experience on a resume for a product manager to get any job you want.
Here's a sample resume for a product manager made using our resume builder.
Want to save time and have your resume ready in 5 minutes? Try our resume builder. It's fast and easy to use. Plus, you'll get ready-made content to add with one click. See 20+ resume templates and create your resume here.
Sample resume made with our builder—See more resume samples here.
You're more than just a job title, right? If you're interested in a different career in sales, marketing, or general management, see our other guides:
Plus, some general business resume guides you might want to check out:
Still need more examples? Check Sample Resumes to Land Any Job.
Here's how to write a product manager resume:
Product Manager Resume Example
Greg Kenseth
Product Manager
(123) 456-7890
gregkenseth@email.com
linkedin.com/in/gregkenseth
Summary
Detail-oriented Product Manager with over 7 years of experience. Eager to support FusionCore Solutions in driving product strategy, roadmap articulation, and go-to-market execution. Successfully launched a product at Stellaris Enterprises, which generated a $5M revenue increase in the first quarter. Research on the optimal release date was crucial for this success.
Experience
Product Manager
Stellaris Enterprises, Salt Lake City, UT
January 2014–Present
Key Qualifications & Responsibilities
Led cross-functional teams in the successful launch of three major products.
Collaborated with multiple departments in the company.
Managed and optimized product portfolios to maximize profitability.
Implemented agile methodologies to improve time to market by 20%.
Key Achievement:
Launched a product, which generated a $5M revenue increase in the first quarter.
Product Manager
DynaTech Systems, Salt Lake City, UT
May 2010–December 2013
Key Qualifications & Responsibilities
Managed product lifecycle, from conception and design to release.
Coordinated with sales and marketing teams to facilitate product adoption.
Prepared marketing materials aligned with product strategy.
Key Achievement:
Improved product adoption rate by 25% through strategic marketing initiatives.
Education
BSc in Computer Science
University of Utah, Salt Lake City, UT
August 2006–May 2010
Relevant extracurricular activities
Volunteer, Computer Science Club
Peer Tutor, Programming Concepts course
Academic achievements:
Dean's List, 2008-2010
Best Capstone Project, 2010
Skills
Product road mapping
Cross-functional team leadership
Agile methodologies
Profit optimization
Strategic planning
Excellent communication
Problem-solving
Decision-making
Certifications
Certified Product Manager, Association of International Product Marketing and Management, 2012
Awards
2015, Product Manager of the Year, Stellaris Enterprises
Memberships
Member of the Project Management Institute since 2010
Delivered a lecture on Agile Product Development at the 2017 PMI Global Conference, Chicago.
Languages
English—Native
Spanish—Intermediate
Interests
Reading technology journals to stay updated with industry trends.
Mentoring young professionals in the product management field.
1
Format Your Product Manager Resume
Product managers make it happen. They turn hazy visions into reality. They exactly know how to identify customers' needs to forge them into actions. Make the same in your product manager resume.
Show your best achievements that match the job offer.
Make it easy for the hiring manager to find your value.
Create better presentation than a Volkswagen ad.
That all starts with the reverse-chronological layout. It's the best product manager resume format.
Why? It shows your most recent work first. That's crucial in a field where yesterday's product is as passe as big hair and AM radio. You've got the experience, and this resume format will highlight it like a pro shelfie.
Use white space, legible fonts, and big headings to keep your message clean and clear.
Finally, should you save your resume in PDF or Word? The old advice to avoid PDFs is out. Modern PDFs are machine readable. When in doubt, save as PDF and MS Word .doc.
Pro Tip: Some job offers deny service to product manager resume PDFs. Read the description carefully to make sure they aren't outlawed.
Want to screen more options for product management resume format? See our guide: 3 Resume Formats: How to Choose the Best One [Examples]
2
Write a Product Manager Resume Summary or Resume Objective
Your product manager resume should overflow with projects. That doesn't mean you need to drown the CEO in an ocean of words. Toss her a lifeline in the shape of a resume summary or a resume objective.
A resume summary sums up catalogues of experience. Use it if you're an old hand.
A resume objective shows your passion instead. Use one if your experience is on the lean side.
Either way, cram it with enough achievements to impress Diana Kimball. These two product management resume examples show how. Which would you rather use?
wrong
Experienced product manager seeking new position with great company. Take-charge attitude. Highly skilled in product development, design, leading cross-functional teams, and product iteration.
That's not terrible, but it won't land interviews. Compare it to this senior product manager resume summary:
Product Manager Resume Template
—Summary Example
right
Highly capable product manager with 6+ years experience, seeking to leverage proven leadership and strategy skills to grow revenue at Eskelund Global. Met 150% of revenue goal in fast-paced tech firm. Led 7 cross-functional teams to 25% efficiency improvement and $1.2M cost savings.
That's better than a fresh pack of sharpies.
Is your experience more like an unfinished wireframe? If so, see the entry-level product manager resume examples below.
When making a resume in our builder, drag & drop bullet points, skills, and auto-fill the boring stuff. Spell check? Check. Start building a professional resume template here for free.
When you're done, our free resume builder will score your resume and our resume checker will tell you exactly how to make it better.
Still a junior product manager with no experience? The old advice was to write a resume objective that showed passion:
wrong
Junior product manager seeking entry-level position. No real-world experience yet, but I'm highly skilled in all areas of product design, development, and launch.
That's as empty as a Venn diagram of easy MBA degrees. But add details, and even a junior product manager can have a resume objective like this:
Product Manager Resume Objective Sample
right
Energetic product manager seeking to increase revenue at Osborne Regional Design. Have created 3 mobile apps with a total of 75,000 downloads. Developed 15 wireframes for small businesses and took 3rd place in a Techstars Startup Weekend.
Pow. You just proved yourself. The best part is, it didn't take five years to do it. I'll share tips to get quick product manager experience next.
Pro Tip: Just starting out? Consider working for a lesser company. Listen to customers, create solutions, and pass them to management. Then try for a promotion to product manager.
Want to write the best product management resume summary or objective on offer? See our guides:
How To Write A Resume Summary: 21 Best Examples You Will See
+20 Resume Objective Examples - Use Them on Your Resume (Tips)
3
Describe Your Product Manager Experience
The CEO of that great company wants to know one thing: Can you deliver? That comes down to how you show experience on a product manager resume.
The key? Tie it to the job description like a conversion funnel to a product launch. Show your most recent job first. Add 3-5 bullet points crammed with related achievements. The product management resume examples below show how it's done.
Look at the first of these software product manager resume samples:
Product Manager Job Description for a Resume (Template)
right
Excelecore Systems
Product Manager
2014-2018
Product manager for a high-volume software development firm.
Met over 120% of revenue goal all four years, and 150% in 2017.
Led 7 cross-functional teams from product conception through launch and multiple iterations. Increased 5 efficiency measures by 25%+.
Implemented Agile ideation plan, collecting and implementing 30% more ideas from employees than the historical best. Overall cost savings of $1.2 million.
The CEO just dropped her copy of The Lean Startup. Your first-rate resume for a product manager just knocked her off her feet. Now here's the wrong way:
wrong
Excelecore Systems
Product Manager
2014-2018
Product manager for a high-volume software development firm.
Responsible for meeting all revenue goals.
Led 7 cross-functional teams from product conception through launch.
Implemented Agile ideation plan, collecting and implementing employee ideas.
All talk and no achievements. Like a daily scrum with no 3-question agenda. You need to list accomplishments to get CEO to notice you.
Don't have experience? Let the next two digital product manager resume examples show you what to do.
The good news is, it's easy to get product management resume experience.
Just take on some side jobs.
Create a wireframe.
Make an iPhone app.
Volunteer to help a small business or a nonprofit.
Make a PowerPoint case study.
Research an existing product and suggest improvements.
Participate in a startup weekend.
You can also list related experience in non-product manager jobs. For instance, maybe you were a support rep. You listened to customers and passed solutions to the design team. You can list that on a resume for a product manager.
Watch how this can work in two entry-level product manager resume examples. This first sample product management resume experience section is a flop:
wrong
Product Manager Experience: No real-world experience as yet.
Other Experience:
That's not much better than a "website coming soon" page. It takes details to make a junior IT product manager resume sample like this:
Resume for Product Manager With No Experience (Template)
right
Freelance Product Manager
2017-2018
Created iPhone app that received 2500 downloads.
During Techstars Startup Weekend, led team that developed 3rd place pitch.
Created a PowerPoint corporate case study that got 25,000 views.
As customer support rep for LaCount & Hill International, took requirements from customers and passed 7 implemented solutions to development team.
Now you're up in the Steve Blank zone. You may already have what it takes to write a product management resume like that. The real key? Tie your resume to the job description. To do that, ask yourself, what is product management? What does a product manager do?
The answers will inform your resume.
Pro Tip: Ever done a startup weekend? It's like a small-scale Shark Tank that anyone can do. Collaborate and create a product in just 54 hours. Looks fantastic on a junior technical product manager resume.
Up the UX of your product owner resume with action words. They'll keep the hiring manager reading so you get more interviews. See our guide: +80 Examples of Resume Action Words for Every Profession
4
Mention Education in Your Product Manager Resume
You must show education on a resume for a product manager. But don't just list it. That's like having five cross-functional teams, then using them to make your coffee. Start with the basics:
College Name and Location.
Years in School.
Degree.
But add achievements that fit you to the job like an Armani suit.
See these product management resume examples. They are for a job that values marketing and leadership.
Product Manager Resume Template
—Education Section
right
MBA
Columbia University, 2012-2016
Pursued a passion for Product Management coursework.
Received a 4.0 GPA across all marketing classes.
Excelled in marketing and leadership classes.
President, Columbia University Student Council.
That's not a product management student. It's a proto Alistair Croll. But what about the next of our digital product manager resume examples?
wrong
MBA
Columbia University, 2012-2016
That's like Betamax and the Ford Edsel combined. But put back the details, and you're in the Brent Tworetzky zone.
Don't have great education accomplishments? Consider taking an online class through product school. Looks great on a product management resume.
Pro Tip: The WSJ calls product management an MBA grad's dream job. That said, you don't need an MBA to write a great product manager resume. Experience and proven skill matter more than a degree.
Do you need to list your GPA on a resume for product management? Find that and other tips in our guide: How to Put Your Education on a Resume [Tips & Examples]
5
Put Skills on a Resume for a Product Manager
Let's peek in on the CEO. She's looking through a stack of 200+ product manager resumes. On one, she sees a list of 50 skills. Is she impressed?
It's not how many skills you list. It's whether they match what's listed in the job offer. It's also whether you can prove them.
Let's look at two divergent product management resume examples. Both are for a job that values product launch, UX, and marketing.
This first sample product manager resume clip is all New Coke and Microsoft Zune:
wrong
Product Manager Skills: Leadership, communication, collaboration, creativity, listening, UX, strategy, feature definition, forecasting, marketing, ideation, business skills, PowerPoint, MS Project, Agile, research, kitchen sink iteration...
Well, you're skilled in everything. So is everybody else. But now let's pick just the few skills listed in the product manager job description. We'll add a couple so we're not just pandering. But then we'll prove them in our bullet points. See this fragment of a product manager resume sample:
right
Product manager for a growing SaaS business.
Improved UX measures by 25% through increased user feedback collection, synthesis of solutions, and more frequent iteration to customer needs.
Launched 3 new products in two years, for total 22% revenue gain.
Oversaw 4 successful marketing campaigns with ROI of 120%.
That's not just a resume skills list. That's personal branding. Use the skills below to give your product manager resume a head-start.
Product Manager Skills for a Resume
Strategy
UX
Detail Oriented
Feature Definition
Research
Forecasting
Defining Product
Product Iteration
Profit and Loss
Scope Management
Product Vision
Agile
Problem Solving
Cross-Functional Teams
Scrum
Ideation Leadership
SDLC
PowerPoint
Product Design
Microsoft Project
You can use this product management resume skills list to get started. It doubles as a great list of product manager resume keywords to boot. Find more in relevant product manager job descriptions online.
By following the steps above, any resume for a product manager can look like Steve Case wrote it.
Pro Tip: Should a resume for a product manager be one page or two? Learn why a two page resume can be your best bet: 2 Page Resume: Will It Crush Your Chances? (Format & Expert Advice)
Want to give your mobile product manager resume skills a great launch? See our guide: +30 Best Examples of What Skills to Put on a Resume (Proven Tips)
6
Show Certifications on Your Product Manager Resume
Does an AIPMM certification look good on a resume for a product manager? If you're entry-level, you bet your PowerPoint skills it does. So, don't just add it as an afterthought.
In your sample product manager resume, put it right after your name in the resume header. Add it to your summary. Last, put it in a special section just above "Experience."
Certification on a Product Manager Resume
Certifications
Certified Product Manager, AIPMM
Agile Certified Practitioner, PMI
That way, no matter where the hiring manager glances first, he'll know you're qualified. Notice we've added an Agile certification. There's more to valuable product management certifications than just a CPM.
The most important thing about certifications on a resume for product management? Make sure they fit the job description.
Pro Tip: You don't need a CPM or ACP to land great product manager jobs. Those certificates show a base level of competence. You can prove that with experience too.
What else should you add to an agile product management resume? See our guide: What To Put On A Resume To Make It Perfect [Tips & Examples]
7
Add Other Sections for an Effective Product Manager Resume
The product management field is extremely competitive. Most product managers have lots of experience and an MBA. How can you stand out like the Nike Air Jordan launch?
Add non-work achievements to special extra sections in your product manager resume. Watch how to do it right (and wrong) in two product management resume examples.
Not to cast aspersions at Donna Summers and competitive sports. But you'll get more interviews if you stick to things that prove product manager muscle. Now look at a far better sample product manager resume (other sections):
Other Sections for a Product Manager Resume
right
Additional Activities
Member, AIPMM
Regular rescue driver for local animal shelter.
Lead a weekly soccer club for fun and fitness.
Conferences
2017 Mind the Product Conference. Spoke on panel about pitching.
2015 Industry: The Product Conference.
Publications
"7 Steps to a Successful Conversion Funnel" appeared in Product Talk.
"Speak the Language and Succeed" appeared in Shopify's Blog.
That's a real "CEO of product." Any of those items shows you're not just punching a time card. But with a little effort, anyone can have a product manager resume like that.
Pro Tip: If you're a new product manager, get on Medium, Quora, and Reddit. You'll learn the lingo. You'll also get inspiration for achievements for your project owner resume.
Don't have a lot of related achievements? Perhaps you have relevant freelancing experience or interests? Find out how to bootstrap rocket boosters to you resume with this guide: Resume Sections to Include on Your Resume: Guide (+20 Examples)
8
Write a Cover Letter for a Product Manager
Why do so many experts say, "Don't write a cover letter for a product manager resume?" Because so many cover letters are generic. Don't write a "Here's my resume" type cover letter.
Make yours personal and passionate. First, use the hiring manager's name. Next, show you understand her need. Then, show evidence that you can fill it.
This sample product manager cover letter lights the way:
Product Manager Cover Letter Example
I've been a huge fan of Eskelund Global's products for years (SkaleSkale, Wornable, TrimTram). That's why I'm so excited about your product manager opening. I know you put customer needs first.
I believe my proven skill at listening to clients puts me at a distinct advantage. It's why I was able to meet 150% of my revenue goals at Excelecore Systems.
Close it with a call to action. "Can we set up a time to talk about growing Eskelund's revenue by 20% in the next 6 months?" works great.
Pro Tip: Join some online communities for product managers. You'll boost your product manager resume skills. Here are some great suggestions from Bryan McCarty, Kevin Lee, and more.
Plus, a great cover letter that matches your resume will give you an advantage over other candidates. You can write it in our cover letter builder here. Here's what it may look like: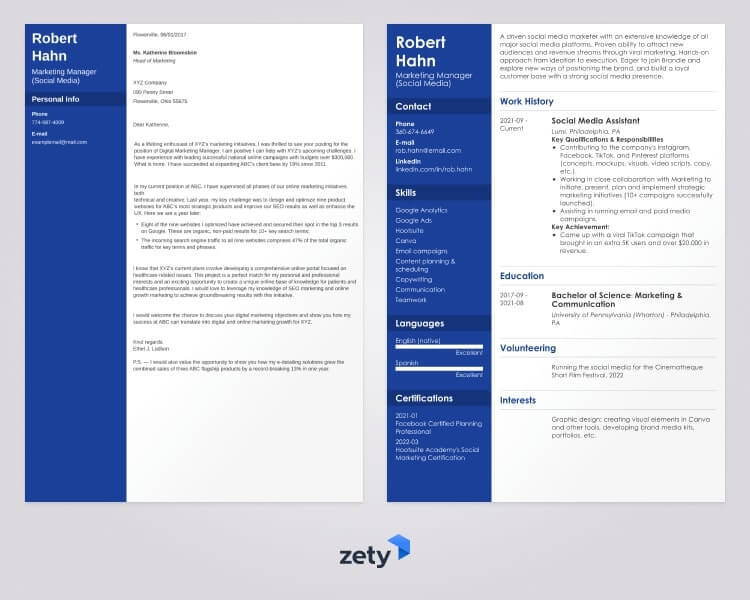 See more cover letter templates and start writing.
Need step-by-step advice for your product manager cover letter? See our guide: How To Write A Cover Letter in 8 Simple Steps (+12 Examples)
9
Add Contact Info to Your Sample Product Manager Resume
Of course you'll add this contact info to your product manager resume:
Full Name
Updated Phone Number
Professional Email Address
Like this:
Myron Chontos, CPM, myronchontos@gmail.com, 281-690-3150
But also add two other critical bits of contact info. The first is a solid LinkedIn profile. The second? A profile website. An online product manager profile can give the CEO a chance to get to know your work. Stuff it with all the projects and achievements you can't fit in your resume.
Pro Tip: Max out your LinkedIn profile's product management resume keywords. Find out how (plus 11 other hacks) in our LinkedIn profile secrets guide.
Need more step-by-step help to nail your product management resume? See our guide: How to Make a Resume: A Step-by-Step Guide (+30 Examples)
Key Takeaway
So that's how to write a professional product manager resume. Remember:
Emphasize achievements. That means products you've launched and metrics you've improved.
Tie your product management resume to the job offer like a wireframe to a website. List achievements that fit what's listed in the job description.
Add "other" sections to show your product manager skills run deep. Those can include conferences, publications, or volunteer work.
Do you have questions on how to write a great resume for a product manager? Not sure how to describe your skills or achievements? Give us a shout in the comments! We love to help!
About Zety's Editorial Process
This article has been reviewed by our editorial team to make sure it follows Zety's editorial guidelines. We're committed to sharing our expertise and giving you trustworthy career advice tailored to your needs. High-quality content is what brings over 40 million readers to our site every year. But we don't stop there. Our team conducts original research to understand the job market better, and we pride ourselves on being quoted by top universities and prime media outlets from around the world.
Sources