Amazon Resume: Sample, Tips, Job Description & Template
If you want to work for the biggest delivery service worldwide, you have to deliver a world-class Amazon resume. Follow our guide to discover how to do exactly that.
Take a deep breath. Count to five. That's how fast Amazon jobs disappear.
Yes, a massive company like that is hiring pretty much constantly. Recruiters blitzing through hundreds of resumes in a day (meaning you get literal seconds to make an impression) certainly doesn't help your case, either.
Fortunately, with our Amazon resume guide, you'll get hired in a flash, no matter what department you're seeking employment in.
This guide will show you:

An Amazon resume example better than 9 out of 10 other resumes.
How to write an Amazon resume that will land you more interviews.
Amazon resume tips on getting noticed among other applicants.
How to describe your experience on a resume for Amazon jobs to get any job you want.
Want to save time and have your resume ready in 5 minutes? Try our resume builder. It's fast and easy to use. Plus, you'll get ready-made content to add with one click. See 20+ resume templates and create your resume here.
Sample resume made with our builder—See more resume examples here.
Want to try your luck elsewhere? See some of our recommended guides below:
Amazon Resume Sample
Alexander Lester
Amazon Warehouse Specialist
334-261-6945
Allester@samplemail.com
Linkedin.com/in/alex.a.lester1
Resume Summary
Experienced warehousing specialist with 5 years of efficient merchandise packing, loading, and shipping. Collaborated with warehouse supervisor to reorganize shipping schedules, increasing efficiency by 19%. Secured promotion to senior warehouse specialist in record time at Target, beating out 7 workers initially hired at roughly the same time.
Work Experience
Senior Warehouse Specialist
Target, Columbus, OH
October 2018–present
Managing the input and registration of large amounts of shipping data while maintaining a 100% daily order dispatch quota.
Controlling between 500 and 800 inventory items daily.
Recruited and trained over 45 other warehouse workers.
Improved packing and loading efficiency on the warehouse floor by 19%.
Sales Associate
Tinko Outfitters, Columbus, OH
November 2015–October 2018
Unloaded up to 7 weekly shipments of new clothes.
Replaced store floor inventory every 30 minutes.
Interacted with customers, providing excellent customer service and maintaining a complaint-free record.
Education
Associate's Degree from Valor Christian College, Columbus, OH
Major: EFL Teaching
Graduated: 2019
Key Skills
Physical Fitness
Loading & Shipping
Interpersonal Skills
Floor Management
OSHA Training
Data Entry
Creative Thinking
Certifications
CPR/AED Training, American Red Cross, 2018
First Aid, American Red Cross, 2016
Activities
Volunteered at the Cincinnati Food Bank in Fall/Winter of 2019 & 2020
Practicing martial arts (Red belt in ITF Taekwondo)
Languages
This is how you write a resume to get a job at Amazon:
1. Format Your Amazon Resume Correctly
Depending on the department or position, Amazon workers can be responsible for various different stages of the distribution, delivery, or warehousing processes. Naturally, Amazon also offers opportunities in management, IT, customer service, engineering, and plenty of other departments.
Regardless of the role you're applying for, first impressions are always equally important. So before you start writing, make sure to get your resume format right:
How many pages should a resume be for Amazon applications, you may be wondering—
One page is definitely enough. Two-page resumes are typically only acceptable for candidates with 15+ years of relevant experience.
Efficiency should be your middle name, so bear in mind that you can speed up the process by using a pre-made template. Read more: Modern Resume Templates to Download and Use
2. Choose Between an Amazon Resume Objective or Resume Summary
The resume profile is what stands between you and employment.
Its role is invaluable in conveying to the recruiter exactly who you are, what you do, and what your worth is.
And yet so many people mess it up, it's mind-boggling.
Here's how to introduce yourself on a resume so well, even the Big B-Man would notice you:
If you have more than 2 years in your area of expertise, write a resume summary. In a few sentences, highlight your career wins, back them up with numbers, and show exactly what you did to make your previous employer's life that much easier and better.
With less experience, your choice should be to write a resume objective. Focus on displaying how your existing knowledge and transferable skills and experience—show that while not 100% related, it can still bring plenty of value to the table.
Pro Tip: The length of your resume profile needs to be the equivalent of an elevator pitch in writing. But, it typically takes way longer to actually write it. If you're getting stuck, move on to the next sections of this guide, and come back here with a fresh mind.
3. Write a Perfect Amazon Job Description
Your resume work history forms the bulk of your order—
So take extra care to deliver the best quality possible.
Here's how to write a job description on a resume, step by step:
Read more: How to Write a Resume with No Experience
4. Describe Your Education on an Amazon Resume
Amazon supply chain manager, Jeff Bezos, Elon Musk, Amazon warehouse floor supervisor, and Dorothy, the lovely lady who runs the pastry shop down the street.
What do these five people have in common?
They wouldn't skip the education section on their resume, knowing full well just how terrible of an idea that is. Yes, it's that obvious, even Dorothy knows it.
So, to keep it short, limit the education part to just the school name, highest degree obtained, and graduation date if you've been in the workforce for 5+ years.
In other cases, add extra details such as relevant coursework or extracurricular activities that will tell them you have the dedication.
Should you put high school on your resume? Yes, if you have not yet completed any higher education.
Read more: Listing Your Degree on a Resume
When making a resume in our builder, drag & drop bullet points, skills, and auto-fill the boring stuff. Spell check? Check. Start building a professional resume template here for free.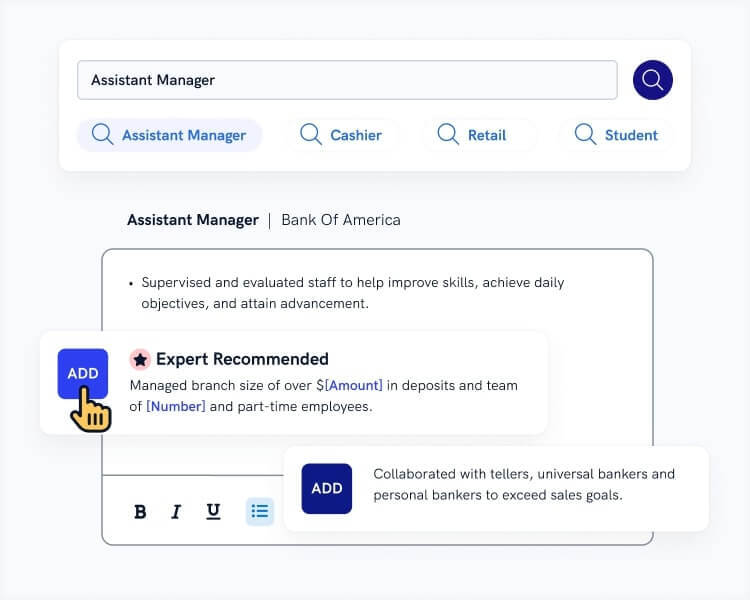 When you're done, Zety's resume builder will score your resume and our resume checker will tell you exactly how to make it better.
5. Tailor the Skills Section of an Amazon Resume
No matter what position you're gunning for, a perfect skills section is a must.
Too often do you see a list that's just full of irrelevant fluff.
But there's a way to get your skills section a total makeover faster than Amazon Prime:
The skills you choose this way have tremendous value and get you one step closer to getting interviewed.
Remember to include a mix of soft and hard skills. For instance, let's say you're applying for a warehouse job at Amazon. Here's a list of ideas for your skills section:
Best Skills for an Amazon Resume
Shipment Coordination
Inventory Restocking
Warehousing
Forklift Operation
Physical Fitness
Updating Logs
Supply Chain Know-How
Database Management
Supply Chain Software
Customer Service
Working Under Pressure
Pro Tip: Don't take the above list as gospel. There is an absolutely endless array of jobs you could get at Amazon, like working on developing AWS which is used by almost 6% of all websites. Make sure the skills you put on your resume fit the bill.
6. Include Bonus Sections on Your Amazon Resume
You may not consider working at Amazon to be the most creativity-spurring of occupations.
However—
That doesn't mean your resume has to be colorless and boring.
See, the more personality you can show off in the additional parts of your resume, the better. After all, we're all humans, not robots. Not yet anyway.
Consider including your language skills, professional association memberships, licenses or certifications, volunteer work, and even relevant hobbies and interests.
Read more: Good Things to Include on a Resume
7. Send a Cover Letter to Accompany Your Amazon Resume
So… cover letters. Nobody likes them, nobody reads them, nobody needs them, right?
Wrong. Oh, so very wrong.
Cover letters increase your chances of getting hired, period. That's not an opinion— it's a verifiable fact, as shown by our HR stats.
Here's how to write a great cover letter:
Pro Tip: Include a postscript in the cover letter as one last attention-grabbing effort. They'll be sure to remember you.
Plus, a great cover letter that matches your resume will give you an advantage over other candidates. You can write it in our cover letter builder here. Here's what it may look like: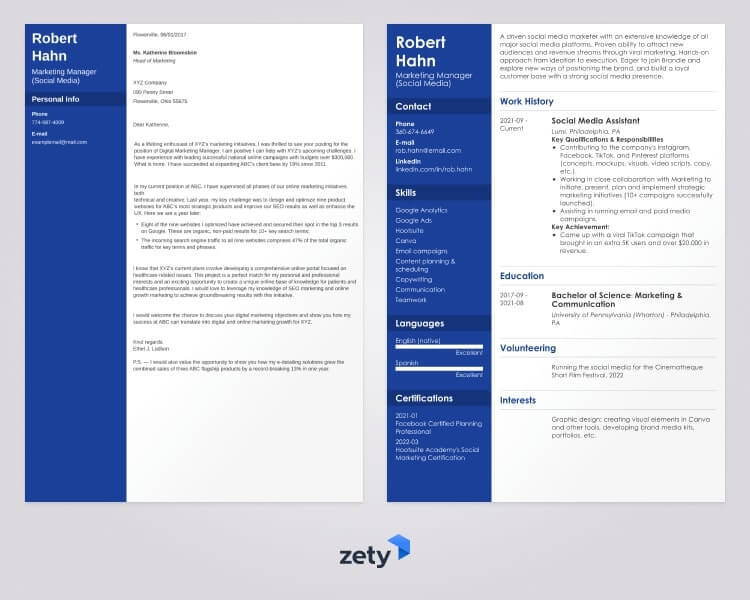 See more cover letter templates and start writing.
And that's it!
Surely a resume like that would have Jeff Bezos interviewing you himself.
Thanks for reading. If you have any extra questions to throw our way about writing an Amazon resume, we'll be in the comments!
About Zety's Editorial Process
This article has been reviewed by our editorial team to make sure it follows Zety's editorial guidelines. We're committed to sharing our expertise and giving you trustworthy career advice tailored to your needs. High-quality content is what brings over 40 million readers to our site every year. But we don't stop there. Our team conducts original research to understand the job market better, and we pride ourselves on being quoted by top universities and prime media outlets from around the world.