Our customers have been hired by:
In many ways, stockers carry more than just wares. They carry the reputation of the company they work for. Think about it—
You're out there on the front lines, helping customers on their shopping trips. You cover the behind the scenes in the warehouse. Stockers have to multitask like crazy to be good at their jobs.
But how to show all these skills in your stocker resume?
In this guide you will:
Find a sample stocker resume that blows others out of the water.
Learn how to structure, write, and adapt your stocker resume to your level of work experience.
Discover many tips and examples of what skills include on your stocker job description.
See how to get farther ahead of your competition by making the most of your education.
Want to save time and have your resume ready in 5 minutes? Try our resume builder. It's fast and easy to use. Plus, you'll get ready-made content to add with one click. See 20+ resume templates and create your resume here.
Sample resume made with our builder—See more resume examples here.
Looking for help on writing resumes for positions similar to this one? These guides could come in handy:
Stocker Resume Sample
Daniel Price
pdaniel92@zmail.com
480-488-2079
Objective
Reliable and efficient high school graduate with a keen eye for detail and good organizational skills. Interested in increasing effectiveness while decreasing time mismanagement as a Stocker for Luxury Wares. Acquired some retail experience working at family-ran clothing store.
Work Experience
Clerk
March 2019–July 2019
Weartopia, Columbus, OH
Responsibilities
Answered questions of typically 60–70 clients daily and actively engaged in fulfilling their shopping requests.
Managed an 800 sq. ft. store floor ensuring constant order and elegant presentation of wares.
Checked out customers' purchases at cash register (avg. daily turnaround of about $1750).
Key Achievement: Changed arrangement of clothes racks and shelves in the store, doubling sales of newest collections.
Volunteer helper
October 2018–January 2019
Columbus Food Bank, Columbus, OH
Responsibilities
Assisted in managing proportional distribution of food items to up to 400 daily visitors.
Prevented up to 20% of food waste by keeping strict register of best-before dates.
Education
High School Diploma
Orange Star HighColumbus, OH
Relevant Coursework: AP Calculus 2, Algebra 2
Graduated: 2019, GPA 4.1
Membership: Leadership Club
Skills
Visual acuity
Customer service
Multi-tasking
Efficient organization
Communication
Teamwork
Attention to detail
Microsoft Office proficiency
Languages
Now, let's get down to the good stuff: How to write a stocker resume that'll land you that dream opportunity in no time!
1. Pick the Best Format for a Stocker Resume
For a moment, imagine you're the recruiter.
It's 5:20 p.m. There are several dozen applications piled up on your desk. Worst of all, your coffee mug is empty. You pick up a resume from the stack. It's blander than a $3 direct-to-video movie.
Now, back to you.
How do you make yourself stand out among all the John Smiths and Jane Does?
By saving the recruiter's valuable time.
If your stocker resume is structured properly, it increases your chances of getting hired by a mile.
As such, the clean, reliable reverse-chronological format comes highly recommended. You serve up the most relevant information on a platter, it shows you're well-organized, the whole 9 yards.
Next, include a header, and make it look professional. State your name and contact information. Ditch the address—you're not looking to buy cookies from girl scouts.
Continue making that well put-together impression by dividing your resume into clear sections. Follow up with the use of crisp resume fonts.
Use white space liberally. It keeps things legible and looking nice. You could also use a modern resume template.
Finally, save as PDF to preserve formatting. Speaking of which, if you're applying for an entry-level job, you'd best keep it to a single page.
Read more: Best Resume Types
2. Choose Between a Stocker Resume Objective and Resume Summary
You might wonder what the difference here is.
Oh, it's big.
Technically speaking, a stocker job won't require much work experience. If that's you, first off, fret not, you haven't lost at the game of life. You're just going to have to be a bit more creative. For that, your best bet is using a resume objective.
It states your most relevant characteristics front and center to tell your potential employer exactly which transferable skills make you the right choice, even if you weren't born in a Costco floor manager's uniform.
When you've been in the game long enough to get 2+ years of experience, go for a resume summary and provide a highlight reel of your past stocking gigs.
Whichever resume profile fits you better, always present your best qualities to show the recruiter what you bring to the table, not the other way around.
Read more: Resume Introduction Examples
3. Describe Your Stocker Work Experience the Right Way
You know how they say "Dress for the job you want"?
It goes for your resume, too. You need to make it look snappy, and the work experience section is your shining opportunity to do just that.
Here's how you write a great resume job description:
For talking about past work experience, follow the previously established reverse chronological order.
Include basic information such as your job title, the name of the company, and the length of your stay there. Then, summarize each entry in a few bullet points.
The further back, the less bullet points you should use. Don't overcrowd the list by including irrelevant experience.
Action words are your friends. Use them wisely and you'll be surprised how far they can get you.
Employ hard numbers to back up your claims. Don't just say you were employee of the month, prove how you earned it!
Generic resumes suck. Show that you don't by doing the research, putting in the work and tailoring your resume to your employer's expectations.
Pro Tip: You're not out of luck if your work experience is a bit behind, far from it! Check out our fresh high school grad resume example or our no work experience resume guide.
4. Make the Most of Your Stocker Resume Education Section
If you're not a literal walking multi-tool of a person with 10 years of experience managing a supermarket who volunteers as the President's Chief of Staff on the weekends, then you really have to use your educational background to get ahead.
There's one catch, though. You have to do it right.
If you have little no experience whatsoever, prioritize your education over the work experience you do have. Talk about your college/high school achievements, wear them like a badge.
Got some experience, but nothing worth a biopic? Stick to listing the (relevant) courses you took, some achievements like your GPA, or extracurriculars—studies show they can have a significant impact on occupational outcomes.
Lastly, if you have plenty of work history, simply list your degree, and where and when you got it from.
Read more: How to List Education on a Resume
5. Optimize Your Stocker Resume Skills Section
Being a stocker requires multitasking, lots of it. You're the Swiss Army knife of retail workers, and your resume needs to reflect that.
Below is an example list of hard skills you can make use of to score that next job:
Stocker Resume Hard Skills
Product knowledge
Forklift operation
Scheduling
Calendar management
Planning
Record keeping
For any good stocker resume, hard skills should go hand in hand with soft skills, like:
Stocker Resume Soft Skills
Self-sufficiency
Organizational skills
Prioritizing
Time management
Sorting
Problem-solving
However, copy-pasting a bunch of professional skills alone won't get you hired. Add only those skills to your resume which are required in the job ad.
When making a resume in our builder, drag & drop bullet points, skills, and auto-fill the boring stuff. Spell check? Check. Start building a professional resume template here for free.
When you're done, our easy resume builder will score your resume and our resume checker will tell you exactly how to make it better.
6. Add Other Sections to Your Stocker Resume
If you got this far, great. You've got a solid, well-rounded stocker resume.
But don't call it a day just yet!
There's another way for you to step it up one more notch: an additional resume section.
Think about adding things like language skills, relevant hobbies and interests, certifications, other achievements, and the like.
Pro Tip: Include any particular specialized licenses on your resume if the job ad requires them for the position.
7. Supplement Your Stocker Resume with a Cover Letter
The stats don't lie: cover letters boost your chances at scoring the job. They may seem tedious and you may be tempted to skip writing them, but all in all, you would just be hurting yourself in the long run.
Fortunately, we got you covered (pun intended) with a few easy steps to help you write the perfect cover letter:
Read more: How to Write a Cover Letter
Plus, a great cover letter that matches your resume will give you an advantage over other candidates. You can write it in our cover letter builder here. Here's what it may look like: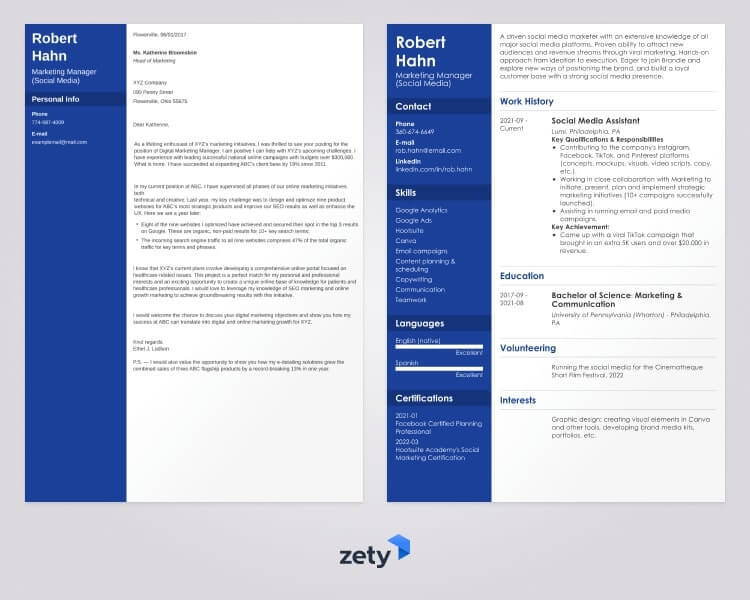 See more cover letter templates and start writing.
That's all!
Feel free to use any of these tips to help you write a great stocker resume and get hired before you know it.
Questions? Comments? Tips of your own? Don't hesitate and let us know below! Thanks for reading!
About Zety's Editorial Process
This article has been reviewed by our editorial team to make sure it follows Zety's editorial guidelines. We're committed to sharing our expertise and giving you trustworthy career advice tailored to your needs. High-quality content is what brings over 40 million readers to our site every year. But we don't stop there. Our team conducts original research to understand the job market better, and we pride ourselves on being quoted by top universities and prime media outlets from around the world.
Sources