Our customers have been hired by:
It's your job to poka-yoke the warehouse operations. All stock items have their proper place in the inventory. You wouldn't allow unapproved changes—they would lead to chaos. It's the same with resumes. All elements have their place. And when something is missing, the resume fails the AQL.
This guide will help you prepare a warehouse supervisor resume that matches all quality requirements and shortens the queue time of your job application.
This guide will show you:
A warehouse supervisor resume example better than 9 out of 10 other resumes.
How to write a warehouse supervisor resume that will land you more interviews.
Tips and examples of how to put skills and achievements on a warehouse supervisor resume.
How to describe your experience on a resume for a warehouse supervisor to get any job you want.
Want to save time and have your resume ready in 5 minutes? Try our resume builder. It's fast and easy to use. Plus, you'll get ready-made content to add with one click. See 20+ resume templates and create your resume here.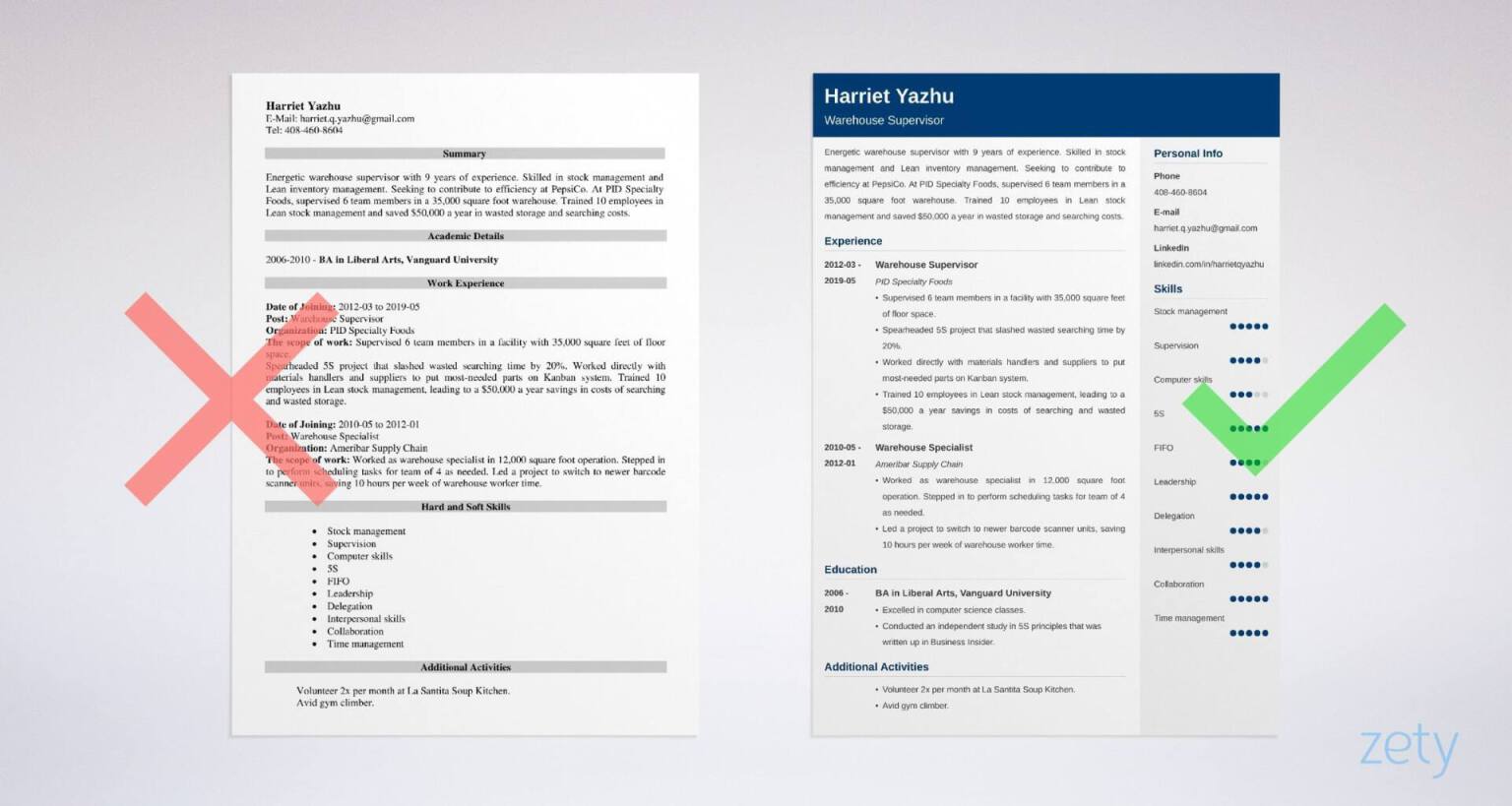 Sample Warehouse Supervisor Resume—See more resume samples here.
Is a resume for warehouse supervisors your only option? See our guides:
Warehouse Supervisor Resume Sample
Harriet Yazhu, Warehouse Supervisor
harriet.q.yazhu@gmail.com
linkedin.com/in/harrietqyazhu
408-460-8604
Professional Summary
Energetic warehouse supervisor with 9 years of experience. Skilled in stock management and Lean inventory management. Seeking to contribute to efficiency at PepsiCo. At PID Specialty Foods, supervised 6 team members in a 35,000 square foot warehouse. Trained 10 employees in Lean stock management and saved $50,000 a year in wasted storage and searching costs.
Work Experience
Warehouse Supervisor
PID Specialty Foods
March 2012–May 2019
Supervised 6 team members in a facility with 35,000 square feet of floor space.
Spearheaded 5S project that slashed wasted searching time by 20%.
Worked directly with materials handlers and suppliers to put most-needed parts on Kanban system.
Trained 10 employees in Lean stock management, leading to a $50,000 a year savings in costs of searching and wasted storage.
Warehouse Specialist
Ameribar Supply Chain
May 2010–Jan 2012
Worked as warehouse specialist in 12,000 square foot operation. Stepped in to perform scheduling tasks for team of 4 as needed.
Led a project to switch to newer barcode scanner units, saving 10 hours per week of warehouse worker time.
Education
2006–2010 Vanguard University
BA in Liberal Arts
Excelled in computer science classes.
Conducted an independent study in 5S principles that was written up in Business Insider.
Skills
Technical Skills:

Stock management, supervision, computer skills, 5S, FIFO

Soft Skills:

Leadership, delegation, interpersonal skills, collaboration, time management
Activities
Volunteer 2x per month at La Santita Soup Kitchen.
Avid gym climber.
Here's how to write a warehouse supervisor resume that gets jobs:
1. Pick the Best Warehouse Supervisor Resume Format
Warehouse Supervisors manage pickers, packers, and other warehouse workers who move, store, and retrieve inventory in warehouses. They often supervise teams of 5 to 20 employees. A warehouse supervisor resume must show leadership skills and computer skills, as well as scheduling and 5S training.
The manager can tell if you're a good warehouse supervisor candidate fast.
How?
Your resume formatting will give you away.
So—use chronological resume formats to look your best. Here's how:
Pro Tip: Save a resume sample PDF copy and send it with your application. PDFs are prettier than Word files as long as the online ad doesn't outlaw them.
2. Write a Warehouse Supervisor Resume Objective or Resume Summary
Employers will skim your warehouse supervisor resume unless you tell them not to.
Do it with a business elevator pitch.
On a resume it's called a profile summary. Stock it with:
One adjective ("Energetic," "Efficient")
"Warehouse Supervisor"
Years of experience
Goal ("improve efficiency")
1 to 2 skills from the online job ad
1 to 2 accomplishments to sell those skills
In a resume with no work experience, spotlight transferable skills in resume objectives.
Example: "as restaurant worker, filled in to make schedule 1x per month."
Pro Tip: How long should a resume be for warehouse supervisor jobs? One page. Less is lazy, and more is unreadable amid a mound of other resumes.
3. Connect Your Resume to the Warehouse Supervisor Job Description
Don't let them pass you by.
Recruiters want warehouse supervisor resumes that match the job.
That's where tailoring a resume to a job comes in.
Here's how to add work experience in resume so they know you'll work out:
List job titles for all your past positions.
Add key achievements in your bullet points that show desired skills.
Sweeten those achievements with numbers like "35,000" or "$50,000."
(Trust us, you've got those things. Think hard, because they're there.)
Pro Tip: If you want employers to stay interested in your warehouse supervisor resume, action words for resumes are the way to do it. Think, "supervised, spearheaded, trained."
4. Customize Your Warehouse Supervisor Resume Education Section
Don't phone it in.
You could just state your school, degree, and dates.
But that won't sell them on you.
Here's how to list education on a resume so employers notice:
Add educational accomplishments.
Did you excel in computer science? Do a project in 5S?
Put them in a few bullet points under "Education."
Pro Tip: Just getting started? You can section off your education section in a warehouse supervisor resume to make it longer. Describe projects, student groups, or subject areas.
5. List Warehouse Supervisor Skills in Your Resume
You know you need skills for a resume for warehouse supervisor jobs.
Pick from these:
Warehouse Supervisor Resume Skills
Here's a list of list of technical skills for warehouse supervisor resumes:
Stock management
Computer skills
Finance
Math
People management
Kanban
FIFO
Collaborating with shippers and materials handlers
Lean inventory management
Warehouse Management Software (WMS)
Training
Supervision
Scheduling
Barcode scanners
Safety
Kitting
Picking/packing
5S
Inventory reduction
Soft skills list for warehouse supervisors:
Detail oriented
Delegation
Efficiency
Spatial relations
Work ethic
Stamina
Pro Tip: Don't overstock your resume with every warehouse supervisor skill above. You'll look like you're full of packing peanuts. Specialize in soft and hard skills in the online job announcement.
When making a resume in our builder, drag & drop bullet points, skills, and auto-fill the boring stuff. Spell check? Check. Start building a professional resume template here for free.
When you're done, our free resume builder will score your resume and our resume checker will tell you exactly how to make it better.
6. Add Other Sections to Your Warehouse Supervisor Resume
Show you're multi-faceted.
Add "other" sections to your warehouse supervisor resume.
Select from:
Pro Tip: Here's how to include volunteer work on a resume: If it shows central skills, add it as a "Volunteering" section. If not, list it as one of your "Activities."
7. Send a Cover Letter With Your Warehouse Supervisor Resume
Should you write a cover letter for your warehouse supervisor resume?
Of course.
Write your warehouse supervisor covering letter like this:
Use the three-paragraph job cover letter format.
Put a "wow" moment in your cover letter introduction. Example: "When my team saved $50,000 a year in wasted storage..."
Stock up on passion in the center of your cover letter. Sing the companies praises and show accomplishments that prove you'll fit.
In your cover letter conclusion, dangle something tantalizing. Example: "I'd be glad to talk to you about how I slashed warehouse searching time by 20%."
How long should a cover letter be? Same as in 1987: one half page.
Pro Tip: Send a job follow up email once a week after you apply. That's a brief note that just says you're following up.
Plus, a great cover letter that matches your resume will give you an advantage over other candidates. You can write it in our cover letter builder here. Here's what it may look like: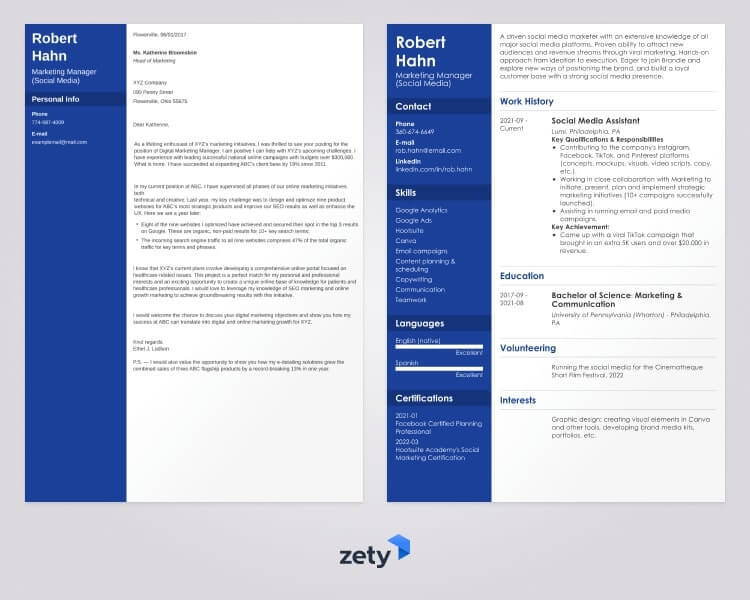 See more cover letter templates and start writing.
That's it!
That's how to write a warehouse supervisor resume.
Is your resume for warehouse supervisor jobs understocked? Do you hear nothing but your own echoes? That's no fun. Give us a shout in the comments. We'd love to talk!
About Zety's Editorial Process
This article has been reviewed by our editorial team to make sure it follows Zety's editorial guidelines. We're committed to sharing our expertise and giving you trustworthy career advice tailored to your needs. High-quality content is what brings over 40 million readers to our site every year. But we don't stop there. Our team conducts original research to understand the job market better, and we pride ourselves on being quoted by top universities and prime media outlets from around the world.