Walmart Resume Example: Cashier, Stocker & Manager
Walmart is the world's largest company by revenue. If you want to join them, your Walmart resume needs to shine and sparkle. Make sure you get it ready with our guide!
Whether you're a teen looking for their first job to scrounge up some money, a college student looking for a side hustle, or an experienced manager out for a full-time position, this guide is for you.
Why?
Because as surprising as it may sound, Walmart is one of the largest companies in the world. And they didn't get there by hiring lackluster employees. How do you filter them out, though?
By a stringent recruitment process, which your Walmart resume needs to pass with flying colors.
This guide will show you:


A Walmart resume example better than 9 out of 10 other resumes.
How to write a Walmart resume that will land you more interviews.
Tips and examples of how to put skills and achievements on a Walmart resume.
How to describe your experience on a resume for positions at Walmart to get the job you want.
Want to save time and have your resume ready in 5 minutes? Try our resume builder. It's fast and easy to use. Plus, you'll get ready-made content to add with one click. See 20+ resume templates and create your resume here.
Sample resume made with our builder—See more resume examples here.
Looking for more examples? Not interested in Walmart, specifically? Check out these guides:
Sample Walmart Resume
Robert P. Bowen
Walmart Merchandise and Stocking Associate
093-579-2998
robbowen@gmail.com
Resume Objective
Energetic & cheerful high school student seeking part-time employment. Proven leadership skills as 2-time leading quarterback for Grayston High School. Able to move around hefty weights due to high level of physical fitness. Worked part-time as cashier and salesperson in Summer 2018 during White Oaks local town festival, ensuring 100% customer satisfaction.
Education
Grayston High School, White Oaks, MN
Graduation: 2022
GPA: 3.5
Achievements:
Leading quarterback of the football team.
Named "Most Helpful Student" by an association of students and teachers at school.
Gave presentation on youth entrepreneurship for school "Winners Club".
Work Experience
Cashier & Salesperson
Summer 2018
Greeted and assisted hundreds of visitors from within and without of local community.
Sold upwards of $5,000 worth of festival merchandise.
Co-managed a store floor of over 1,200 sq ft.
Prevented 100% accounts of attempted shoplifting despite total lack of advanced security measures.
Skills
Physical fitness
Stocking & restocking
Inventory management
Interpersonal skills
Leadership
Pitching & advising
Product knowledge
POS
Languages
Spanish—intermediate
French—basic
Hobbies and Interests
Football
Volunteering at & organizing bi-monthly "Neighborhood Cleanup" events
You've seen the sample, now it's time to write your own Walmart resume:
1. Pick the Correct Walmart Resume Format
Walmart employees are tasked with providing customers with an excellent shopping experience. Depending on the position, that could mean a variety of things, from stocking and check-out to store management. The point of your Walmart resume is to convince the hiring manager you have the right skillset for the job.
But how will the recruiter get there if your resume is a jumbled mess?
That's right. They won't, and your efforts will go in vain.
Avoid that by structuring your resume according to these essential resume tips:
Read more: How to Start a Resume: Tips and Examples
2. Start Strong with a Walmart Resume Profile
It doesn't matter what you'd like to be doing at Walmart—your resume needs an introduction statement (i.e. resume profile) all the same.
There are two types of profiles: a summary and an objective.
You've got more than 2 years of professional experience in the field.
You can demonstrate quantifiable achievements and possess the relevant skillset in a quick elevator pitch-like recap.
In your summary, mention your job title, years of experience, and an impressive achievement or two to catch the reader's attention. Follow this with a promise to achieve a specific goal for Walmart (e.g. maintain perfect customer satisfaction ratings), and you're sold.
If you don't have enough experience for a summary, write a resume objective:
This is best suited to those new to the field, either due to changing careers or having only recently graduated.
Focus on your existing knowledge and transferable skills, and emphasize the ways your experience could translate into success in the new position.
Read more: Resume Profile: Examples, How to Write & Expert Tips
3. Write a Good Walmart Job Description for Your Resume
Your resume's work experience section will take up quite a chunk of the whole thing. If you want to join Sam's Club, you have to keep in mind that Walmart employs over 2.3 million people, with lots of turnover.
That's both a good and bad thing, but to not get trampled in the stampede of other applicants, bring your Walmart job description up to speed like so:
Pro Tip: Even if you haven't worked much yet, avoid stuffing your resume with irrelevant experience. Employers hate to see that, it's like putting expired products on shelves just to make it look as if your store is well-stocked.
4. Mention Your Education on Your Walmart Resume (It Matters!)
If you're applying for a cashier or stocker job, truth be told, a high school diploma will likely suffice here.
You might be thinking, why are we going into the details, then?
Because details matter, and a great education section needs those if you want to become a member of Walmart's team.
Let's say you're applying to work in the warehouse. If you already have loads of experience, you can simply state your highest level of education, school name and location, and graduation date.
Worked shorter than that? No problem. List the same as above, plus extras like your extracurricular activities, student club memberships, anything that could prove you're Walmart's next best associate.
Your high school extracurriculars can show your skills, believe it or not—
For example, if you were a member of the football team, you probably have teamwork, leadership, and fitness skills better than someone who hasn't done anything extra in high school. See? Told you it's worth mentioning!
Read more: How to List Your College Degree on a Resume: Tips and Examples
When making a resume in our builder, drag & drop bullet points, skills, and auto-fill the boring stuff. Spell check? Check. Start building a professional resume template here for free.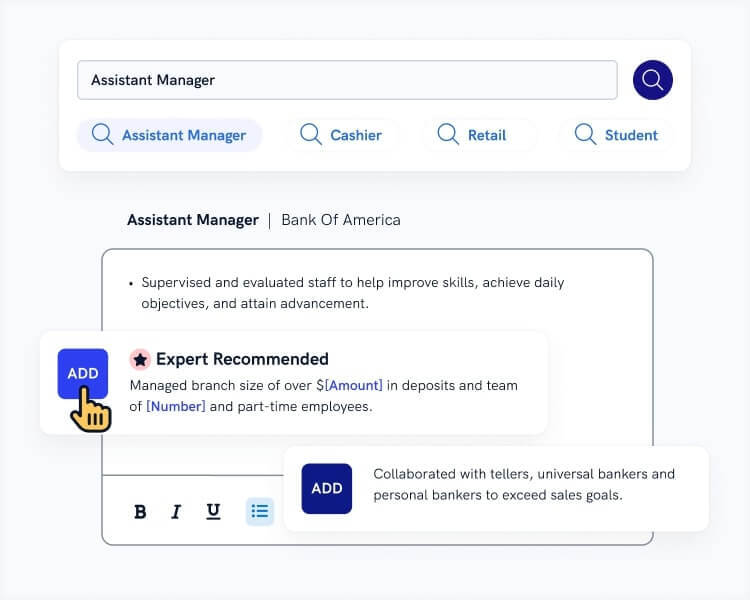 When you're done, our free resume builder will score your resume and our resume checker will tell you exactly how to make it better.
5. Talk about the Right Skills on a Walmart Resume
As far as jobs for teens go, Walmart is probably up there. Free college tuition? What's not to like!
In order to get hired, your skills section needs to be so good, they'll change their store's opening hours just to fit you.
Here's a step-by-step guide to getting there:
Brainstorm all of your job skills. Doesn't matter how small and irrelevant they might seem, just put them all down in a master list of technical skills, soft skills, and hard skills.
Then, on the job advert, look for the particular keywords that imply the kind of skills they're after.
Put those skills down on your resume and weave them into the work experience section for bonus points.
This technique will work just as well if you're writing a Walmart department manager resume or an application for any other senior position, by the way! Tailoring your skills list to fit the ad means you'll be including more relevant keywords on your resume, boosting your chances of your job application passing ATS checks.
When in trouble, seek inspiration from the list below:
Best Skills for Walmart—Sample List
Product Knowledge
Self-Sufficiency
Organizational Skills
Sorting
Forklift Operation
Prioritizing
Scheduling
Calendar Management
Planning
Record Keeping
Math Skills
Read more: Cashier Skills to Put on a Resume: List of Examples & Tips
6. Include Other Sections on Your Walmart Resume
Time to take it to the next level.
So far, your resume may be really good, provided you followed the advice laid out before you.
However, it's just like your average day Walmart—no special offers, no deals, just general run-of-the-mill stock.
By adding additional sections to your resume, you transform your Walmart resume into a special Black Friday deal. Check this out:
Association memberships
Freelance work
The goal of extra resume sections isn't to fill blank space, but rather to wow the employer with some extra fire and passion. They need to know they won't be hiring a lifeless robot to walk the store aisles.
Still, some things are better left unsaid. Read more: What Not to Include on a Resume: List of Things to Leave Out
7. Attach a Professional Walmart Cover Letter to Impress
Cover letters are useful in increasing the chances of getting hired. Why? Because every other recruiter straight up rejects candidates that don't submit one, according to our HR stats.
Suffice to say, cover letters are still necessary.
Here's how you can write one to get hired at Walmart:
Make sure not to overstock your letter: the best length for a cover letter is 3–4 paragraphs, all on one page.
Read more: How to Write a Cover Letter? Best Tips & Examples
Plus, a great cover letter that matches your resume will give you an advantage over other candidates. You can write it in our cover letter builder here. Here's what it may look like: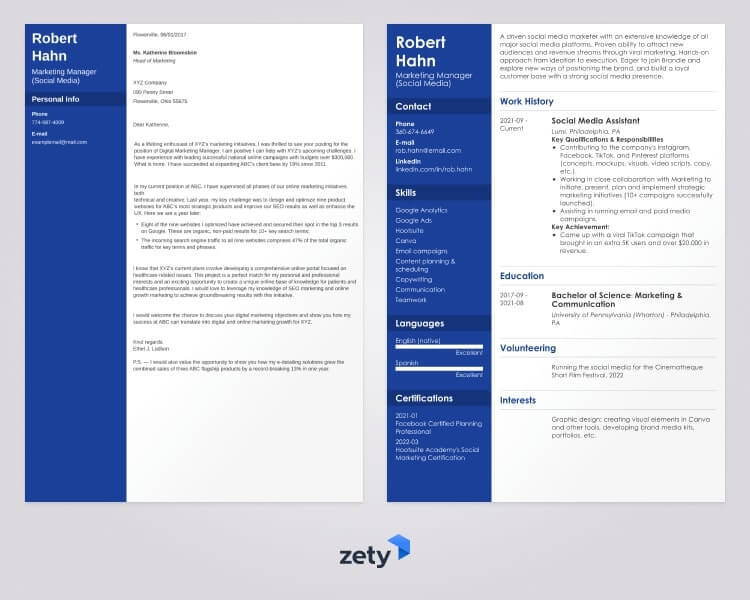 See more cover letter templates and start writing.
Thanks for reading! Having trouble writing a Walmart stocker resume? Need more specific advice on how to write a Walmart manager resume? Got some insider tips of your own to share? Let's chat in the comments section!
About Zety's Editorial Process
This article has been reviewed by our editorial team to make sure it follows Zety's editorial guidelines. We're committed to sharing our expertise and giving you trustworthy career advice tailored to your needs. High-quality content is what brings over 40 million readers to our site every year. But we don't stop there. Our team conducts original research to understand the job market better, and we pride ourselves on being quoted by top universities and prime media outlets from around the world.